20 Beautiful Open Plan Kitchens You'll Want to Recreate
By Lindsey Davis, Natasha Brinsmead
Open plan kitchens are sociable, practical and usually high on the wish lists of self-builders, renovators and extenders alike. Here, we have all the inspiration you need to start planning your own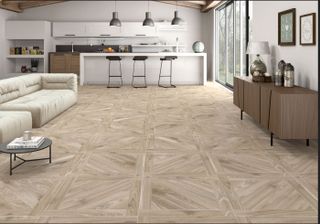 (Image credit: Tile Mountain)
Modern day home owners have wholly embraced open plan kitchens — in fact it is rare these days to find a new home without one. 
Open plan kitchens basically encompass a kitchen and dining space in one space, and will often also in incorporate an informal living area. As open plan kitchens have evolved, they are also now being designed to include useful spots that can be used as home studies or playrooms.
All of this reflects how our lifestyles and the way we use our homes has changed. And it is not just new homes that are being given open plan makeovers. People  renovating or extending older styles of homes which were originally built with more, smaller rooms each with a distinct function, are remodelling them to embrace the open plan way of living. 
Creating the perfect atmosphere in an open plan kitchen is a fine art, where practicality has to meet  has to match aesthetics. Whilst open plan spaces can enhance the feeling of light and space in a home, it is also necessary to think carefully about the design so privacy and warmth is not lost.  
Here are 20 great open plan kitchens that show just how a brilliantly designed open plan layout can work.
(MORE: Get a quote for your new kitchen)
1. A Multi Purpose Contemporary Open Plan Kitchen 
Low pendant lights over the dining table help break up the floorplan in the ground floor of this home. The empty space between the kitchen-diner and living areas creates flexible room for play and entertainment.
2. Characterful Kitchen-Diner with Bifold Doors
Oak frame works particularly well in open plan kitchens, where the exposed frames act as natural visual divides between the various areas. This stunning example in a Border Oak home can also be open plan to the terrace outside thanks to swathes of bifold doors. 
3. Open Plan Kitchen With Huge Island Unit
A kitchen island is perfect for open plan kitchens where it can provide the perfect spot for all sorts of appliances and activities. This island, from Brayer Design, houses the hob, an additional sink, food preparation area, as well as storage shelves and a handy seating spot. 
Building Regulations for Open Plan Kitchens
If your home has more than two storeys (as is common where a loft has been converted), then you need to be sure that your open plan space will meet the Building Regulations with regards to fire and escape. This is usually an issue if the open plan area is your main means of escape. In these cases, you may need fire doors between the kitchen and first floor, as well as a fire protected escape route from the first floor.
If the first floor can be exited without having to go through the kitchen and open plan area, then this should not present a problem. In any case, it is sensible to look into fire suppression systems – such as sprinklers and smoke curtains – to limit the spread of fire and smoke throughout the home.
4. Scandinavian-Style Open Plan Kitchen Extension
Revolutionising the way the family interacts with their listed barn, this ultra-modern extension features a pitted Amazonian granite worktop that contrasts with the vast amounts of natural light.
5. Open Plan Kitchen With a Triangular Island Unit
The kitchen is the heart of the home in this urban self build — it even features a swing and leads to a small courtyard garden. A triangular kitchen island makes efficient use of the space, while creating a divide between the areas for cooking and relaxing.
6. Barn Conversion Open Plan Kitchen
The dining space of this self build is overlooked by a galleried landing. Long pendant lights hung from the double-height ceiling illuminate the dining table in the evening, while large windows at the front and back of the home flood the area with natural light by day.
How to Zone an Open Plan Kitchen
Some of the best open plan spaces work so well because they have clearly defined zones for various tasks. Ideally, you should divide the room without affecting the flow of light. You may also want some private areas, but if you have young children it is important to think about the sightlines between where you may be working or relaxing, and where they will be playing.
The following are great ways to zone a room:
Use breakfast bars, islands or low-level furniture (or low stud walls) to section up the floorplan
Where possible, varying the floor levels is extremely effective, but think carefully about safety and steps in areas used for cooking or playing
Lighting is an unobtrusive and practical way to zone. Use low pendants over a dining area and spotlights for task lighting
Use different flooring in different zones of the room. This also means you can use softer flooring in cosy areas and hard-wearing options in the kitchen-diner
7. Open Plan Living in a Chapel Conversion
What could have been an overwhelmingly large space in this converted chapel, has been cleverly sectioned into cosy and practical spaces for relaxing and eating. A sofa and ornate rug (just in shot) have been positioned to zone the living area.
8. An Open Plan Kitchen in a Small Space
Small open plan kitchens can work really well, where the lack of walls makes it possible for light to flow well and frees up floorspace for other uses. In the renovation of this period first floor flat, the owner has made the very best use of space by incorporating a small island fitted with units – that doubles up as a dining space to one side – to separate the kitchen from the living space.
9. Open Plan Kitchen With Vaulted Ceiling
This fabulous open plan kitchen diner is located within a striking extension to a country period farmhouse, with a fully glazed gable. A low pendant over the dining table ensures the area feels intimate despite the proportions of the room. 
10. Double Height Kitchen Diner
The architect owner of this home has utilised several popular zoning techniques to break up their kitchen-diner. The dining table sits in a double-height space with industrial style lighting, while the kitchen is clearly defined by a lower ceiling and structural column. The sink and worktop for food prep have been positioned facing out into the dining area so that the hosts can talk to any dinner guests from the kitchen.
Cooking Smells in Open Plan Kitchens
Open plan spaces need excellent methods of extraction if they are not to become plagued by cooking smells and steam. If possible, place the cooker near a window and as far from the dining and living spaces as possible. An efficient cooker hood is also required, but look for models that are quieter so as not to interrupt people relaxing in the living area.
If you are still concerned about smells and steam (or noise), then it might be sensible to install sliding pocket doors between the kitchen and living room.
11. Cleverly Concealed Kitchen Space
The open plan kitchen in this stunning conversion of an old blacksmith's forge has been cleverly designed so that the kitchen area is hidden from the dining space by an upstand — no worrying about dirty dishes and clutter ruining mealtimes. 
(MORE: 15 great ways to bring in light from above)
12. Open Plan Kitchen Extension
White walls and light coloured furniture creates a bright and breezy flow to this extended farmhouse. This kitchen is subtly zoned with lighting: the pendant lights hang intimately low while the high ceilings enhance the sense of light and space.
(MORE: Clever lighting design ideas for your home)
13. Loft-Style Open Plan Kitchen
New York loft-style has been mimicked in this open plan kitchen and enhanced with industrial style lighting and exposed brick. The double-height void above the dining area (out of shot) and a third floor habitable room meant that a sprinkler system was required to meet Building Regulations.
Soundproofing in Open Plan Kitchens
Open plan spaces with hard flooring and lots of smooth surfaces are bound to be noisy and prone to echo. To minimise this, use soft flooring or rugs in the living areas and remember that soft furnishings and textiles will absorb noise too.
You should also plan the layout to minimise disruption. If you want an office or homework zone, keep this away from the TV or play areas. It is also a good idea to look for appliances that claim to be quieter, but check out their reviews to see how people find them in practice.
14. Mid-century Style Open Plan Kitchen
Open plan kitchens can be designed to fit any kind of space. Here, the kitchen units have been placed against one wall, whilst the dining space is tucked snugly into a bay window. The eye-catching floor is from Lifestyle Floors. 
15. Farmhouse Style Open Plan Kitchen
This is a wonderful example of a truly sociable open plan kitchen which works on so many levels. Whilst those in the kitchen can feel part of the action when entertaining, there is enough space and visual division between the eating and cooking spaces for them to feel distinct. 
16. An Unusual Open Plan Kitchen With Woodburner
The kitchen-diner with a vaulted ceiling sits in the former vestry, and a mezzanine level has been added above the living area creating a lower ceiling. Wooden flooring has been used in the cosy living room, and stone in the kitchen with its industrial-style fittings. A double-sided log burning stove can be enjoyed from both sides of the room.
17. Industrial Style Open Plan Kitchen
Combining the kitchen, dining and living spaces maximises limited space and natural lighting. The industrial style used throughout unites the areas, while a snug is separated by a double-sided fireplace, containing the woodburning stove.
18. Kitchen Diner Created From a Side Extension
The owners of this Victorian semi-detached house were keen to extend the kitchen to incorporate a dining area. They built a side return extension and topped it with a glass clerestory in order to light the new eating area from above, creating a stunning space. 
19. Broken Plan Kitchen Diner
Whilst still an open plan kitchen, the cooking and dining spaces retain their own areas thanks to a wide opening between the two, made possible by the oak frame construction of the house, which was designed and built by Border Oak. 
20. Open Plan Kitchen With a View
By keeping the layout of this oak frame self build by Oakwrights open plan, the stunning countryside views all around can be appreciated whether the owners are cooking in the kitchen, enjoying a meal or relaxing in the living area. 
Get a Quote for Your New Kitchen
Homebuilding.co.uk partners with the UK's best kitchen specialists to match your requirements with their services. 
Simply answer a few questions on what you need from your kitchen and we'll put you in touch with a suitable partner.
How It Works
1. Enter your details below. Tell us a bit about your project and what you are looking for, and leave some contact details.
2. We search our database. We'll match your requirements with the products and services that our partners offer.
3. Partners will contact you. Don't worry about being bombarded - only the suppliers that match your requirements will contact you.
Homebuilding & Renovating Newsletter
Get the latest news, reviews and product advice straight to your inbox.
Thank you for signing up to Homebuilding. You will receive a verification email shortly.
There was a problem. Please refresh the page and try again.