Open Plan Kitchens: 32 Key Design Lessons From Stylish Spaces
Get inspired with these open plan kitchens — with layout ideas, practical tips, stylish storage and the latest design trends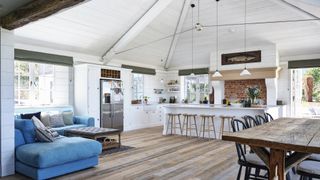 (Image credit: Dan Duchars)
Open plan kitchens have been a firm favourite among self builders and home improvers for well over a decade now, while ideas and designs are ever-changing.
The perfect blend between a practical kitchen area and a social entertaining space, open plan kitchens are often the hub of the home, offering somewhere for the family to congregate and keep better connected. What's more, they're the perfect space for celebrating summer lunches or Christmas with guests.
The best open plan kitchen ideas provide versatility to design a space that works for you.
The ever-adapting nature of open plan kitchens interestingly reflects how our lifestyle and the way we use our homes is evolving. And that's not just new homes that are including open plan layouts, period-style homes with smaller rooms are being renovated, extended and remodelled to embrace the informal way of living.
Here, we've brought together our top open plan kitchen ideas, tips and advice to help you plan your space.
Is an Open Plan Kitchen a Good Idea?
"Open plan kitchens are high on many homeowners wish-lists, and for good reason," explains Al Brice, founder of Olive & Barr. "The open and airy space allows for multifunctional use, from cooking and dining through to an area for the children's homework or a space for entertaining. It's true that the kitchen really is the hub of the home, where the family gathers and cherish memories are made."
However, one of the big questions we asked of our homes in the last couple of years is how functional open plan living really is, especially when whole families found themselves sharing their homes for work, school, socialising and more, for the majority of the day. And this has really influenced how we approach both kitchen design and designing our homes in general.
"For all of their benefits, open plan living doesn't always work," warns renovation expert and Associate Editor of Homebuilding & Renovating, Natasha Brinsmead. "There are several reasons for this. Sometimes the absence of walls can make for very noisy households. We all also need our own space from time to time, and it's not ideal to have to shut ourselves away to get it."
However, rather than spelling the end of open plan living, the latest kitchen trends for 2022 take into account ways to create pockets of privacy for when you need them.
From layout ideas and how to zone an open plan kitchen, to material choices, storage and appliances, these real spaces offer plenty of inspiration for your own kitchen design.
1. Tailor an Open Plan Layout to Your Requirements
Visit the Homebuilding & Renovating Show
Need more advice or inspiration for your project? Get two free tickets to the Homebuilding & Renovating Show
In times gone by, smaller rooms each had a distinct function, but with open plan living catering to activities like socialising, cooking, working from home and watching TV, the usual lines are a little bit more blurred.
The beauty of open plan kitchen layout ideas is that they can be tailored to every lifestyle requirement, so it's best to start off a plan simply with what you will be using the room for, as well as any interesting architectural features, and creating 'zones' from there.
"You should always start your kitchen design process by understanding how you might use your space, the kitchen is nearly always the most hardworking room in the home, meaning it has to function effortlessly and withstand continuous use," says Al Bruce.
"It is also the little things that make a kitchen perfect, such as making the fridge easily accessible when cooking, having a special place for your chopping boards and knowing where to put your bin so the functionality of your kitchen is flawless. After all, one of the cornerstones of every kitchen is combining function and practicality with your wants, needs and personality."
2. Don't Dismiss Open Galley Kitchen Layouts
Slim or small kitchens are often considered awkward in terms of layouts, but if your space is long and narrow, by incorporating well-considered galley kitchen ideas an open plan kitchen can really shine.
When designing her own kitchen remodel, Helen Parker (creative director at deVOL) used a galley layout to her advantage: "Zoning the distinct areas was based on the architecture and period of the house — this room has such beautiful arched windows that lend themselves to a dining area, so my kitchen table absolutely had to go there. I also knew I wanted a big Lacanche cooker and a large marble sink, so it almost designed itself in terms of layout.
"The two ends of the room – for cooking and for seating – are instrumental in breaking up the potential long run of cupboards which can be a problem in a galley kitchen. To help keep a feeling of width and avoid a long narrow 'galley' feel I avoided wall cupboards and have our glass-fronted Curiosity Cupboard which allows for practical storage and pretty display of colourful kitchenware."
3. Think About the Essentials to Include Open Plan Kitchen
Open plan kitchens need to include materials that can withstand high amounts of traffic and various uses, so be sure to consider all kinds of kitchen flooring ideas and worktop options.
Richard Moore, design director at Martin Moore, advises: "For cooks who entertain on a regular basis or families who enjoy cooking together, a large amount of prepping space is important and a couple of sinks in different locations is also very useful."
While open plan kitchens tend to be made up of kitchen, dining and living areas, these aren't the only things that could be included in the space. A play room for children is perfect as you can keep an eye on them while using the open plan space, while a snug, bar area or utility room could also be incorporated into your open plan design.
4. Introduce a Home Office in an Open Plan Kitchen
With the rise of working from home, there's a lot to be said about considering a home office design alongside your kitchen. In the daytime, you might find it's quiet enough to act as a work space, while offering you potentially the brightest and most inspiring room of the house, compared to a small study.
But what should you consider? For regular work from home from the kitchen, a dedicated space is preferable to working at the island. Think about where a desk may be incorporated into a kitchen — try to have it slightly set apart to ensure it can be kept out of sight and mind on the weekends. Why not consider a desk behind pocket doors that can be shut away when not in use?
Most importantly, consider what in the kitchen could disrupt your work plans. Choosing Quietmark-approved appliances is a good idea for a multi-functional space at the best of times, but especially when you've got an important Zoom meeting but washing in the machine.
A separate utility room with noisy appliances, with a door that shuts, is another way to ensure both your peace and peace of mind.
5. Conceal Clutter and Mess
Something to bear in mind while designing an open plan space is how kitchen clutter will affect the living or dining areas. Obviously if entertaining with a dinner party, no one wants to be looking at plates stacked up and although we all want to be on-top of clearing up, this isn't always the case after a long day.
This kitchen extension and conversion of an old blacksmith's forge has been cleverly designed so that the kitchen area is hidden from the dining space by an upstand — no worrying about dirty dishes and clutter ruining mealtimes.
Plus, the kitchen window seat on the left lifts to hide away cook-books and lesser-used appliances.
6. Use the Room Shape to Your Advantage
Designing an open plan kitchen from scratch can be a daunting task. Now only will it impact the cooking area, but also the relaxation and social areas. There is a lot to consider, so a good idea is to take the room shape and work with it to inspire special or unique elements that can inform the layout.
Be it combining the kitchen sink with a window vista to daydream while washing up (as above), an alcove reading nook in a seating area or a cosier spot for intimate dining with guests.
Here, the kitchen is carefully tucked around the corner from the large living space (out of shot to the left), but the long island design means the breakfast bar straddles the two spaces. The change of ceiling height from cooking to dining areas also subtly affects the atmospheres.
7. Get the Balance of Kitchen Units Right
Mixing and matching different sizes and types of kitchen units will not only help to serve you later down the line when using the kitchen day-to-day, but forming an essential list of the units your kitchen requires will assist in the overall design of the layout, orientation and, on occasion, style.
From small spice drawers to concealing large appliances, take inventory of how you cook, if your living area will require kitchen shelving ideas to display treasured objects, and if your dining space will include freestanding sideboards.
Modern kitchen ideas have come a long way and suppliers have thousands of innovative new designs and solutions, such as the ever-popular pan drawers or half-size larder unit, that will make the most of the space you have.
Simple and sleek, yet large-format pan drawers in this kitchen don't just provide a contemporary look, but also can store plates, bowls and pots more efficiently than cupboards, while everything in easy to access.
8. Outsource Storage in Large Kitchen and Dining Rooms
While still open plan, the cooking and dining spaces retain their own areas thanks to a wide opening between the two, made possible by the oak frame of the house, designed and built by Border Oak.
Open plan kitchens often suffer from the lack of wall space where storage would usually be hung upon or run against. The trick to the success of this space lies in the continuation of the bespoke kitchen units into the dining room, allowing for bulky appliances or even a dedicated breakfast area to be outsourced.
This works particularly well when looking for kitchen extension ideas, as a pantry or larder space can be devised alongside the main kitchen storage.
9. Built-in Appliances Work Well in Small Open Plan Kitchens
Whether in a small kitchen extension or a small remodel, finding built-in appliances that can slot in alongside runs of cabinetry will ensure an open plan kitchen functions as it should.
As ovens are no longer limited to the spot beneath the hob, positioning this appliance at eye level will assist a smooth cooking flow — but remember, where there may be high traffic around an island or through a galley, source ovens with slide-away doors to prevent bumps and burns.
Large appliances like dishwashers, fridges and freezers can also be purchased in drawer formats these days, meaning facade door fronts are the thing of the past and these frequently-used items are integrated into the kitchen design.
10. Use Materials to Create a Holistic Scheme
If your home uses an interesting build material (say, brick, stone or oak frame) use this as inspiration to continue through the interior design and material choices.
For instance, in this home timber in various guises has been used to unite the kitchen and dining areas in the timber units and contrasting timber and quartz kitchen worktop ideas, exposed frame and oak dining furniture.
A similar effect could be used with exposed brick or timber panelling accompanied by other textures and colours in the interiors. There's a lot to ply with in open plan spaces – from flooring and lighting to sofas and artwork – so these elements can be introduced in various ways.
"The very nature of oak frame lends itself extremely well to open-plan homes, with the frame itself acting as both a visual and, where required, physical divide," comments Natasha Brinsmead. "Right at the design stage, have a conversation with your architect about how the frame could be used to ensure each space can have its own separate feel even when open to another."
11. Include Built-in Seating in Small Open-Plan Kitchens
In an open plan kitchen, the design hangs on the interaction between the kitchen, especially the island, and dining or living room. Where space is tight, there are some brilliant design ideas out there for kitchen islands with banquette seating attached.
"A freestanding table and chairs can really encroach on space," advises Natasha Brinsmead. "Built-in bench seating arranged around a table makes perfect sense in many cases, coming off the wall or the units themselves."
This is a super effective way to use the space, as banquette seating means you don't need to create space around the dining table for guests to get to their chairs and pull them out, meaning your dining table can be closer to the island. It's also an effective and stylish way of uniting the two spaces and ensuring your open plan kitchen doesn't feel disparate.
12. Use Simple Visual Divides in Open Plan Kitchen, Living and Dining Rooms
Oak frame interiors lend themselves beautifully to subtle, but effective visual divisions for large kitchen, dining and living areas.
The L shaped kitchen dining and play area in this modern farmhouse has been ingeniously divided using the oak frame.
The set-up is perfect for a family who wants to keep an eye on young children while they cook without having a space that is too large to function.
13. Introduce Trends and Styles in the Right Way
One tricky point to navigate when designing a new kitchen is deliberating what is a timeless, but modern style to include and what is a fad trend that will make the room feel outdated within a few years.
Thankfully many current design trends provide the backdrop for an elegant kitchen that can be updated as times changes: including herringbone flooring inspiration and wooden kitchen ideas.
Opting to include painted kitchen ideas for timeless shaker-style or in-line doors will also ensure that if you feel differently about a bold colour choice, or just need a refresh in the decor, they simply be sanded down and repainted.
14. Go for a Small U-shaped Design
Small open plan kitchens can work really well, where the lack of walls makes it possible for light to flow well and frees up floorspace for other uses.
In this space, units have been painted in a dark, bold colour to contrast with the light and airy interior design of the rest of the room. Cleverly, the peninsula of the U-shaped design creates a social space, while creating a clear divide between cooking and living areas.
U shaped kitchen ideas and layouts are great for smaller spaces as they offer plenty of workspace while essential appliances (like fridge, sink and hob) are never too far out of reach.
15. Remember Good Lighting is Vital in Open Kitchens
Kitchen lighting ideas and requirements vary from the needs of a living room or dining area.
Task lighting is essential to get right in cooking areas, but perhaps opt for dimmable LEDs or separate circuits so when the activity of the evening shifts to watching TV or having a drink with friends in the other spaces of the room the lighting can be adapted appropriately.
With a lighting design planned on a DIY basis, the extended terrace beautifully layers artificial LEDs with natural lighting. A glass clerestory window illuminates the new eating area from above, spotlights provide practical lighting and the pendants are helpful not only for task working at the island, but also to create a focal feature in the stunning space.
16. Try a Single Wall Kitchen
"Far more than a way of dealing with a small room, the one wall kitchen is popular in homes of all sizes," says Natasha Brinsmead. "It is a particularly effective kitchen idea for those with contemporary open-plan spaces, resulting in a sleek, unfussy finish."
When planning a kitchen in this style, try to combine several full-height units (or even oversized cupboards like the kitchen above if you have the ceiling height) with deep pan drawers and sleek built-in appliances.
In this church conversion, the slate-blue Shaker-style units work seamlessly with the reclaimed and industrial interior scheme of the open plan space. A valuable lesson from this design is that although the space is large, too many functions are not being crammed in — an effective way to create a well-considered home.
17. Include an Island in Social Open Plan Kitchens
Kitchen island ideas are great for open plan spaces where they can provide a spot for all sorts of appliances and activities. The island should act as a divide from the functional areas of the kitchen used for prepping food and the social side, so consider your appliance and storage layout with this in mind.
"This layout is perfect for those who love to entertain or who want to create an inviting, social space that works for all the family," advises Richard Moore.
"A central island is excellent for organising everything into dedicated zones, with a clear separation between the work zone and social areas. It also helps significantly with the flow of traffic around the room. Ideally, this layout would include a breakfast bar or adjoining breakfast table and a separate dining table."
This stunning Martin Moore kitchen demonstrates how an island can be the perfect pivoting point around which the interconnected dining, kitchen and living spaces flow. Also, note the elegant glazed doors, which can offer both a full open space, as well as some privacy in the living room — an ingenious addition when renovating a kitchen.
18. Embrace Larder Units and Pantries
"Open plan kitchens have to function in the same way as living rooms, with peaceful art-filled walls, and accommodate as many books as pots and pans," explains Jason Orme, Managing Director of Homes at Future PLC.
"As a result, we need to outsource some of its traditional functions to allow us to create super 'living kitchens'. And what better way to do it than with a pantry, where you can store all the food that would otherwise be taking up half your kitchen units space."
Larder and pantry units have most definitely made a come back, often bursting with ingenious kitchen storage ideas and solutions that will make the most of a limited space. They are perfect for hiding away chopping boards, kettles and microwaves for a neat worktop.
19. Introduce Multi-use Appliances
As the modern is no longer simply about cooking, smaller appliances like coffee machines, toasters and kettles might be best placed in a larger-style cupboard so they can be closed away when not needed.
Alternatively, double up functions of appliances or fixtures to reduce worktop clutter for a sleek kitchen. Innovative designs for coffee markers and microwaves are on the market as well as taps that provide not just hot, cold and boiling, but also filtered and sometimes sparkling water.
Integrating these products early into your kitchen design plan will help rationalise essential aspects, such as worktop space, widths of units and the amounts of plugs required.
20. Use Subtle Zoning in an Open Plan Kitchen
Some of the best open plan spaces work so well because they have clearly defined zones for various tasks. Ideally, you should divide the room without affecting the flow of light. You may also want some private areas, but if you have young children it is important to think about the sightlines between where you may be working or relaxing, and where they will be playing.
"Zoning is important — but needs to be done subtly. You might want to vary the flooring between the kitchen and dining areas, or use the best kitchen lighting to create different moods (eg task lighting in the kitchen and a feature pendant over the dining area)," says Richard Moore.
This pale kitchen is carefully partitioned from the dining area with dark blue walls for a subtle design that means while the spaces function independently, there is an easy flow to the layout.
21. Try Out Sustainable Kitchen Design
With environmental responsibility at the fore of many home improvers' minds, choosing reclaimed materials, or even reusing the kitchen you already own, is becoming ever more popular.
New sustainable kitchens can come in all styles and sizes, many offering the same options as less environmentally choices.
Or, consider a second hand kitchen, like the one pictured, for a good quality, yet guilt-free new space. You may have to be flexible and imaginative with your design to get it to fit, but bargains can be founds easily and with a clear conscience.
22. Mix and Match Zoning Ideas
While not every kitchen zoning idea must be obeyed to the letter, rooms without at least a few of these subtle features can feel cold and unwelcoming. Every home and kitchen is different so choose a few ideas that sit naturally in the flow of the floorplan.
The following are great ways to zone a room:
Use breakfast bars, peninsulas or islands to section up the floorplan
Create 'rooms' with low-level furniture — avoid pushing sofas against walls and create visual divisions and indicate the best route through the open space
Where possible, varying the floor levels is extremely effective, but think carefully about safety and steps in areas used for cooking or playing
Lighting is an unobtrusive and practical way to zone. Use low pendants over a dining area and spotlights for task lighting
Room dividers are becoming more popular to partially split large rooms between uses. They also offer a spot to hang art and pictures in the absence of walls
Use different types of flooring in different zones of the room. This also means you can use softer flooring in cosy areas and hard-wearing options in the kitchen-diner
23. Open up a Floorplan Safely
"Having an open plan relies heavily on having the space, so that might require reconfiguring rooms if the space doesn't originally allow for it," explains Olive & Barr's Al Bruce. "If you're looking to open up a room, providing it's a supporting wall, it's often cheaper to knock down than to work around it with tiles or paint. If you do need to knock down a supporting wall, a common and expensive mistake is hiring an architect. Actually, a structural engineer can give you all the information you need."
"While the idea of knocking down interior walls seems simple enough, in reality, there is much to consider before opening up your kitchen and dining room, not least whether the wall is load boarding and how removing it will affect your home's structural integrity," explains chartered surveyor Ian Rock.
If your home has more than two storeys (as is common where a loft has been converted), then you need to be sure that your open plan space will meet the Building Regulations with regards to fire and escape. This is usually an issue if the open plan area is your main means of escape. In these cases, you may need fire doors between the kitchen and first floor, as well as a fire protected escape route from the first floor.
If the first floor can be exited without having to go through the kitchen and open plan area, then this should not present a problem. In any case, it is sensible to look into fire suppression systems – such as sprinklers and smoke curtains – to limit the spread of fire and smoke throughout the home.
24. Divide an Open Plan Kitchen Using Structural Elements
Designed for a growing family, this 1930s house renovation and extension has an open plan kitchen living and dining area which masterfully balances practicalities with aesthetics.
First, the kitchen is separate from the snug area using a wall filled with useful storage, meaning smells and noises are reduced when someone is watching TV.
A flooring change, a rooflight and more intimate lighting scheme ingeniously divides the informal seating space and the snug.
25. Utilise a Broken Plan Layout
'Broken plan living' has been big news in the design world in recent years — and will continue to influence our floorplans in the future," details Deputy Editor Michelle Guy.
"So what it is? It's a design concept which moves away from completely open-plan spaces (which many of us find impractical), and utilises devices such as bookcases, partial walls, sliding doors, internal 'windows', fireplaces and the like to create spaces which feel sociable and connected but have a degree of separation and privacy."
Broken plan is a natural progression of completely open plan whereby a large space is creatively divided to feel like two separate spaces, while still flowing into each other.
This can be done using a change in floor level, as in this terrace extension, or simply by enlarging internal doorways.
26. Include an Internal Courtyard to Bring the Outside In
As an element in an open plan space, an internal courtyard has a lot to offer. Not only does it act as a light well to bring the outside in in the same was as a roof light or lantern it can, but also gives you an opportunity to introduce biophilic design inspiration to create another connection with nature and outdoor space by filling it with plants.
However, as a device in an open plan or broken plan scheme, they have another part to play. A glazed internal courtyard can act as a physical divide (with purpose) in an open plan design, allowing you to zone pockets of space for different purposes.
This design by Turner Architects creates cloistered areas, which depending on how the space is used, can create more divided, private areas, or open up into a larger open plan space.
27. Open Plan Kitchens Lend Themselves to Country Homes
This is a wonderful example of a sociable, modern farmhouse kitchen which works on so many levels. What could have been an overwhelmingly large space has been cleverly sectioned into cosy and practical spaces for relaxing and eating.
The kitchen, from Neptune, cleverly utilises a mix of colours, styles and sizes to evoke a feeling of decades of collecting freestanding units. A large navy kitchen island is paired with a more informal and moveable grey butchers block while the traditional white units along the wall provide all the storage required of a family kitchen.
While those in the kitchen can feel part of the action when entertaining, there is enough space and visual division between the living and cooking spaces for them to feel distinct. The oak frame also beautifully divides the spaces without closing the kitchen off from the large windows at the rear of the house.
28. Express Personality Through Kitchen Design
"Contrasting, yet vibrant cabinetry has increased in popularity as customers have become more comfortable with seeing their kitchen as a central room in their home to create family memories for all generations," says Helena Myers, director of The Myers Touch.
"Their kitchen is now a place where they work, relax, socialise and cook in, so homeowners are often looking for a personalised, wow-factor design using a range of colours, materials, finishes and furniture that remain elegant and timeless.'
Combining the kitchen, dining and living spaces maximises limited space and natural lighting in this home. The contemporary style used throughout unites the areas, while the cosy dining space, with complementary bar area, exudes a different atmosphere thanks to the lighting and change in ceiling height.
29. Connect an Open Plan Kitchen to the Garden
Creating a greater connection between the kitchen and the garden is one of the most popular reasons for homeowners to remodel, renovate or extend their kitchens.
Installing the right glazing is key to this, be it simply replacing patio doors with newer, sleeker models or punching through to create new views to the outdoors.
Bifold doors work particularly well in open plan kitchens as they can further open up a space to the outside, creating a blur between indoors and out. This stunning example uses three banks of bifold doors to open out to the patio outside and the flooring is matched for a seamless transition.
30. Design a Small Open Kitchen
Don't let space be a limiting factor as open plan can be designed to fit any kind of room when the right small kitchen ideas are included.
Opting for a bespoke design can tailor the units to maximise space and often suppliers can create matching tv units, consoles and living area storage to match the open plan's interior.
Here, the kitchen units have been situated in the corner, facing a contracting island, while the brightly coloured breakfast nook is tucked snugly under the roof light.
31. Address Cooking Smells in Open Plan Kitchens
Open plan spaces need excellent methods of extraction if they are not to become plagued by cooking smells and steam.
If possible, place the cooker near a window and as far from the dining and living spaces as possible. Efficient cooker hoods are also required, but look for models that are quieter so as not to interrupt people relaxing in the living area.
If you are still concerned about smells and steam (or noise), then it might be sensible to install sliding pocket doors between the kitchen and living room.
32. Soundproof an Open Plan Kitchen
Open plan spaces with hard flooring and lots of smooth surfaces are bound to be noisy and prone to echo so minimise this with soundproofing and noise control measures. Use soft flooring or rugs in the living areas and remember that furniture and textiles will absorb noise too.
You should also plan the layout to minimise disruption. If you want an office or homework zone, keep this away from the TV or play areas. It is also a good idea to look for appliances that claim to be quieter, but check out their reviews to see how people find them in practice.
This ingenious broken plan kitchen can shut away the home office space from the noise of the kitchen, while the glass doors still let in plenty of light
Does an Open Plan Kitchen Add Value?
"An open plan kitchen definitely adds value in your daily life, if not monetarily, as it integrates perfectly with the rest of the house," explains Alice Pasteau, retail manager at Schmidt UK. "It's not a closed area, you can cook while interacting with your friends/family.
"An open plan kitchen also brings back the kitchen to the heart of the house to transform it into a home. More and more, people want to integrate the aesthetics of their kitchen with the rest of the living space to create a common theme for their cocoon. Having an open plan kitchen allows you to use it as a central masterpiece of your living area."
What is a Good Size for an Open Plan Kitchen?
"There is no perfect size for an open plan kitchen, if it's a linear layout then maybe between 3.5 to 4 meters to be able to fit in the essentials (dishwasher, larder, cooking unit…)," advises Alice Pasteau.
"If we are talking about an open plan kitchen with an island, we recommend around 1.2 metres between your main run and your island. At a minimum we recommend a metre, to ensure that walking around your kitchen is still fluid and comfortable. If your kitchen has a breakfast bar, allow 70cm for each seat to avoid feeling cramped."
"No matter the size of kitchen, carefully thought out cupboards is key to how the kitchen works and flows," explains Al Bruce, founder of Olive & Barr. "Remember to consider the preparation space around the cooker and sink area, you'll need plenty of room either side of these stations.
"For the cooker area, you'll need space for baking trays that come straight out of the oven, while the sink area needs plenty of room for stackable pots and dishes ready to be washed. Another key element often overlooked is the recycling bin, this is especially important in terrace houses where additional storage is limited. Dual bins that have room for general waste and recycling is a great option.
"Rather than installing lots of standard cabinets, consider larger cabinets, they offer plenty of storage and work out to be much cheaper than two standard sized cupboards. Sectioning the kitchen off in designated areas will allow you to envision how you'll use the space and in turn improve the ergonomics of the kitchen."
Get the Homebuilding & Renovating Newsletter
Bring your dream home to life with expert advice, how-to guides and design inspiration, direct to your inbox.
Assistant Editor Amy began working for Homebuilding & Renovating in 2018. She has an interest in sustainable building methods and always has her eye on the latest design ideas. Amy has interviewed countless self builders, renovators and extenders about their experiences for Homebuilding & Renovating magazine. She is currently renovating a mid-century home, together with her partner, on a DIY basis, and has recently fitted her own kitchen.