Open Plan Kitchens: 30 Design Lessons From Stylish Spaces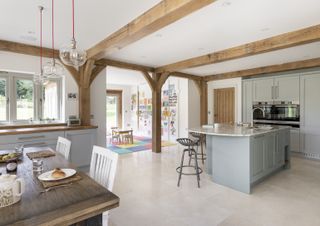 (Image credit: Jeremy Phillips)
There's a reason open plan kitchens have become the preferred design for modern self builders and renovators. The combination of spaces means that it's the social hub of the home, offering somewhere for the family to congregate and keep better connected.
The best thing about an open plan kitchen design is the versatility you have in designing a space that works for you. Larger room sizes opens opportunities for new and interesting layouts that just wouldn't be possible in smaller kitchens, and the open plan nature allows for extra little pockets of space that can be dedicated to exactly what you need for your home.
Visit the Homebuilding & Renovating Show
The ever-adapting nature of open plan kitchens interestingly reflects how our lifestyle and the way we use our homes is evolving. And that's not just new homes that are including open plan layouts, period-style homes with smaller rooms are being renovated, extended and remodelled to embrace the informal way of living.
Yet, one of the big questions we asked of our homes in the last year is how functional open plan living really is, especially when whole families found themselves sharing their homes for work, school, socialising and more for the majority of the day.
However, rather than spelling the end of open plan living, this is just the latest factor to influence open plan kitchens, and you'll find many new design ideas for these spaces take into account ways to create pockets of privacy for when you need them.
From layout ideas and how to zone an open plan kitchen to style ideas, storage and appliances, these 30 real spaces span a spectrum of kitchen design and offer plenty of inspiration for your own project.
Layouts for Open Plan Kitchens
1. Designing Open Plan Kitchens for Individual Homes
In times gone by smaller rooms each had a distinct function, but with open plan living catering to activities like socialising, cooking, working from home and watching TV, the usual lines are a little bit more blurred.
The beauty of open plan kitchens is that they can be tailored to every lifestyle requirement, so it's best to start off a plan simply with what you will be using the room for and creating 'zones' from there.
(MORE: Kitchen Layout Ideas)
2. Multi Purpose Open Plan Kitchen Ideas
While open plan kitchens tend to be made up of kitchen, dining and living areas, this isn't the only things that could be included in the space. A play room for children is perfect as you can keep an eye on them while using the open plan space, while a snug, bar area or utility room could also be incorporated into your open plan design.
3. How Does Your Open Plan Kitchen Layout Lend Itself to WFH?
With the rise and potential remain of working from home, there's a lot to be said about considering your kitchen as a work from home space. In the daytime, you might find it's quiet enough to act as a work space, while offering you potentially the brightest and most inspiring room of the house, compared to a small study.
(MORE: Home Office Design)
But what should you consider? For regular work from home from the kitchen, a dedicated space is preferable to working at the island for keeping your work essentials together. Think about where a desk may be incorporated into a kitchen — try to have it slightly set apart to ensure it can be kept out of sight and mind on the weekends. Why not consider a desk behind pocket doors that can be shut away when not in use?
Most importantly, consider what in the kitchen could disrupt your work plans. Choosing Quietmark-approved appliances is a good idea for a multi-functional space at the best of times, but especially when you've got an important Zoom meeting but washing in the machine. A separate utility room with noisy appliances, with a door that shuts, is another way to ensure your both peace and peace of mind.
4. Building Regulations for Open Plan Kitchen Layouts
If your home has more than two storeys (as is common where a loft has been converted), then you need to be sure that your open plan space will meet the Building Regulations with regards to fire and escape. This is usually an issue if the open plan area is your main means of escape. In these cases, you may need fire doors between the kitchen and first floor, as well as a fire protected escape route from the first floor.
If the first floor can be exited without having to go through the kitchen and open plan area, then this should not present a problem. In any case, it is sensible to look into fire suppression systems – such as sprinklers and smoke curtains – to limit the spread of fire and smoke throughout the home.
5. Small Open Plan Kitchen Layouts
The kitchen is the heart of the home in this urban self build — it even features a swing and leads to a small courtyard garden. A triangular kitchen island makes efficient use of the space, while creating a divide between the areas for cooking and relaxing.
6. Built-in Seating Ideas for Open Plan Kitchens
In an open plan kitchen, the design hangs on the interaction between the kitchen, especially the island, and dining or living room. Where space is tight, there are some brilliant design ideas out there for kitchen islands with banquette seating attached.
This is a super effective way to use the space, as banquette seating means you don't need to create space around the dining table for guests to get to their chairs and pull them out, meaning your dining table can be closer to the island. It's also an effective and stylish way of uniting the two spaces and ensuring your open plan kitchen doesn't feel disparate.
7. Designing a Kitchen Within a Large Open Floorplan
What could have been an overwhelmingly large space in this oak frame home has been cleverly sectioned into cosy and practical spaces for relaxing and eating.
A large kitchen island is paired with a more informal and moveable butchers block while the oak frame beautifully divides the spaces without closing the kitchen off from the large windows at the rear of the house.
8. U-Shaped Open Plan Kitchens
Small open plan kitchens can work really well, where the lack of walls makes it possible for light to flow well and frees up floorspace for other uses.
In the renovation of this period first floor flat, the owner has made the very best use of space by incorporating a small island fitted with units – that doubles up as a dining space to one side – to separate the kitchen from the living space.
U shaped kitchen layouts are ideal for smaller spaces as they offer plenty of workspace while essential appliances (like fridge, sink and hob) are never too far out of reach.
(MORE: Renovating a House)
Choosing Storage for Open Plan Kitchens
9. Open Plan Kitchens With Islands
A kitchen island is perfect for open plan kitchens where it can provide the perfect spot for all sorts of appliances and activities. The island should act as a divide from the functional areas of the kitchen used for prepping food and the social side, so consider your appliance and storage layout with this in mind.
10. Concealing Clutter and Mess in Open Plan Kitchens
The open plan kitchen in this stunning conversion of an old blacksmith's forge has been cleverly designed so that the kitchen area is hidden from the dining space by an upstand — no worrying about dirty dishes and clutter ruining mealtimes.
Plus, the window seat on the left lifts to hide away cook-books and lesser-used appliances.
(MORE: Kitchen Storage Ideas)
11. Outsourcing Storage in Open Plan Kitchen Dining Rooms
While still an open plan kitchen, the cooking and dining spaces retain their own areas thanks to a wide opening between the two, made possible by the oak frame of the house designed and built by Border Oak.
Open plan kitchens often suffer from the lack of wall space where storage would usually be hung upon or run against. The trick to the success of this space lies in the continuation of the kitchen units into the dining room, allowing for bulky appliances or even a dedicated breakfast area to be outsourced.
(MORE: Bespoke Kitchens)
12. Larder Units in Open Plan Kitchens
As open-plan kitchens became more popular, larder and pantry units have also made a come-back. Often bursting with ingenious storage solution to make the most of a limited space, they are perfect for hiding away chopping boards, kettles and microwaves for a neat worktop.
13. Open Plan Kitchens Work Great with Pan Drawers
Large-format drawers are a huge help when designing an open plan kitchen, living or dining space with no wall units. Their simple and sleek design doesn't just provide a contemporary look, but also can store plates, bowls and pots more efficiently than cupboards, while everything in easy to access.
Zoning Open Plan Kitchens
14. How to Create Zones in Kitchens
Some of the best open plan spaces work so well because they have clearly defined zones for various tasks. Ideally, you should divide the room without affecting the flow of light. You may also want some private areas, but if you have young children it is important to think about the sightlines between where you may be working or relaxing, and where they will be playing.
The following are great ways to zone a room:
Use breakfast bars, islands or low-level furniture (or low stud walls) to section up the floorplan
Where possible, varying the floor levels is extremely effective, but think carefully about safety and steps in areas used for cooking or playing
Lighting is an unobtrusive and practical way to zone. Use low pendants over a dining area and spotlights for task lighting
Use different flooring in different zones of the room. This also means you can use softer flooring in cosy areas and hard-wearing options in the kitchen-diner
15. Dividing Areas in an Open Plan Kitchen, Living and Dining Room
Designed for a growing family, this renovation and extension to a 1930s house has an open plan kitchen living and dining area which masterfully balances practicalities with aesthetics.
First, the kitchen is separate from the snug area using a wall filled with useful storage, meaning smells and noises are reduced when someone is watching TV.
A flooring change, a rooflight and more intimate lighting scheme ingeniously divides the informal seating space and the snug.
(MORE: Building an Extension)
16. Simple, Yet Effective Kitchen Zoning
This pale kitchen is carefully partitioned from the dining area with dark blue walls for a subtle design that means while the spaces function independently, there is an easy flow to the layout.
17. Using Multiple Tricks in Large Open Plan Kitchens
The architect owner of this home has utilised several popular zoning techniques to break up their kitchen-diner.
The dining table sits in a double-height space with industrial style lighting, while the kitchen is clearly defined by a lower ceiling and structural column. The sink and worktop for food prep have been positioned facing out into the dining area so that the hosts can talk to any dinner guests from the kitchen.
(MORE: Clever lighting design ideas for your home)
18. Broken Plan Kitchen Layouts
Broken plan is a natural progression of completely open plan whereby a large space is creatively divided to feel like two separate spaces, while still flowing into each other.
This can be done using an RSJ from knocking through, a change in floor level, as in this terrace extension, or simply by enlarging internal doorways.
(MORE: How to Renovate a Kitchen)
19. Use Simple Visual Divides in Open Plan Kitchen, Living and Dining Rooms
The L shaped dining, kitchen and play area in this modern farmhouse has been ingeniously divided using the oak frame. The set-up is perfect for a family who wants to keep an eye on young children while they cook without having a space that is too large to function.
20. This Internal Courtyard Idea is Super Effective in an Open Plan Kitchen
As an element in an open plan space, an internal courtyard has a lot to offer. Not only does it act as a light well, bringing daylight into the furthest reaches of your space much in the same way a roof light or lantern does, it also gives you an opportunity to create another connection with nature and outdoor space by filling it with plants.
(MORE: Biophilic Design)
However, as a device in an open plan or broken plan scheme, they have another part to play. A glazed internal courtyard can act as a physical divide (with purpose) in an open plan design, allowing you to zone pockets of space for different purposes. This design by Turner Architects creates cloistered areas, which depending on how the space is used, can create more divided, private areas, or open up into a larger open plan space.
Open Plan Kitchen Styles
21. Modern Farmhouse-Style Open-plan Kitchens
This is a wonderful example of a small yet sociable open plan kitchen which works on so many levels. While those in the kitchen can feel part of the action when entertaining, there is enough space and visual division between the living and cooking spaces for them to feel distinct.
22. Going Industrial with Kitchen Design
Combining the kitchen, dining and living spaces maximises limited space and natural lighting. The industrial style used throughout unites the areas, while a snug is separated by a double-sided fireplace, containing the woodburning stove.
23. Characterful Open Plan Kitchens with Bifold Doors
Bifold doors work particularly well in open plan kitchens as they can further open up a space to the outside, creating a blur between indoors and out. This stunning example uses three banks of bifold doors to open out to the patio outside and the flooring is matched for a seamless transition.
24. Adding Drama in an Open Plan Kitchen with Vaulted Ceilings
This fabulous open plan kitchen diner is located within a striking extension to a country period farmhouse, with a fully glazed gable. A low pendant over the dining table ensures the area feels intimate despite the proportions of the room.
25. Mid-century Style Open Plan Kitchens
Open plan kitchens can be designed to fit any kind of space. Here, the kitchen units have been placed against one wall, whilst the dining space is tucked snugly into a bay window. The eye-catching floor is from Lifestyle Floors.
Essential Features and Appliances in Open Plan Kitchens
26. Cooking Smells in Open Plan Kitchens
Open plan spaces need excellent methods of extraction if they are not to become plagued by cooking smells and steam. If possible, place the cooker near a window and as far from the dining and living spaces as possible. Efficient cooker hoods are also required, but look for models that are quieter so as not to interrupt people relaxing in the living area.
If you are still concerned about smells and steam (or noise), then it might be sensible to install sliding pocket doors between the kitchen and living room.
27. Open Plan Kitchen, Dining and Living Room Lighting
The owners of this Victorian semi-detached house were keen to extend the kitchen to incorporate a dining area with a side return extension.
With a lighting design planned on a DIY basis, the space beautifully layers artificial LEDs with natural lighting. A glass clerestory illuminates the new eating area from above, spotlights provide practical lighting and the pendants are helpful not only for task working at the island, but also to create a focal feature in the stunning space.
(MORE: 15 great ways to bring in light from above)
28. Soundproofing in Open Plan Kitchens
Open plan spaces with hard flooring and lots of smooth surfaces are bound to be noisy and prone to echo. To minimise this, use soft flooring or rugs in the living areas and remember that soft furnishings and textiles will absorb noise too.
You should also plan the layout to minimise disruption. If you want an office or homework zone, keep this away from the TV or play areas. It is also a good idea to look for appliances that claim to be quieter, but check out their reviews to see how people find them in practice.
This ingenious broken plan kitchen can shut away the home office space from the noise of the kitchen, while the glass doors still let in plenty of light
29. Built-in Appliances for Small Open Plan Kitchens
Finding built-in appliances that can slot in alongside runs of cabinetry will ensure small open plan kitchens function as they should.
Ovens are no longer limited to the spot beneath the hob and dishwashers, fridges and freezers are available in drawers formats as well.
30. Multi-use Appliances Designed for Open-plan Kitchens
Double up functions of appliances or fixtures to reduce worktop clutter for a sleek kitchen. Innovative designs for coffee markers and microwaves are on the market but taps that provide not just hot, cold and boiling, but also filtered and sometimes sparkling water are becoming incredible popular.
Homebuilding & Renovating Newsletter
Get the latest news, reviews and product advice straight to your inbox.
Thank you for signing up to Homebuilding. You will receive a verification email shortly.
There was a problem. Please refresh the page and try again.