Planning a Kitchen: Practical Tips for Designing Your New Space
By Hugh Metcalf published
When it comes to planning a kitchen, do your homework and enter the process prepared. Here are our top tips for ensuring your project is a success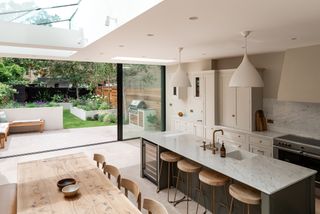 (Image credit: French + Tye, c/o NOTO Architects)
Planning a kitchen can be nerve-wracking — after all, it's often one of the largest expenses when renovating a house, and so getting a kitchen design right can feel like a daunting prospect.
There are some key considerations that it's important to know to get the most from the process, and these may be elements you've never considered if you've not undertaken a kitchen renovation before.
In this guide, we'll focus on the planning process — that is, what you need to consider while designing your space (whether you're working with a kitchen designer or not) to ensure you get the most from your final design.
Is Planning a Kitchen Yourself Possible?
In some cases, planning a kitchen yourself is completely possible. This is more likely to be an option when buying from a budget retailer who offers off-the-shelf elements that can be purchased separately. The question is: do you really need to design the kitchen yourself?
Kitchen designers don't usually represent an additional cost to the project, and kitchen designers in particular have expertise in selecting the best arrangement of kitchen units to make the most of your kitchen layout. This will ensure your internal storage functions as efficiently as possible, using the right kinds of shelving, pull out units and cabinet finishes to make your kitchen easier to use.
If you're not interiors-minded, a kitchen designer will also be able to interpret your brief in terms of styles, colours and finishes too, but if you're more confident in your style, a kitchen designer can be more of a guiding hand than dictating choices to you.
You may find when working with a design and build company or an architect, that they're willing and able to design your kitchen too. In this instance, it may be up to you to express your requirements when it comes to storage in more detail.
Planning a Kitchen Using 3D Modelling Software
There are plenty of home design apps available that can be used to help your plan your kitchen, and many of the well-known high street kitchen brands have online planner tools you can play around with before you've even booked an appointment with a kitchen designer, from B&Q to IKEA, Wren to Magnet.
While this can be handy to get an idea of a layout that will work for you, bear in mind that your kitchen designer's software will likely be more advanced, while a better knowledge of the scope of a kitchen retailer's options, which can make the design process easier.
Planning a Kitchen With a Kitchen Designer
How to Find a Kitchen Designer
Finding the right kitchen designer will depend on a few criteria. First and foremost, it's a case of identifying the kitchen maker/manufacturer you want to work with. This may depend on the styles and ranges these retailers are known for, a particular material you're keen to use, as well as practical considerations like budget.
There's sure to be a huge number of kitchen retailers in your local area, and be sure to take stock of smaller independent retailers alongside national brands and chains. Just because they appear more boutique, doesn't necessarily mean the price is going to be higher.
Scope out their websites, as well as their tagged pictures on social media. Some brands don't always showcase finished client kitchens, but this can give you a better idea of how their kitchen designs play out in the real world.
Many kitchen showrooms are offering virtual design appointments now, even if just for an initial consultation, but it's important to get into a physical showroom to see the quality of the units in person before you decide.
Visiting a showroom also gives you an opportunity to scope out the kitchen designers working there. Having the right rapport with your designer is important, ensuring your needs and concerns are heard and that you feel confident to work with them to make the right decision for you. If you're automatically assigned a designer, it's fine to explore your options — everyone has a different way of working, and some may be more suited to your point of view than others.
How to Create a Kitchen Design Brief
Entering a design consultation with no ideas at all is a bad idea, but likewise, heading into a session with a kitchen designer unwilling to bend on your ideas will limit the outcome of your final design.
The first step in creating a design brief is to take stock of your existing kitchen. What works well for you in the kitchen and what doesn't? What do you wish you had storage space for? What do you want to be able to use the space for in an ideal world? Don't forget to ask the rest of your family too, as they use the space too.
If you're purchasing a kitchen as a couple, it's a good idea to talk through your ideas before you get to your design session, so that you can make sure you're both on the same page, giving the designer the clearest brief of what you're looking for.
Using Pinterest boards is a great way to bring together inspirational images, while tearing out pages from your favourite magazines to take along is also a great idea. You don't need to have made firm decisions on anything before you give a brief to a designer, but a general point in the right direction is a good place to start.
Some kitchen companies will have your kitchen professionally measured by their teams, while others will rely on you to take the measurements. It's likely you'll have to supply these for your first meeting, and don't forget to take images of the existing space, and any plans, drawings or renders of the new space if you're undergoing re-modelling.
Get Samples and Create a Moodboard
Creating a moodboard isn't so much about having pictures and samples stuck down to an actual board as it is about having your samples all together in the space they're going to be in. In a kitchen showroom, you're only seeing colours and materials in one certain light — and often this is largely artificial. Without the ability to look at samples of the kitchen doors in your actual space, for example, you might be in for a nasty surprise when the kitchen is actually delivered.
Depending on your room's facing and the amount of natural light it receives, you might find a colour is too weak or too dominant, or certain hues are pulled out of the colour that didn't exist when you saw them in a showroom, changing the whole feel of the kitchen. If the kitchen retailer doesn't offer samples as standard, investigate whether this would be possible.
Having all your samples together also gives you the opportunity to see how they stand against each other, ensuring the tones and textures are right and that there won't be any clashes.
Creating a Budget When Planning a Kitchen
How to Decide on a Budget for Your New Kitchen
Realistically, there's a kitchen for almost any budget, but it's worth getting an idea of the average costs for different kinds of kitchen so you know what kind of route to take with your new space.
Budget brands can mean you can get a cheap kitchen for several thousand pounds, especially if you take on fitting a kitchen on a DIY basis. However, your choice in cabinetry will be much more limited, and it will be more difficult to get your kitchen functioning at its very best without the benefits that choosing a bespoke kitchen allows.
(MORE: How Much Does a New Kitchen Cost? Find out With our Price Guide)
The first step to working out a budget is to look at what you can afford. Setting a maximum spend limit is important so you don't get carried away with yourself. A new kitchen may offer a good return on investment for the right property too, so get advice from an estate agent if this is important to you, and be mindful of price ceilings in your area.
Once you have your limits, you need to make a list of all the things that you need for your kitchen. If you're working with a kitchen retailer, they may offer you kitchen units, worktops, taps, appliances and more, but there may be some elements not included. Be sure to factor in electrician and plumber costs, for example, alongside the likes of furniture, lighting, flooring, tiles and door and windows, if required.
Once you have a list of items, you can start to break down your budget into the different areas, using your quotes from the kitchen company to start balancing the books to ensure your project comes in under budget.
How to Save Money on Your Kitchen Design
When trying to renovate on a budget, there are certain areas in which it's worthwhile making more economical choices, and others where skimping will prove a false economy in the long run. Here's our guide on where to spend and where to save:
Spend
Kitchen units: While budget kitchen units may look attractive, a solid, sturdy unit will mean that a kitchen is more likely to last longer. Consider durable real wood doors that can be sanded and repainted in the future, as something as simple as painting kitchen cabinets can make it feel like you've got a whole new kitchen again.
Appliances: When it comes to appliances, you should spend on the oven and hob especially. After all, these are the appliances you'll use to cook everyday. If you need to save on appliances, a cheaper washing machine or dishwasher is probably the best option.
Storage: Integrated storage provided by your kitchen company is worth investing, or else you may find that your cupboards don't work efficiently in storing as much as you need.
(MORE: What are the Best Integrated Dishwashers?)
Save
Worktops: While it's true that strong, durable worktops are worth investing in, some of the best kitchen worktops such as quartz and granite are also incredibly expensive. Investigate some alternatives, from quartz veneer worktops, such as Maxtop Quartz, which reduces the amount of quartz used with a clever honeycomb centre (also reducing the price), to other solid materials such as Bushboard, which can still be cut to offer draining grooves and inset sinks. Think about combining materials, such as more budget-friendly wood to ensure you're only using the expensive material where you need to.
Tiles and flooring: Because of the nature of kitchen flooring, you won't want to be forking out for expensive solid timber anyway. Consider more budget friendly options to keep the price down, as many laminates and LVTs are surprisingly affordable in this day and age.
Sink: The best kitchen sink isn't always the most expensive. While a beautiful moulded sink or ceramic sink may look impressive, a cheaper stainless steel sink will hold up to the demands of a busy kitchen just as well.
Other Elements to Consider When Planning a Kitchen
Consider Lighting Early on When Planning a Kitchen
Lighting isn't something most kitchen designers will source and include as part of your design, but they may make suggestions of how and where lighting should be located. Either way, it's important to have a think about kitchen lighting ideas when you have your kitchen plan, but before work commences.
This is especially important when it comes to recessed spot lighting, ensuring that they're located in the right place to provide effective task lighting. Consider whether you'll need extra wall lights, or even table lamps/floor lamps, as this will need to be considered when planning the electrics for the space.
What to Consider When Choosing Appliances
As well as the functionality of your appliances, it's also worth considering elements such as the energy rating (bearing in mind that these have just changed — what was once a highly efficient A+++ rating, may only be a D, E or F in the new system), alongside how noisy they are.
In general, appliances less than 60db are suitable for open plan spaces, but the quieter the better. Otherwise you may find yourself unable to use your open plan kitchen space to relax or work while the washing machine or dishwasher are running.
What is the Order of Works for Installing a New Kitchen
By knowing the order of works of a kitchen, you can make plans as to when certain decisions need to be made and when certain materials need to be on site.
Phase 1: Remove wall units, worktop and base units. Remove flooring
Phase 2: First fix electrics. Reroute plumbing
Phase 3: Lay new flooring
Phase 4: Install wall units and base units
Phase 5: Second fix electrics
Phase 6: Fit worktop. Fit sink and complete plumbing to taps, drains and appliances
Phase 7: Install appliances and fit extractor fan
Phase 8: Tile and decorate
Hugh is Digital Editor of homebuilding.co.uk and has worked on a range of home, design and property magazines, including Grand Designs, Essential Kitchens, Bathrooms, Bedrooms and Good Homes. Hugh has developed a passion for modern architecture and green homes, and moonlights as an interior designer, having designed and managed projects ranging from single rooms to whole house renovations and large extensions. He's currently renovating a Victorian terrace in Essex, DIYing as much of the work as possible. His current project is a kitchen renovation which involves knocking through walls and landscaping a courtyard garden.
Homebuilding & Renovating Newsletter
Get the latest news, reviews and product advice straight to your inbox.
Thank you for signing up to Homebuilding. You will receive a verification email shortly.
There was a problem. Please refresh the page and try again.