Kitchen Ideas: 20 Genius Schemes to Elevate Your Kitchen Design
By Hugh Metcalf
Looking for kitchen ideas to take your design to the next level? Check out these inspiring spaces, each with a clever design trick to try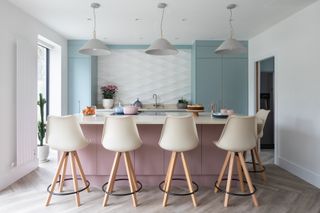 (Image credit: Used Kitchen Exchange)
Hunting for kitchen ideas is an important part of your kitchen design journey, and there's plenty of inspiration to be had. From layout ideas to trending styles in finishes, there's a lot to consider before settling on your final design scheme. 
Here, we've curated some of the most interesting and effective kitchen ideas to give you a little extra food for thought, including creative suggestions for cabinetry, worktops, layout and storage to take your design to the next level. 
1. Creative Kitchen Ideas Using Paint
If you're looking for truly unique and original kitchen idea, painting kitchen cabinets is something to look into. For giving an existing kitchen a new lease of life, it's a great idea, and you can be as creative and colourful as you like with your new design. 
However, you could also look into bespoke kitchen designs that incorporate creative painted designs too. This kitchen by Wood Works Brighton is a good example of how paint can be used to create a space with real wow-factor. 
2. Add Texture with 3D Kitchen Tiles 
When it comes to kitchen tiles, often you can't beat a classic style. The likes of a simple metro tile won't date and will look great for a long time. However, if you're more interested in putting your personality into your kitchen, your tile choice is a great place to get creative. 
Think about adding texture to your kitchen with tiles with more of a 3D quality. There are many styles available, from handmade tiles that will create texture through their non-uniformity to modern style designs, such as these sculptural white tiles used in this second hand kitchen, re-formatted for this modern home by Used Kitchen Exchange. 
3. A Stylish Partition for a Broken Plan Kitchen Idea 
Open plan kitchens are a huge trend, but there are benefits to creating some separation between a kitchen and the rest of your space, whether that's the noise of dishwashers, washing machines or extraction, or keeping cooking smells from drifting throughout the house. 
While there are ways to combat this, a broken plan scheme is a good idea to consider. Think about creating a partition between the kitchen and the rest of the place that still preserves the open sightlines, helping each space feel bigger and brighter. This clever partition wall, teamed with Schmidt's Art Deco kitchen, creates a brilliant detail that lends extra ambience to the interior design. 
 4. Go Bold With This One Colour Kitchen Idea 
Considering a kitchen feature wall? This idea using one colour to unite cabinetry and doors on one side of the room is a great way to streamline the design of a space and reduce visual clutter. What's more, this design by Martin Moore in a deep, rich blue is only given more depth thanks to the detailing of the Shaker style doors. 
5. Add Pattern With This Bold Kitchen Sink Idea 
Choosing the best kitchen sink for your scheme is an important part of the overall design, but there are more styles than ever before to choose from, including some exciting, innovative designs. 
From colourful sinks to sinks printed with stylish designs, such as this Wild Grass print from Shaws of Darwen, going bold with your sink choice offers another way to bring an interesting focal point to your kitchen design. 
6. Create a Minimal Design with a 'Hidden Kitchen'
When it comes to open plan living, kitchen styles that don't look so much like kitchens are a big trend. One way that this can be achieved is the hidden, or 'invisible', kitchen. 
This style sees the majority of the kitchen hidden away behind pocket doors, meaning that when the kitchen is not in use, it can be tucked away out of sight. 
Team this with sleek handleless kitchen doors and minimalistic design choices, and you have a low impact kitchen that fades into the background of an open plan space. 
7. Hide Doorways in Kitchen Cabinetry With This Genius Idea
This clever design trick might be a bit of a novelty, but it's also a smart idea for streamlining your kitchen design where you would otherwise have internal doors leading to other rooms. This works especially well for rooms connected to the kitchen such as a pantry or utility room, as in this clever, modern kitchen design by The Myers Touch. 
Instead, hiding a doorway behind your cabinetry means you can keep a run of units uninterrupted. Pocket doors are a good idea too, meaning you can keep the doors open when needed without getting in the way while using your kitchen.  
8. Make an Interesting Kitchen Island the Focal Idea of Your Kitchen 
Designing a kitchen island is often focused on how you're going to use it, but how about this idea to create a bold, sculptural kitchen island the star of the show. This design from Wren Kitchens could be created bespoke with a worktop material, or with a stone cladding. However, you may want to try incorporate breakfast bar seating and storage to ensure it's still as functional as possible. 
(MORE: Kitchen Island Ideas)
9. Create a Double Island in Your Kitchen
If you have a large kitchen space to fill, a double kitchen island offers copious amounts of work surface space for a super functional kitchen. Consider different kitchen layout ideas when choosing a double island, separating functional areas from social spaces while maintaining your kitchen's core work triangle between the fridge, hob/oven and sink. 
10. Designing a Kitchen Island Over a Split Level
11. A Clever Idea to Save Space in a Small Kitchen 
With space tight in the galley created in this kitchen layout, Life Kitchens used a clever small kitchen idea to trade off work surface for more floor space. By stepping the cabinets and worktops on the wall side, there remains room enough for the hob, while still retaining smaller, but still useful, pockets of worktop on either side. 
12. Banquette Seating is a Great Idea for a Kitchen
Built-in, or banquette, seating works wonders in a kitchen of any size, and really helps to make the social aspect of the space the heart of the design. There are plenty of amazing ways to incorporate banquette seating into a space, but how about this idea from Harvey Jones, which sees worktops run around the entire perimeter of a kitchen island/banquette seating area?
13. Create a Cut Out in a Handleless Kitchen 
Handleless kitchens look great when used in floor-to-ceiling banks, often looking more like interesting wall cladding in appearance than a functional kitchen. However, a complete wall of cabinetry can feel a bit flat, so try this kitchen idea to incorporate some open storage for your space. 
A simple horizontal insert in the kitchen units, lined in a contrast material, can break up the expanse of cabinets and offer a space for items that are useful to have close at hand. 
14. Get Specific When Choosing Built-in Storage 
Versatile storage solutions is a good choice for many people, but if you're very clear on how you use your kitchen and what each space will be used for, then many modern kitchen makers offer clever storage solutions.  
Inside this larder created by the Symphony Group alone there's plenty of varied kitchen storage ideas. From wine glass and bottle storage to vegetable drawers and spice racks, your storage can be as broad or specific as you desire. 
 15. Go Heavy With Drawer Storage in Your Kitchen 
When it comes to your kitchen units, drawers offer a lot of of versatility for use in the base cabinets. They're better than cupboard for keeping cookware, dishes, pots and pans, as well as plates, especially if you opt for a pegboard style drawer system. 
16. Choose a Bold Worktop Idea for Your Kitchen
Even the most traditional of kitchen styles in the most neutral of colours can be given some star power with the choice of worktop. This stylish, highly patterned marble adds a dramatic flourish to this Martin Moore kitchen, while still retaining its classic good looks.  
17. This Suspended Island Worktop Creates More Open Storage
This creative design for a kitchen island is a super effective way of making use of its storage space. Not only does it offer some open storage, effectively increasing your island surface space, but it also helps to break up the block-y nature of a kitchen island, creating a less monolithic silhouette that helps the kitchen feel bigger. 
18. Create a Floating Breakfast Bar With This Genius Kitchen Idea
The beautiful walls painted in Francesca's Paints' Moss colour isn't the only showstopper in this kitchen design by interior designers Retrouvius. An overhang of worktop has been fitted with a transparent support (glass or Perspex could potentially be used) to create the effect of a floating breakfast bar. 
19. Incorporate Appliances Into Your Kitchen Island 
Have you ever considered placing appliances on your kitchen island? This can be a helpful way to improve your kitchen's flow and set up an easier to navigate kitchen work triangle. 
However, an island is also a good spot for a drinks cabinet, such as a wine fridge. In this design by Eggersman, the wine fridge is located directly next to the dining table, making grabbing another bottle to serve with dinner a quick and easy task. 
20.  Create a Drinks Sink for a Kitchen Bar
A bar is a fun inclusion in a kitchen design, especially when located in the social side of an open plan kitchen design. To make it easy to use without disturbing the cook in the kitchen, consider a separate sink for your bar area. In this design which uses CRL Stone Quartz work surfaces, this mini sink trough is the perfect size to meet the needs of your drinks area. 
Hugh is Digital Editor of homebuilding.co.uk and has worked on a range of home, design and property magazines, including Grand Designs. Hugh has developed a passion for modern architecture and green homes, and moonlights as an interior designer, having designed and managed projects ranging from single rooms to whole house renovations and large extensions. He's currently renovating a Victorian terrace in Essex, DIYing as much of the work as possible. His current project is a kitchen renovation which involves knocking through walls and landscaping a courtyard garden. 
Homebuilding & Renovating Newsletter
Get the latest news, reviews and product advice straight to your inbox.
Thank you for signing up to Homebuilding. You will receive a verification email shortly.
There was a problem. Please refresh the page and try again.