Utility Rooms: Design Advice For Your Laundry Space
A multi-functional utility room is a necessity for many households. Get advice on the design essentials with our handy guide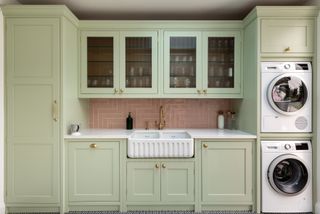 (Image credit: Herringbone Kitchens)
When it comes to utility rooms, the clue is in the name. Utility rooms are spaces dedicated to functionality and the practical side of your home. Often, but not always, adjacent and connected to the kitchen, utility rooms tend to include laundry appliances, work surfaces, a sink and extra storage for cleaning supplies at a minimum, but depending on space available, they can include a whole lot more than that.
The practicalities of a utility room are something to consider during the design stage, and though they may be dedicated to function, it doesn't mean a utility room can't look great too. Discover the key considerations for a beautiful, functional utility room with this guide.
(MORE: Utility Room Ideas)
Where Should a Utility Room be Located in the House?
Utility rooms can be noisy places. For this reason, locating them away from your relaxation and dining spaces, and not directly beneath children's bedrooms, makes sense. If you can't avoid placing the utility room near bedrooms and/or living spaces, opt for noise-reducing appliances.
(MORE: Best Integrated Dishwashers)
Utility rooms tend to be located next to kitchens, and this does make it more convenient to connect up appliances to utilities, but it's not essential they be located here.
"A utility room is often thought of as an extension of the kitchen, while many of my clients opt to have a laundry room on the first floor, which would be for washing and drying clothes and also contain storage areas for linen," says Tony Holt is an architectural designer and chartered architectural technologist, specialising in bespoke property design.
"I often ask the question: 'why would you take your dirty laundry downstairs to wash, dry and iron, just to take it back upstairs?' If, however, the household routine needs to allow for drying clothes outside then the best place for the laundry room tends to be on the ground floor."
If you have a cellar or basement, these make ideal spots for locating utility rooms.
Entering the utility room through the back door is really useful, providing an easy space in which to shed coats and shoes and to towel off wet dogs.
What Size Should a Utility Room Be?
At a minimum, a utility room well work fairly well at around 1.8 x 2.4m.
Utility rooms tend to be smaller spaces, with one wall of cabinetry and worksurfaces.
To work out how much space you'll need for the room to function well, consider how you'll interact with the appliances.
(MORE: Room Sizes)
In general, washing machines need around 920mm of space in front for loading and unloading.
Most washing machines measure 600mm x 540mm deep and tend to be around 850mm high. If you are short on floor space, stacking a washing machine and dryer is a good idea.
A 1.8m width will allow the inclusion of a 60cm-deep unit/worktop with a walk-past space of 1.2m and the 2.4m length will allow four 60cm base units to include space for a washing machine, tumbler dryer and storage space.
What Should I Include in a Utility Room?
Should I Opt for a Boot Room?
If you have the space, a dedicated boot room (for storing shoes, coats and muddy boots) and/or separate laundry room can be a very good idea.
To begin, you will need to make sure you have a hot and cold water supply and waste for the sink and washing machine.
You also need to bear in mind that if you have a vented tumble dryer you will need somewhere for it to vent to. If you do not have windows to the exterior, plan in an extractor to reduce moisture when air-drying clothes, too.
Also consider specifying the following when designing your utility:
A deep, sturdy sink with enough room to wash pots and pans, and perhaps washing off muddy boots and pet bowls if you do have a dedicated bootroom
Practical flooring — tiled, vinyl, rubber or engineered timber floors that are easy to mop and clean
On this note, low-maintenance worksurfaces that will withstand spills are a must
If you have children, make sure you include a lockable cupboard for chemical-based cleaners
Plentiful storage, including units and shelves, for all manner of items which you do not want to house in the kitchen, such as shoes, sports kit, laundry products, etc
Try to squeeze in some space for drying clothes — a pulley-style dryer that can be hoisted to the ceiling is a good option for those limited on floor space
For those with pets, a dedicated space for pet beds and bowls can be a good idea
If you have any renewable technology in your home, a utility room can also double up as a plant room, offering space for housing the required technology.
Finally, as the utility room is not classed as a habitable room, there is no requirement for openable windows under Building Regulations. However, for ventilation and for introducing natural light, it can be good to include at least one.
How Much Does a Utility Room Cost?
If you're looking to extend your home to incorporate a new utility room where there wasn't space for one before, a single storey extension will cost between £1,800-£2,300/m2. For our smallest viable utility room of 1.8 x 2.4m, this gives a starting price of an extension for a utility room at between £7,776-£9,936.
Building a stud wall to separate a space for a utility room from an existing kitchen (or other room), will cost between £400-£600.
For the utility room furniture, it will depend on your choice of cabinetry, but can be thought of like a mini-kitchen in terms of pricing up the space. For a mid-range design, budget between £1,000-£2,000.
(MORE: How Much Does a Kitchen Cost?)
Design Considerations for a Utility Room
When designing the interior of a utility room, there are some key elements that may differ from other spaces in your home:
Flooring: Durable, easy to clean flooring is a must for a utility room, so products such as laminate, LVT and porcelain tiles are a great choice for this space. Your flooring could match the kitchen or you could use the utility room as a space to add a bold contrast to bring some fun to the room.
Lighting: Opt for plenty of practical, task lighting for a utility room to keep to its functional roots, however, if your utility room is visible from the kitchen, be sure to use ambient and accent lighting to make it a feature even when not in use. Downlighters give a good, even light, while LED strips installed under shelves can be a great space-saving solution for a small utility room.
Storage: Optimising a small utility room to make the most of its storage capabilities is key. Look for clever solutions, such as integrated hanging rails for dry laundry and internal systems within your built-in storage to offer the best use of a limited space.
Get the Homebuilding & Renovating Newsletter
Bring your dream home to life with expert advice, how-to guides and design inspiration, direct to your inbox.
Natasha is Homebuilding & Renovating's Associate Content Editor and has been a member of the team for over two decades. An experienced journalist and renovation expert, she has written for a number of homes titles. Over the years Natasha has renovated and carried out a side extension to a Victorian terrace. She is currently living in the rural Edwardian cottage she renovated and extended on a largely DIY basis, living on site for the duration of the project. She is now looking for her next project — something which is proving far harder than she thought it would be.