How to Design a Utility Room
From a place to house white goods, to providing storage for sports kits, muddy boots and pet beds, utility rooms fulfil a multitude of functions. Natasha Brinsmead explains the design essentials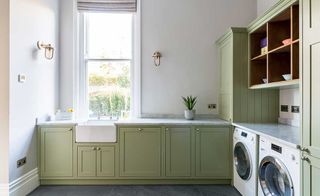 (Image credit: Bath Bespoke)
A utility room really is a necessity for most people. This is a room where all the noisy, messy and smelly stuff can be kept and is even more vital for households with pets and children — and particularly those located in the countryside.
A well-planned utility room should provide somewhere to house the washing machine and tumble dryer, a cleaning cupboard, some work surface, space for pet bowls and storage for muddy boots and shoes. If space allows, a big sink for washing items you don't necessarily want mixing with kitchen items – such as clothing, pet accessories, etc – is a good idea.
Where is the Best Location for a Utility?
Utility rooms can be noisy places. For this reason, locating them away from your relaxation and dining spaces, and not directly beneath children's bedrooms, makes sense. If you can't avoid placing the utility room near bedrooms and/or living spaces, opt for noise-reducing appliances.
If you have a cellar or basement, these make ideal spots for locating utility rooms.
Entering the utility room through the back door is really useful, providing an easy space in which to shed coats and shoes and to towel off wet dogs.
"With the kitchen becoming an ever-more minimal space, the utility is now more of a kitchen overflow. Many of the recent utility rooms we have designed are sited directly behind kitchens, so that you can reduce kitchen cupboards and storage in the kitchen and replace them simply with streamline base units beneath worktops," says architect Darren Bray, of PAD Studio.
"It is key that these utilities have plenty of cupboards, preparation areas and general storage."
What to Consider When Designing a Utility
To begin, you will need to make sure you have a hot and cold water supply and waste for the sink and washing machine.
You also need to bear in mind that if you have a vented tumble dryer you will need somewhere for it to vent to. If you do not have windows to the exterior, plan in an extractor to reduce moisture when air-drying clothes, too.
Work out how much space you'll need for the room to function well:
In general, washing machines need around 920mm of space in front for loading and unloading.
Most washing machines measure 600mm x 540mm deep and tend to be around 850mm high. If you are short on floor space, stacking a washing machine and dryer is a good idea.
Finally, as the utility room is not classed as a habitable room, there is no requirement for openable windows. However, for ventilation and for introducing natural light, it can be good to include at least one.
What to Include in a Utility
Consider specifying the following when designing your utility:
A deep, sturdy sink with enough room to wash pots and pans, and perhaps washing off muddy boots and pet bowls if you do have a dedicated bootroom
Practical flooring — tiled, vinyl, rubber or engineered timber floors that are easy to mop and clean
On this note, low-maintenance worksurfaces that will withstand spills are a must
If you have children, make sure you include a lockable cupboard for chemical-based cleaners
Plentiful storage, including units and shelves, for all manner of items which you do not want to house in the kitchen, such as shoes, sports kit, laundry products, etc
Try to squeeze in some space for drying clothes — a pulley-style dryer that can be hoisted to the ceiling is a good option for those limited on floor space
For those with pets, a dedicated space for pet beds and bowls can be a good idea
Find the best appliances for your utility or laundry room with these best buys from RealHomes.com.
Utility Room or Bootroom and Laundry Space?
If you have the space, a dedicated bootroom (for storing shoes, coats and muddy boots) and/or separate laundry room can be a very good idea.
"Do you want a utility room or a laundry room? This is what I normally ask my clients before deciding on where this room should be located," says Tony Holt is an architectural designer and chartered architectural technologist, specialising in bespoke property design.
"A utility room is often thought of as an extension of the kitchen, while many of my clients opt to have a laundry room on the first floor, which would be for washing and drying clothes and also contain storage areas for linen.
"I often ask the question: 'why would you take your dirty laundry downstairs to wash, dry and iron, just to take it back upstairs?' If, however, the household routine needs to allow for drying clothes outside then the best place for the laundry room tends to be on the ground floor."
Homebuilding & Renovating Newsletter
Get the latest news, reviews and product advice straight to your inbox.
Thank you for signing up to Homebuilding. You will receive a verification email shortly.
There was a problem. Please refresh the page and try again.