15 Types of Flooring: Which is Best For Your Home?
Discover the different types of flooring available and how to plan for each room with our guide, including expert advice and costs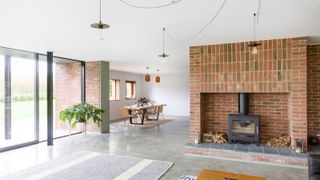 (Image credit: Simon Maxwell)
The types of flooring you choose in your home will act as a backdrop for the rest of your new interior decoration scheme. And it is not just the look of your house that your flooring affects — the right flooring will have a practical impact on how well each room performs too.
The flooring you choose will be influenced by the room you are fitting it in. The perfect living room flooring will not necessarily work in the kitchen, for instance. If you are adding flooring to a new home, you have complete autonomy to choose whatever you want, but in a period property, your decision is likely to be dictated by the style of the home, and trying to match what is already there.
You will also be led by your budget. Think not only about the cost of the flooring itself, but also which options are easier to install on a DIY basis if you are looking to make further savings.
So, below, we have broken down the different flooring options with cost information, and style and installation advice, as well as helpful hints as to which rooms each type of flooring works best.
How to Choose the Right Types of Flooring
When deciding on the different flooring options, it is best to start with a firm budget. This will help you narrow down what is available in your price bracket and eliminate those you may get tempted by and over-extend your finances. Don't forget to consider installation fees as well. Some flooring types can be laid on a DIY basis, but many will need professional help.
Then consider the room in which it will be installed. While having the same flooring throughout a home is visually effective (and definitely possible) it might not suit the room functions in the best way.
For instance, carpet used to be installed everywhere from the bedrooms and living rooms to, upsettingly, kitchens and bathrooms. With the variety of options out there, a stylish and practical home can be created without inappropriate floor coverings getting in the way.
1. Stone Flooring
A popular flooring solution for centuries, stone flooring is extremely hard wearing and looks great in both traditional and contemporary homes.
"There's an incredible range of choice; from pure white floors with uniform colouration to densely fossil-packed dark stones with plenty of tonal variations," says Jason Cherrington, director at Lapicida.
Cost: Approx. £30/m² (although slate can be found for as little as £20/m²)
Best suited for:
Kitchens: Main options for kitchen flooring ideas include limestone, sandstone, marble, slate and granite.
Utility rooms: However, some stones, even when sealed, will react with certain detergents and bleaches.
Bathrooms: Natural stone adds a real touch of luxury to the bathroom, with the less porous varieties, such as slate and marble being particularly suitable. Limestone and travertine will need to be cleaned and sealed before and after laying and grouting.
Hallways: The main priority for a hallway is durability so stone is a natural choice.
2. Porcelain Tiles
Porcelain tiles are hardwearing and available in lots of styles and finishes. They are low maintenance and cost-wise, sit between stone and ceramic tiles.
Cheaper than natural stone, porcelain floor tiles are very low maintenance, requiring no sealing, and are extremely hardwearing — plus their regular shape not only makes thin grout lines easy to achieve, but it makes them, arguably, easier to lay. That said, they are harder to cut than ceramic tiles.
A good partner with underfloor heating, porcelain tiles are easy to clean, and available in an array of colours and finishes.
Porcelain tiles are made with a denser clay, fired for longer at a higher temperature than ceramic, they also tend to be through-coloured, whereas the pattern and colour of ceramic tiles is usually just a surface layer.
Cost: £20/m²
Best suited for:
Kitchens: Stain resistant flooring, like porcelain tiles, as well as flooring materials that are easy to clean and resistant to moisture should be top of your list.
Bathrooms: Opt for an unglazed finish (which may require sealing) for a more non-slip finish than glazed for bathroom flooring.
Hallways: This choice is easy to keep clean from muddy shoes and pet paw prints.
3. Engineered Wood Flooring
Engineered wood flooring means classic natural wood styles can also be worked into contemporary schemes while offering a more water- and movement-resistant alternative to solid wood.
"Engineered wood flooring is a great alternative to solid wood if you plan to install underfloor heating (UFH), and is more resistant to fluctuations in temperature and moisture," advises Deputy Editor Michelle Guy.
Cost: from £25–30/m²
Best suited for:
Kitchens: Opting for engineered flooring over solid timber is safer in terms of movement, but be aware that an engineered floor will still suffer from scratches and stains and may well require sanding and re-finishing in order to keep it looking its best over time.
Bathrooms: Engineered timber has a greater level of stability than solid timber, but it still may not be the most practical choice in family bathrooms. Any water spills should be mopped up immediately and you should ideally avoid leaving wet bath mats or towels on the floor too.
Living rooms: Engineered wood floors have the benefit of being easy to keep clean whilst at the same time imparting a visual warmth to the living space.
4. Ceramic Tiles
Ceramic tiles can be created in a number of styles and colours, or designed to emulate stone while being lighter in weight and cheaper.
When weighing up benefits of porcelain vs ceramic tiles, ceramic tiles are cheaper than porcelain but do a very similar job, although they are not as hardwearing and can crack and chip — plus they are not usually coloured all the way through so any damage is quite obvious. However, they tend to be cheaper.
Cost: from £10/m²
Best suited for:
Kitchens: A cheaper option but less durable for a busy kitchen.
Bathrooms: Bathroom flooring needs to be capable of withstanding high levels of moisture and fluctuations in temperature. It also needs to be non-slip and stain resistant too. Ceramic floor tiles can deliver on these fronts.
Utility rooms and hallways: Choosing a porcelain or ceramic tile in these room should reduce the likelihood of stains.
5. Solid Wood Flooring
This type of wood flooring is a common original feature in period homes, especially on first floors where stone alternatives would not have been feasible. A timeless choice, solid wood flooring is suitable for all styles of homes.
Good hardwoods are durable and easy to clean if properly maintained. While wood floors can chip and scratch, many think this adds to its beauty and history.
On the downside, engineered wood flooring is a better choice over underfloor heating and in more humid areas of the home.
Cost: Prices vary but can be up to an average price of £70m2.
Best suited for:
Kitchens: In high traffic areas, solid wood can be sanded and refinished to suit.
Hallways: To ensure greater longevity for hallway flooring ideas, many choose to protect solid wood flooring with a runner.
Living rooms: Wood provides a cosy and warm environment perfect for living rooms.
6. Linoleum and Vinyl
Forget the yellowed, flimsy coverings of the past, these two materials now offer far more than just a cheap and cheerful flooring, being extremely durable, water-resistant, easy to maintain and cost-effective to buy — vinyl in particular can also mimic wood and stone. Although often grouped together, they are very different from a material perspective — linoleum is a natural product made from linseed oil mixed with plant material such as cork, and vinyl is a synthetic petroleum-based material.
Vinyl is an easy-to-clean and water-resistant material but it has a fairly short-lifespan compared with the other options. It comes in a range of colours and finishes. Linoleum and cork flooring are both good eco-friendly choices.
Cost: from £20/m²
Best suited for:
Kitchens: A cost-effective and easy-to-maintain option.
Bathrooms: Most people look for something that is easy to clean, and you might want to specify underfloor heating in your bathroom, so check your chosen floor can be laid over that.
7. Luxury Vinyl Tiles (LVT)
As the name suggests, LVT flooring is a high-end version of vinyl that comes in planks or tiles instead of a single roll. It is warm underfoot, and very convincing wood-effect versions are available, giving the look of wood places where real timber would not be suitable.
LVT is currently a popular option. Available in a range of colours and patterns, as well as finishes that mimic the appearance of other materials such as stone. LVT is soft and warm underfoot and works well over underfloor heating. On the downside, the installation tends to be best left to the professionals.
Cost: from £30–40/m²
Best suited for:
Kitchens: Plan your kitchen flooring early on — tile sizes, floorboard thicknesses and the like will need to be carefully considered in terms of how they will sit with your new units.
Bathrooms: Can be laid on a DIY basis for a quick update. In children's rooms, it can be more practical to go for low-maintenance flooring like LVT.
8. Carpet
Warm, comforting and quiet underfoot, it's not surprising carpet's popularity holds strong. It is suitable for most rooms – though it is best avoided in wet rooms such as bathrooms – but the type of carpet you choose should be influenced by the amount of traffic the area is expected to receive.
Cost: from £20/m² for synthetic or £30/m² for wool rich carpet
Best suited for:
Living rooms: An obvious choice, but those with pets might want to consider its practicality in this room.
Bedrooms: Carpet is a popular choice for bedroom flooring ideas, being warm and soft underfoot.
9. Polished Concrete Flooring
Polished concrete is perfect for those seeking a smooth contemporary design with an industrial vibe. Concrete is often given a bad press for being eco-unfriendly, but it's greener than you might think, being that it often uses recycled aggregates in its manufacture and is incredibly hardwearing — so will last for decades without the need for replacement. It's also water-resistant.
Polished concrete flooring is a hugely popular choice in open-plan living areas but, on the downside, it is not easily repaired and needs to be poured and polished by a professional in order to get the best finish.
Also, take a look at poured resin, which is becoming increasingly popular in the UK. It can be poured over the entire floor for a seamless, easy-to-clean finish and can be re-sanded and sealed as and when required.
Cost: from £90/m²
Best suited for:
Kitchens: Perfect over underfloor heating, with brilliant thermal properties, it comes in a range of colours and finishes.
Dining rooms: Resin is available in any RAL colour and quite happy over UFH, a matt finish as opposed to gloss is better at hiding any marks or scratches.
10. Natural Carpet
Carpets are not just made from synthetic fibres or wool — jute, sisal, seagrass and coir all make sustainable, allergy-friendly and hardwearing floor coverings.
While these natural materials are not as soft as carpet underfoot, they do have a more contemporary look that appeals to many. Sisal has a silky feel underfoot whilst jute tends to be the softest. They are hardwearing and suitable for areas of high traffic.
As with more traditional carpets, they require specialist fitting and experts advise that they are allowed to acclimatise in the home for 24 hours before fitting. These plant fibres are relatively easy to wipe clean and can be hoovered — there are also protective sprays which coat the fibres allowing you time to blot off spillages before they soak in.
Cost: £20–£60/m²+
Best suited for:
Hallways and stairs: Natural fibre flooring is also suitable for hallways and stairs, with both coir and seagrass being suitable for areas of high traffic.
Living rooms: Jute, coir, sisal and seagrass are all options for living room flooring ideas, being environmentally friendly and ideal for those suffering from allergies from chemical and dyes.
11. Cork Flooring
Cork flooring is a sustainable and renewable option made from the bark of the cork oak tree. It is comfortable to walk on and offers good soundproofing, but does need sealing to keep it clean and dry.
"Cork is 100% natural and renewable, and across a 200-year lifespan, a typical cork oak tree is harvested 15 times without damage, as it simply regenerates after each extraction," explains founder of Recork, James Scully. "A harvested cork oak retains three to five times more CO2 than an unharvested tree, so the cork oaks of the Montado forest play a vital role in the fight against global warming.
"Cork is very easy to look after. In a home, wipe up spills promptly with a damp cloth or mop. Vacuum or dust mop the floor as needed to remove loose dirt and regularly bonded dirt with a spray mop or a mechanical mop.
"It is important to periodically re-coat your floor when it starts to show signs of wear and tear. Due to corks elasticity and compressibility, it is extremely long wearing and allows your floor to adapt to pressure and quickly recover its initial shape — and so survives the test of time! "
Cost: From £13/m²
Best suited for:
Kitchens and living rooms: "Not only is it functional, but it introduces an organic element to a living room scheme and is a truly sustainable material," says James Scully.
12. Bamboo Wood Flooring
Depending on the source, this can be a great choice for eco flooring; bamboo is notoriously fast growing which makes it fairly cheap to produce and an alternative to hardwood flooring. Its colour is achieved by heating as opposed to staining, and the longer it is heated, the darker it gets.
Cost: From £20/m²
Best suited for:
Everywhere but wet room: The humidity will cause the bamboo to shrink.
13. Laminate Flooring
Laminate flooring consists of a photographic image of wood or stone placed on top of a core board made of compressed fibres; the material is covered in a melamine wear layer, giving laminate flooring its famed toughness. It is also easy to install as it usually has click system installation, without any need for glue or nails.
(Can't choose between similar options? Take a look at our guide to laminate vs vinyl flooring.)
Cost: from as little as £6/m² for a basic option, up to £25/m² or more for a higher quality product.
Best suited for:
Bathrooms: Can be installed on a DIY basis.
Kitchens: Laminate is easy to repair with colour matching kits.
14. Leather Tiles
A mark of luxury, leather tiles create a warm atmosphere, generally improving with age as they develop a rich patina and gain characterful marks and scratches over time. Available as tiles, leather is expensive, however, it is a very durable material.
Cost: In excess of £200/m²
Best suited for:
Not advised for kitchens and bathrooms.
15. Rubber Floors
Rubber is derived from rubber trees, and is a renewable resource with a 20-year lifespan that can look great in contemporary homes. It also insulates, absorbs noise and is highly water resistant.
"Though it may not be the obvious choice, rubber is a fantastic solution if you're looking to introduce a splash of colour," says homes journalist Rebecca Foster. "As a renewable resource, it scores high for sustainability.
"Plus, it's waterproof, comfortable underfoot and is slightly more forgiving than hard surfaces like stone and porcelain in case you drop anything. It also boasts impressive acoustic absorption qualities and a 20-year service life, when properly maintained."
Cost: £30–60/m²
Best suited for:
Bathrooms: An ideal choice for family bathrooms. Comfortable underfoot and available in non-slip finishes, it comes in an assortment of bright colours and patterns too.
Kitchens and utility rooms: A utility room floor needs to be very stain resistant, making rubber a great choice.
Children's bedrooms: Soft underfoot and easily cleaned.
What is the Most Durable Type of Flooring?
"Natural materials like stone, are usually the longest lasting flooring options. A weathered or reclaimed stone provides an exciting contrast with today's high-textured and metallic effects. Providing that you follow expert advice about cleaning natural stone and avoid harsh chemicals, it can last for many years."
Matt Phillips, head of UK Operations, Rotpunkt.
Which Type of Flooring Does Not Scratch?
"Any floor tile can scratch or chip if the right force is applied," says Lee Mitchell from Original Style. "Unglazed units are less likely to scratch than glazed but they aren't available in such a wide range of designs. On the whole, pets are unlikely to scratch any tile – but a piece of trapped gravel in a shoe could."
Which is the Easiest Flooring to Maintain?
"Manmade surfaces, like porcelain, tend to have the edge over natural options when it comes to upkeep," explains Rebecca Foster. "For example, stone surfaces need to be re-sealed every several years to keep them in tip-top condition.
"Oil and wax treatments can be used to protect wood flooring, however, you'll need to re-apply them every six months or so. Engineered woof with a lacquered finish provides a hardier layer of protection atop the timber's surface but is more prone to scratching – particularly in an area like the kitchen, which receives heavy footfall."
Get the Homebuilding & Renovating Newsletter
Bring your dream home to life with expert advice, how-to guides and design inspiration, direct to your inbox.
Claire is Editor in Chief of Homebuilding & Renovating website and magazine. She became Editor of Homebuilding & Renovating in 2016 and has been a member of the team for 15 years. An experienced homes journalist, her work has also appeared in titles such as Real Homes and Period Living.
She has a particular interest in green homes and sustainability, and interior design is a passion too; she has undertaken qualifications in this area.
After finishing a major renovation of a period cottage, she is now onto her next project: overhauling a 1930s property in the Shropshire countryside.