The Complete Guide to Flooring
Whether building a new home or renovating, at some point you will need to address the flooring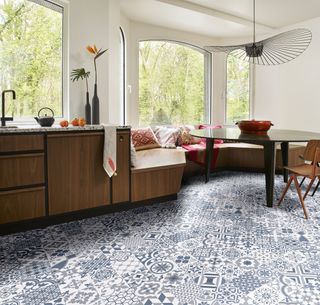 (Image credit: Lifestyle Floors)
Just like the wall coverings you choose, your flooring will act as a backdrop for the rest of your new interior decoration scheme. And it is not just the look of your house that your flooring affects — the right flooring will have a practical impact on how well each room performs too.
How to Choose the Right Flooring
The flooring you choose should very much depend on the room you are fitting it in. The perfect living room flooring will not necessarily work in the kitchen. If you are adding flooring to a new home, you have free reign to choose whatever you want, but in a period property, your decision is likely to be dictated by the style of the home, and trying to match what is already there. Find out more about repairing existing floors.
You will also be led by your budget. Think not only about the cost of the flooring itself, but also which options are easier to install on a DIY basis if you are looking to make further savings.
How much do different types of flooring cost?
A popular flooring solution for centuries, stone flooring is extremely hard wearing and looks great in both traditional and contemporary homes.
Cost: Approx. £30/m² (although slate can be found for as little as £20/m²)
Porcelain tiles are hardwearing and available in lots of styles and finishes. They are low maintenance and cost-wise, sit between stone and ceramic tiles.
Cost: £20/m²
Ceramic tiles can be created in a number of styles and colours, or designed to emulate stone while being lighter in weight and cheaper.
Cost: from £10/m²
Wooden flooring is a common original feature in period homes, especially on first floors where stone alternatives would not have been feasible. It can also be worked into contemporary schemes, and engineered options (a laminated timber) offer a more water- and movement-resistant alternative to solid wood.
Cost: from £25–30/m²
Forget the yellowed, flimsy coverings of the past, these two materials now offer far more than just a cheap and cheerful flooring, being extremely durable, water-resistant, easy to maintain and cost-effective to buy — vinyl in particular can also mimic wood and stone. Although often grouped together, they are very different from a material perspective — linoleum is a natural product made from linseed oil mixed with plant material such as cork, and vinyl is a synthetic petroleum-based material.
Cost: from £20/m²
As the name suggests, luxury vinyl tile is a high-end version of vinyl that comes in planks or tiles instead of a single roll. It is warm underfoot, and very convincing wood-effect versions are available, giving the look of wood places where real timber would not be suitable.
Cost: from £30–40/m²
Warm, comforting and quiet underfoot, it's not surprising carpet's popularity holds strong. It is suitable for most rooms – though it is usually best avoided in wet rooms – but the type of carpet you choose should be influenced by the amount of traffic the area is expected to receive.
Cost: from £20/m² for synthetic or £30/m² for wool rich carpet
Carpets are not just made from synthetic fibres and wool — jute, sisal, seagrass and coir all make sustainable, allergy-friendly and hardwearing floor coverings.
Cost: £10–£40/m²
Concrete is perfect for those seeking a smooth contemporary design with an industrial vibe. Concrete is often given a bad press for being eco-unfriendly, but it's greener than you might think, being that it often uses recycled aggregates in its manufacture and is incredibly hardwearing — so will last for decades without the need for replacement; it's also waterproof. It needs to be poured by a specialist company, and is often polished to a high gloss.
Cost: from £90/m²
Cork is a sustainable and renewable option made from the bark of the cork oak tree. It is comfortable to walk on and offers good soundproofing, but does need sealing to keep it clean and dry.
Cost: from £13/m²
Bamboo is notoriously fast growing which makes it fairly cheap to produce and a solid alternative to hardwood flooring. Its colour is achieved by heating as opposed to staining, and the longer it is heated, the darker it gets.
Cost: from £20/m²
Laminate flooring consists of a photographic image of wood or stone placed on top of a core board made of compressed fibres; the material is covered in a melamine wear layer, giving laminate flooring its famed toughness. It is also easy to install as it usually has click system installation, without any need for glue or nails.
Cost: from as little as £6/m² for a basic option, up to £25/m² for high quality
A mark of luxury, leather tiles create a warm atmosphere, generally improving with age as they develop a rich patina and gain characterful marks and scratches over time. Available as tiles, leather is expensive, however, it is a very durable material. All the same, it's not advisable to install leather in bathrooms.
Cost: in excess of £200/m²
Rubber is derived from rubber trees, and is a renewable resource with a 20-year lifespan that can look great in contemporary homes. It also insulates, absorbs noise and is highly water resistant.
Cost: £30–60/m²
Which Flooring for Which Room?
The way in which you use the kitchen and your floorplan should be taken into account here.
In open plan kitchen diners, having two different flooring types for each area works well, visually defining them as well as offering a more social and less practical feel in the eating space. The same goes for larger open plan layouts in which the living room is incorporated into the kitchen and dining space — varying the flooring will add definition and break up the space into distinct zones.
Stain resistant flooring, as well as flooring materials that are easy to clean and resistant to moisture should also be top of your list — a flooring type that won't mark, chip or crack easily if something hard gets dropped on it is a good option too.
Plan your kitchen flooring early on — tile sizes, floorboard thicknesses and the like will need to be carefully considered in terms of how they will sit with your new units.
Natural stone flooring is a great choice for kitchens. A more rustic, riven finish is perfect for classic kitchen styles, whilst honed, smooth tiles work best in contemporary kitchens. Be aware that the more irregular tiles will require thicker grout lines which can collect dirt and the uneven surface makes them more time consuming to clean.
Natural stone is tough and will last for years, plus it works brilliantly over underfloor heating — just make sure it is properly sealed before and after laying to ensure it doesn't stain.
Polished concrete flooring is another hugely popular choice in kitchens. Perfect over underfloor heating, with brilliant thermal properties, it comes in a range of colours and finishes.
On the downside, it is not easily repaired and needs the skills of a professional in order to get the best finish.
Take a look at poured resin, which is becoming increasingly popular in the UK. It can be poured over the entire kitchen floor for a seamless, easy-to-clean finish and can be re-sanded and sealed as and when required. Available in any RAL colour and quite happy over UFH, a matt finish as opposed to gloss is better at hiding any marks or scratches.
Cheaper than natural stone, porcelain floor tiles are very low maintenance, requiring no sealing and are extremely hardwearing — plus their regular shape not only makes thin grout lines easy to acheieve, but it makes them a doddle to lay. A good partner with underfloor heating, porcelain tiles are easy to clean, hard to damage and available in an array of colours and finishes.
Ceramic tiles are cheaper than porcelain but do a very similar job, although they are not as hardwearing and can crack and chip — plus they are not usually coloured all the way through so any damage is quite obvious.
(MORE: Check out the best floor tile cleaners from RealHomes.com)
Timber floors can work in a kitchen, but are higher maintenance than stone or tile. Opting for engineered flooring over solid timber is safer in terms of movement, but be aware that an engineered floor will still suffer from scratches and stains and may well require sanding and re-oiling in order to keep it looking its best over time.
Vinyl is an easy-to-clean and water-resistant material but it has a fairly short-lifespan compared with the other options. It comes in a range of colours and finishes. Linoleum and cork flooring are both good eco-friendly choices.
Vinyl is an easy-to-clean and water-resistant material but it has a fairly short-lifespan compared with the other options. It comes in a range of colours and finishes. Linoleum and cork flooring are both good eco-friendly choices.
Bathroom flooring needs to be capable of withstanding high levels of moisture and fluctuations in temperature. It also needs to be non-slip and stain resistant too.
Most people look for something that is easy to clean, and you might want to specify underfloor heating in your bathroom, so check your chosen floor can be laid over that. Although porcelain and ceramic tiles tend to be the go-to for many there are so many options that will work well too.
Porcelain tiles, though more expensive than ceramic, are made with a denser clay, fired for longer at a higher temperature than ceramic, they also tend to be through-coloured, whereas the pattern and colour of ceramic tiles is usually just a surface layer. Opt for an unglazed finish (which may require sealing) for a more non-slip finish than glazed.
Luxury vinyl tile (LVT) is currently a popular option. Available in a range of colours and patterns, as well as finishes that mimic the appearance of other materials such as stone. LVT is soft and warm underfoot and works well over underfloor. On the downside, the installation tends to be best left to the professionals.
Another less obvious choice is rubber, although it is an ideal choice for family bathrooms. Comfortable underfoot and available in non-slip finishes, it comes in an assortment of bright colours and patterns too.
Natural stone adds a real touch of luxury to the bathroom, with the less porous varieties, such as slate and marble being particularly suitable. Limestone and travertine are also popular choices, but do be aware that they need to be sealed before laying, cleaned and then sealed before and after grouting in order to maintain their good looks. Stone should also be resealed every two years.
If you have your heart set on a timber floor for your bathroom but are concerned about the effects of a wet, humid environment, don't despair. Engineered timber is a must, having a greater level of stability in the face of moisture than solid timber, but it still may not be the most practical choice in family bathrooms. Any water spills should be mopped up immediately and you need to avoid leaving wet bath mats or towels on the floor too.
This really does come down to aesthetics. In open plan living, dining and kitchen spaces it works well to define the living space as a more relaxing area by using a softer flooring type, as opposed to continuing a tile from the kitchen, but a timber floor with a large rug will also do the job nicely.
Engineered wooden floors have the benefit of being easy to keep clean whilst at the same time imparting a warmth to the living space.
Carpet is an obvious choice, but those with pets or children who sit on the side of clumsy, might want to consider its practicality.
If you like the idea of soft flooring but are concerned that carpet might not be the most practical choice, a good compromise is natural flooring. Jute, coir, sisal and seagrass are all options, being environmentally friendly and ideal for those suffering from allergies from chemical and dyes.
Whilst these natural materials are not as soft as carpet underfoot, they do have a more contemporary look that appeals to many. Sisal has a silky feel underfoot whilst jute tends to be the softest. They are hardwearing and suitable for areas of high traffic.
As with more traditional carpets, they require specialist fitting and experts advise that they are allowed to acclimatise in the home for 24 hours before fitting. These plant fibres are relatively easy to wipe clean and can be hoovered — there are also protective sprays which coat the fibres allowing you time to blot off spillages before they soak in.
The main priority in this room should be to fit a floor that is super durable and easy to keep clean — it also pays to pick a flooring that is good at hiding dirt brought in on muddy shoes and pet paws.
Porcelain, ceramic and stone are all good choices, as is solid or engineered timber. Natural fibre flooring is also suitable for hallways and stairs, with both coir and seagrass being suitable for areas of high traffic.
A utility room floor needs to be very stain resistant. Some stones, even when sealed, will react with certain detergents and bleaches. Choosing a porcelain or ceramic tile in this room should reduce the likelihood of stains, and linoleum and vinyl are also good choices, as is rubber.
This choice really is entirely down to personal preference as opposed to any particular practical requirements.
Carpet is a popular choice, being warm and soft for bare feet. For a fresh, calming feel white-washed, painted and light-stained timber flooring works well and can be softened with the addition of a rug. Both work with underfloor heating.
In children's rooms, it can be more practical to go for low-maintenace flooring such as rubber, a patterned linoleum, or timber-effect luxury vinyl tile.
Repairing Floors in a Period Home
If you are renovating and the original floor is in place then you should consider restoring it. This applies to timber and parquet floors as well as quarry tiles, flagstones and even brick — all can be restored.
When it comes to repairing old timber floors, you can either get a floor renovation specialist in to do the job for you, or carry it out on a DIY basis — it's quite a common job.
If you have original quarry tiles or a stone floor, check to see what they have been laid on before carrying out any restoration work. This type of tile was often laid directly on to well-rammed earth.
Most experts agree that if you want to keep the floor, leave it alone. Yes, the stone or tiles will be cold underfoot, but many people find that the earth underneath has dried out and although the temptation may be to add a plastic damp-proof membrane underneath the floor, this can often mean moisture is displaced to the base of previously dry adjacent walls.
Sealing it can also cause moisture to become trapped underneath. Many experts advise that the best course of action is to take the floor up, dig out the earth underneath, and insert a breathable insulated concrete mix, which maintains breathability.
Insulated floors are much more comfortable to live with than uninsulated. Suspended timber floors can be lifted and insulation fitted between the joists. You can choose between rigid polyurethane foam board insulation, cut to size, and resting on supporting nails or battens, or mineral wool, which is cheaper but a little less effective, supported on netting.
Floor restoration specialists will restore timber floors for around £35–50/m². To hire a floor sander to do it yourself costs from £60 per week. Do not forget to factor in costs for good-quality varnish, which can be up to £100.
Fitting a New Floor
Some flooring types are easy enough to fit on a DIY basis. These include porcelain and ceramic tiles and engineered timber flooring. However, fitting carpet, natural flooring and real stone flooring is a job best left to professional fitters.
Many suppliers offer a fitting service and tend to charge per square metre, although be aware that some have a minimum fitting charge in place. Carpet fitting tends to start at around £3.50/m², whilst LVT costs more like £10/m².
Laying a natural stone flooring is quite an art so don't be surprised by quotes of around £35/m². Some tilers might also offer a day rate, which will depend on where you live.
Homebuilding & Renovating Newsletter
Get the latest news, expert advice and product inspiration straight to your inbox.
Thank you for signing up to Homebuilding. You will receive a verification email shortly.
There was a problem. Please refresh the page and try again.