Loft Conversion Ideas: Clever Solutions for Your Home
Looking for loft conversion ideas? Then take a look at these designs for a dose of inspiration before starting your project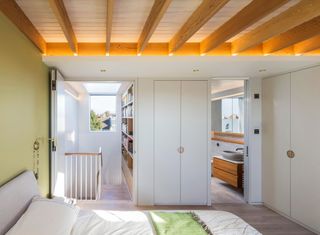 (Image credit: Agnese Sanvito c/o Neil Dusheiko Architects)
Loft conversion ideas are just what you need when you're about to take on a build project in the roof. As well as all the technical details to abide by, you need a little inspiration to decide how your space will work for you.
A loft conversion is a great way to add extra square footage without having to encroach on the garden or interrupt the flow of the rest of the house. It's an ideal space to convert into a master suite, a kids' den or a home office. Done well, it'll also add significant value to your home.
When it comes to the layout, loft spaces often have odd angles and sloping ceilings so the best conversion ideas are those that work with these shapes and embrace them in the design.
You'll also need to consider how much natural light will penetrate the new floorplan, as well as how you'll insulate and heat the loft effectively.
So before deciding on your final design, take a look at these loft conversion ideas for inspiration.
(MORE: Get a quote for your loft conversion)
Create a Tranquil Master Bedroom
Converting a loft into a bedroom is a hugely popular idea, adding value as well as useful extra space.
Particular consideration should be given to blinds when creating a bedroom — the light that comes in from roof windows tends to be bright and you don't want to be woken at the crack of dawn.
(MORE: Get a quote for your loft conversion)
There are several options when it comes to choosing blinds for roof windows — but in a bedroom, a blackout blind is a must. Choose one that is designed to prevent light seeping in from the sides. Both Velux and Blinds 2go offer a large range of blackout blinds.
You will also need to provide clothes storage. Under-eaves storage, using space too low for freestanding cupboards, rails or shelving, is a great idea. Alternatively, look into having fitted wardrobes made to suit your specific space.
Add a Loft Bathroom
It can be really useful to locate bathroom facilities in a loft conversion. A loft bedroom usually warrants more extensive bathroom facilities, whereas a study or games room might only need a toilet and basin.
A loft bathroom doesn't have to take up much space, but make sure there is sufficient headroom. A minimum floor space of around 1 x 2.6m is sufficient for a shower room with WC and basin — head height will be required over the shower, but the ceiling can slope where the toilet cistern is.
(MORE: Bathroom Design: The Complete Guide)
Dormer Windows: A Great Loft Conversion Idea
Adding a dormer window to your loft can be a straightforward way to incorporate more space overhead. However, in this loft conversion by Konishi Gaffney Architects, strict planning rules within this local conservation area meant installing a conventional dormer window wasn't possible. Instead, a low profile, long dormer was fitted meaning it has less of a visual impact than a dormer positioned close to the eaves. The addition has been clad in anthracite zinc.
Flood a Loft Conversion Living Room with Natural Light
An extra living room in the loft space is a great idea — perhaps you have older children who might appreciate their own space or maybe you like the idea of a second TV room or just a chill out space to escape up to at the end of a long day.
Rooflights can be used as a smart way to flood your loft space with natural light. This balcony system (Velux's Cabrio) drenches this top floor den in sunshine. Comprising two glazed panels, each of the windows can be opened in two ways: as a conventional rooflight as well as a dormer-style balcony when the bottom panel is also pushed back.
(MORE: Get a quote for your loft conversion)
Use Your Loft as a Place for Your Hobbies
The loft is the perfect spot for a games room, hobbies room or den. Take time to really consider what you will be using the space for — a home cinema or music room will have different lighting requirements than a hobby space, for example.
If the activities taking place here are likely to be noisy, give some thought to soundproofing. You need not only to consider footfall noise but, if you are in a terrace or semi-detached house, the transference of noise from one house to the next. There are plenty of ways to add soundproofing:
Thermal insulation in walls, ceilings and floors provides noise insulation, as well as thermal
High-density acoustic plasterboard acts as a good sound blocker
A high-density acoustic membrane helps prevent sound transfer between walls and ceilings
Mineral wool between floor joists also helps — acoustic mineral wool offers triple the density of standard loft insulation, giving a good sound absorbing layer and thermal insulation
In music rooms, adding foam tiles to walls and ceilings will increase sound absorption
Consider triple-glazed windows where the new room will generate high noise levels
Use carpet as opposed to hard flooring
Any new plumbing should include acoustic pipe insulation
Incorporate Clever Lighting Design into a Loft Conversion Idea
In this top floor master suite, Neil Dusheiko Architects concealed dimmable LED lights have been fitted along the perimeter to give the timber structure a soft glow.
When planning your loft conversion, make sure you fully consider the lighting design to achieve a higher-quality space which can be enjoyed at any time of day.
(MORE: Get a quote for your loft conversion)
Install a Loft Bar for At-Home Entertaining
If you love to entertain at home, then a home bar is a great loft conversion idea. It'll work in any size loft space and you can use any sloping ceilings or odd angles to your advantage when it comes to storage or seating.
Go bold with colour, plants and soft furnishings, or keep things neutral for a more understated look. If you have opportunity to create a roof terrace, then choose the same flooring for both the indoor and outdoor area to make them feel like one cohesive space.
Create a Room With a View
Maximising natural light is a great idea for a loft conversion and being up high provides a great opportunity to take advantage of your views.
Think about whether you could incorporate some full-height glazing, either fixed or opening. French or sliding doors opening out to a Juliet balcony mean light, fresh air and a sense of space can all be achieved, but the feasibility of adding these will depend on the type of conversion you are carrying out.
(MORE: Get a quote for your loft conversion)
A Kid-friendly Loft Conversion Idea
Creating a designated space where children can enjoy their toys and hobbies not only helps to keep a lid on clutter throughout the rest of the house, but can also be a great idea for a loft conversion.
Bespoke built-in storage will help to keep clutter under control, and keeping walls and floors light will help a smaller space feel bigger. Bursts of colour on feature walls (or ceiling slopes) can help to zone the room, while bean bags and cushions in contrasting colours will provide flexible comfort.
You can also add in a dedicated space for children to do their homework too.
A Self-contained Loft Conversion Idea
If you've recently found yourself working from home and needing a more permanent set-up, loft conversions are a great option without taking up precious space on the lower floors.
Depending on the space you have available, you might also want to consider making space for a small kitchenette or toilet to avoid going up and down the stairs too regularly.
This loft conversion provides a self-contained lounging zone for relaxation, away from the open-plan area downstairs.
(MORE: Home Office Design)
Installing Bespoke Furniture is a Great Loft Conversion Idea
Whether you plan on using your new loft space as a bedroom, office or hobby room, you will need to consider effective storage from the outset. But with sloping ceilings and odd angles, you will likely find that standalone furniture is not up to the task.
Bespoke furniture, such as bookcases and wardrobes, built to fit the awkward dimensions will keep the room looking styling, while avoiding wasted space.
(MORE: Get a quote for your loft conversion)
A Luxurious Loft Conversion Idea
Darker tones can be paired with metallics to create a luxurious yet cosy feel in an attic master suite — and in this example, the bespoke dark grey low-level partition cleverly conceals a dressing area from the large-format window opposite while still letting in the light.
Utilise Alcoves and Recesses to Make the Most of the Space
When Mustard Architects created a modern open-plan home office on the top floor of this home they utilised the alcove in the existing brickwork to provide a handy space for storing office paraphernalia.
(MORE: Get a quote for your loft conversion)
Turn a Loft Conversion Into a Rooftop Sanctuary
There's no reason why the top storey of your house shouldn't benefit from access to outdoor space. Designed by Edward McCann Architects, this loft extension to a terraced house opens out onto a small outdoor terrace. Folding doors have been used to maximise the width of the aperture, establishing a bright and breezy feel inside.
Interior Cladding is a Great Idea for a Loft Conversion
This ply-lined attic space provides a tranquil reading room for the two academics who live here. Shelving has been incorporated in the eaves to display the owners' eclectic array of ornaments and artwork. The scheme was completed by Studio Octopi under Permitted Development rights.
Get a Quote for Your Loft Conversion
How It Works
Homebuilding.co.uk partners with the UK's best loft conversion specialists to match your requirements with their services.
Simply answer a few questions on what you need from your loft conversion and we'll put you in touch with a suitable partner.
1. Enter your details below. Tell us a bit about your project and what you are looking for, and leave some contact details.
2. We search our database. We'll match your requirements with the products and services that our partners offer.
3. Partners will contact you. Don't worry about being bombarded - only the suppliers that match your requirements will contact you.
Homebuilding & Renovating Newsletter
Get the latest news, expert advice and product inspiration straight to your inbox.
Thank you for signing up to Homebuilding. You will receive a verification email shortly.
There was a problem. Please refresh the page and try again.