Loft Conversion Ideas: 27 Smart Ways to Design Your New Space
By Natasha Brinsmead , Amy Reeves
Inspiring loft conversion ideas to help spark some beautiful and practical ideas for your build project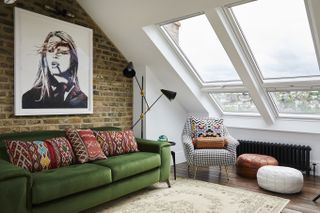 (Image credit: Resi)
Loft conversion ideas are a helpful dose of inspiration when you're taking on such a big project. It may well be situated at the top of your home, in the eaves, but you'll want to design a space that works for you. 
Whether it's a master suite, snug for the kids or a home office to take you away from the hustle and bustle of the main house, it's got to be a space that works and flows with the rest of the house. 
A loft conversion is a great way to extend without stealing any space from the garden, especially in suburban plots where outside space is not always the most generous. Done well, it'll also add significant value to your home.
Sloping ceilings, nooks and crannies and odd angles will, more often than not, need to be incorporated into the design of the loft conversion. And don't forget you'll need to consider the glazing to let in enough light, as well as heating and insulation to make it cosy not cold.
Take a look at our 15 loft conversion ideas to spur on some moodboard inspiration.
1. Use Loft Conversion Ideas to Explore the Best use of Space
Converting a loft into a usable room is a great idea for those who want to add some extra space without encroaching on the garden. They key to a successful design is to plan what the new area will be used for early on. 
Whether it's a new master bedroom suite away from the hustle and bustle of downstairs, a home office, or an extra living room as children become teenagers, loft conversions are best designed with a firm purpose from the off. 
2. Think about a Dormer Loft Conversion for Extra Head Room
While converting a loft is possible without extending, adding dormer windows will provide a little extra headroom, meaning every inch of the floor space is utilised — while saving a few bumped head along the way! 
3. Work With Awkward Spaces Where Possible in a Loft Conversion
If a dormer extension is not possible, make the most of a smaller space by creating features from alcoves, fireplace flues and, of course the vaulted ceiling which is included in so many loft conversions. 
This example injects natural light with a rooflight and has positioned the toilet and smaller bathroom units under the eaves, freeing up space at the apex for a shower and the sink. 
4. Case study
A Master Suite Loft Conversion
Location: London | Architect: Lendel Stephens | Project: Ground floor extension and dormer loft conversion
While extending their Victorian terrace, Tim and Aisling Cooney added a dormer loft conversion to create a new master suite. Large sliding windows were added, as was a movable external screen made from corten steel to give the couple privacy in both the bedroom (below) and the adjoining bathroom. 
A partition wall was included behind the bed to maximise space and act as a private dressing area. Attention to detail in the new bedroom makes it a sanctuary from the busy downstairs area. 
5. Decide on a Layout that Works Best from the Start 
Deciding on the position of furniture right from the start will save a lot of headaches (and costs) further down the line. Work out what will be included in the new space and from there plan plug sockets, light fittings and any built-in storage accordingly. 
Here, this small loft conversion has ingeniously positioned the compact radiator at the lowest point of the room, out of the way, while the route around the bed has plenty of headroom. 
(MORE: How to get room sizes right)
6. Don't Forget to Look at Ideas for Stairs in a Loft Conversion
Ensuring you have adequate space to comply with Building Regulations is essential, including sufficient headroom and fire safety. 
Take a look at out guide to designing loft conversion stairs. 
7. Tie in New Additions for Uniform Look
This loft conversion with dormer extensions beautifully unites the new additions with the existing house by repainting windows and utilising a similar rusty-coloured brick around the windows. 
Finished with large sliding doors which open out to the new patio area (both in the same grey hue) has maximised the available space effortlessly. 
8. Pack a Big Punch with a Small Loft Conversion 
Even a small loft conversion is a new space full of opportunity so be sure to plan from the start what the new room will be used for to maximise design opportunities. 
This compact loft conversion with mansard roof extension features a Juliet balcony in the boutique bedroom as well as the ultimate luxury, a freestanding tub. 
(MORE: Types of Loft Conversion)
9. Low Roof? Pick Rooflights for the Illusion of a Bigger Space
Many projects are unable to extend with a dormer due to budget constraints or planning restrictions but that's not to mean loft conversions aren't worth the effort. 
Loft conversions with low headheights can be made to feel luxurious by using rooflights. Pair that with a smart layout, ingenious built-in storage and a freestanding tub like this project and you'll be onto a winner. 
10. Designing Stairs for a Loft Conversion
Staircase design up to a loft conversion is often forgotten about but as they stitch together the new space and the rest of the house, they're fundamental to the success of a project. 
This loft conversion and terrace extension utilised three half landings to cleverly create the illusion of extra space before leading out to the new rooftop garden.  
11. Case study
A Bungalow Loft Conversion Before and After
Location: Hampshire | Architect: Self-designed | Project: Dormer loft extension to bungalow
Before
After
Adding a dormer loft extension doubled the size of Jack Canning's dated 1960s bungalow, transforming it into a light, bright and spacious home that reflects its coastal location. 
(MORE: Building an extension)
Jack reserved a large part of the new second storey for a luxurious master suite, which has a stunning vaulted ceiling, a Juliet balcony and a large rooflight overhead. 
12. Create a Home Office Sanctuary in a Small Loft Conversion
Light, bright and away from the hustle and bustle of daily life, adding a home office into a loft conversion is the perfect choice for those struggling to work from their dining room table. 
Working from home is now becoming the norm so a dedicated office space is up there on the list of spaces we now need.
A loft conversion into a home office is a great way to escape the main house and gives you the chance to shut down your laptop, shut the office door and go down to your relax in your home without being tempted to log back on - out of sight, out of mind!
If you plan on using your new loft space as an office you will need to consider effective storage from the outset. But with sloping ceilings and odd angles, you will likely find that standalone furniture is not up to the task. 
Bespoke furniture, such as bookcases and desks, built to fit the awkward dimensions will keep the room looking stylish, while avoiding wasted space. 
(MORE: Home Office Design)
13. Design a Tranquil Master Bedroom
Converting a loft into a bedroom or master suite is a hugely popular idea, adding value as well as useful extra space.
Particular consideration should be given to blinds when creating a bedroom — the light that comes in from roof windows tends to be bright and you don't want to be woken at the crack of dawn.
(MORE: Loft Conversion Cost)
There are several options when it comes to choosing blinds for roof windows — but in a bedroom, a blackout blind is a must. Choose one that is designed to prevent light seeping in from the sides. Both Velux and Blinds 2go offer a large range of blackout blinds. 
You will also need to provide clothes storage. Under-eaves storage, using space too low for freestanding cupboards, rails or shelving, is a great idea. Alternatively, look into having fitted wardrobes made to suit your specific space.
(MORE: Best Skylight Blinds)
14. Add a Bathroom in the Loft
It can be really useful to locate bathroom facilities in a loft conversion. A loft bedroom usually warrants more extensive bathroom facilities, whereas a study or games room might only need a toilet and basin.
A loft bathroom doesn't have to take up much space, but make sure there is sufficient headroom. A minimum floor space of around 1 x 2.6m is sufficient for a shower room with WC and basin — head height will be required over the shower, but the ceiling can slope where the toilet cistern is.
(MORE: Bathroom Design)
15. Or Create a Whole Master Suite in the Loft
Create a hide-away from it all that's only for you by building in both a master bedroom and en suite in the loft conversion. 
An extra shower room or small bathroom adds plenty of value to a house while offering a spot to release your personality on the new space, as in this quirky master bedroom. 
16. Create a Living Room in the Loft Space
An extra living room in the loft space is a great idea — perhaps you have older children who might appreciate their own space or maybe you like the idea of a second TV room or just a chill out space to escape up to at the end of a long day.
17. Ideas for Dealing with Planning Permission
Adding a dormer window to your loft can be a straightforward way to incorporate more space overhead. 
However, in this loft conversion by Konishi Gaffney Architects, strict planning rules within this local conservation area meant installing a conventional dormer window wasn't possible. Instead, a low profile, long dormer was fitted meaning it has less of a visual impact than a dormer positioned close to the eaves. The addition has been clad in anthracite zinc.
(MORE: Ultimate Guide to Planning Permission)
18. Convert Your Loft Into a Den
The loft is the perfect spot for a games room, hobbies room or den. Take time to really consider what you will be using the space for — a home cinema or music room will have different lighting requirements than a hobby space, for example.
If the activities taking place here are likely to be noisy, give some thought to soundproofing. You need not only to consider footfall noise but, if you are in a terrace or semi-detached house, the transference of noise from one house to the next. There are plenty of ways to add soundproofing:
Thermal insulation in walls, ceilings and floors provides noise insulation, as well as thermal
High-density acoustic plasterboard acts as a good sound blocker
A high-density acoustic membrane helps prevent sound transfer between walls and ceilings
Mineral wool between floor joists also helps — acoustic mineral wool offers triple the density of standard loft insulation, giving a good sound absorbing layer and thermal insulation
In music rooms, adding foam tiles to walls and ceilings will increase sound absorption
Consider triple-glazed windows where the new room will generate high noise levels
Use carpet as opposed to hard flooring
Any new plumbing should include acoustic pipe insulation
19. Loft Conversion Lighting Ideas
In this top floor master suite, Neil Dusheiko Architects concealed dimmable LED lights have been fitted along the perimeter to give the timber structure a soft glow.
When planning your loft conversion, make sure you fully consider the lighting design to achieve a higher-quality space which can be enjoyed at any time of day.  
20. A Kid-friendly Loft Conversion Idea
A great idea for a loft conversion idea is turning the space in the eaves into a den or children's bedroom. They can use the space to sleep, play and hang out. 
Bespoke built-in storage will help to keep clutter under control, and keeping walls and floors light will help a smaller space feel bigger. Bursts of colour on feature walls (or ceiling slopes) can help to zone the room, while bean bags and cushions in contrasting colours will provide flexible comfort.
21. At-Home Entertaining Loft Conversion Idea
With more of spending time at home, having a dedicated space to entertain is on the wish-list. A home bar is a quirky idea and will work in any size loft space.
Sloping ceilings and odd angles will work to your advantage when it comes to storage or seating.
Go bold with colour, plants and soft furnishings, or keep things neutral for a more understated look. If you have opportunity to create a roof terrace, then choose the same flooring for both the indoor and outdoor area to make them feel like one cohesive space.
22. Create a Loft Room With a View
Maximising natural light is a great idea for a loft conversion and being up high provides a great opportunity to take advantage of your views.
Think about whether you could incorporate some full-height glazing, either fixed or opening, or rooflights. French or sliding doors opening out to a Juliet balcony mean light, fresh air and a sense of space can all be achieved, but the feasibility of adding these will depend on the type of conversion you are carrying out.
23. A Multi-functional Loft Conversion Idea
If you have older children, housemates or relatives living with you, then creating a self-contained space for them in the loft can be a great use of space.
Equally, if you live in a flat and own the loft space, moving your living space up-top can offer a great opportunity to create a multi-functional space that's full of light and can take in the views. 
24. A Luxurious Loft Conversion Idea
Darker tones can be paired with metallics to create a luxurious yet cosy feel in an attic master suite — and in this example, the bespoke dark grey low-level partition cleverly conceals a dressing area from the large-format window opposite while still letting in the light.
25. How to Use Alcoves and Recesses in the Design
When Mustard Architects created a modern open-plan home office on the top floor of this home they utilised the alcove in the existing brickwork to provide a handy space for storing office paraphernalia. 
26. Turn a Loft Conversion Into a Rooftop Sanctuary
There's no reason why the top storey of your house shouldn't benefit from access to outdoor space. Designed by Edward McCann Architects, this loft extension to a terraced house opens out onto a small outdoor terrace. Folding doors have been used to maximise the width of the aperture, establishing a bright and breezy feel inside.
27. Cladding Your Loft Conversion
This ply-lined attic space provides a tranquil reading room for the two academics who live here. Shelving has been incorporated in the eaves to display the owners' eclectic array of ornaments and artwork. The scheme was completed by Studio Octopi under Permitted Development rights.
Homebuilding & Renovating Newsletter
Get the latest news, reviews and product advice straight to your inbox.
Thank you for signing up to Homebuilding. You will receive a verification email shortly.
There was a problem. Please refresh the page and try again.