Loft Conversion Ideas: Clever Solutions for Your Home
If you are looking for loft conversion ideas, check out these clever suggestions — from the value-adding extra bedroom to a light-filled living room or the perfect home office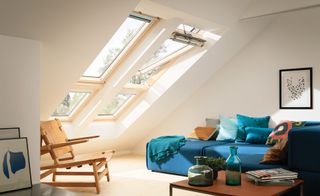 (Image credit: VELUX)
When it comes to loft conversion ideas, the best ones alleviate space pressures on your home, while adding valuable and habitable space to the property without the need to extend. Done well, it'll also add significant value to your home.
The best loft conversion ideas will work with the often odd angles and sloping ceilings of the space, and will include provisions for the ingress of natural light. You'll also need to think about how you will heat and insulate the loft effectively.
If you are looking for an in-depth guide to converting your loft, check out our loft conversion beginner's guide.
But before you begin your conversion, think carefully about the best use for the space. Here are some clever loft conversion ideas that will get those creative juices flowing.
Flood a Loft Living Room with Natural Light
An extra living room in the loft space is a great idea — perhaps you have older children who might appreciate their own space or maybe you like the idea of a second TV room or just a chill out space to escape up to at the end of a long day.
There are a couple of things to consider in a loft living space. Natural light is important here and being up high provides a great opportunity to take advantage of your views.
Think about whether you could incorporate some full-height glazing, either fixed or opening. French or sliding doors opening out to a Juliet balcony mean light, fresh air and a sense of space can all be achieved, but the feasibility of adding these will depend on the type of conversion you are carrying out.
Use Your Loft as a Place for Your Hobbies
The loft is the perfect spot for a games room, hobbies room or den. Take time to really consider what you will be using the space for — a home cinema or music room will have different lighting requirements than a hobby space, for example.
If the activities taking place here are likely to be noisy, give some thought to soundproofing. You need not only to consider footfall noise but, if you are in a terrace or semi-detached house, the transference of noise from one house to the next. There are plenty of ways to add soundproofing:
Thermal insulation in walls, ceilings and floors provides noise insulation, as well as thermal
High-density acoustic plasterboard acts as a good sound blocker
A high-density acoustic membrane helps prevent sound transfer between walls and ceilings
Mineral wool between floor joists also helps — acoustic mineral wool offers triple the density of standard loft insulation, giving a good sound absorbing layer and thermal insulation
In music rooms, adding foam tiles to walls and ceilings will increase sound absorption
Consider triple-glazed windows where the new room will generate high noise levels
Use carpet as opposed to hard flooring
Any new plumbing should include acoustic pipe insulation
Install a Loft Bar for At-Home Entertaining
If you love to entertain at home, then a home bar is a great loft conversion idea. It'll work in any size loft space and you can use any sloping ceilings or odd angles to your advantage when it comes to storage or seating.
Go bold with colour, plants and soft furnishings, or keep things neutral for a more understated look. If you have opportunity to create a roof terrace, then choose the same flooring for both the indoor and outdoor area to make them feel like one cohesive space.
Add Outside Space with a Loft Terrace
If you really want to ramp up the wow factor of your home, then creating some outdoor space as part of your loft conversion is a sure way to do it.
Whether you are embracing upside down living or creating the ultimate master suite, this can be a great way to bring the outside in. Choose similar flooring for both the interior and the outside area to maximise the feeling of space.
Turn Your Loft into a Kid Zone
Creating a designated space where children can enjoy their toys and hobbies not only helps to keep a lid on clutter throughout the rest of the house, but can also be a great idea for a loft conversion.
Bespoke built-in storage will help to keep clutter under control, and keeping walls and floors light will help a smaller space feel bigger. Bursts of colour on feature walls (or ceiling slopes) can help to zone the room, while bean bags and cushions in contrasting colours will provide flexible comfort.
You can also add in a dedicated space for children to do their homework too.
Dedicate the Loft to a Master Bedroom
Converting a loft into a bedroom is a hugely popular choice, adding value as well as useful extra space.
Particular consideration should be given to blinds when creating a bedroom — the light that comes in from roof windows tends to be bright and you don't want to be woken at the crack of dawn.
There are several options when it comes to choosing blinds for roof windows — but in a bedroom, a blackout blind is a must. Choose one that is designed to prevent light seeping in from the sides. Both Velux and Blinds 2go offer a large range of blackout blinds. Take a look at Velux's blackout energy blinds which are designed to also improve window insulation and the Duo Blackout Blind which allows you to choose whether you want to completely block light or allow in softly diffused light.
You will also need to provide clothes storage. Under-eaves storage, using space too low for freestanding cupboards, rails or shelving, is a great idea. Alternatively, look into having fitted wardrobes made to suit your specific space.
Always Make Space for Bathroom Facilities
It can be really useful to locate bathroom facilities in a loft conversion. A loft bedroom usually warrants more extensive bathroom facilities, whereas a study or games room might only need a toilet and basin.
A loft bathroom doesn't have to take up much space, but make sure there is sufficient headroom. A minimum floor space of around 1 x 2.6m is sufficient for a shower room with WC and basin — head height will be required over the shower, but the ceiling can slope where the toilet cistern is.
A bathroom with a standard-sized bath will need to be at least 1.7 x 2.3m but ceiling heights are less of a concern. You will also need to consider the expense of extending plumbing and waste pipes up into the loft, as well as incorporating ventilation in the form of an extractor fan.
Aim to keep the new soil pipe in line with the existing pipe for bathrooms on the lower floors — which is an easier task than putting in a new one. If you can't connect into an existing soil pipe, you could use flexible bore waste pipes and a pumped unit with a macerator. It may be necessary to move the header tank for your plumbing system higher in order to create enough pressure for the new taps or showerhead in the loft. In fact, you might find you need to fit a mains pressure plumbing system, with either a combi boiler for instant hot water on demand or a boiler and unvented cylinder.
If you plan on installing a walk-in shower, use a preformed tray with an integrated trap. The whole floor will need to be tanked (this will need to extend up the walls by 100mm) so that water only escapes down the trap.
Utilise Space in Your Home Office with Bespoke Furniture
Work from home? A loft conversion is the ideal spot for a home office. A few things to consider when it comes to loft conversions intended for this use — you will need to consider where your desk will be positioned in relation to windows, and ensure you have enough power points.
Consider blinds that allow light in but prevent glare on your computer screen, such as Velux's pleated blinds that allow in a softly diffused light.
Depending on the space you have available, you might also want to consider making space for a small kitchenette or toilet to avoid going up and down the stairs too regularly.
Make the Most of Views with Upside Down Living
Jo Dyson has completely redesigned her London flat, creating a 'reverse living' loft extension, with the bedrooms and bathroom on the first floor and the kitchen and living space on the new top floor.
The new loft space now houses an open plan living room, kitchen and dining area, with bi-fold doors opening onto the south-facing roof terrace.
On warmer days, when the bi-fold doors are pushed back, it joins the living room to the outside and creates a feeling of an extended relaxing space.
(MORE: How to get open plan design right)
Editor's note: If you're after information to help choose a loft conversion vendor that's right for you, fill in the questionnaire below and we can provide you with information from a variety of vendors for free:
Homebuilding & Renovating Newsletter
Get the latest news, expert advice and product inspiration straight to your inbox.
Thank you for signing up to Homebuilding. You will receive a verification email shortly.
There was a problem. Please refresh the page and try again.