Stunning Kitchen Extension Ideas — Get the Perfect Design
By Amy Reeves published
Find out how these kitchen extension ideas can maximise your project, no matter what shape or size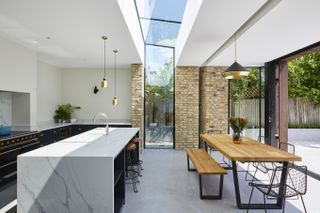 (Image credit: Chris Snook)
Our collection of brilliant kitchen extension ideas will give prospective projects food for thought and plenty of design inspiration. No matter what stage your project is at, these ideas of all shapes sizes and budget (including before and after galleries) are both achievable and show-stopping.
One of the most popular reasons for building an extension, creating a bigger kitchen space is a great way to curate a new hub of the family home.
From small side returns on a terrace houses to full-width rear extensions on semi-detached properties, kitchen extensions offer the chance to rearrange a layout which doesn't quite work for your lifestyle and can give a tired home a new lease of life.
Use Kitchen Extension Ideas to Create a Great Brief
Whether you're working with an architect, designer or doing the planning on a DIY basis, hunting around to find kitchen ideas, designs and styles that inspire you, or would work with your existing home, is a fantastic starting point to work out a priority list and design brief.
"The first question we ask a client is 'why are you undertaking this project?'", explains Helena Myers, director of The Myers Touch Design Studio. "It'll really get you thinking about what it is you want and will help you and the designer to begin exploring what outcome you hope a new kitchen space will bring."
Try to consider what the new kitchen space will be used for. Kitchens are rarely used simple to cook in anymore, so considering family seating, a small home office space or a children's play area will help kick start the layout.
Image 1 of 4
Image 2 of 4
Image 3 of 4
Image 4 of 4
1. Design an Extension Which is the Right Size for You
Image 1 of 4
Image 2 of 4
(MORE: Picture Windows)
Image 3 of 4
Image 4 of 4
(MORE: Patio Doors)
Kitchen extensions don't have to be huge, sprawling design to transform an existing house. By utilising large glazing and window styles and other small kitchen extension ideas, a greater connection with the garden can be established without making it smaller.
Bifold or sliding patio doors are fantastic options that offer views out all year round, while installing a large roof lantern can bring in plenty of natural light to the new space.
"Don't always assume that the only way to get what you want for your home is the widest, longest extension you can achieve under planning permission or Permitted Development," advises Laura Jane Clark, director of Lamp Architects.
"Often a big square extension can result in a dark cavernous home that will need extensive rooflights, windows and additional lighting. As cost-saving alternative, think about clever ways to use your design that will minimise the need for a huge extension."
2. Let in the Light with an Orangery-Inspired Extension
When designing a kitchen extension, spend time and effort on making sure plenty natural light infiltrates the space — but don't make the rest of the house feel dark! This is a delicate balance, but one that is important to get right.
Find inspiration from kitchen conservatory extensions in how to incorporate rooflight, roof lanterns and patio doors into the new space.
Although beware of the Building Regs rule that states that the area of windows, roof windows and glazed doors mustn't account for more than 25% of the extension's floor area.
"The reason for this restriction is simply down to thermal efficiency," explains chartered surveyor Ian Rock. "If you want large amounts of glazing, one solution is to demonstrate that the overall heat loss of your extension with the increased area of glass will be no worse than if you'd stick to the 25% rule."
3. Plan The Hub of the Home: An Open Plan Space
Open plan has long dominated kitchen extension layout designs, and for good reason, but be sure to take the time to organise the space from the early planning stages.
For ideas on how to design a combined kitchen, diner and family room – from circulation spaces to buying appliances – take a look at our guide to open plan kitchens.
This 1930s semi was extended by Iguana Architects. The new space is inspired by biophilic design, with a butterfly roof pitch and green roof covering.
4. Add a Rear Extension to a Semi-Detached House
Image 1 of 3
Image 2 of 3
Image 3 of 3
(MORE: Home Office Design)
Creating much-needed space with a rear kitchen extension can transform a semi detached home. It's not often this style of homes is organised to make the most of garden views or to house a large, open-plan cooking area so extending to the back can unlock their potential.
Be sure to consider the roof line when looking at rear extension ideas. A flat roof, like the one above, might allow you to maximise ceiling height without blocking out first floor windows.
Alternatively, create a vaulted ceiling extension with a pitched roof for a truly special addition to an existing house.
5. Transform a Galley Kitchen with an L-shaped Wrap-around Extension
Open up a dark and pokey galley kitchen with a wrap around extension. Extending out to the rear and side will not only increase a home's value, but rearranging the existing rooms to suit an open plan lifestyle will also make the layout flow more easily.
The new steel beams of this extension reveal the previous layout of the existing home. Cleverly the galley kitchen has ben opened up with a wrap-around extension that provides a new dining space and seating area.
6. Bring New Materials into a Kitchen Design
Bring a new material into a kitchen extension using a tile splashback, a quirky worktop or internal timber cladding ideas.
Previously suffering from low ceilings and a lack of natural light, the kitchen and dining space of this terrace has been reconfigured by Yard Architects, thanks to a single storey extension.
Strip rooflights bring light into the new space while oak batten cladding lines the dining space and back wall of the kitchen, concealing the larder cupboard and fridge.
7. Design a Space Tailored to Your Home
"The homeowners behind this extension project are Mediterranean and they wanted an outdoor covered are to sit and enjoy the garden," explains Allie Mckinnon, project runner for nimtim Architects.
"The house is west facing at the rear and we designed the roof canopy to give shelter as well as reduce solar gain from the largely glazed extension.
"We also added in opening rooflights to bring in additional light and to create air movement and ventilation through the space. For those extending, the aspect of your design is important to consider and we would suggest plotting the proposed scheme in-situ and noting how to sunlight affects this area throughout the day."
8. Look to the Side to Increase Space
Don't sacrifice valued garden space for your new extension and build to the side of the house instead.
Side extension ideas can come in all shapes and sizes, but when installing a kitchen into the addition, be sure the flow from one end of the house to the other is seamless.
A stone lean-to shed was replaced with a contemporary glass extension designed by van Ellen + Sheryn to extend the kitchen diner. A large glazed extension provides views out to the garden.
9. Ensure a Level Threshold Transition from Kitchen Extension to Outside
When installing bifold or sliding patio doors in a new extension, the devil is in the detail. The difference by high and low quality materials will be noticeable after years of use — make sure your choice is the right one.
"A priority in this project was the threshold. The homeowners wanted to minimise the step from the inside to outside environments, while ensuring it remained watertight," explains Victoria Brocklesby, COO at Origin.
"After getting in touch with Origin, they were put into contact with their local partner whose installer sunk the threshold into the floor which left a minimal step of just 14mm."
10. Go Sustainable When Choosing Fixtures and Fittings
While a brand new kitchen bespoke to the space and your lifestyle is extremely tempting during a project, considering a second hand kitchen is an amazing way to cut-costs or get a higher-quality finish for less.
This beautiful walnut kitchen in an orangery-inspired extension was originally priced at £60,000 and designed for another family home. The new owner bought it from the Used Kitchen Exchange for just £9,000 complete with Miele appliances.
11. Make a Kitchen Extension Stand Out with Cladding
Image 1 of 3
Image 2 of 3
Image 3 of 3
A new extension is not just an opportunity to transform interior spaces, but also to give the exterior of a tired or dated home a refresh and regeneration.
Opting for interesting house cladding choices can take an extension from being a square box to a stunning new space with wow-factor.
This terrace kitchen extension used corten steel to complement the shades within the original Victorian brickwork.
12. Extend to the Side for a Spacious Terrace Kitchen
Image 1 of 2
Image 2 of 2
Utilising the wasted space to the side of a terrace house is one of the most popular extension designs. Essentially doubling the size of the kitchen space, often a dining or sitting area is created.
This home's glass extension to the side of the previous galley kitchen has opened up the space to suit a dining area with roof lights above.
How Can I Extend my Kitchen Area?
"The input of an experienced designer will really help stitch the old with the new," says Deputy Editor Michelle Guy. "They will ideally consider how the new space flows and connected with the existing house, whether to opt for a contemporary extension or something that blends with the existing house, and the size and scale of the extension — often referred to as 'massing'.
Your extension will need to comply with the Building Regulations and inspected at different stage of the build. If your extension involves a boundary wall, you will need to comply with the Party Wall Act (and serve a Party Wall Notice to adjoining neighbours).
Image 1 of 2
Image 2 of 2
(MORE: Designing a Kitchen Island)
Do I Need Planning Permission for a Kitchen Extension?
If a single-storey extension plan is less than 8m in depth from the rear of the existing house, you do not need planning permission for a kitchen extension, as this would fall under Permitted Development (PD) rights.
"These PD rights are set out fairly clearly in government guidance on the planning system — detailed rules are found within 'Permitted Development rights for householders: technical guidance' which is available on www.gov.uk," advises planning consultant Ken Dijksman.
"Understanding PD rights can be really helpful if you make a planning application for something that is just a little larger than PD allows," he continues. "This is because the council is duty-bound to compare what you want with what you can do anyway.
"If PD would allow you a certain size of extension and what you want to build is a few metres higher or longer, remember that the council can only actually assess the impact of those additional elements. The fall back is your PD, and they cannot prevent that, so it's only the additional amount that they can legitimately object to."
Assistant Editor Amy began working for Homebuilding & Renovating in 2018. She has an interest in sustainable building methods and always has her eye on the latest design ideas. Amy has interviewed countless self builders, renovators and extenders about their experiences for Homebuilding & Renovating magazine. She is currently renovating a mid-century home, together with her partner, on a DIY basis, and has recently fitted her own kitchen.
Homebuilding & Renovating Newsletter
Get the latest news, reviews and product advice straight to your inbox.
Thank you for signing up to Homebuilding. You will receive a verification email shortly.
There was a problem. Please refresh the page and try again.