Painted Kitchen Ideas: 9 Schemes That Make the Most of Colour
By Hugh Metcalf published
These brilliant painted kitchen ideas all make use of colour in clever and creative ways to make your kitchen cabinetry the star of your space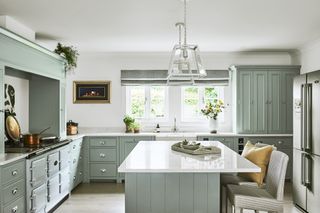 (Image credit: Neptune)
When it comes to painted kitchen ideas, there's plenty of space to get creative. Whether you're in the process of planning a new kitchen design or you're painting kitchen cabinets yourself, colour is an often overlooked tool in your design arsenal for adding interest and elevating your space.
We've picked 9 of our favourite examples of how painted kitchen ideas can be used to complement your kitchen scheme to serve as inspiration for your next project.
1. Create a Focal Point with a Statement Painted Kitchen Ideas
This painted kitchen idea goes to show that not all your kitchen units need to be painted the same colour. In this kitchen by Harvey Jones (opens in new tab), a bright orange stand alone pantry brings a huge injection of character to an otherwise muted and understated space, creating a real highlight of the kitchen design that's picked up in finishing touches like the window blind.
2. Create a Contrast with Your Kitchen Island
You can't really go wrong with this kitchen island idea using a contrast colour to the rest of your space, especially in an open plan kitchen. When you're designing a kitchen island, you want it to be the heart of the home and by drawing focus with a different colour, you'll be drawn in to the island as the central focus of your kitchen space.
3. Paint Walls to Match Your Cabinetry
Don't forget the role your kitchen walls play in your colour scheme. One clever idea is to find the best kitchen paint on the market that you can colour match to your cabinets, create a block of colour that makes a real impact. In this Martin Moore kitchen, it helps to streamline the space, retaining a lot of interesting detail and texture on the kitchen wall, without looking too fussy.
4. Two Tone Painted Kitchen Ideas
There's a simple visual trick at play in this idea from Tom Howley (opens in new tab) Kitchens. While wall cabinetry is undoubtedly useful for your kitchen, it can make a space feel smaller and more top heavy, especially as they're often directly in most peoples' eyelines. By painting this kitchen in two colours — Serpentine green for the base and white for the top — the upper cabinets blend in with the walls, making them less dominating in the space, and creating a light, airy feel around the top of the room.
5. Choose Colourful Cabinet Interiors for Interesting Details
How great is this for a small, but effective painted kitchen idea? While the majority of this kitchen may be painted a stylish black, inside this cabinet, a pop of orange brings a moment of unexpected joy when opening the cupboard doors. Interior panelling and integrated lights add even more attention to detail in this design.
(MORE: Kitchen Lighting Ideas)
6. Choose a Contrasting Colour for Your Pantry or Utility Room
Pantries and utility rooms often lead from the kitchen, connected by a door, so you should consider the relationship between the two spaces. These spaces offer an opportunity to go a little more bold with your design, knowing that it's not only smaller, but you won't spend as much time in there, meaning you're less likely to tire of an 'out-there' choice.
Consider a statement colour as a pantry or utility room idea, but one that complements and draws inspiration from the colours chosen for your kitchen design.
7. Choose a Tonal Idea for Your Painted Kitchen
A tonal kitchen colour scheme is a great way to embrace colour in a sophisticated way. Instead of relying on contrast and colour pops, a tonal kitchen uses shades from the same colour family, along with neutrals, to create a scheme that feels more gentle, even when using strong colours such as the purple and lilac in this Martin Moore kitchen.
Many kitchen makers have a ever-growing range of colours as people become more experimental with colour in their home, but this is easy for renovators who are looking to paint kitchen cabinets too, as the best kitchen cabinet paint often comes in a large variety of shades.
8. Match Your Appliances to Your Painted Kitchen
Appliances aren't always the most attractive part of your kitchen, so matching your non-integrated appliances with your kitchen cabinetry is an tried and trusted idea to help them fade into the background.
Usually, this means opting for a dark kitchen, as most modern appliances such as ovens and wine fridges are black or silver. However, colourful appliances are a big kitchen trend for 2021, so why not try something like this design created by British Standard, which has matched the cabinetry to the Aga in a dreamy buttermilk shade.
9. Use Colour Theory for a Creative Painted Kitchen
If you're stuck for a colour scheme, why not consult a colour wheel? Colour theory can help provide palette inspiration across the spectrum. A complementary colour scheme is two shades opposite on the wheel, while a triadic colour scheme is made up of 3 colours forming a triangle around the colour wheel.
The unusual colour scheme pictured above would most likely be characterised as an 'analogous' scheme — made up of colours next to each other on the colour wheel.
Hugh is Digital Editor of homebuilding.co.uk and has worked on a range of home, design and property magazines, including Grand Designs, Essential Kitchens, Bathrooms, Bedrooms and Good Homes. Hugh has developed a passion for modern architecture and green homes, and moonlights as an interior designer, having designed and managed projects ranging from single rooms to whole house renovations and large extensions. He's currently renovating a Victorian terrace in Essex, DIYing as much of the work as possible. His current project is a kitchen renovation which involves knocking through walls and landscaping a courtyard garden.
Homebuilding & Renovating Newsletter
Get the latest news, reviews and product advice straight to your inbox.
Thank you for signing up to Homebuilding. You will receive a verification email shortly.
There was a problem. Please refresh the page and try again.