Utility Room Ideas: 18 Genius Designs for a Hardworking Laundry Room
By Hugh Metcalf published
These utility room ideas not only look great, but they offer some serious inspiration for layout and organisation for the most practical room in the house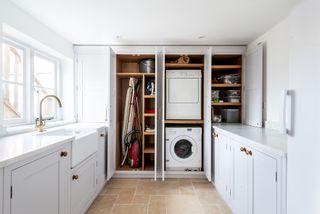 (Image credit: Herringbone Kitchens)
What kind of utility room ideas are you searching for? There are those ideas which help a utility room make use of its small footprint to its full potential, while there are others designed to make your utility room one of the most stylish spaces in your house.
The good news is that a lot of the time, you don't need to choose between the two, and as these 18 utility room ideas we've curated go to show, creating a space that's both functional and beautiful is easy with the right inspiration to hand.
We've pulled together 18 ideas that will change how you look at your utility room, helping to make doing the laundry a little bit less of a chore.
1. Create an Effective Lighting Scheme for a Utility Room
Utility rooms in existing homes are often afterthought spaces, so can end up with no natural light other than an external rear door. With that in mind, your lighting scheme has to work harder for all occasions.
(MORE: Kitchen Lighting Ideas)
As a functional space, bright downlighters will help illuminate the utility room for tasks, but softer, ambient light — from under cabinet LED strips in this Higham Furniture kitchen for example — will make the room more enjoyable to be in at other times and round out a well-formed lighting scheme.
2. Stack Appliances in a Compact Utility Room
Stacking a washing machine and tumbler dryer is a great idea to make use of tall units and free up low level storage in a utility room. Whether you have built-in cabinetry which allows you to stack up your washer and dryer or use a stacking kit, the washing machine should always be on the bottom as they are heavier and contain a concrete block to prevent movement when running a spin cycle.
3. Save Space with a Suspending Drying Rack
Search for any utility room ideas on Pinterest, and we bet you'll find a suspended drying rack, but are they functional? If ceiling height allows, these devices can be winched out of the way both when in use and when not in use, while keeping the rack close at hand whenever it's needed.
As heat rises in your home, you may also find your washing dries quicker at its elevated level and you can position your rack in front of a window for even quicker drying times.
Wooden suspended drying racks add a definite aesthetic quality to your utility room too — take this beautiful space by deVOL Kitchens as an example.
4. Set Your Utility Room Sink Beneath a Window
You may end up wiling away many hours at a utility room sink, so it's a good idea to locate a window over the sink for better views and lots of natural light. In this small bespoke utility room from Herringbone Kitchens, a double Belfast sink is a great idea, as it's large enough for pre-treating tough stains, washing dirty wellies and keeping the dirt out of the rest of the house.
5. Install a Clothes Rail to Make Laundry Easier
Want to do your ironing in your utility room? Even when short on space, such as in this room featuring Lifestyle Floors flooring, you can install a clothes rail to make keeping your clothes crease-free as easy as possible.
6. Create a Visual Link from the Kitchen to the Utility Room
Utility rooms are often connected to kitchens, and whether they're divided by a door or open plan, creating a visual link between the two is a good idea. That doesn't mean that your utility room has to have exactly the same look as your kitchen design, but creating a design feature that picks up a 'red thread' between the two spaces that creates a transition between the them.
(MORE: A Guide to Buying a Kitchen Sink)
In this design with cabinetry from Life Kitchens, a statement flooring design has been used to outline the edges of the room, creating a visual, but not physical, divide between the kitchen and utility room.
7. Open Storage Ideas for Better Flow in Your Utility Room
Where utility rooms are often less generously sized than kitchens, you may need the space to work harder for a seamless flow when working in the room. An idea such as switching out some cabinetry, with doors that open out onto you, with open shelving can be an effective way to make the space easier to use.
In this bespoke Neptune utility room design, baskets have been designed into the room which could also be used effectively to store then transport laundry around the house.
8. Pocket Doors are a Great Idea for a Versatile Utility Room
An open-plan kitchen/utility room may seem a good idea for making your space seem larger, but practically it pays to have some divide between the two rooms, whether that's to hide mess away while enjoying the kitchen space, or help to keep the volume of washing appliances out of your living areas.
A pocket door is the best of both worlds, offering you a solid, closed door when you need it, while tucking away completely when not for a proper open-plan design.
9. Pack in as Many Clever Storage Ideas into a Utility Room as Possible
While good looks are still important, utility rooms are much more functional spaces, so packing in as much storage as possible is the key to a room that works well for your home.
In this Humphrey Munson utility room design, bespoke floor to ceiling cabinetry maximises the amount of storage. Include a step stool, or in this case library ladder, in your design to ensure that you can reach those very top cabinets.
10. Add Some Fun to Your Utility Room with These Paint Ideas
Even if your kitchen design is a neutral paradise, a colourful utility room is a great way to add an unexpected twist to your interior design and make the space less bland.
Whether that's a feature wall, painted kitchen cabinets or some well placed artwork, your home's small and concealed spaces are the perfect canvases for the more creative side of your interior design tastes.
(MORE: Painting Kitchen Cabinets)
11. Create a Boot Room
What is a boot room? Functioning like a cloak room for storing shoes and coats, a boot room reaps extra benefits by doubling up as a utility room.
With a sink for clearing up muddy shoes, the washing machine for those post-football match kits to go straight into and durable materials which will stand up to a wet dog shaking when coming back in from their winter walks, the overlap in uses is worth exploring.
This Martin Moore design uses bespoke storage for an effective and stylish boot room idea.
12. Create Storage for Shoes in Your Utility Room
Even if you don't have space for a boot room per se, including some shoe storage is a great idea for a utility room, especially if you use your home's back entrance (where your utility room will hopefully be located) to enter the house after a muddy dog walk, for example, or for keeping a pair of shoes close at hand for hanging out washing in the garden.
This clever design from Life Kitchens packs in plenty of storage punch, with a hanging clothes rail and smart over door tea towel holder — such a smart idea for a small utility room.
13. Divide Your Utility Room with a Partition Screen
Separating your kitchen from your utility room is a good idea, especially in openplan kitchens where you like to spend your time. Laundry appliances and dishwashers, often located in utility rooms, can be noisy, and you'll want to be able to prevent smells from cooking permeating any clothes drying nearby.
However, keeping both spaces connected and open is a great way for your home to feel bigger. Pocket doors and glass partition doors both work effectively in offering the best of both worlds.
(MORE: Crittall-Style Doors)
14. Go Classic with Utility Room Panelling
Panelling is a smart idea for a functional utility room. Not only does it look good, a painted timber finish will be more durable when dealing with water splashes and mud than a matt emulsion wall.
From traditional butt and bead panelling, as seen in this beautiful Neptune utility room, to more contemporary panelling ideas, try using it around the sink and near the back door when not opting for even tougher tile or stone surfaces in these areas.
15. Incorporate Shelving for Overflow Storage in Your Utility Room
Open shelving is a double-edge sword — it helps keep things close at hand and is perfect for a small space where opening doors can be tricky, however keeping it perfectly styled and looking it's best can be a tall order.
This isn't such a concern for a utility room, which won't see much footfall from guests entering the house, so can be better dedicated to a more functional set-up.
16. Install a Laundry Chute
When self building or renovating, why not take the opportunity to factor in a laundry chute in your plans for a utility room? This design created by Hush Kitchens incorporates a chute hidden within cabinetry, ensuring dirty washing is delivered directly to where it needs to be.
17. Does a Utility Room Need Integrated Appliances?
In many contemporary kitchens, appliances are integrated into cabinetry as, let's face it, they're far less attractive to look at than a nice Shaker-style door. Ask yourself whether this is necessary for your utility room as it's a space less inhabited by visitors to your home. This Harvey Jones Linear utility room still looks smart without integrated appliances, for example.
Integrated appliances may cause more obstructions in a small utility room, making it harder to transfer from washing machine to tumbler dryer, for instance, or operate appliance controls, especially with your hands full.
18. Hide Everything Behind Closed Doors for a Minimalist Utility Room
On the flip side, compare how elegant a utility room with everything stored and organised behind beautiful cabinetry is. This grand utility room from Herringbone Kitchens features two parallel runs of base cabinetry units as well as tall, floor to ceiling units on the back wall, all characterised by the sleek lines of the doors, with no clutter in site.
Behind the doors, beautiful bespoke interiors means everything has its place, from a dedicated zone for the ironing board and other tall items, to the stacked washer and dryer.
Get a Quote for a New Utility Room
Homebuilding.co.uk partners with the UK's best kitchen specialists to match your requirements with their services.
Simply answer a few questions on what you need from your new kitchen and utility room spaces and we'll put you in touch with a suitable partner.
How It Works
1. Enter your details below. Tell us a bit about your project and what you are looking for, and leave some contact details.
2. We search our database. We'll match your requirements with the products and services that our partners offer.
3. Partners will contact you. Don't worry about being bombarded - only the suppliers that match your requirements will contact you.
Hugh is Digital Editor of homebuilding.co.uk and has worked on a range of home, design and property magazines, including Grand Designs, Essential Kitchens, Bathrooms, Bedrooms and Good Homes. Hugh has developed a passion for modern architecture and green homes, and moonlights as an interior designer, having designed and managed projects ranging from single rooms to whole house renovations and large extensions. He's currently renovating a Victorian terrace in Essex, DIYing as much of the work as possible. His current project is a kitchen renovation which involves knocking through walls and landscaping a courtyard garden.
Homebuilding & Renovating Newsletter
Get the latest news, reviews and product advice straight to your inbox.
Thank you for signing up to Homebuilding. You will receive a verification email shortly.
There was a problem. Please refresh the page and try again.