Bespoke Kitchens: A Guide to Completely Custom Designs
By Hugh Metcalf published
A bespoke kitchen is made to fit your room perfectly and allow for a more personalised design. Here's what you need to know about them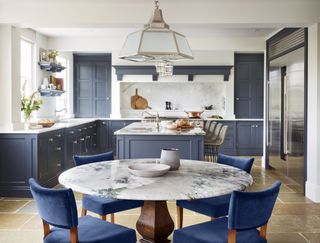 (Image credit: Martin Moore)
You might hear the term 'bespoke kitchen' bandied around in your hunt for a new kitchen, and for the right project a bespoke kitchen can't be beat. It's likely to offer you the best quality of kitchen units, and a kitchen design that makes the most of the space you have to work with down to the very last centimetre.
Working with a bespoke kitchen maker will mean they can translate your exact needs and style into the design.
However, there might be some confusion as to what exactly counts as a bespoke kitchen. We're breaking down the jargon in this guide so you know exactly what to expect when searching for and working with a bespoke kitchen maker.
What are Bespoke Kitchens?
What a bespoke kitchen is will change depending on who you ask. There technically isn't a specific criteria a kitchen maker will need to fit to be able to call their kitchens bespoke.
Some people may consider a bespoke kitchen as a kitchen that is made to order specifically for you, in comparison to a kitchen that's picked off the shelf as is more common with high street retailers. Regardless, you're likely to work with a kitchen designer to create a design that fits your space.
However, for the bespoke purist, a bespoke kitchen means that the kitchen is designed and made specifically for your space, without the limits of standard cabinet sizes. While this means individual elements can be customised, bespoke kitchen makers still tend to work within their own range of furniture styles.
A truly bespoke, one-off kitchen is more likely to be created with either an independent maker or high end kitchen brand, and will offer the chance to create one-off kitchens, with custom finishes, styles and design elements.
"We can do anything from accommodate the architectural style of the house to mimicking a particular piece of furniture that you want to see reflected in the design," says Charlie Smallbone, founder of Ledbury Studio. "The difference with bespoke furniture is that it starts not with an existing kitchen range that must be adapted to fit, but with a blank sheet of paper."
What are the Benefits of a Bespoke Kitchen?
While many bespoke kitchen makers will use tried and trusted measurements for cabinets, as each piece is custom-made, measurements can be adjusted to your home's specific needs. This means that bespoke cabinetry is designed to accommodate awkward and uneven spaces, maximising your kitchen's potential, from storage to worktop area to fitting in that extra much-needed appliance.
"Truly bespoke furniture will be in harmony with the space — regardless of the size of the room — because it will be designed specifically for the room," says Richard Moore, Design Director at Martin Moore. "Freed from restrictions of standard sizes, the cabinetry can be exactly the height, width and depth needed and can be built around the architecture of the room."
Specialist kitchen storage ideas can be integrated as part of a bespoke kitchen, and you have the benefit of utilising a bespoke designer's experience to make your cabinetry work hard for you.
Bespoke kitchens usually offer a larger variety in colour finishes, with some makers offering custom colours or expert hand-painting in popular, quality paint brands.
Because of the nature of a bespoke kitchen, they tend to be made from high quality materials and fixtures, ensuring that the kitchen will last longer.
How Much Does a Bespoke Kitchen Cost?
Budgeting your kitchen
Allocate around 50% of your budget for the cabinetry, 25-35% for appliances and worktops and finally around 15-25% for the installation.
The cost of a bespoke kitchen can vary greatly, depending on the size, materials used and the manufacturer, however in general they tend not to be cheap kitchens. Bespoke kitchens start from around £20,000, but expect prices of £50,000 plus at the upper end of the range.
(MORE: How Much Does a New Kitchen Cost?)
Your quote will likely include all cabinetry-related items and installation. "This can include elements such as the hardware, worktop surfaces and installation, cabinet lighting and installation, sinks, taps and appliances," says Melissa Kink, Head of Design at Harvey Jones.
"These items will be itemised alongside the cost of the cabinetry and the furniture installation. Outside elements such as the associated plumbing, organisation of the electrical, flooring, etc. are needed to complete the space, but may be not managed through the kitchen designer."
How are Bespoke Kitchens Made?
Due to the nature of a bespoke kitchen, they are more commonly made using traditional joinery methods and premium manufacturing techniques.
This adds to the quality of a bespoke kitchen, allowing for strong, durable details such as dovetail joints on drawers.
Bespoke kitchens are often also hand painted.
Is a Bespoke Kitchen Worth It?
A bespoke kitchen can be a good investment for your home, improving the use of space in your kitchen and adding to the property's resale value. Because of the quality of the craftsmanship, materials and fixtures used, a bespoke kitchen will last a lot longer than a budget alternative.
A good quality timber kitchen can also be refreshed and repainted in the future, if you decide you want a change.
However, if you're looking for quality but have a relatively simple space to work with or you're building or extending to create a space from scratch, you may be able to opt for a luxury brand that utilises standard sizes cabinets to reduce the overall expense.
For example, brands like Kin by Mowlem and Brookmans by Smallbone are sister brands to the bespoke companies, offering a more budget-friendly version of their custom kitchen designs.
Hugh is Digital Editor of homebuilding.co.uk and has worked on a range of home, design and property magazines, including Grand Designs, Essential Kitchens, Bathrooms, Bedrooms and Good Homes. Hugh has developed a passion for modern architecture and green homes, and moonlights as an interior designer, having designed and managed projects ranging from single rooms to whole house renovations and large extensions. He's currently renovating a Victorian terrace in Essex, DIYing as much of the work as possible. His current project is a kitchen renovation which involves knocking through walls and landscaping a courtyard garden.
Homebuilding & Renovating Newsletter
Get the latest news, reviews and product advice straight to your inbox.
Thank you for signing up to Homebuilding. You will receive a verification email shortly.
There was a problem. Please refresh the page and try again.