Kitchen Island Ideas: 19 Creative Designs for Every Size and Style of Kitchen
Look to these kitchen island ideas for design inspiration, whether you're short on space or have a large, luxurious kitchen to fill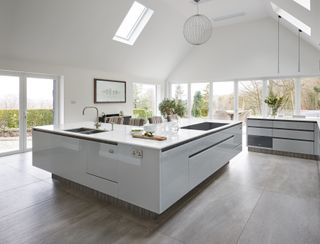 (Image credit: Darren Chung for Simon Taylor Furniture)
In a contemporary home, kitchen island ideas are in much demand, after all, a kitchen island is one of the most versatile additions to a space if you have the room for it.
In an open plan kitchen design, the island can zone a space, helping to define the kitchen from living and dining areas, allowing the kitchen to act as a social hub of the home without people getting under your feet while you're cooking.
The key to a good kitchen island design is working out what you want to use your island for. It might be a functional space, housing a hob and sink, or it might be the perfect spot for casual dining and working from home only.
Once you've got a good idea of what function your kitchen island will play, then you can get to work implementing your kitchen island ideas to create a functional space that looks good too.
(MORE: Get a quote for your new kitchen)
1. Small Kitchen Island Ideas
Clever designs and forward planning can allow for small kitchens enjoy a kitchen island. Small, square islands can fit neatly into your kitchen without being overbearing and will provide vital extra work space for cooking and entertaining.
For some kitchen storage ideas think about adding lots of drawers and compartments into a small island to free up other workspace areas.
(MORE: Small Kitchen Ideas)
2. Ideas for a Curved Kitchen Island
Choosing a kitchen island with curved cabinets and work surfaces is a brilliant way to ease the flow around your space. Our brains are hardwired to avoid moving near sharp corners, so flowing curves on a kitchen island will ensure your layout is easy to navigate, while maximising the amount of usable surface and storage space.
(MORE: Kitchen Layout Ideas)
3. Create a Split Level Kitchen Island
Don't be afraid to add different levels to a kitchen island as this will all add an extra detail to your kitchen and can help to create a wow-factor focal point. In an open-plan space, a raised breakfast bar can help hide the prep area from view, perfect for keeping dirty dishes out of sight and mind while you enjoy dinner when entertaining.
4. Kitchen Islands with Built in Appliances
You can add all sorts of important appliances to your kitchen island which will not only free up work surfaces along your kitchen walls but will also make for a great entertaining space.
Being able to rinse, chop and cook facing outwards towards your room means you can talk and entertain family and friends at the same time.
The main thing to remember here is your circulation space and how the flow of the kitchen and your appliances work together.
Always make sure that your appliances are easy to access and within good reach of each other. Think about the way oven doors open, drawers pull out and where you need to be able walk past.
(MORE: Best Integrated Dishwashers)
5. Use a Contrast Colour on a Kitchen Island
Choose your colour scheme carefully. Greys are still really popular for kitchens, and can work with all home styles — modern and traditional, while brighter hues focused on the island can add a great pop of colour, drawing the eye to the island as the centrepiece of the design.
6. Create a Statement Kitchen Island with This Idea
Creating a kitchen with a bespoke kitchen designer opens up the opportunity for a special kitchen island to take centre stage in your design. This modern kitchen idea from HI-Macs, sees a sculptural, angular kitchen island create a strong focal point for this space.
7. Stone Surfaces Make for a Dramatic Kitchen Island Idea
For a clean, sleek kitchen island option, why not consider creating a seamless island with kitchen worktops from your choice of stone surface. While this may reduce your ability to include storage in a kitchen island, unless you choose an innovative stone cladding solution, for those with kitchens large enough, it can make for a monolithic statement in your kitchen design.
8. Design a Breakfast Bar into a Kitchen Island
A breakfast bar is a must for most kitchen islands, and there are various ideas to incorporate them into your design. You can simply design an overhang of your kitchen worktop material to create room for stool seating, or use a contrasting material, either flush, raised or lowered from the work surface to create a more distinct separation between the prep and social areas.
9. Double up with this Kitchen Island Idea
Another idea that's perfect for a large kitchen is a double island. Not only will this help to fill the space, helping a big room feel more cosy and intimate, but it provides plenty of work surface space for food prep and socialising. With a double island, you may be able to forego wall units with work surface storage too, allowing for more flexibility in your design.
10. Use Reclaimed Materials for a Kitchen Island with Character
We love the idea of using reclaimed materials for a kitchen island. Not only is this an impactful way to introduce a unique material as the centrepiece of your kitchen, but it will also up your home's eco-credentials, helping you to create a more sustainable kitchen.
11. Lighting Ideas for Kitchen Islands
When creating a kitchen layout with an island, it's important to consider how lighting will play a role at the design stage. There are plenty of kitchen lighting ideas that can highlight an island as a feature.
Dropped pendant lighting over an island is the perfect way to anchor it as the centre of the scheme, but also consider accent lighting with LEDs to draw focus. This can be installed in open shelving on a kitchen island, or above the plinth, creating a halo-like effect around the base of the island.
12. How to Create a Floating Kitchen Island with this Clever Idea
By creating a kitchen island with an overhang, you can create an effect as if it's floating in the space, helping the room look larger and a large island less imposing on the space. Using mirrored plinths, or choosing a plinth that matches in closely with your flooring, will further exaggerate the effect.
13. Kitchen Islands with Open Storage
A kitchen island is an ideal spot to include open storage to make a feature of it. Whether that's a wine rack incorporated into the island, shelves for kitchen ephemera or cookbooks, or baskets for fresh fruit and vegetables, this can be an effective way to add character to your kitchen.
14. Banquette Seating Ideas for Kitchen Islands
Built-in, banquette seating is a great space-saver in a kitchen, and it can be incorporated into a kitchen island to get the best of both worlds, ensuring your work surface and seating areas use space to the maximum.
Banquette seating can be as simple or complex as you like, with either simple straight seats or bespoke curved designs. Why not choose a bold, but durable fabric for upholstery to add a dynamic feature to your kitchen?
15. Build a Dining Table into a Kitchen Island
Another alternative for designing table space into your kitchen island is to create an integrated table that extends from the end of your island. This is great for spaces that might not comfortably fit an island and table side by side with a gap between, and by creating a height difference between the table and island, you can zone the two areas, so they each have a clear function at a glance.
(MORE: Kitchen Diner Ideas)
16. Custom Finish Ideas for a Kitchen Island with Wow Factor
The world really is your oyster when it comes to materials for a kitchen island, and just because you can't find an example from a kitchen maker that captures the essence of what you're looking for, doesn't mean you can't commission something bespoke. Metal wraps are popular options for modern kitchen designs, creating a bold, metallic feature of the kitchen island. Other, unusual options include stone veneer and terrazzo.
17. Extractor Ideas for Kitchen Islands
While cooker hoods are traditionally used over a hob, when you've got a kitchen island, they can be awkward and interrupt your sight lines when using the kitchen. There are a few design options to overcome this issue when you have a hob placed on an island:
A downdraft extractor built into the worksurface
A flush ceiling extractor
A decorative hood extractor that makes a feature of the cooker hood
18. A Sunken Trough for a Luxurious Kitchen Island
If you're known to host a party or two, this kitchen island idea is perfect for you. This sunken trough has a stainless steel bottom and can be filled with ice, ready to pop champagne on chill. It's a real conversation starter too — a truly perfect choice for a party kitchen.
19. Ideas for Installing Electrical Points on a Kitchen Island
Never underestimate the importance of electrical points. Talk to your kitchen designer about plug points on your island for appliances like blenders, mixers plus laptops and phone chargers. While electrical points can be built into the side of a kitchen island, consider the visual impact they'll have. Paintable sockets are available to help them blend in, or ask your kitchen designer about recessed electrical outlets which can rise from the worktop as and when you need them.
Get a Quote for Your New Kitchen Island
Homebuilding.co.uk partners with the UK's best kitchen specialists to match your requirements with their services.
Simply answer a few questions on what you need from your kitchen and we'll put you in touch with a suitable partner.
How It Works
1. Enter your details below. Tell us a bit about your project and what you are looking for, and leave some contact details.
2. We search our database. We'll match your requirements with the products and services that our partners offer.
3. Partners will contact you. Don't worry about being bombarded - only the suppliers that match your requirements will contact you.
Get the Homebuilding & Renovating Newsletter
Bring your dream home to life with expert advice, how-to guides and design inspiration, direct to your inbox.
Katie is an experienced journalist, with nearly two decades of experience. She previously worked as a digital editor at womanmagazine.co.uk. She has renovated two houses including a 200-year-old cottage and a 1950s semi, taking a hands-on approach to the work. She also runs her own photography and design company.