Kitchen Island Ideas: Stylish Designs to Inspire
Discover our favourite kitchen island ideas to help you create the perfect kitchen, whatever its size or style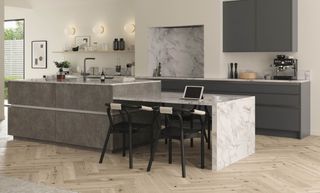 (Image credit: Mereway Kitchens)
The best kitchen island ideas will transform both how you use your kitchen and how it looks, which is why it's important to get it right early on. 
(MORE: Kitchen Design)
There are five crucial things to consider when searching for kitchen design ideas: 
1. From a design perspective, a kitchen island can 'zone' a kitchen and define spaces between one part of the room and another such as a sofa and TV area.
2. Think about what you want to use your island for - perhaps it's for cooking, eating or working and incorporate this into your design.
3. Don't be afraid to add different levels and contrasting colours, this will all add to the overall style of your kitchen and can help to create a wow-factor focal point.
4. Choose your colour scheme carefully. Greys are still really popular for kitchens, and can work with all home styles - modern and traditional, while brighter hues focused on the island can add a great pop of colour.
5. Never underestimate the importance of electrical points. Talk to your kitchen designer about plug points on your island for appliances like blenders, mixers plus laptops and phone chargers.
Whether you are short on space, need a multi-functional island or want to design something big and luxurious, we've found the best kitchen island ideas that will tick all the boxes.
(MORE: Get a quote for your new kitchen)
1. Small Kitchen Islands
Best for: Small kitchens and compact spaces
Clever designs and forward planning can allow for even the smallest kitchen to enjoy a kitchen island. Small, square islands can fit neatly into your kitchen without being overbearing and will provide vital extra work space for cooking and entertaining. 
For some kitchen storage ideas think about adding lots of drawers and compartments into a small island to free up other workspace areas.
A top design tip if you have a small kitchen is to think about a built in oven in your island to maximise the rest of your kitchen wall space.
2. Kitchen Islands With Seating
Remember
30cm of knee space should be left for an average-sized adult sitting at a kitchen island
Best for: Entertaining and eating 
One of the most popular kitchen island designs is one with plenty of seating so that family and friends can gather together. 
Remember to keep the seats facing towards the main kitchen (so you can chat to the cook!) and plan your work surface with your kitchen designer to decide on the finish and materials used. 
This design also provides a practical space for working from home so it is a great two in one - not only for adults but also for children doing homework.
Short on space? Then why not incorporate a bench into your island for a cosy area to sit and eat.
3. Kitchen Islands with Built in Appliances
Best for: Open plan kitchens and sociable cooking
You can add all sorts of important appliances to your kitchen island which will not only free up work surfaces along your kitchen walls but will also make for a great entertaining space. 
Being able to rinse, chop and cook facing outwards towards your room means you can talk and entertain family and friends at the same time. 
The main thing to remember here is your circulation space and how the flow of the kitchen and your appliances work together. 
Always make sure that your appliances are easy to access and within good reach of each other. Think about the way oven doors open, drawers pull out and where you need to be able walk past.
(MORE: How to get a new kitchen on a budget)
4. Modern Kitchen Islands
Best for: Modern kitchens and new builds
Keep your finish minimal and modern with materials like marble, metal, concrete and stone to achieve a cutting-edge finish which is still incredibly usable. 
Mark Mills, Managing Director of Mereway Kitchens told us, "Complete this kind of look with bronze, brass or copper elements for a modern yet timeless feel.  Perfect for working the biophilic trend alongside natural textiles, wood flooring, warm blush tone warms and plenty of fresh herbs!"
(MORE: Modern kitchen design ideas)
5. Rustic Kitchen Islands
Best for: Traditional-style homes
Rustic kitchen islands don't equal old fashioned, in fact the modern day Shaker style kitchen is as beautiful as it is stylish. Lots of storage, textures and touches of metal and glass will keep your kitchen island in line with your overall design.
For a new neutral shade why not try tones of green, "It works beautifully in both contemporary and traditional kitchens bringing a fresh elegance and energy to the space. Using dark green base units help ground a larger space and can even create a feeling of space in smaller kitchens when matched with ivory or bleached wood wall units." recommends kitchen expert Mark Mills.
(MORE: 9 brilliant oak frame kitchen extension ideas)
6. Kitchen Islands With a Breakfast Bar
Best for: Island eating and families 
Add an interesting design element to your kitchen island with a contrasting breakfast bar  - a stylish 'bar' area that doesn't have to be all about breakfast!
Ideal for eating and drinking, these are an interesting add-on that are getting more and more popular in modern kitchens. The use of wood also makes for a great design feature.
7. Big Kitchen Island Ideas
Best for: Maximising storage and entertaining
Large, oversized kitchen islands are a true focal point of a kitchen. Blend it with some clever lighting design ideas and stylish chairs and you will create somewhere everyone will want to gather. From cooking to working and entertaining you will find plenty of uses for a large island.
Consider the island's orientation to allow for plenty of space around it and work out where pendant lights and seats will go early on. Use your island to combine luxury extras such as wine coolers with day-to-day essentials like a microwave and book storage.
(MORE: 10 Essentials Features For a New Kitchen)
Get a Quote for Your New Kitchen Island
Homebuilding.co.uk partners with the UK's best kitchen specialists to match your requirements with their services. 
Simply answer a few questions on what you need from your kitchen and we'll put you in touch with a suitable partner.
How It Works
1. Enter your details below. Tell us a bit about your project and what you are looking for, and leave some contact details.
2. We search our database. We'll match your requirements with the products and services that our partners offer.
3. Partners will contact you. Don't worry about being bombarded - only the suppliers that match your requirements will contact you.
Homebuilding & Renovating Newsletter
Get the latest news, reviews and product advice straight to your inbox.
Thank you for signing up to Homebuilding. You will receive a verification email shortly.
There was a problem. Please refresh the page and try again.