Open Plan Living: 10 Ways to Get Your Layout Right
Open plan living has so many benefits for modern home owners — but it is not a layout that always works as well as it should. Our top ten design tips will ensure yours is a successful scheme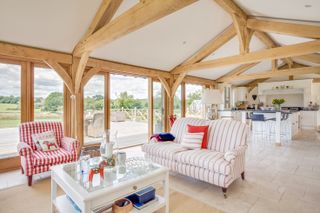 (Image credit: © Oakwrights Photography Mark Welsh)
Open plan living is now seen as the norm as opposed to some new-fangled trend seen only in achingly cool industrial-style loft apartments. But while the idea of lots of separate rooms is now seen as old-fashioned, open plan spaces do not always work well.
The main reason for this simply comes down to bad planning and a failure to envisage how the new space is actually going to work on a day-to-day basis — practicality must always take priority over aesthetics.
Considering what you will need from this space and how it will serve your lifestyle, as opposed to simply copying an idea you have seen in someone else's home, is key to making open plan work for you.
1. Work With Invisible Walls
To get open plan living spot on, when designing the space it can be useful to imagine where walls might be if the space were to be carved up into separate rooms.
This might sound odd, but visualising the space as a series of rooms, as opposed to one open space, forces you to think about the functions the new space will need to carry out, proper circulation, storage options and lighting and furniture placement.
2. Broken Plan or Open Plan?
Very often, a 'broken plan' layout can work better for family life than a completely open plan living arrangement.
Sometimes described as semi-open plan – broken plan living recognises the importance of having a few quiet zones, teenage spaces, home offices and grown-up living rooms.
3. Keep Open Plan Flexible
The best open plan layouts incorporate methods for closing off spaces when required. Sliding doors, or even better, pocket doors that glide away into cavities within the walls when not needed, are a great example of how open plan layouts can be kept flexible.
Bifold doors are another option, although one that takes up a little more space than a slide-away design.
Glazed walls and doors are a great idea too — allowing light to move through the layout, while keeping zones separate.
4. Create Zoned Spaces
Using room dividers is key to breaking up open plan spaces and avoids that vacuous cold feel that some large spaces suffer from.
One of the most commonly used methods is seen in kitchen diners, where breakfast bars or island units are used not only as a handy extra spot for storage and to eat or work, but also as a way of keeping the two spaces separate.
Constructing partial walls is another way to maintain a sense of flow, whilst creating zones. Stud walls can be built as high or wide as you wish, perhaps spanning half a room at half the wall height.
Storage units are another great way of creating partitions whilst serving a useful purpose in solving the problem of a lack of space for shelving. Units on castors provide a flexible option as they can be rearranged or pushed out of the way should the need arise.
A popular trend now is for central or double-sided fireplaces, or freestanding stoves. They work especially well between living rooms and dining halls and bring a sense of homeliness which is often lacking in open plan layouts, whilst still allowing light to flow. They should be planned in at the design stage of a build.
5. Decorating Open Plan Spaces: Use Visual Room Tricks
Simply choosing different wall colours within an open plan space will add interest and break up any stark expanses of wall. Painting the kitchen area of a kitchen diner a light and bright colour, for example, while using a warmer, more convivial shade for the dining space, immediately sets the areas apart from one another.
Flooring should also be considered. Tiles in the kitchen, timber in the dining room and perhaps carpet in the living area of a large open plan space will visually separate the areas while also making practical sense.
Otherwise, simply choosing varying shades of the same material or using rugs in order to visually define the spaces can be a good alternative.
Consider too how the layout and shape of rooms can lend definition. For instance, L-shaped rooms work particularly well, with the dining area tucked out of view from the kitchen. This leaves the two spaces connected but the sight of dirty pots and pans won't spoil relaxing meal.
6. Vary Floor and Ceiling Levels
Using a split-level layout is an ideal way to ensure open plan spaces can be organized into zones. Living spaces accessed by two or three steps from the kitchen diner, for example, clearly stand out as a relaxing area, without being shut off completely. Varying ceiling levels is a good idea too, perhaps using a slightly lower ceiling height in a dining room to that in a kitchen, for an intimate feel.
The use of beams can also be employed to indicate a change in use from area to area. This is a really practical method for renovators opening up a number of small rooms to one another as steel beams are usually required as a means of support.
7. The Best Lighting For Open Plan Living
Using different lighting styles within an open plan space is key to creating character and interest.
Within the kitchen, task-based lighting makes sense — this means lights positioned to illuminate the work surfaces, hob and sink. Spotlights recessed into the ceiling work well as general lighting in a kitchen and are all the better if they can be set on dimmers or zoned.
Within a dining space, pendants hanging relatively low over the dining table are a great idea, while wall lights will provide an added level of ambient lighting.
You need to think creatively when it comes to lighting open plan spaces where the reduced number of walls can limit your options. Floor lamps and side lamps add another level of lighting, while concealed LED strip lights can be used to help create character at the same time as defining zones and highlighting notable features.
Using lights inset into the floor or along the bottom of walls provides a distinction between spaces and fitting uplighters beneath a central fireplace will highlight it as a divide.
(MORE: Clever Lighting Design Ideas)
8. Good Extraction is Key
In open plan kitchens it can be hard to keep cooking smells and steam contained, and noise will easily travel too, with no walls to muffle sound.
Ensure there is sufficient means of extraction within the cooking space and locate your cooker and hob near a window and ideally at the point furthest away from living spaces.
9. Soundproofing in Open Plan Living Spaces
From a sound-proofing point of view, opting for soft flooring over hard should minimise noise, as will plenty of soft furnishings, such as heavy curtains and upholstery. If you are really worried about the problem of smells and noise, consider fitting sliding doors.
10. Choosing the Right Furniture
One of the most frequent mistakes made by those with larger open plan homes in their homes is selecting items of furniture that are out of proportion with the space.
All to often, open plan living spaces can lack a sense of warmth and homeliness due to items of furniture that are just too small to properly fill the layout, or too few items of furniture to make the whole area feel lived in.
While not all your furniture needs to be over-sized, do take the time to consider how it will fill the space and create a plan to avoid big unfilled spaces with no obvious purpose — the use of rugs, wall art, side tables and plenty of side lamps will also all help to fill out the space.
Get the Homebuilding & Renovating Newsletter
Bring your dream home to life with expert advice, how-to guides and design inspiration, direct to your inbox.
Natasha is Homebuilding & Renovating's Associate Content Editor and has been a member of the team for over two decades. An experienced journalist and renovation expert, she has written for a number of homes titles. Over the years Natasha has renovated and carried out a side extension to a Victorian terrace. She is currently living in the rural Edwardian cottage she renovated and extended on a largely DIY basis, living on site for the duration of the project. She is now looking for her next project — something which is proving far harder than she thought it would be.