20 Small Kitchen Ideas: Design Tips For Compact Culinary Spaces
By Natasha Brinsmead published
Our brilliant small kitchen ideas are here to prove that even the tiniest rooms can look amazing and be high performing cooking, dining and social spaces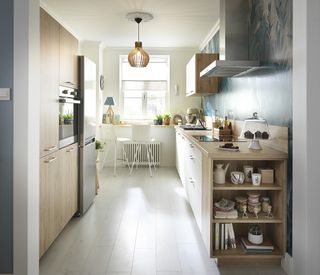 (Image credit: Schmidt)
If you are lamenting the small proportions of your kitchen then stop right there. Some of the best kitchen ideas are born from the need to get creative with space and compact cooking spaces can actually be easier to work in on a day-to-day basis than vast kitchens.
Many homeowners don't have the scope – or budget – to extend to increase their space when looking at a new kitchen design. This is where our brilliant small kitchen ideas comes in — we are here to help with nuggets of wisdom to ensure that you can still have a functional and good-looking kitchen.
Our 20 small kitchen ideas can be adapted to any space, whether you've got a narrow galley kitchen or a small boxy room to work with.
1. Dining Booths are one of our Favourite Small Kitchen Ideas
Built-in, banquette or dining booth seating is great way to include seating in a small kitchen. Because it's attached to the wall (or sometimes the breakfast bar), it's an efficient way to use space and useful for when you need to squeeze a few extra people around the table. You could also include hidden storage in your banquette seating to make even better use of it!
2. Minimise Fussy Details in a Small Kitchen
The golden rule of small kitchens is to streamline the design and avoid too much detail that will make a small space feel crowded. This could apply to the likes of patterned tiles (opt for a larger pattern over a smaller, busier design) or even how cabinet handles look in a smaller room.
A handleless kitchen is a great choice for a small kitchen, as it removes this extra visual clutter.
(MORE: Different Types of Kitchen Units Explained)
3. L-shaped Kitchen Layouts Work Well in Small Square Rooms
Small kitchen design ideas are just as much about the flow and access to other areas as they are about the aesthetics and appliances.
L-shaped kitchens are great for high-traffic routes through the the garden and give the opportunity for loads of wall unit storage.
(MORE: L-Shaped Kitchen Ideas to Inspire Your Layout)
4. Deep Kitchen Drawers Maximise Kitchen Storage
To maximise storage, look more to drawers than cupboards. You'll find you can fit more into a drawer than a cupboard, and it also makes access easier when in a small space where there's little room to manoeuvre.
"Be sure to consider accessibility and safety when making these changes and generally keep to the rule of cupboards above the worktops, drawers below," says Stephen Lynskey, Head Designer at Hammonds Kitchen (opens in new tab).
5. Galley Kitchens Are Highly Practical
The beauty of small kitchen spaces is that everything is readily to hand and this is definitely true of galley layouts — which, incidently also work rather well in large spaces.
Make the most of a narrow and long space by using the golden rule of a kitchen triangle to arrange the sink, oven/hob and fridge, but be sure to consider that galley kitchens are open at both ends so thoroughfare and smelly foods will impact the how you lay out the space.
6. Opt For Floor-to-Ceiling Over Wall Units
While many beautiful modern kitchens forego wall-mounted cabinets, it may be that they're required to meet your storage needs in a small kitchen.
"I would usually go about looking to see if a larder cabinet can fit, this takes away from the need to have lots of wall cabinets which can overcrowd the room and make it feel cramped," says Harvey Jones (opens in new tab) designer Matt Baker.
(MORE: Kitchen Storage Ideas for a Super Functional Kitchen)
You can choose doors to make them easier to used in small kitchens too.
"Pocket doors, which slide back into the unit, either as a bi-fold option or a whole option, allow easy access to units but without imposing when open," says Louisa Forsyth, Showroom Manager from Kitchens International (opens in new tab).
Just remember that pocket doors will trade off a small amount of storage space to house the doors when recessed.
7. Curved Worktops Aid Flow in Small Kitchens
This design tip is based on a psychological principle that, from a young age, our brains are programmed to avoid sharp objects. In the kitchen, we're not talking about avoiding the knife drawer — instead, think about how we subconsciously give a wider berth to corners when moving about a room.
In a small kitchen where every inch of space counts, this is less ideal, so creating sections of curved worktops and cabinetry is a smart way to soften the edges and make it easier to traverse your kitchen.
8. Corner Storage Ideas for Small Kitchens
Corner units can make great use of limited kitchen space but they do require careful consideration in order to best make use of the space — essential for a small kitchen. Not only do you want to make full use of the volume of storage space, but make it easy to access too.
Many kitchen makers will be able to provide corner storage solutions that swing out so that everything is within reach.
9. Get Your Fridge/Freezer Ratio Right
If you have a small kitchen, it's less likely you're going to have a large American style fridge freezer, which means you'll have to make a decision on the ratio split of refrigerator to freezer, whether that's an integrated or a freestanding style.
Modern fridge freezers tend to be either 70:30 or 50:50 in favour of refrigeration. To decide on what's right for you, you'll need to consider your lifestyle. Larger freezers had been growing in popularity for a while, especially useful if you batch cook, but with more and more people spending more time at home and the growing popularity of fresh ingredient meal boxes, you may find that more fridge space is your preference going forward.
10. Small Kitchens Can Still Have a Breakfast Bar
Strangely, even small kitchens seem to end up being the spot that everyone gathers in. Thankfully, there are ways to make them more than just a functional space, meaning that you need not feel stressed when entertaining.
A breakfast bar takes up little space but is a great way to add casual dining space into your kitchen, and if you have a small household, might be just what you need for quick weekday dining. It will also mean guests stay their own side while you are cooking...
"Keep the footprint of furniture to a minimum by selecting slim breakfast bars and narrow tables," says Bella Glenn, Design Expert at Benchmarx (opens in new tab). "This will keep valuable floorspace to a minimum, whilst still offering the functionality that you need. Although you may struggle to comfortably fit an island in a small kitchen, breakfast bar and split-level solutions that lead into open plan living areas can give the same impression."
11. Undermounted Kitchen Sinks Give You Some Worktop Back
When worktop space is in short supply, an undermount sink is a great solution as it means that you can work over the draining grooves in the worktop when not in use.
Look out for sink designs that come with covers — so that you can use the sink as extra work space when it's not needed — or have accessories such as draining racks that can be used over the sink.
12. Ideas to Banish Kitchen Clutter
When it comes to kitchen clutter, small appliances are one of the biggest offenders. Here's a handful of ideas for how to conceal or replace the most common:
Microwave ovens are still large pieces of kitchen kit, and often end up hogging lots of work surface. If you can't build one into a tower unit, alongside an oven, consider looking for an oven appliance that has dual functions and also operates as a microwave when needed.
Kettles are being replace more and more with boiling water taps. Though these were once an expensive buy, as they've become more widespread, the price has dropped, and you can now pick one up a basic one starting from around £250.
Toasters are still a real convenience versus trying to toast your bread on the grill every morning. To hide it away and reduce clutter, consider creating a breakfast station in your kitchen. This could be a cupboard with pocket doors, or a clever fold down door like the above from Eggersmann

(opens in new tab)

. If you don't opt for a hot tap, make room for your kettle or coffee machine in your breakfast station too.
13. Pale Colours Work Well in Small Kitchens
The classic ideas to make your small kitchen seem bigger are all worth trying.
"Use mirrors and reflective surfaces to maximise natural light — high gloss finishes, especially in white, give maximum reflection," says Kitchens International's Louisa Forsyth.
While they can feel bulky and close in the space at eye level, if you do opt for wall-mounted upper cabinets, consider choosing them in a lighter colour such as white, and consider colour matching them to the wall so they draw less focus.
14. ....But Don't Discount Bold Shades and Patterns
While light-coloured kitchen units and wall can undoubtedly be a great choice for small kitchens, so too can bold, deep shades.
Sometimes there is no getting away from the fact that a kitchen is tiny but there is no reason why it should have to blend away to nothing — being brave with your colour choices embraces the proportions of the kitchens and lets it go big on the drama front.
15. Integrated Appliances For Small Kitchens Are Best
Integrated appliances, from fridges and ovens to hobs and dishwashers, will all help make the most of a small kitchen. Not only will it offer less visual clutter in the space, as more appliances are hidden behind cabinet doors, but it will help your storage work harder.
"This is a great tactic for smaller kitchens, as you can choose compact ovens and microwaves that offer the same performance as their freestanding counterparts, at a fraction of their size," says Benchmarx's Bella Glenn.
16. Create an Open Plan Kitchen Living Space
Sometimes the only way to go is open plan — why close in an already small kitchen with a wall when it could breathe as part of an open plan layout?
If you're considering knocking down internal walls, there's no right or wrong way to do an open plan kitchen. While larger open plan spaces may benefit from an island, you can create a simple one wall kitchen, which opens out onto a living or dining space.
17. A Hidden Kitchen Could Be Just The Ticket
We love the idea of the trend for concealed kitchens, and think they'd work great in an open plan room that doesn't have loads of room to accommodate a kitchen. The basic premise is that your kitchen doesn't look like a kitchen, and is sometimes hidden behind pocket doors, as in this example from Mowlem & Co (opens in new tab).
When it comes to a streamlined kitchen and hiding away clutter, a hidden kitchen is the ultimate example!
18. Create a High Level Dining Perch
Even mini kitchens can provide somewhere for you to sit and enjoy a bite to eat. A simple piece of worktop projecting from a wall can be transformed into a dining spot when paired with some stylish stools.
19. Hanging Kitchen Storage
To get the very most out of your small kitchen you need to ensure you are using every inch of space to its full potential.
Hanging racks – whether fixed to the wall or the ceiling – are a brilliant kitchen storage idea that allow you to keep all the things you use regularly to hand without using up valuable cupboard space.
20. Corner Kitchen Idea
Get creative with your space when designing your kitchen layout and make sure your floor plan is being put to the best possible use.
Have you considered fitting your kitchen into a corner of the room? This is a kitchen idea that works well in open plan layouts and can result in some of the most practical of work areas.
Natasha is Homebuilding & Renovating's Associate Editor and has been a member of the team for over two decades. An experienced journalist and renovation expert, she has written for a number of homes titles. She has renovated a terrace and is at the end of the DIY renovation and extension of her Edwardian cottage. She is now looking for her next project.
Homebuilding & Renovating Newsletter
Get the latest news, reviews and product advice straight to your inbox.
Thank you for signing up to Homebuilding. You will receive a verification email shortly.
There was a problem. Please refresh the page and try again.