How Much Does a New Kitchen Cost? Can You Afford Your Dream?
By Hugh Metcalf published
Exactly how much does a new kitchen cost? Our guide explains the average prices to expect so you can achieve your dream kitchen without breaking the bank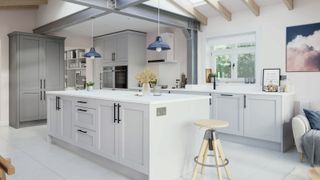 (Image credit: LochAnna)
How much does a new kitchen cost? This is usually the first question asked by anyone after a new kitchen. It is pretty obvious really — there is no point setting off towards the kitchen showrooms with no idea of how much you'll actually need to achieve the space you have been dreaming of.
Unfortunately, it can be tricky to know exactly how much your kitchen costs are going to end up being by visiting showrooms alone — what you eventually end up paying will depend on the size, design and specification of your chosen kitchen. You will also need to factor in any work that might be required when it comes to your kitchen's installation.
That said, for someone embarking on their kitchen design journey, gaining an idea of average costs is invaluable when it comes to organising your budget.
According to a recent report by Rated People, 68% of Brits set out to tackle a kitchen renovation with a budget of under £4,000 — proving you don't need a huge budget to start thinking about changing your space — while 11% have over £8,000 saved for their new kitchen.
Here, we take a look at the average costs of all sorts of kitchen styles and options, from flat-pack to custom made and everything in between, so you can see just how far your budget will stretch.
What Does a Budget Kitchen Cost?
If you are working with very limited funds, you will be pleased to learn that cheap kitchens start from below £1,000. For these kind of prices you'll be looking at largely chipboard or MDF cabinetry, faced with the likes of melamine, veneer or laminate. They will be sold flat-packed, ready to assembled on a DIY basis and are not likely to include worktops or appliances.
At the lower end of the kitchen price scale, the average spend is around £8,000.
While most budget kitchen brands — from IKEA to DIY stores such as B&Q and Homebase, will have a fitting service, it's less common to have at home appointments where your kitchen is measured and many people taking this route end up fitting a kitchen themselves to make further savings. Usually, you'll measure your kitchen yourself and attend a design appointment where a 3D design will be generated.
Budget kitchens are often available to take away that day and if not, should be delivered within several weeks at most.
Pay attention to details such as what fittings are included with a budget kitchen. IKEA supplies all its kitchens with BLUM fittings, which, incidentally, are also regularly used by luxury kitchen brands.
How Much Does a New Kitchen Cost When Flat-Packed?
This depends on your supplier and what your chosen design includes. Although people can be wary of flat-packed kitchens, providing you choose a well-made product there is no reason why these cannot offer fantastic value for money.
Flat-pack kitchens are cheaper than bespoke. For example, Wren Kitchens' budget Vogue range is the same quality of cabinetry as its fully assembled Infinity range, but costs considerably less, estimated at between £1,496 for a small kitchen to £3,439 for an extra large kitchen.
Bear in mind that flat-pack kitchens are often only comprised of cabinetry and won't include worktops, appliances or installation.
How Much Does a Kitchen Cost Through a Trade Supplier?
If purchasing from a trade supplier, such as Benchmarx or Howdens, you won't be able to see a price list directly from the brands, as their kitchens need to be purchased through a tradesperson with an active account.
Don't expect to pay the trade price that your tradesperson paid for the kitchen, as there may be a mark-up for supplying the product as they're likely to secure a discount depending on the amount of kitchens they buy annually.
How Much Do Replacement Kitchen Doors Cost?
Whether you're looking to upgrade a new budget kitchen carcass, or replace the doors of your existing kitchen, kitchen door replacement is a growing trend for those renovating their kitchens.
The average cost for replacement doors, which tend to be higher quality than those that would be provided by budget kitchen companies, is around £3,000 - £4,000 for a medium sized kitchen.
How Much Does a Second Hand Kitchen Cost?
Second hand kitchens can be a brilliant way to get your hands on a designer, high-quality kitchen for just a fraction of the price it would have been sold for brand new. Of course, the cost of a used kitchen is dependent on a lot of factors, including the brand, materials used, age and condition of the kitchen. It will also depend on what is included — some second hand kitchens come complete with all appliances, for example.
As a rough guide, Used Kitchen Exchange suggests that sellers take the original purchase price, halve it, and then take off a £1,000 for every year it has been in use. If the original purchase price of a kitchen was £25,000 and the owners had used it for ten years then a purchaser might expect to pay around £2,500 for it.
Another option is to buy an ex-display kitchen from a kitchen showroom — these are somewhat easier to price with discounts starting from around 50% of the price of a non-display kitchen.
How Much Will a Mid-Range Kitchen Cost?
Middle of the range kitchens are usually made to order using higher quality materials than a budget kitchen. Carcasses tend to be constructed from better quality veneered MDF or birch ply, doors may also be available in the likes of solid timber, plywood and high quality laminate. They're likely to be available in a greater number of sizes and contain better internal storage solutions.
As part of a mid-range kitchen, you can expect the showroom treatment — entailing a more experienced designer and home visits with professional measurements which will all be factored into the price of the kitchen.
Mid-range kitchens are likely to be priced between £10,000 and £20,000 depending on size and choice of worktops and appliances.
How Much Does a Bespoke Kitchen Cost?
Firstly, what is a bespoke kitchen? This type of kitchen is custom made to the exact dimensions of your space, allowing for the perfect fit of cabinetry and a chance to make the very most of every nook and cranny — in short, it will be tailored precisely to your needs.
Bespoke kitchens are usually handmade, often in the UK, and from luxury materials. Discerning bespoke kitchen brands will use solid timber for carcasses and doors.
Bespoke kitchens start from £20,000, but with an almost limitless variety in materials potentially available, high-end furniture makers will see kitchen prices of £50,000 and above.
"A simple shaker style cabinet is quicker and easier to make than a cabinet that includes beading, or a more intricate design," explains Richard Davonport, Founder and Managing Director of Davonport. "Additionally, the shape of the cabinets can cause the price to vary, if the design includes curved cabinetry it will be more expensive. Ultimately, the more the design varies and the more individuality required, the higher the cost."
How Much Does a Kitchen Extension Cost?
Kitchen extensions largely fall into the realms of single storey extensions, although all kinds of home extensions could be used to incorporate extra space for a kitchen.
If this leaves you asking 'how much does an extension cost?', as an approximate guide, a single storey extension will cost from £1,000 - £2,000/m2, with a basic build at the lower end of the scale and an excellent build quality at the higher end at a range, with costs of £2,500/m2 plus.
Hugh is Digital Editor of homebuilding.co.uk and has worked on a range of home, design and property magazines, including Grand Designs, Essential Kitchens, Bathrooms, Bedrooms and Good Homes. Hugh has developed a passion for modern architecture and green homes, and moonlights as an interior designer, having designed and managed projects ranging from single rooms to whole house renovations and large extensions. He's currently renovating a Victorian terrace in Essex, DIYing as much of the work as possible. His current project is a kitchen renovation which involves knocking through walls and landscaping a courtyard garden.
Homebuilding & Renovating Newsletter
Get the latest news, reviews and product advice straight to your inbox.
Thank you for signing up to Homebuilding. You will receive a verification email shortly.
There was a problem. Please refresh the page and try again.