Sustainable Kitchens: 18 Ideas for an Eco-Friendly Design
By Hugh Metcalf published
Want to create a sustainable kitchen with impeccable eco-credentials? Start with these ideas to bake sustainability into the core of your kitchen's design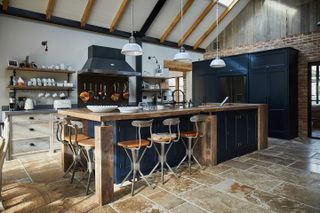 (Image credit: The Main Company)
When it comes to creating a sustainable kitchen, there are plenty of small swaps you can make to improve your space's green credentials. However, using less cling film and making sure your recycling is sorted properly only goes so far if sustainability hasn't been considered at the outset of your kitchen design.
With this in mind, we've pulled together our top ideas for ensuring your kitchen project is eco-friendly, from finding a green kitchen company to the latest smart tech that will reduce your home's energy consumption.
1. Choose a Kitchen Using Sustainable Timber
FSC-certification is an important mark to look out for when buying a timber kitchen or wood flooring. Awarded by the Forest Stewardship Council, this accreditation means that the timber used has been sourced from sustainably and responsibly managed forests that also provide environmental, social and economic benefits for local people.
2. Opt for a Quality Kitchen That Will Last Longer
A low quality, cheap kitchen will always prove a false economy, both in terms of your finances and the environment.
Kitchens that use better quality materials, craftsmanship and fixings will require more of an investment, but also endure for longer, ensuring fewer resources and less energy used in manufacturing a new one sooner, plus less waste when a multiple kitchens are removed and scrapped.
A good quality timber kitchen can also easily be reinvigorated with repainting from time to time. Choosing a timeless style such as a Shaker kitchen will ensure your space can always be in tune with the latest styles.
(MORE: Step by Step Guide to Painting a Kitchen)
3. How Sustainable is a Budget Kitchen?
Solid timber kitchens, while eco-friendly if sustainably sourced, are largely the more expensive options available on the market. So how can you source a sustainable kitchen on a budget?
It is possible for Melamine faced chipboard (MFC) and MDF, both widely used in cheaper kitchens, to have eco-friendly qualities if they're made from recycled materials.
Birch-ply is another more budget-friendly alternative to solid timber. This is often FSC-certified by the manufacturer and offers a more durable quality to ensure your kitchen lasts longer.
(MORE: How Much Does a New Kitchen Cost?)
4. Use Reclaimed and Salvaged Materials
Salvaging materials isn't just a case of diving into skips in hopes of finding a discarded gem. While salvage yards are found widely and can offer up brilliant discoveries, some retailers also offer salvaged materials for those who prefer a more standardised sourcing experience. Bert & May, for example, offer salvaged tiles; while Lubelska supplies reclaimed brick tiles from Balkan countries.
The benefits are not only an attractive, characterful look, but also the knowledge that no extra resources or energy were used in creating your salvaged materials.
Look out for sellers who are signed up to the Salvo code, as this promotes responsible sourcing of reclaimed materials.
5. Re-Use The Kitchen That You Already Have
A great way to reduce the amount of waste created in a kitchen refit is to utilise as much as you can of your existing kitchen.
If you're existing kitchen carcasses are of good quality, replacement doors can be bought or made, while if you're just after a change of scenery, a fresh lick of paint is sure to bring a new dimension to your kitchen cabinetry.
6. Buy a Used Kitchen (and Sell Yours too)
Recycling an entire kitchen is a great, eco-friendly way of getting quality design without the use of new resources. Not only does this help preserve existing supplies of timber and reduce your kitchen's overall carbon footprint, it helps avoid any element of a replaced kitchen ending up in landfill.
When you buy a used or ex-display kitchen from a specialist retailers such as Used Kitchen Hub or Used Kitchen Exchange, you'll be given all the help you need to repurpose it for your own home. Those that are sold are likely to be in good condition, and discounts can start from as much as 50% off the original retail.
7. Look for Kitchen Worktops with Recycled Content
Kitchen worktops are one area where you may be able to find stylish designs that contain recycled materials.
Recycled glass is a popular option, while the likes of Dekton's Trilium Quartz surfaces are eco-friendly thanks to 80% recycled content.
Eco concrete worksurfaces can also be created using recycled material to reduce the environmental impact of the concrete's manufacturing.
8. Sustainable Kitchen Flooring
As well as sustainably sourced timber flooring, you can look to more unusual materials in order to ensure your floor is eco-friendly. Bamboo and cork flooring are both renewable resources, which are growing in popularity and in the range of styles available.
9. Use Raw and Recyclable Materials
No matter the quality, every kitchen has a shelf life. Once yours reaches the end of its lifespan, the decision to use raw and recyclable materials such as wood and metal means that your kitchen can be easily recycled where it cannot be directly re-used again.
10. Source a Sustainable Kitchen Locally
Your kitchen's carbon footprint is another key area to consider when choosing a manufacturer. A kitchen that is produced locally in the UK is ideal, as it won't have to clock up many miles travelling from the workshop to your home.
However, choosing a company that's also mindful of the journey of the materials it sources is also important. Locally sourced, sustainable materials are always the preferred option, but those who do require to source materials from far away can sign up to eco initiatives such as Green Freight Europe to ensure they are minimising the impact on the environment.
11. Switch to Energy Efficient Appliances
Your choice of smart appliances not only makes your kitchen easier to use, but also improves its energy efficiency.
If you're looking to reduce your energy usage then swap your gas hob for an induction one. With an induction hob, no heat is wasted during cooking as only the cookware is heated, not the hob surface. This generally means that induction hobs use less energy than electric and gas hobs.
Fridges and freezers that optimise storage temperatures not only make the best use of energy for your home, but also prevent food waste.
Every appliance will have an energy rating label from A+++ to D, designed to help you work out its energy demands and the cost to run it.
12. Opt for a Hot Tap Over a Kettle
It's believed that as much as £68 million a year is wasted in electricity with excess kettle boiling, and a recent study by Triton Showers found that 47% of people boil a full kettle for a single cup of tea.
When you dispense water from a boiling water tap, you dispense the exact amount that you need, leading to a more energy efficient use of hot water.
13. Save Water with Sustainable Kitchen Tech
You should also be thinking about conserving water in your kitchen. Taps and appliances (including dishwashers and washing machines) which work with a low water flow and minimise water consumption should be a priority.
The likes of Fisher & Paykel's Dish Drawer offers a more economic way to do small loads in the dishwasher too, as a half load cycle in a standard dishwasher can use similar levels of water and energy as a full cycle.
14. Sustainable Paint for Your Kitchen
Using eco paints in your kitchen is not only good for the environment, it's good for your home's health.
Paints can be a source of Volatile Organic Compounds (VOCs), which are both damaging to the environment and to your health when inhaled. Water-based paints contain far fewer VOCs than oil-based paints, and are always preferable. Many paint manufacturers produce tough water-based paints for wood that can be used for kitchen cabinetry reducing the reliance on oil-based varieties for a durable finish.
True eco paints also have no or minimal plastic content, are produced in an eco-friendly manner and use recyclable packaging.
15. Choose Resin Over Concrete Flooring
Polished concrete floors are in high demand in modern, open-plan kitchens, however, concrete is a material with questionable eco-credentials, using large quantities of energy in the production process.
You can recreate the look with poured resin, which today has some impressive sustainable qualities, though may cost slightly more than concrete.
16. Build a Kitchen Extension with Fabric First Principles in Mind
When extending your home to create more space for your kitchen, look to work with an architect or build team that follows a fabric first approach to building.
This prioritises creating an airtight structure and maximising solar gain to reduce the reliance on your home's heating system.
A fabric first approach should be followed first, before looking at renewable heating systems for your home.
17. Choose a Company that Prioritises Sustainability
If sustainability is important to you, before you settle on a kitchen company, try searching for their name plus 'sustainability' in a search engine.
For those companies that go the extra mile to make sure their business is sustainable, they'll be sure to shout from the rooftops exactly what measures they take to reduce their environmental impact.
Qualities such as carbon neutral production, renewable energy systems, recyclable packaging and investment in reforestation programmes are just a few ways that kitchen companies may push their green credentials to the next level.
18. Use Long-Lasting LED Lighting
Did you know that LED lighting is 75-80% more efficient than standard incandescent bulbs? LED lights also last 25 times longer, ensuring less waste, so opting for LED lighting wherever possible is the eco-friendly option for your kitchen.
Hugh is Digital Editor of homebuilding.co.uk and has worked on a range of home, design and property magazines, including Grand Designs, Essential Kitchens, Bathrooms, Bedrooms and Good Homes. Hugh has developed a passion for modern architecture and green homes, and moonlights as an interior designer, having designed and managed projects ranging from single rooms to whole house renovations and large extensions. He's currently renovating a Victorian terrace in Essex, DIYing as much of the work as possible. His current project is a kitchen renovation which involves knocking through walls and landscaping a courtyard garden.
Homebuilding & Renovating Newsletter
Get the latest news, reviews and product advice straight to your inbox.
Thank you for signing up to Homebuilding. You will receive a verification email shortly.
There was a problem. Please refresh the page and try again.