14 Kitchen Window Ideas for the Picture Perfect Space
By Hugh Metcalf published
These kitchen window ideas, from types of window to treatments for your space, will ensure you have the best possible view from the heart of your home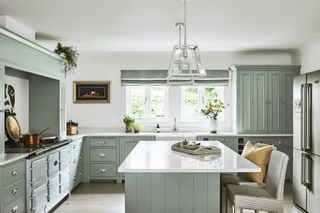 (Image credit: Neptune)
The best kitchen window ideas will result in having the perfect view to your garden — something that can only help make time spent clearing the dishes in your kitchen more palatable.
While lots of modern kitchen designs, especially kitchen extensions, have large glass doors to outside space, the kitchen window still has a role to play in bringing light into your home and creating a connection with nature.
With that in mind, we've curated some of the best ideas for kitchen windows to inspire your kitchen re-design, from the window styles that work best to window treatments to ensure your view is framed perfectly.
1. A Kitchen Window Over a Sink is a Great Idea
Even the best kitchen sink won't make washing dishes and clearing up the kitchen your favourite job, but what makes it worse is spending all your time at the sink facing against a solid wall. If your design allows, incorporating a window over your sink is a classic idea, allowing you to not only look out onto something more stimulating than a blank wall, but also possibly keeping an eye on the kids if they're out playing in the garden.
2. Fixed Glazing can be Super Effective for a Kitchen Window
While the natural ventilation a window can provide is useful in a kitchen, in the right space, fixed glazing can be used to great effect. While fixed glazing can't be opened, this isn't always important, and this type of glazing offers slim frames and great sightlines outside.
The type of space fixed glazing might particular suit includes kitchen extension ideas with pitched roofs, as in this kitchen example, where fixed glazing has been used to highlight the pitch with this duo of kitchen windows.
3. Get the Best Views With a Picture Window in Your Kitchen
When it comes to fixed glazing, you can't beat a picture window. These supersized glazed windows offer unobstructed views to your outside space, while maximising the amount of natural light coming into your kitchen space.
Think about the sightlines through your kitchen when you first enter and even from the rest of the house, such as hallways or even connected rooms. When building an extension, you may be able to create these sightlines for your kitchen space which ensure your garden plays a starring role throughout your home.
4. Add Comfort With a Window Seat In Your Kitchen
There are so many brilliant window seat ideas you can build in under a window that really contribute to your kitchen becoming a more social space.
Built-in seating is an effective use of the space, and can also be used to incorporate more storage into your kitchen. A window seat could also be used to provide seating for around a dining table, ensuring there's always room to squeeze in an extra guest when one stops by for dinner unexpectedly.
5. Bifold Windows are a Brilliant Idea for a Kitchen
There's no better choice of kitchen window for creating a connection to your outside space than a bifold window.
While they can be used alongside the more popular bifold or sliding doors, think about them in isolation with a standard glazed door too. This gives you a little more control over outdoors indoors living. For example, if you have a dog that you don't want to let wander the garden unattended, a bifold window trumps a bifold door for allowing you to control access.
Choosing a bifold window over a bifold door also allows you to make use of the space under the window, whether that's for built-in seating or extra kitchen cabinetry, upping your storage and worktop space considerably while still offering that valuable connection to the garden.
6. This Kitchen Window Idea Also Acts as a Splashback
By carefully locating the window between the runs of wall cabinetry in this kitchen designed by Roundhouse Design, the window almost acts in place of a splashback, offering an easy-to-clean surface behind the sink, while also bringing extra light into the space.
This is one of our favourite kitchen splashback ideas for keeping your kitchen bright, light and airy.
7. Create a Better Connection to Outdoors With a Sliding Kitchen Window
In some kitchen designs, windows can almost act like doors. In this kitchen, featuring worktops from HI-MACS, the sliding window aligns with the built-in window seat, meaning that it's pretty easy for the kids to clamber in through the windows, or to act as a window seat for the outside space too.
8. Or try This Openable Kitchen Window Seat Idea
This window seat also has an amazing connection to the outdoor space, opening up fully to create built-in seating that straddles the indoor and outdoor spaces, while also offering a casual way to access the garden from the kitchen via the openable casement window.
9. Build in Extra Kitchen Storage Under a Window
This built-in storage idea just goes to show that you don't need to have built in seating to incorporate storage under a kitchen window.
In this Martin Moore-designed kitchen, shallow matching cabinets have been incorporated under the window sill, offering valuable extra storage without disrupting the flow or layout of the rest of the kitchen.
10. Clerestory Windows Bring More Light to Your Kitchen
Thin, clerestory windows may not seem like they would add an awful lot to your kitchen's natural lighting, but they're actually an effective way of bringing better quality light deeper into your space.
They're one of the key principles of daylighting techniques, used alongside a light shelf to bounce light throughout your space and increasing the amount of diffused light the space gets, avoiding glare.
They work particularly well in south-facing spaces, and where light is needed to penetrate deeper into the home, as in this kitchen fitted with ID Systems windows.
13. Unusually Shaped Kitchen Windows add Architectural Interest
If you're looking to add in a new window when renovating or extending, a kitchen window might offer an opportunity to be a bit more creative with your choices.
Interestingly-shaped window will draw the eye and can be used to complement themes and ideas both in the architecture and the interior design of the scheme.
This arched window in the kitchen of this radical extension designed by Gundry + Ducker and winner of a DMI Award echoes the shapes of doorways throughout the property, creating cohesion between spaces.
14. Window Treatment Ideas for Kitchen Windows
First up, decide if you need a window treatment for your kitchen window at all. In spaces with a more modern style, slimline glazing speaks for itself, and if you don't have privacy issues from being overlooked by other properties or the possibility of overheating, then installing blinds may not be necessary.
Blinds win out over curtains for the kitchen in most cases, as when not in use, a blind is as far away from the worktops as possible, avoiding the chance of splashing and staining the textile when cooking or cleaning in the kitchen.
For a more traditional scheme, a Roman blind is a great pick. These are more visible when raised, so suit larger windows well where losing a bit of light isn't such an issue. This also allows them to be a more dominant part of your kitchen scheme, so pick up a colour from the rest of your design to incorporate here, or add an accent colour to inspire other accessories in the kitchen.
In a modern kitchen, a more streamlined blind works better. Roller blinds, in particular, are very compact when not in use, but Venetian and modern textile versions such as Duette are also a good choice.
If you're building an extension or adding new windows in when renovating, you could even consider create a small recess above a kitchen window for the blind to sit in, tucked away from view until you need it.
Consider how your kitchen blinds are operated too. Modern electronic options are tempting, but may break down, which manually operating blinds won't!
Hugh is Digital Editor of homebuilding.co.uk and has worked on a range of home, design and property magazines, including Grand Designs, Essential Kitchens, Bathrooms, Bedrooms and Good Homes. Hugh has developed a passion for modern architecture and green homes, and moonlights as an interior designer, having designed and managed projects ranging from single rooms to whole house renovations and large extensions. He's currently renovating a Victorian terrace in Essex, DIYing as much of the work as possible. His current project is a kitchen renovation which involves knocking through walls and landscaping a courtyard garden.
Homebuilding & Renovating Newsletter
Get the latest news, reviews and product advice straight to your inbox.
Thank you for signing up to Homebuilding. You will receive a verification email shortly.
There was a problem. Please refresh the page and try again.