Galley Kitchen Ideas: Smart Designs for Narrow Spaces
By Amy Reeves published
These galley kitchen ideas will help clarify some common planning missteps and inspire with ingenious storage and layout designs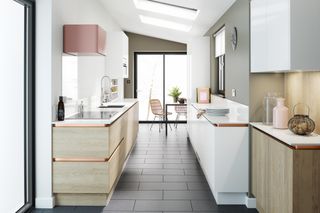 (Image credit: Wren Kitchens)
The key to success when looking for galley kitchen ideas is to work out your layout early.
Initially, galley kitchens can be tricky to plan, but their inherent compact nature actually makes them great for avid cooks (and those who enjoy a good kitchen disco away from open-plan spaces) once it's been cracked.
Kitchen design for a galley shape - normally two runs of parallel units - isn't so much about the 'working triangle' like it is in a u-shaped kitchen, but in how best to deal with its limitations in worktop space. Plus the realities of galley kitchens usually acting as a though passage to other spaces in the house have to be dealt with in the layout.
Take a look at the design inspiration below for great storage solutions, layout ideas and top tips on how to plan a galley kitchen.
Finding the Best Layout with Galley Kitchen Ideas
Although known for being narrow and usually ill-planned out, galley kitchens can be among the most useful and beautiful layouts for kitchens as everything is close at hand.
Kick off your galley kitchen design by ensuring you have a clear list of what can't be moved (like windows and doors) and what you absolutely need the in space (a range cooker or hob, full-height of half fridge etc).
Hobs and kitchen sinks usually work best opposite each other in a galley kitchen, although in busy households you may want to have them sit side-by-side.
Choose an Asymmetrical Design for a Galley Kitchen
Although symmetrical galley kitchens work perfectly well, dedicating one side to food preparation and cooking on a hob, and the other to full-height storage or wall units can create a simple harmony in a frequently cluttered and disorganised space.
(MORE: Kitchen Units: The Fundamentals Explained)
Make a Galley Kitchen a Flexible Space
Many galley kitchens also act as a through passage to other areas in the house or even to the outside, so can quickly become busy. Depending on your household, you may want to include barn-style sliding or pocket doors in your design to reduce the chances of pets or small children running through when you have a hot pan or sharp knife in your hand.
Keep a Small Galley Kitchen Light and Bright
This kitchen feels like a breath of fresh air in comparison to the kitchens of rental properties and dated terraces galleys are often associated with.
The metro tiles work brilliantly here to give the monochromatic space an extra dimension while the stainless steel range cooker, original oak beams and dark-framed windows do all the work creating character.
Or Go Dark for a Modern Galley Kitchen Design
If there's anything we have learned in the last few years it's that the old fable that dark colours don't go in small spaces is completely untrue.
Often inspiring a cosy edge, blue, green or, as here, black painted units or walls provides a contemporary spin to a classic layout.
(MORE: Modern Kitchen Ideas)
Add a Seating Area in a Long, Narrow Galley Kitchen
The trouble with a really narrow space is that even with the best will in the world, you will frequently use the same spot for preparing food time and time again. So, put the area to good use — a small seating area or bar can be a lovely addition to create a cosy seating area for a quick breakfast or a drink with a friend after work.
Add a Focal Feature with Flooring
Choosing a type of flooring which doesn't just stand up to the high-traffic that often filters through a kitchen, but also plays a dynamic part in the design is a great way to break up the small space.
Let in Plenty of Natural Light
Escape the hallway feeling by maximising a view to the garden, where possible, or by installing a rooflight in a penned-in galley. This will make the space feel more enticing to cook and spend time in.
Keep Galley Kitchens Uncomplicated
The sleek run of stainless steel countertop of the this bespoke kitchen provides the perfect balance to the traditional shaker-style on the back wall.
Fuss-free and functional, the space provides plenty of storage via the shelving and larder-style unit as well as a practical workspace which can sometimes be lacking in this style of kitchen.
Streamline Your Galley Kitchen's Design
While lack of kitchen worktop space can be a limiting factor, make the units work twice as hard by maximising storage for usual kitchen counter clutter like microwaves, seldom-used toasters and small appliances. Installing a boiling water tap will further streamline the design.
(MORE: Small Kitchen Design Ideas)
Go for a Country Farmhouse Design
This galley kitchen feels anything but closed-in or cluttered. Perfectly balancing traditional English country units with modern built-in appliances has created a welcoming and functional space to cook in.
Two-tone Cabinets are Great for Galley Kitchen Makeovers
Offset the feeling of being enclosed in a galley kitchen by incorporating different but complimentary kitchen units. The illusion of space and the contemporary styling ensures that the space feels deliberate and well considered.
(MORE: Small Kitchen Ideas)
Designing a Galley Kitchen on a Budget
The nature of galley kitchens means the more storage, the better. That said, opting away from traditional wall-hung units and fitting open shelving offers a chance for a more relaxed approach, as well as being kind on the budget.
Also, due to their simple designs, galley kitchens can usually be readily found or easily adapted from second hand kitchen companies or on ex-display offers.
Keeping your ear to the ground and making connections with timber or worktop merchants could also present an opportunity to capitalise on off-cuts from larger pieces.
(MORE: Cheap Kitchens)
Getting Galley Kitchen Lighting Right
When looking for galley kitchen lighting design ideas, be sure to take into account ceiling height as the layout often feel cramped with dealing with high shelving, minimal space and a pendent light bearing down on you.
Also, let's face it, there's nothing more annoying than trying to chop and blocking the light coming from behind. While downlights may work to illuminate the room as a whole, take care to add task lighting above countertops or underneath cupboards to remedy this.
(MORE: Kitchen Lighting Ideas)
Choosing a Galley Kitchen for a Remodel
While we tend to think of galley kitchens in existing Victorian or semi-detached homes, opting for this layout during a kitchen remodel is a great idea for those who have a passion for cooking and minimal space.
Galley kitchens have the advantage of everything being close to hand, as well as being able to become a through passage to other rooms or link to the outside.
(MORE: How to Renovate a Kitchen)
Creating a Galley Kitchen with an Island
Dedicate a space in an open-plan layout to a galley kitchen for a zoned effect. Long island units look beautiful and add some extremely useful workspace while not taking over the whole room.
(MORE: Designing a Kitchen Island)
Remove a Wall to Create a One-Sided Galley Kitchen
When remodelling a galley kitchen, knocking through to another room to create a single line layout can solve many of their inherent issues (such as limited storage, natural light, etc.)
(MORE: Kitchen Layout Ideas)
Good Storage for a Narrow and Small Galley Kitchen
Where space is at a premium, make the most of every inch by choosing large pan drawers to optimise space. Usually better suited to narrow layouts where doors get in the way, drawers fit in far more than standard base units.
(MORE: Brilliant Kitchen Storage Ideas)
Add a Splash of Colour to a Galley Kitchen
Don't forget to have fun with you kitchen design, it's a whole new space for imparting your personality shine in practical ways.
This wildflower splashback is actually a water and fire-proof wallpaper which can be used behind a stove.
Choose a Galley Kitchen with a Peninsula
Dividing an open-plan living space with a peninsula to create a galley kitchen is a smart way to demarcate the different space, while giving the opportunity for a bit of extra storage and even a breakfast bar.
(MORE: Open-plan kitchens)
Galley Kitchen Ideas for a Busy Household
Keep surfaces looking sleek (with little chance of bags or coats hitting clutter) by installing induction hobs and handleless units.
(MORE: Amazing Kitchen Remodel Ideas)
Assistant Editor Amy began working for Homebuilding & Renovating in 2018. She has an interest in sustainable building methods and always has her eye on the latest design ideas. Amy has interviewed countless self builders, renovators and extenders about their experiences for Homebuilding & Renovating magazine. She is currently renovating a mid-century home, together with her partner, on a DIY basis, and has recently fitted her own kitchen.
Homebuilding & Renovating Newsletter
Get the latest news, reviews and product advice straight to your inbox.
Thank you for signing up to Homebuilding. You will receive a verification email shortly.
There was a problem. Please refresh the page and try again.