Second Hand Kitchens: How to Buy a Used Kitchen
By Natasha Brinsmead published
Second hand kitchens can not only save you lots of money — they are an eco-friendly option too. Our ultimate guide explains how to buy one.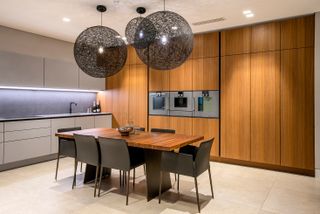 (Image credit: Used Kitchen Exchange)
Buying a second hand kitchen makes sense for many reasons and yet it is surprising that this is still a route many people still don't consider taking.
From a money-saving perspective, second hand kitchens really do add up, allowing buyers to afford kitchens from top designers that their budgets may not otherwise have stretched to. In many cases, a used kitchen will come in at 50%-70% lower than the RRP.
A used kitchen is also an eco-friendly option, reusing items that, in many cases, have hardly been used.
In this guide to buying a second hand kitchen we explain how to buy one, point out potential disadvantages and what to look out for when choosing one as well as covering the small, easy steps you can take to refresh your existing kitchen.
(MORE: Kitchen Design)
Where to Buy a Second Hand Kitchen
As people have gradually cottoned on to the many benefits of buying used kitchens so too have the number of second hand kitchen suppliers.
There are several prominent used kitchen specialists out there, including Used Kitchen Hub, Used Kitchen Exchange and The Used Kitchen Company.
Specialists such as these both sell and buy used kitchens. Some have showrooms where you can view the kitchens up close, while others will arrange for you to view a particular kitchen you might be interested in — either at their premises or, if it is still in situ, at the owner's home.
Other options include online auction sites such as eBay or keeping an eye out for local sellers advertising on social media.
If you like the idea of an ex-display kitchen it is well worth paying a visit to a selection of kitchen showrooms and leaving your details with them — they will often be happy to contact buyers when they come to changing their shop displays.
What's The Difference Between a Used Kitchen and an Ex-Display Kitchen?
An ex-display kitchen is a kitchen that has come straight out of a kitchen showroom and won't have been used — as a result they tend to be a little more expensive than second hand kitchens, although there are still significant savings to be made. There may be some small signs of wear and tear depending on how long it has been out on the shop floor.
Many ex-display kitchens will come from current ranges, meaning you can easily add to them should you need to with new, matching items.
You can either visit kitchen showrooms yourself and ask about buying one of their kitchens ex-display or visit the a second hand kitchen website, some of which are listed above. They usually stock both second hand and ex-display kitchens.
How to Buy a Second Hand Kitchen
Before you begin your hunt for a second hand kitchen, have a layout of your kitchen space drawn up so that you are clear on the measurements of the room, any height restrictions, the location of windows and doors and so on and can select a kitchen to fit.
Most good suppliers list all the details you need on their websites, including the various sizes of each of the individual units as well as the overall sizes of the fitted kitchens.
They should also include a full list of exactly what is included in terms of appliances and worktops, the condition of the kitchen, a selection of photographs and the earliest date it can be dismantled, ready for collection or delivery.
Some suppliers offer a delivery service for a charge, while others will require you to collect the kitchen yourself. Most will not charge to dismantle the kitchen but do check.
It might also be worth enquiring whether or not they offer finance options as many do.
It is often possible for you to register with suppliers of used and ex-display kitchens, setting out your requirements so that they can contact you as soon as something suitable arrives with them if they don't have anything in stock at present.
Finally, ask about preloved kitchens too — some companies give this term to less-than-perfect second hand kitchens that require some TLC to get them looking good again — such as new doors or worktops.
What is Included in a Second Hand Kitchen?
It is absolutely vital to check what is included in the price of your second hand kitchen. A good supplier should offer a complete list of what is and isn't included on their website.
Some kitchens will included a whole host of appliances in addition to the units themselves, including sinks and taps, ovens, range cookers, hobs, fridges and freezers, extraction hoods, dishwashers and even smaller items such as built-in coffee machines, microwaves and washing machines.
It is also important to check whether the following items are included so that you know what you are paying for and whether this is the right kitchen for you:
Plinths
Kickboards
End panels
Worktops
Delivery
Dismantling
Installation
Who Fits a Second Hand Kitchen?
It is rare for an installation service to be offered when buying a second hand kitchen although some suppliers might be able to recommend a kitchen fitter in your area. Otherwise, you will need to either take a DIY approach or find a joiner or kitchen installer yourself.
Used Kitchen Delivery Options
Delivery charges for second hand kitchens are not usually included in the price. Some companies offer a delivery service, while others will happily point you in the direction of a delivery driver they have used before and who will have the right equipment needed to safely deliver a complete kitchen.
If you are planning on arranging to collect the kitchen yourself do bear in mind that a used kitchen will be heavy if it includes worktops, appliances and so on. You need a delivery services with appropriate lifting equipment, the correct insurance and vans capable of transporting hefty items.
Dismantling a Second Hand Kitchen
Unlike buying a brand new kitchen, a used kitchen or ex-display kitchen will already be installed, either in a home or a showroom. What this means is that it will need to be dismantled in order to transport it to its new home.
Some used kitchen suppliers have a team of professionals they regularly use to dismantle, deliver and install kitchen bought through them. These are often independent firms. The cost of this service will vary depending on the scale of the kitchen, the proximity of the delivery address and the firm used.
In other cases, the dismantling of the kitchen will be included in the price of the kitchen and arranged by the supplier.
If you choose to buy from a private seller you might be asked to dismantle the kitchen yourself and will need to arrange collection too in the majority of cases.
Used Kitchen Checklist
There are, of course, risks involved in buying any second hand item. These risks can be minimised by carrying out the following checks before you buy:
View the kitchen you are interested in before parting with any money or putting down a deposit
Make sure you have measured your kitchen space properly and know the kitchen will fit (remember that worktops can always be trimmed down or units rearranged to suit the space — you might need to get creative)
Check who will be dismantling the kitchen
Ask about delivery options
Check the kitchen over thoroughly by inspecting the backs and bases of units as well as just the fronts. Look at hinges and drawer runners and bases, check worktops for scratches or burn marks
When it comes to appliances, ask whether there are instructions or any guarantees included and also whether the appliances will be compatible with your services. It is wise to have appliances checked and installed by a suitably qualified electrician and/or plumber before use.
Check what fixings are included (hinges, brackets etc.)
Quick Kitchen Updates
Don't forget that your dream kitchen might be closer than you think — how about giving your existing kitchen a new lease of life? This is the cheapest route to a second hand kitchen, after all...
Consider these quick and easy kitchen makeover ideas:
Update kitchen units with a new painted finish — opt for eggshell paint that can easily be wiped down and ensure you have sanded and primed units where necessary
Change dated unit knobs and handles for new designs
Re-use existing unit carcasses that are still in good condition by removing the old doors and drawer fronts and buying new ones.
Replace wall units with open shelving for a quick refresh
Consider replacing some of your fitted units with freestanding items — upcycled dressers and sideboards make great kitchen units and worksurfaces
Re-tile the walls and floor
Replace an old splashback with an eye-catching design
Update the lighting — stylish pendants or sleek downlighters will do far more for a space than an unflattering, fly-filled fluorescent striplight
Change the kitchen tap and sink
Natasha is Homebuilding & Renovating's Associate Editor and has been a member of the team for over two decades. An experienced journalist and renovation expert, she has written for a number of homes titles. She has renovated a terrace and is at the end of the DIY renovation and extension of her Edwardian cottage. She is now looking for her next project.
Homebuilding & Renovating Newsletter
Get the latest news, reviews and product advice straight to your inbox.
Thank you for signing up to Homebuilding. You will receive a verification email shortly.
There was a problem. Please refresh the page and try again.