22 Modern Kitchen Ideas That Are Both Functional and Stylish
These modern kitchen ideas will breathe new life into your kitchen, transforming both how you use it and how it looks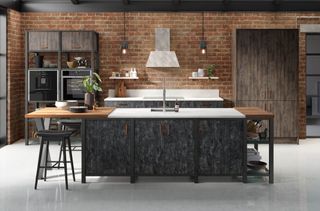 (Image credit: Wren Kitchens)
These modern kitchen ideas will not only complement your home's existing interior but will provide a stylish, central point where family and friends can gather. 
A brilliant kitchen design will create a space that is practical yet perfect for entertaining too. When designing your kitchen you need to think about how you will use the space as well as the features you want to include, such as:
Breakfast bars
Kitchen islands
Build-in storage
Integrated appliances
Seating areas
Free-standing units and larders
Lighting features
From open plan kitchens to loft style kitchens, here are 23 modern kitchen ideas to help inspire your own perfect space.
(MORE: Get a Tailored Quote for Your New Kitchen)
1. Mix Marble Finishes with Lots of Natural Light for a Stylish Modern Kitchen Idea 
This modern kitchen, designed and styled by Benchmarx, blends together a dark patterned marble with high gloss cabinets and lots of light from above. The marble brings the whole kitchen together flowing over the end of the island down to the floor in one sweep (known as a waterfall island), as well as being used as upstands, worktops and a splashback. 
The glazed ceiling also floods the kitchen with lots of wonderful, natural light.
2. Embrace Industrial Style for an Modern Kitchen Idea
Ultra modern and packed full of style, this kitchen uses a steel frame around the freestanding units, and island, to create an industrial-style space. The dark steel is paired with brushed copper handles, a wooden breakfast bar and a bright white quartz worktop to create a contemporary finish.
3. Create a High-spec Finish with Curved Cabinets
Functional yet stylish, a curved kitchen design creates an elegant social space with a soft finish.
Curved cabinets are a great child-friendly solution for family homes thanks to the lack of harsh corners.
Styled by Kitch Living Direct, this kitchen features a large rounded central island and rounded wall units all brought to life with lots of light and stainless steel appliances.
4. Use Glazing to Create the Illusion of Space in Your Modern Kitchen Idea
This minimalist galley kitchen blends handleless navy cabinets with metro tiles, lots of discreet storage - to keep the space decluttered - some simple yet effective lighting and a dark wooden, and white marble, worktop. 
Plus this kitchen is given the illusion of being bigger than it is thanks to the clever corner floor-to-ceiling window.
(MORE: Galley Kitchen Ideas)
5. The Use of Concrete is a Great Idea for a Modern Kitchen
This kitchen in a striking London self build, designed by architect/homeowner Jake Edgley, combines a selection of raw materials including shuttered and polished concrete and timber to create a contemporary style. Elements of gold add a sense of luxury.
6. Vary Ceiling Heights and Expose Steels to Create a Loft-style Kitchen
Exposed brick, wood and dark colours – complete with varied ceiling heights – help to create a New York loft feel in this self build home. The lack of wall units in the kitchen also helps to keep this space from dominating the open plan arrangement.
7. Embrace Minimalism for a Modern Kitchen Idea
A glazed link connects the granite stone building to this contemporary kitchen diner in this Highlands home, designed by architect homeowner Stuart Archer. White handleless cabinets help to create a sense of minimalism, while a rooflight above the island helps to bathe the room in natural light.
8. Zoning is Essential for Open Plan Kitchens
In this self build in Oxfordshire, the modern kitchen sits as part of a large open plan space where cooking, dining and relaxing come together — zoned thanks to clever lighting and furniture placement.
High gloss units with contrasting coloured cabinets to the island, with LED lighting strips beneath, showcase modern kitchen design at its finest.
9. A Modern Kitchen Idea is Brought to Life with Lots of Glazing
Situated within a dramatic frameless glass extension, designed by AR Design, to a period home in Hampshire, this Bulthaup kitchen features contemporary grey cabinets and stainless steel worktops, while slip-resistant ceramic floor tiles run seamlessly out to the patio.
(MORE: Glazed Kitchen Extensions)
10. Bold Colours Lend Themselves to Modern Kitchen Ideas
The striking combination of orange and aubergine brings vivid colour to the open plan Effeti kitchen for a playful design, while a curved ceiling effect adds interest in this renovation project in Bath.
11. Try Monochrome Shades for a Subtle Modern Finish
This new open plan rear extension, designed by AR Design, oozes minimalist style with its monochrome Siematic kitchen from Myers Touch, the colours of which are mirrored in the white walls and Stone & Ceramic Warehouse floor tiles which carry out over the level threshold and on to the garden patio.
12. Embrace Natural Materials for a Modern, Yet Timeless, Kitchen Idea
Natural materials like American white oak and stone lend texture to the handleless white units in this kitchen extension, designed by David Maguire, to a converted mill. A long island and units which span the length of the room lead the eye to the outdoor terrace.
13. Consider a Split-level Kitchen Idea
This kitchen within this renovated and extended property in Oxford has been positioned on a higher level to the rest of the open plan dining/sitting area, having originally been two separate rooms, opened up with concealed structural steelwork. Dark worktops here contrast against the white gloss units.
14. Add Discreet Storage to Declutter Your Space
High-quality plywood built-in units have been paired with hardwearing DuPont Zodiaq 'Cygnus Pearl' worktops to create a simple but stylish aesthetic in this new kitchen extension, designed by Hamilton-King.
Lower-level units have been finished in high-gloss laminate, while a floor-to-ceiling wall of storage – has a veneer of European oak finished in hardwearing satin lacquer.
(MORE: Kitchen Storage Ideas)
15. An Angular Kitchen Creates a Modern Feel
The high-spec Italian curvilinear kitchen island, with integrated appliances, has been angled to face the glazed wall and dramatic views beyond in this contemporary home in Scotland, designed by McInnes Gardner Architects.
(MORE: How to Remodel a Kitchen)
16. A Double Island Will Make Your Kitchen a Sociable Space
The Bulthaup kitchen in this contemporary self build on the Cornish coast has a smart, twin-island layout with Gaggenau and Miele appliances, while an extension to the unit provides bar-style seating. A bank of built-in wall units further adds to the modern kitchen design.
(MORE: Kitchen Island Ideas)
17. Make Sure to Mix Artificial Lighting with Lots of Glazing for a Satisfying Result
From artificial light with spots in the ceiling, and strip lighting beneath the island, to natural light from the large picture window to one wall and narrow picture windows above the worktops offering glimpses of the garden, this kitchen is perfectly lit at all times of the day and evening.
18. Raw Materials Help to Achieve a Minimalist Finish
A simple palette of raw materials helps to achieve the minimalist loft look in this conversion project (designed by architect homeowner James Davies).
Polished concrete floors, white walls, steel-framed Crittal-style windows and sections of spruce panelling sit in harmony within the open plan double-height kitchen/dining/living space.
(MORE: Window Styles)
19. Don't be Afraid to Keep Your Kitchen Idea Simple
This modern kitchen design – supplied by Alresford Interiors – features a kitchen island that allows for views down the garden and to the stream at the bottom. MDF joinery also offers a pared-back finish.
This extension, built in cross laminated timber (CLT), provides a large kitchen diner to a Grade II-listed house and was designed by Adam Knibb Architects.
20. An Industrial-style Kitchen is Very On-trend
This industrial-style kitchen oozes modern charm in this characterful church conversion. Dark blue units carry through to the walls and the exposed steel beams, while stainless steel appliances add a modern edge.
(MORE: 10 Essential Features for a New Kitchen)
21. Add High Level Windows to Bring in Extra Light
This light-filled modern kitchen design has been kept simple with sleek units. The island is the focus of day-to-day activity and helps zone this open plan space. High-level windows bring in natural light, but do not impact on privacy.
22. Incorporate an Exposed Brick Wall
Exposed brick, a poured resin floor and dark joinery all aid in creating this modern kitchen design. The open plan nature of the space combined with large glazed openings allow light to flood the kitchen/dining/family area. (This contemporary self build was designed by Tom Allen and built for £170k.)
(MORE: Small Kitchen Design Ideas)
Get a Quote for Your New Kitchen
Homebuilding.co.uk partners with the UK's best kitchen specialists to match your requirements with their services. 
Simply answer a few questions on what you need from your kitchen and we'll put you in touch with a suitable partner.
How It Works
1. Enter your details below. Tell us a bit about your project and what you are looking for, and leave some contact details.
2. We search our database. We'll match your requirements with the products and services that our partners offer.
3. Partners will contact you. Don't worry about being bombarded - only the suppliers that match your requirements will contact you.
Homebuilding & Renovating Newsletter
Get the latest news, reviews and product advice straight to your inbox.
Thank you for signing up to Homebuilding. You will receive a verification email shortly.
There was a problem. Please refresh the page and try again.