Modern Kitchen Ideas: 22 Real Spaces to Inspire Your Project
By Hugh Metcalf , Katie Corcoran published
Looking for modern kitchen ideas for your self build or renovation project? We've got 22 of the best, cutting-edge designs to serve up inspiration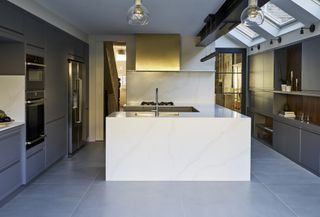 (Image credit: Harvey Jones)
If your search for the right modern kitchen idea has left empty handed so far, here we've curated some of our favourite examples of contemporary kitchen designs to (hopefully) sate your appetite.
But first thing's first, what defines a modern kitchen? Well, it very much depends on who you ask. In essence, a modern kitchen is one that's designed for modern living, however, the term has been coined for kitchen characterised by sleek lines and a minimalist approach to design. Do you agree?
Whatever your feelings on what defines a modern kitchen, our pick of the best modern kitchen ideas, all created for real homes, undeniably encapsulates contemporary style.
1. Flush Floor-to-Ceiling Cabinetry is a Trending Idea for Modern Kitchens
This modern kitchen idea is a big trend in kitchen design right now, and for good reason. A bank of floor-to-ceiling kitchen cabinetry, often with integrated appliances, is the perfect way to pack plenty of usable units into your kitchen while preserving a sleek look. It's functional too as it means no cleaning of the top of your kitchen units is required — a spot where dust and grime can easily collect.
2. Handleless Designs Aren't the Only Option for a Modern Kitchen
Handleless kitchens are a great choice for a modern home, as they offer a clean, minimal aesthetic, but they're not the only option available. Flat, slab doors look just as contemporary with the right handle.
3. Add a Kitchen Island for Modern Living
A kitchen island is a key component of a modern kitchen, which can also be defined in its use as well as it's style. Kitchen islands help create a space that flows well, and provides space for casual dining, doing homework and entertaining when they include bar stool seating.
In a modern kitchen, consider a contrast for the kitchen island to the rest of the cabinetry to ensure it's the focal point of your space.
(MORE: Kitchen Island Ideas)
4. Use Contemporary Glazing as a Feature in Your Modern Kitchen
Advances in technology means that now larger expanses of glazing are available than ever before. Whether you choose patio doors with slim frames or large picture windows to frame the view to outside, a modern kitchen design should create a strong connection with your outdoor space.
(MORE: Ways to Bring the Outside In)
5. Industrial Style is a Great Idea for a Modern Kitchen
If simplicity is at the heart of a modern kitchen, builds that retain and make a feature of raw building materials give an instant contemporary edge to the space. From exposed concrete and brick to exposed steels, industrial elements offer a bold and eclectic way to create a modern kitchen.
6. Vary Ceiling Heights and Expose Steels to Create a Loft-style Kitchen
Exposed brick, wood and dark colours — complete with varied ceiling heights — help to create a New York loft feel in this self build home. The lack of wall units in the kitchen also helps to keep this space from dominating the open plan arrangement.
7. Is it a Good Idea to Contrast Old and New in a Modern Kitchen?
When you're adding a new kitchen to a property with period features, you may be tempted to choose a kitchen which fits in with the style and age of the home, but choosing a modern kitchen can be an effective way of highlighting those features, especially in a contemporary kitchen extension.
8. Modern Lighting Ideas for Kitchens
Modern kitchen lighting ideas go beyond the basics of pendant lighting, spot lights and wall lights, employing LED strip lights as accent lighting to highlight materials and architectural features of a kitchen space.
Build up a lighting design scheme that includes multiple sources of light for different tasks to ensure that your kitchen can strike the right balance between ambience and functionality.
9. Balance a Cool Colour Palette for a Modern Look
There's something about colder colour palettes of white, grey and blue that instantly give a kitchen a modern edge. To strike a balance and keep the space feeling warm, add touches of natural materials such as wood and stone to your scheme too.
10. Bold Ideas Lend Themselves to Modern Kitchens
Got a bold idea you want to include in your modern kitchen? The benefit of a kitchen that is largely simple and sleek in design is that it provides a calm backdrop for one out-there focal point, whether that be colourful elements, patterned tiles, or a bold architectural intervention.
11. Try Monochrome for a Subtle Modern Finish
Black, white and grey is both modern and timeless, making it a great choice for a kitchen that transcends trends. To ensure your design has the appropriate 'texture' to not feel flat, include other material finishes such as glass and metal to complete it's contemporary look.
12. Embrace Natural Materials for a Modern, Yet Timeless, Kitchen Idea
If you have concerns over a modern kitchen feeling cold and clinical, adding natural elements such as timber is the perfect solution to add warmth and ground your design in nature. For more ideas to bring nature into your scheme, take a look at our biophilic design ideas.
13. Material Ideas for Modern Kitchens
When you think of a modern kitchen, you may think only of an overly sleek, gloss, handleless design, however, some of the most popular styles of recent times couldn't be different. Materials such as high grade birch ply have become a huge trend, both in styles which retain the natural grain and with veneers that just leave the tell-tale layered profile of plywood on show.
14. Create Discreet Storage with a Modern 'Hidden' Kitchen
Favoured in modern open plan spaces, hidden or invisible kitchens conceal everything behind a wall of (often pocket) doors. When in use, there's no reduced functionality of the kitchen as the doors are tucked away, but when closed, your kitchen is completely hidden from view.
This idea can be used on a smaller scale with concepts such as breakfast stations, often hidden away behind pocket doors too.
(MORE: Kitchen Storage Ideas)
15. Used Curved Elements to Create a Modern Feel
Flowing lines and soft curves create spaces that are easier to navigate, with no sharp corners that the brain subconsciously looks to avoid. Consider curved cabinetry and work surfaces for a sleek, modern look.
(MORE: How to Remodel a Kitchen)
16. A Double Island Will Make Your Kitchen a Sociable Space
A double kitchen island is great design idea for large kitchens with room to spare, and can be used in a design in a way to replace wall hung cabinetry to provide enough work surface space for food prep and a breakfast bar when teamed with floor-to-ceiling wall cabinetry.
Carefully consider the layout of the sink, hob and any integrated appliances on a double island to make the most of the space and create the best workflow when cooking and entertaining.
17. Use Textured Cabinets for a Modern Look
Fluted textures are a big trend in contemporary kitchen design, adding a tactile nature to kitchen cabinets. This style is also effective at streamlining the look of your space, helping to disguise the natural breaks between cabinet doors and drawers.
18. Raw Materials Help to Achieve a Minimalist Finish
A simple palette of raw materials helps to achieve the minimalist loft look in this conversion project (designed by architect homeowner James Davies).
Polished concrete floors, white walls, steel-framed Crittal-style windows and sections of spruce panelling sit in harmony within the open plan double-height kitchen/dining/living space.
(MORE: Window Styles)
19. Don't be Afraid to Keep Your Kitchen Idea Simple
When installing a kitchen, especially in a property that already has plenty of character, don't be afraid to keep it simple, allowing the architecture, the view or another impressive element to be the star of the show.
20. Use a Ceiling Mounted Extractor for a Modern and Minimal Design
Traditional cooker hoods disrupt sight lines when used on islands, and in a modern kitchen are often an unnecessarily dominant feature when more discreet options exist.
A ceiling mounted extractor, fitted flush, is the best choice for easy, efficient extraction. Downdraught extractors built into the hob are also discreet, but are more likely to offer air recirculation than true extraction.
(MORE: 10 Essential Features for a New Kitchen)
21. Add Clerestory Windows to Bring in Extra Light
Clerestory windows allow natural light to reach deeper into your space, but do not impact on privacy or contribute so heavily to overheating in south-facing spaces. These slim, high-level windows particularly suit modern homes and contemporary kitchen spaces.
(MORE: What is Daylighting?)
22. Create an Eclectic Scheme for a Modern Kitchen
For a sophisticated modern kitchen, think about an eclectic mix of materials, colours and finishes, rather than every element matching. Differences in texture and style can be effective in creating a contemporary scheme with plenty of points of interest.
(MORE: Small Kitchen Design Ideas)
Katie is an experienced journalist and has renovated two houses including a 200-year-old cottage and a 1950s semi.
Homebuilding & Renovating Newsletter
Get the latest news, reviews and product advice straight to your inbox.
Thank you for signing up to Homebuilding. You will receive a verification email shortly.
There was a problem. Please refresh the page and try again.