24 Kitchen Layout Ideas — How to Design the Hub of the Home
By Amy Reeves , Hugh Metcalf published
These creative kitchen layout ideas will help you explore your options with stylish inspiration and advice from design experts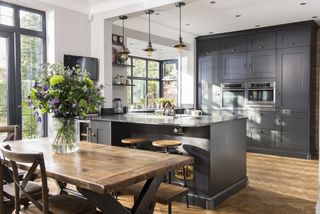 (Image credit: Industville)
When considering kitchen layout ideas, your decision will likely be led by the size and shape of your kitchen space.
There are generally a fixed number of layout arrangements possible for any given space, but it's unlikely that your room will be the perfect shape and no adjustments will need to be made to create a bespoke space for your requirements.
So, we've detailed below ideas to personalise established layouts, how to design a layout on a DIY basis, and what essential elements are needed unlocking the potential and usability of a new kitchen layout.
1. Use Online Tools to Visualise Different Kitchen Layout Ideas
If you're working with a blank slate, perhaps because you're extending or building a new home, you'll be in the fortunate position of being able to design the structure around your ideal style of kitchen.
However, if you're working on a renovation or a small extension, you may be more limited, so testing out different options in the space will serve you well before heading to any kitchen design companies. (Scroll to the bottom to see how to design a kitchen on a DIY basis.)
Paul Jenkinson, founder and managing director LochAnna Kitchens advises: "Homeowners are spending more time researching kitchen choices before venturing out to visit a showroom; they are thinking more about what they want from their kitchen and with the enormous choice of doors, colours and finishes, they are looking online for inspiration and to help them make decisions. Visualisers and kitchen configurators will become a must for kitchen manufacturers to keep up with this demand. "
2. Work with the Infamous 'Kitchen Triangle'
"The kitchen triangle is based on the three main work areas within the kitchen: the sink, the fridge and the hob," explains Keith Myers of The Myers Touch. "According to the rule, these should be laid out to loosely form a triangle, enabling you to perform day to day tasks with ease and without any obstruction.
VISIT THE HOMEBUILDING & RENOVATING SHOW
"Each side of the triangle should measure no less than 1.2 metres and no more than 3 metres and, ideally, the perimeter of the triangle should be no less than 4 metres and no more than 8 metres. Not too small and not too large! This will ensure that your working area is practical, comfortable and large enough — but not so large that much of your time is spent walking between one point and another.
"However, the changing needs of the modern family especially over the past two years means you don't need to stick to it; it is a design principle that can be broken, but it can be a good place to start.  It's important to pay attention to aesthetics and functionality, if you only focus on one of these then your kitchen may not work, therefore such key areas such as kitchen triangles and zoning will just happen rather than being the main focus." 
3. Go for a Galley or Parallel Design
Galley kitchens are usually found in long, narrow rooms, while parallel kitchens can be found in larger, more open-plan kitchens.
Although sometimes dismissed as an unfortunately, awkward layout, this option is actually great for keen cooks (where there is plenty of worktop to cook on), and helps to maximise storage in a limited area.
Good flow can be tricky to achieve using galley kitchen ideas, so a good designer will pay close attention to your work triangle to reduce foot traffic around the space. Bear in mind, too, that a galley style kitchen is less suited to creating a social space that's good for entertaining in.
Howard Millar of H. Miller Bros suggests: "In small kitchens, corner cabinets are a waste of space — I much prefer a galley with two straight runs facing each other, don't be tempted to turn this into a U, all you're doing is creating two awkward corner cabinets and cutting out floor space.
"Very often, small kitchens are found in Victorian-era houses and these tend to have taller than average ceiling heights so you can compensate for the lack of area by having more high-level storage."
4. Choose a Convenient L-Shape Kitchen Layout
Better suited to a more social kitchen than a galley, L-shaped kitchen ideas enable you to add a breakfast table or seating area in the centre of the room so the cook never feels left out.
Try to include some sort of opening in an L-shaped design to prevent it from feeling hemmed in. Organise the layout so the largest wall is parallel to patio doors, or incorporate a large window, as in this design.
Wall cabinets have been replaced here with simple open shelving, which gives a feeling of openness to the room, while a large larder unit (right of shot) compensates with plenty of storage.
5. Design a Practical U-shaped Kitchen
U-shaped kitchens are great for larger spaces. They offer maximum storage and a great work triangle, while traffic through the room is minimised, making food preparation easier and safer.
For units at eye level put frequently used items (such as seasonings and plates) within easy reach, while keeping things that are not child safe out of the way.
When deciding on U-shaped kitchen ideas, include solid doors to hide unattractive packaging away as well as glass doors to help stop a run of wall cabinets from looking too obtrusive.
6. Try Out a Single Line or One Wall Kitchen
Where floor space is at a premium, or where a dining/seating area takes priority in an open-plan space, a single-line/one-wall layout is an under-used but inspired option.
This design is great for smaller homes, flats or open spaces which include living and dining areas where cooking large meals from scratch is not a day-to-day event.
However, the one wall kitchen styles can't incorporate the traditional work triangle, so if space allows, use a small island or farmhouse table to complement the design.
7. Include the Ultimate Kitchen Must-have: The Island
A kitchen island is a powerful tool in an open-plan kitchen, dividing the functional area of the kitchen from the social space. On the social side, you'll often find barstools, creating a casual dining area and space for the kids to do homework.
"A modern kitchen island has become the hub of the kitchen where the whole family can dine, socialise, relax and work," adds Keith Myers of the Myers Touch.
"It provides a focal and central point in an extension. Put the hob on the island and not the sink and use a downdraft extractor to eliminate the need for obtrusive overhead extractors which could spoil the overall aesthetic," he advises.
Kitchen island ideas can work with single-wall, L-shaped and parallel kitchens fantastically.
8. Zone a Large Space with a Peninsula or C-shaped Kitchen Configuration
"Consider a peninsula in a layout rather than trying to squeeze in an island, as it will provide all the benefits of an island such as an extra-long worktop, a place to host, sit and socialise and essential storage, but is connected to a wall and can fit into any size of kitchen," says Keith Myers.
Peninsula kitchen ideas are similar to islands, albeit the central volume of units is connected to a wall or wall run of cabinets. This ups the amount of storage and worksurface space available, but changes the flow of the space. In an island kitchen, you're able to move freely around the centre, however, a peninsula island limits this movement to one side and creates an offset design.
A popular peninsula layout idea is to include a small breakfast bar or dining area — great for families who use a kitchen dining space to informally catch up.
9. Prioritise Your Lifestyle When Choosing a Layout
Make a list of busy times in the kitchen and what tasks are being performed to really understand what you need from the space. Peninsulas are great for busy families getting ready in the morning, while islands are best suited for people who live to entertain and socialise.
"Cooking elaborate meals from scratch versus prepping simpler means less often should influence the design, as will the number of people who cook together," comments homes journalist Sarah Warwick.
"Layout is crucial to get right, plan carefully so that the layout is absolutely perfect for you and your lifestyle — it needs to be both functional and somewhere that you love walking into," explains Alex Main, director at The Main Company. "Textiles such as curtains and cushions can be changed fairly easily, whereas a kitchen unit layout cannot."
10. Create a 'Chef's Table' for Sociable Cooking
Create a spot for entertaining or catching up after a day of work by including an interactive cooking area when designing a kitchen island.
This could include the hob in the centre of the island, a feature preparation area with a change of worktop, or simply an under-counter oven — taking into account extraction. Downdraft extractors and units that recirculate are great so as not to ruin the kitchen sightlines.
"Ensure kitchen islands work as both a cooking and entertaining space by changing work surface materials to suit each area specifically," adds Alex Main of The Main Company. "Make the 'entertaining' section slightly higher than the cooking and preparation area, and bear in mind to keep a safe distance from any hobs or hot taps when designing your kitchen."
11. Learn to Love a Small Kitchen Layout
Choosing the right layout is essential in order to get a small kitchen design to work. Not only will it dictate how you interact in the space, but also how many people can be cooking at the same time.
"Storage is also important in small kitchen ideas and layouts. We consider that the 'front row' of storage is twice as useful as the row behind — anything you have to get something out first before you can get to the thing you want isn't really storage at all. A wall of full-height 300mm deep storage is pretty much as useful as if it were 600mm deep and 300mm gained on circulation space makes a world of difference," explains Howard Miller of H Miller Bros.
12. Consider Alternative but Useful Kitchen Triangles
While the established idea of a kitchen triangle is tried and tested, there are smaller items and units that also require convenient design at the layout stage.
For instance, the ease of access to mugs, tea and coffee from a kettle and fridge, as well as the placement of the bin to minimise to-ing and fro-ing.
Also organise spices, herbs and oils in drawers, cupboards or pull-out larder kitchen units (as above) between a workspace and the oven/hob. This will mean everything you need to whip up a delicious meal is to hand.
Another interesting triangle to consider is one for washing up. Position the sink, dishwasher and bin within three paces of each other so clearing up after dinner is a doddle.
13. Make the Most of a Narrow Kitchen
Design a narrow kitchen layout with particular tasks in mind. Organise a preparation, cooking and cleaning areas so mess is minimised in a petite layout.
If particularly slim, a single wall design on one side and a range of kitchen shelving ideas can inspire a more open feeling in an otherwise cramped space.
14. Design a Kitchen that Works for Different Purposes
While designing bespoke kitchens, it can be easy to only think of cooking but these days that is just a fraction of what we use the space for.
With open-plan kitchens firmly established, planning a multi-function space will require a good degree of forethought. If the room will be used during the day as a work space, do you want to be able to shut it away? Sliding or bifold doors in the same style as the units could be a miracle to include in a layout design.
Also, if kids will be playing in the room, how can you use an island workspace to create a line of sight while parents are cooking?
"As homeworking continues to be a reality in many of our working lives, homeowners are reclaiming their space from clutter and tidying it away into practical designated spaces," comments Paul Jenkinson of LochAnna Kitchens.
"From bespoke lifestyle larders to pull out storage, we have seen a huge increase in demand for integrated kitchen storage ideas that make the most out of the space that you have."
15. Zone Large Kitchen Layouts with Clever Ideas
"As we move into 2022, we are moving away from true open plan to more of a broken-plan style. Creating smaller areas of intimacy within larger open rooms allows the whole family to use the space for different activities, whether it be working from home, cooking, or indulging in a long breakfast, in a connected space whilst still enjoying a degree of privacy," says Paul Jenkinson of LochAnna Kitchens.
Many kitchen companies include room dividers and open bookcases in their designs now so smaller 'zones' can be created in an open space without dividing it up entirely.
This U-shaped family kitchen also uses different kitchen flooring ideas and the oak frame to visually divide the kitchen from the rest of the floorplan.
16. Find Solutions for Clutter When Designing a Kitchen Layout
"Ultimately the kitchen space must be a practical, robust cooking and working environment whilst also being an area to relax, dine and work," says Keith Myers.
"When designing a kitchen island, consider breaking up the surface of the island with cooking or washing up components to ensure it's used to its full potential and to prevent it becoming a dumping ground!" says Alex Main of the Main Company.
For galley or single wall kitchens, worktops need to be clear of clutter so in these instances, hot water taps or integrated coffee machines may be helpful appliances to consider.
17. Include Moveable or Freestanding Units for an Adaptable Kitchen Layout
If you don't want to be stuck with just one kitchen layout configuration, design a freestanding kitchen, or utilise elements that can be move as required. This can also cut down on how much a new kitchen costs.
Welsh dressers, side tables and off-the-shelf open islands can recapture the relaxed, non-fitted kitchens of the past, but with a more modern spin. This can be applied to a whole kitchen design, or in certain units to suit different spaces and lifestyles.
"A harvest table is a great choice for those who are tight on space," advises Al Bruce, Founder of Olive & Barr. "Simply move your harvest table into the centre of your kitchen for more preparation space when you're Sunday roasting, and then, once your meal is ready, roll it out of the way for added dining space.'
18. Extend the Kitchen Layout into a Pantry or Utility Space
A clever trick seen in many recent kitchens is to conceal a large pantry as if a normal tall kitchen cupboard, but when the door is opened a long walk-in pantry is positioned the length of the unit run.
Whether it's to stock up on flour or to hide away bulky appliances, including utility or pantry ideas as part of the overall kitchen layout is both creative and convenient.
"The key to a successful pantry is optimising your storage space to create a luxury feel, both when you open the doors and when you want to locate something," explains Al bruce. "Creating a scene that is aesthetically pleasing and simple to navigate is key, consider choosing storage containers and mason jars that tie in with the rest of your kitchen to complete the look."
19. Decide on a Layout Early in a Kitchen Extension
When enlarging a floorplan to include a new kitchen, ask your designer or architect for the precise measurements so the layout can be established alongside kitchen extension ideas.
You will need to have a firm plan of the configuration at the very least before the first fix, so lighting and flooring can be installed accordingly.
"A floorplan is a great start as it simplifies your space and may bring up some unexpected options," concurs advises deVOL's creative director Helen Parker. "It may not, but it's worth a play about, you may find you can knock a wall down simply and easily and have space for a big table; you may find you can do without part of your cloakroom and move your laundry chores out of the kitchen, giving you lots more space. Who knows what you might find, but it's worth a look and a head scratch."
20. Mix and Match Layout Ideas To Suit the Space
Merging the different kitchen layout types will produce some interesting and innovative design solutions.
Wide galley kitchens can be made even more practical with a central island to increase workspace, while L-shapes can be taken right the way through into an open plan lounge or seating area to provide convenient storage and a uniform design.
Modern kitchen ideas such as contrasting cupboard colours and worktops works particularly well to create a dynamic design when combining different layout ideas, as this stunning kitchen showcases.
21. Let Light Dictate a Kitchen Layout
Make a note of your routine (or desired lifestyle) throughout the day to indicate what times the kitchen will be utilised for which task.
If you're an early bird and like to watch the sun rise, design a breakfast bar in tandem with kitchen window ideas.
Light from above can increase productivity for those who work in the kitchen during the day, but having your back to a bright window will create issues when in video chats. In which case it is best to place the dining area or workspace facing outwards.
"Also think about how you will use your new space throughout the seasons and how to make garden access easy," suggests Keith Myers of The Myers Touch.
22. Route Thoroughfare with a Strategic Layout
Adding an island can also be a good way to keep busy traffic to a minimum — no matter if it's to keep young children away from hot cooking area, or to limit walk-throughs from pets.
The L-shape of this kitchen and island unit ingeniously keeps the cooking areas to one end and the informal eating space at the other to limit accidents.
23. Make Dinner the Centre of Attention
Be inspired by farmhouse kitchens of the past that made the kitchen dining table to heart of the home.
This can be in lieu of an island in the centre of a U or L-shaped layout, or as part of a large C-shape with an oversized contemporary peninsula with enough space to feed a family.
24. Include a Variety of Storage
Organise different types of units to create a well-considered layout and a visually-appealing design. Think about their positions and how often they will be used.
For instance, floor-to-ceiling larder cupboards will make the most use of a wall, but can make a space feel more enclosed than separate wall and floor cabinets. On the other hand, in areas where you can't have worktops (perhaps on routes into the kitchen where it would be impractical to stand and work), floor to ceiling cabinets will be an efficient use of that space.
And don't forget, you don't just have to place base units against a wall — if you have plenty of space in the middle of the room consider including an island in your scheme. When it comes to specifying what type of base unit storage you need, go for a combination of drawers and cupboards to meet your needs.
What Are the Best Types of Kitchen Layout Ideas?
"We're all familiar with the five basic kitchen layouts — L-Shape, G-Shape, U-Shape, galley-style kitchens and one-wall kitchens," advises Howard Miller of H. Miller Bros. "Islands tend to work best with L-shape and single wall kitchens and peninsulas work best as part of a G-shape plan.
"It's important not to fall into the trap of assuming an emerging design for a kitchen belongs to a certain type because there are often eccentricities to the space or the client's needs that can inspire something that breaks out of these set layout types and makes for something really special."
"It's important to consider the identity of the space and what it will be used for and who will be using the space when planning a kitchen design," agrees Keith Myers, director of The Myers Touch Kitchen Design Studio.
How Can I Design My Own Kitchen Layout?
"Before you begin a new kitchen project take a look at your kitchen on paper if you can, maybe measure it all up and draw up a rough plan," advises Helen Parker of deVOL. "I know it sounds like a boring job, but maybe someone could do it for you or maybe you have an architect's plan. It's a busy place a kitchen and probably the most used room in your house, so it's worth getting the space as right as you can."
Serial renovator Katie Thomasson agrees: "Once you know the precise dimensions of your kitchen, looking at cupboard and drawer units because a little bit like a jigsaw puzzle — each combination only typically comes in a set number of sizes [600mm width being the most common], so you can play around with different sizes in different places until you find one that best fits your needs."
"As an area for cooking, the kitchen has to be practical and safe with materials and finishes that won't be compromised by foot fall, heat and steam," comments homes journalist Sarah Warwick. "You'll have to decide on layout and feature, including the cabinetry, worktops, splashbacks, sink and taps, appliances, lighting and flooring.
Assistant Editor Amy began working for Homebuilding & Renovating in 2018. She has an interest in sustainable building methods and always has her eye on the latest design ideas. Amy has interviewed countless self builders, renovators and extenders about their experiences for Homebuilding & Renovating magazine. She is currently renovating a mid-century home, together with her partner, on a DIY basis, and has recently fitted her own kitchen.
Homebuilding & Renovating Newsletter
Get the latest news, reviews and product advice straight to your inbox.
Thank you for signing up to Homebuilding. You will receive a verification email shortly.
There was a problem. Please refresh the page and try again.