Kitchen Layout Ideas: Which Option Would Best Suit Your Home?
By Hugh Metcalf
These tried and trusted kitchen layout ideas will help make the most of your space, but which is right for your home? Explore your options with this handy guide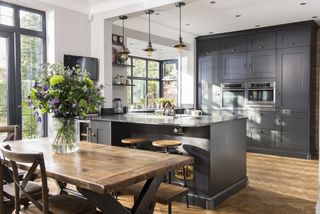 (Image credit: Industville)
When considering kitchen layout ideas, your decision will likely be led by the size and shape of your kitchen space. However, if you've already got a generously proportioned room or are looking to extend to increase your available space, your options may be more open.
It's unlikely that your kitchen layout is going to reinvent the wheel — there are, in general, a fixed number of layout arrangements possible for any given space. With that in mind, we're looking at the options available to you — alongside the best spatial strategies you should employ to make the space flow and function at its very best.
(MORE: Kitchen Design)
What is the Kitchen Working Triangle?
The basis of all these kitchen layout ideas is the 'work triangle'. Whether you are an enthusiastic home cook or not, even the most basic tasks in the kitchen will involve the fridge/freezer, cooker and sink. It is around these features that the concept of the kitchen 'working triangle' is formed.
The idea of the working triangle is that these three elements should be within easy reach of each other (if possible, no more than three paces apart). Plan your layout around this principle — it will be the starting point for most kitchen designers who look at your space.
Kitchen Layout Ideas
Consider the shape of the room and your priorities as a family to help you choose your layout.
Straight-Line or One Wall Kitchen Layout Ideas
This design is great for smaller homes, or flats, as it requires little floor space. One wall kitchens are often used in open-plan spaces which include living and dining spaces, but it's a layout that can also be used in a separate kitchen with a dining table.
One wall kitchens are one of the only styles that can't incorporate a work triangle, so if space allows, it should be complemented with a kitchen island.
Galley or Parallel Kitchen Layout Ideas
This option also saves space, but has units on both sides of the room rather than just one. It means you can maximise space and storage.
A galley kitchen is likely to refer to a long, narrow room, while a parallel kitchen can be created in a larger space, and will often be either side of a patio door.
(MORE: Galley Kitchen Ideas)
Good flow can be tricky to achieve in a galley kitchen, so a good designer will pay close attention to your work triangle to optimise how foot traffic moves around the space. A galley style kitchen is less suited to creating a social space that's good for entertaining in.
L-shaped Kitchen Layout Ideas
A L-shaped kitchen layout idea makes the most out of a room's corner, whilst creating an open plan layout. It is great for a social kitchen and enables you to add tables or breakfast bars at the end. These layouts are often teamed with kitchen islands, and work particularly well in spaces with the largest wall parallel to the patio doors.
(MORE: L-Shaped Kitchen Ideas)
U-shaped Kitchen Layout Ideas
If you have a larger space and you're looking for maximum storage and a great work-triangle, a U-shaped kitchen is the perfect choice. Traffic through the room is also minimised with this layout, making food preparation easier.
(MORE: U-Shaped Kitchen Ideas)
This layout idea is less suited to offering access to the garden through the kitchen.
Kitchen Island Layout Ideas
A kitchen island is a powerful tool in an open plan kitchen, dividing the functional area of the kitchen from the social space. On the social side, you'll often find barstools, creating a casual dining area and space for the kids to do homework.
On the functional side, a kitchen island layout may include the hob or sink on the island itself, facing out into the open plan space so that you can interact with other people when using the space. With an island hob, you'll have to consider how extraction will play a part in the design, as you may have to opt for a downdraft, recirculation style to avoid a canopy hood ruining your kitchen's sightlines.
If you have cabinetry on more than one wall in a kitchen island layout, you can avoid having the sink or hob on the island by creating the triangle elsewhere in the space, however, this may push the distance of between each point of the triangle to its limits in a larger room.
(MORE: Kitchen Island Ideas)
Peninsula Kitchen Layout Ideas
A peninsula kitchen layout idea is similar to a island, albeit the central volume of units is connected to a wall or wall run of cabinets. This ups the amount of storage and worksurface space available, however changes the flow of the space. In an island kitchen, you're able to move freely around the centre, however, a peninsula island limits this movement to one side and creates an offset design.
Matching Kitchen Units to Your Layout Idea
Once you have determined the arrangement of your cabinets you can decide what type of cabinets you want.
(MORE: Kitchen Units)
Wall Units
Units at eye level put frequently used items (such as seasonings and plates) within easy reach, whilst keeping things that are not child safe out of the way. Choose solid doors to hide unattractive packaging away, but glass doors can help stop a run of wall cabinets from looking too obtrusive.
Floor to Ceiling
This type of storage will make the most use of a wall, but can make a space feel more enclosed than separate wall and floor cabinets. On the other hand, in areas where you can't have worktops (perhaps on routes into the kitchen where it would be impractical to stand and work), floor to ceiling cabinets will be an efficient use of that space.
Base Units
Low storage is best for heavy items and also creates a great place to hide integrated white goods and appliances. The base units also provide a structure on which to place worktops, so plan these carefully so that you have plenty of room for prepping.
Don't forget, you don't just have to place these against a wall — if you have plenty of space in the middle of the room consider including an island in your scheme.
When it comes to specifying what type of base unit storage you need, go for a combination of drawers and cupboards to meet your needs. Drawers are best for cutlery, smaller utensils and things like kitchen towels and mats. Cupboards are essential for larger items, but make sure you have plenty of suitable shelving or carousels so you don't have to stack everything in hard-to-access piles.
Hugh is Digital Editor of homebuilding.co.uk and has worked on a range of home, design and property magazines. Hugh has developed a passion for modern architecture and interior design. He's currently renovating a Victorian terrace in Essex, DIYing as much of the work as possible.
Homebuilding & Renovating Newsletter
Get the latest news, reviews and product advice straight to your inbox.
Thank you for signing up to Homebuilding. You will receive a verification email shortly.
There was a problem. Please refresh the page and try again.