L-shaped Kitchen Ideas: 12 Designs That Maximise Space and Storage
By Katie Corcoran published
Be inspired by these L-shaped kitchen ideas that are perfect for anyone who wants a social kitchen with lots of storage and cooking space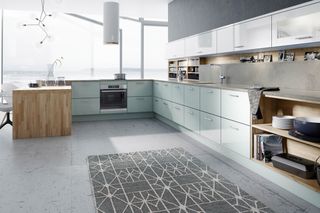 (Image credit: Wren Kitchens)
The best L-shaped kitchen ideas can be adapted to suit any size kitchen. In smaller homes, an L-shaped kitchen design won't take up too much space and in larger properties with open-plan kitchen-diners, an L-shaped kitchen provides great storage without overwhelming the space.
When designing an L-shaped kitchen, it's essential to consider the 'working triangle' - the position of your oven, sink and fridge to enable you to easily move between tasks.
1. A Small L-shaped Kitchen Idea Can Still Create a Big Impact
A small L-shaped kitchen idea works particularly well when tucked into the corner of a room because it still retains an open-plan feel but doesn't take up valuable floor space.
When designing a smaller kitchen, don't be afraid to embrace bold, darker shades mixed with wooden work surfaces and flooring for a contrasting finish.
You can offset darker colours with metallic handles and cleverly stack built-in cooking appliances on top of each other to make efficient use of the space.
2. Floor-to-ceiling Storage Works Well in an L-shaped Kitchen
L-shaped kitchens lend themselves to floor-to-ceiling cabinets and larders. The ideal place to store away all your clutter and freestanding appliances, these large storage units will keep your kitchen clear and tidy.
(MORE: Kitchen Storage Ideas)
3. Don't Be Afraid to Add Colour to Your L-shaped Kitchen Idea
Although kitchens are primarily functional spaces, L-shaped designs offer a great opportunity to experiment with colour. As the cabinets are only along two walls, you can get away with brighter shades without overwhelming the space.
Pastel coloured kitchens offer a subtle alternative to neutral tones and work well in small spaces because the soft shades help maintain a light and airy feel that will transpire into the rest of the room.
4. Adapt an L-shaped Kitchen Idea to Create a Multipurpose Space
With more and more of us working from home, designing a desk space at the end of your L-shaped kitchen idea is a practical feature, especially if you don't have space for a dedicated home office.
A built-in table will become a multipurpose area the whole house can use.
(MORE: Home Office Design)
5. Add Modern Touches to a Traditional L-shaped Kitchen Idea
Traditional shaker style kitchens look fantastic in an L-shaped design, but it doesn't mean they can't retain an element of modern luxury.
The marble worktop, clerestory windows and brass handles give this traditional kitchen a contemporary edge.
6. High Gloss Cabinets Will Help a Small Space Feel Bigger
A gloss finish will enhance a spacious feel in a small L-shaped kitchen by reflecting light around the room, opening up the space.
The trend for grey, high gloss cabinets still stands and is an excellent way of creating a spacious feel in a compact kitchen as well as an ultra-modern finish.
(MORE: Modern Kitchen Ideas)
7. A Kitchen Island Will Turn Your L-shaped Kitchen Into a Sociable Space
One of the main benefits of an L-shaped kitchen in an open plan space is the opportunity to add a kitchen island.
Kitchen islands often work best in an open plan kitchen due to the circulation space needed around it.
It can not only provide more workspace, storage and a place to eat, but it also creates a focal point and can 'zone' off your kitchen from the rest of the layout.
(MORE: Kitchen Island Ideas)
8. Brighten Up a Dark Corner With Lots of Natural Light
L-shaped kitchens can often suffer from a dark corner where the two runs of cabinets meet, so look to factor natural light into your design.
If you are planning on a kitchen extension, incorporate rooflights and bifold doors to keep the area naturally bright.
9. Adding a Breakfast Bar Will Give Your L-shaped Kitchen Idea Extra Seating
The addition of a breakfast bar at the end of an L-shaped kitchen is a popular choice if you have space. It will provide an area for eating and food preparation that isn't too intrusive and it won't eat into storage space.
Try choosing a different material for your breakfast bar to add a contrasting design element.
10. Don't Be Afraid to Update an Existing L-Shaped Kitchen
The perfect way to update an existing L-shaped kitchen is to add a new worktop, shiny tiles or a bold splashback.
Expert Tip
Extra kitchen lighting can be retrofitted, offering a quick update that will transform an existing space
You can keep your kitchen feeling spacious and inviting by opting for glossy tiles and stainless steel splashbacks that reflect light around the space.
You can also accentuate long runs of cabinets with LED tape lights and under shelving lighting.
11. Get Creative with Storage in Your L-shaped Kitchen Idea
The kitchen is one of the hardest working rooms in the house, so innovative storage ideas and corner cupboards can turn your kitchen into a practical yet stylish space.
Open wall shelves are perfect for decorative touches, like plants or cookbooks
Put up hooks to hang aprons and coats
Keep your appliances discreet and built-in
Show off your dinnerware with glass-fronted wall cabinets
12. Incorporate a Statement Appliance Into Your L-shaped Kitchen Idea
A long run of linear cabinets, often found in L-shaped kitchens, works extremely well with large freestanding appliances.
This substantial double Aga doesn't look out of place slotted in this rustic L-shaped kitchen, and the contrasting colours of white and blue are perfectly suited.
Katie is an experienced journalist and has renovated two houses including a 200-year-old cottage and a 1950s semi.
Homebuilding & Renovating Newsletter
Get the latest news, reviews and product advice straight to your inbox.
Thank you for signing up to Homebuilding. You will receive a verification email shortly.
There was a problem. Please refresh the page and try again.