Kitchen Flooring Ideas: Material, Layout and Design Inspiration
By Hugh Metcalf published
Hunting for kitchen flooring ideas? Check out our round up of the most practical, good-looking and innovative styles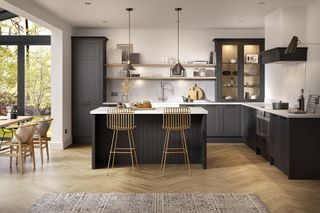 (Image credit: Life Kitchens)
Choosing the right kitchen flooring idea for your scheme is important. Not only does it need to be a practical choice, but it needs to complement your kitchen design — something you may well have spent a lot of money on.
While flooring can act as a simple, neutral base for your kitchen, it can also take on a more prominent role in your scheme — acting as a feature, helping to add drama, texture and design flair.
With that in mind, we've curated some of our favourite kitchen flooring ideas right now to ensure your floor enhances your space.
Wood Effect Flooring is a Great Idea for Kitchens
Solid wood is not a good idea for kitchen flooring. Not only is it potentially prone to staining and damage from the hustle and bustle of your kitchen, it's also not suitable for using with underfloor heating.
Instead of gravitating towards engineered or laminate flooring for this space, why not look at wood effect styles such as porcelain and luxury vinyl tiles (LVT), which are ideal for surviving a busy kitchen.
Tile Sizes for Kitchen Flooring
Other than open plan kitchens, tiles tend to be used in smaller spaces such as bathrooms and hallways, but the size of your space is a good indication to the size you should choose for your tiles.
In a large kitchen, small-scale patterned tiles can look busy over a bigger area, while you should also be mindful of the closeness of grout joins. Large format tiles are a great choice for a bigger kitchen, working to scale with the proportions of the room.
Terracotta Kitchen Flooring Ideas
It's one of the biggest kitchen trends 2021 has to offer — terracotta flooring in the kitchen. Classic square terracotta tiles with a polished finished are a good fit for traditional and rural homes, while the modern take on the trend sees terracotta in more muted colours used, with a flat, matte finish. In this context, terracotta can act as a neutral base for your scheme, much as wood flooring or natural coloured stone flooring does.
Why not try a herringbone layout idea for your terracotta tiles, like these from Ca'Pietra (opens in new tab)?
Mix and Match Materials for Your Kitchen Flooring
The kitchen layout idea for your space is a fixed design, meaning that you can play around with the more permanent elements of your scheme without worrying that it may not work in the future if you were to move furniture around.
One way this can manifest itself in a kitchen is mixing and matching different types of flooring around your space to create features and to suit its functionality. Take this scheme by Wren Kitchens (opens in new tab), for example, where hardier tiled surfaces have been used under the island and around the oven, with a wooden floor used elsewhere.
Polished Concrete Flooring is Perfect for Industrial Kitchens
Polished concrete is a popular style for modern homes for its contemporary industrial look, however, with prices starting at £120 per m2 for a newly poured and polished concrete floor, it can be a budget busting choice for larger spaces. Alternatives, such as poured resin floors, aren't hugely cheaper, but you can achieve a similar effect with concrete-effect flooring such as porcelain tiles, luxury vinyl tiles and linoleum.
Create Feature Kitchen Flooring Ideas
Fancy something a bit unusual for your kitchen flooring? Then go bespoke and come up with your own design. The benefits of tiles, LVT and timber flooring being laid in pieces is that you can mix and match different colourways across the same ranges and create a kitchen flooring idea of your very own.
This ombré chevron design created by Wren Kitchens is such a clever idea, designed to complement the pink kitchen island idea, while you can also play around with square tiles to create a pixelated design or pattern such as a gingham.
Create a Border Around the Kitchen With Flooring
Creating a border around the room adds interest to your flooring choice, creating a more decorative look to your space. It can also be used to define areas subtly, as in this design by Life Kitchens, which uses the border as a soft divide between the main kitchen and utility room.
Zoning Your Kitchen with Flooring
Changing up flooring is an interesting way to think about zoning your space. In open plan living spaces, generally one type of flooring is used throughout, but if you're the sort of person who wants soft carpet underfoot, despite being metres away from where you cook your food, choosing different flooring for your kitchen and the rest of the space is possible, however, pay special attention to the divide between materials to avoid this transition becoming clunky.
In this design by Ledbury Studio, a mix of timber flooring and carpet has been used throughout the space, dividing the social/living area from the functional kitchen prep space.
Traditional Style Kitchen Flooring Ideas
When considering how to renovate a kitchen in a period home, you may want to choose a kitchen flooring idea that's sympathetic to the house. One option is Victorian style flooring, which is often used in hallways, but is just as effective in a kitchen space.
You can even continue the flooring form your entry way, creating a throughline from the front of your house to the kitchen.
Which Direction Should I lay Kitchen Flooring?
The general rule of thumb when it comes to laying plank flooring is to follow the direction of the longest wall in the room, however, this isn't a steadfast rule, and you can choose the direction that you prefer.
Hugh is Digital Editor of homebuilding.co.uk and has worked on a range of home, design and property magazines, including Grand Designs, Essential Kitchens, Bathrooms, Bedrooms and Good Homes. Hugh has developed a passion for modern architecture and green homes, and moonlights as an interior designer, having designed and managed projects ranging from single rooms to whole house renovations and large extensions. He's currently renovating a Victorian terrace in Essex, DIYing as much of the work as possible. His current project is a kitchen renovation which involves knocking through walls and landscaping a courtyard garden.
Homebuilding & Renovating Newsletter
Get the latest news, reviews and product advice straight to your inbox.
Thank you for signing up to Homebuilding. You will receive a verification email shortly.
There was a problem. Please refresh the page and try again.