11 Brilliant Kitchen Storage Ideas
By Amy Reeves
Planning a kitchen can be one of the most enjoyable aspects of a building project but don't overlook well-designed storage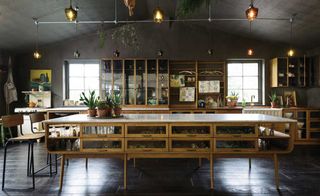 (Image credit: deVOL)
Storage is key for homeowners to keep a tidy house, but when it comes to the kitchen, it can be easy for the space to become overrun with storage containers, pots and baskets that can make the space seem cluttered. For the most effective kitchen storage solutions, ideas need to be factored in at the design stage to allow for stylish, built-in options.
Here are 11 built-in kitchen storage ideas that are well worth considering before embarking on a kitchen renovation or kitchen extension project.
1. Choose Open Shelving
Here, Benchmarx Kitchens' Eton range has been paired with wall-mounted storage that takes its cue from the kitchen doors and worktop. Installing open shelving like this helps create the illusion of depth while still making the most of the wall space available.
2. Store Your Appliances Behind Closed Doors
A larder cupboard is a great place to store crockery, glassware, kitchen aids, small appliances and other bits and bobs that can clutter up a kitchen. This kitchen in Durham, by LochAnna Kitchens, features a cupboard with bifold doors that can showcase or conceal as required.
(MORE: Great Home Design Ideas)
3. Keep Bins Out of Sight
Hide away the functional aspects of a kitchen that are a little less pleasing to the eye, like bins, with integrated storage, and opt for integrated appliances for a seamless look. The integrated VelaBin by Masterclass Kitchens features a carbon bio filter lid that blocks unwanted smells from escaping.
4. Plan in a Pantry
The pantry is experiencing a renaissance. In modern homes we ask so much of our kitchen that some functions such as storage are being outsourced to out-of-sight spaces. The pantry enables kitchens to serve as more social or serene areas, with food, kitchen accessories, utensils and appliances tucked away behind closed doors.
(MORE: How to renovate a kitchen)
5. Don't Ignore More Creative Storage Solutions
This characterful kitchen in a London self-built home includes a pegboard and open wall units for additional storage. Pegboards are a great solution for smaller kitchens, providing a spot to hang utensils or to add small shelves to display wares. What's more, they provide the flexibility to swap and change your storage as and when needed.
6. Embrace the Flexibility of Freestanding Furniture
The Haberdasher's kitchen range from deVOL is a great example of a series of freestanding units carefully orchestrated to create a functional kitchen filled with plentiful nooks and crannies to display and store your wares.
7. A Novel Wine Storage Idea
Designing in builtin storage for essentials and luxuries alike is a savvy way of creating a clutter-free kitchen. Spice racks integrated into island units are a great help, as are pullout veg boxes and, of course, a safe spot to store bottles — this pull-out drawer from Harvey Jones reinvents the wine rack.
(MORE: Built in storage ideas for other areas of your home)
8. Subtle yet Strategic Storage
Built-in chopping boards, slotted between cupboards, provide subtle yet useful storage that adds to the overall design.
9. Make the Most of Vertical Space
Gone are the days when base and wall units were the only options for kitchen design. Floor-to- ceiling units max out storage opportunities and look very sleek, too. "We find large drawers are a must in almost every kitchen we design. They are so versatile and allow for easy access and viewing of the drawers' contents, making them super functional and incredibly stylish," says Amanda McHugh of Lucas Grant Kitchens (the designers behind this kitchen).
10. Storing Cookbooks
Open shelves or small bookcases are ideal places to store cookbooks and display our best kitchen wares. This integrated bookcase not only bookends this island unit, but compensates for a lack of wall units. (The kitchen was designed by Naked Kitchens.)
11. Utilise Every Bit of Space for Maximum Storage Potential
In large or small kitchens alike, getting creative with wasted space is a great way of creating a bespoke kitchen design, as well as making the most of extra storage opportunities. Built-in seating with storage beneath can offer a place for lesser-used kitchen items, slide-out cupboards can make the most of tall and narrow spaces, and high ceilings can be used for even more cupboard space, as demonstrated in this kitchen by Main Company.
Homebuilding & Renovating Newsletter
Get the latest news, expert advice and product inspiration straight to your inbox.
Thank you for signing up to Homebuilding. You will receive a verification email shortly.
There was a problem. Please refresh the page and try again.