15 Brilliant Kitchen Storage Ideas to Make the Most of Your Space
By Amy Reeves published
Smart kitchen storage ideas can make the most of any sized kitchen (and budget). Take a look at our favourite unique and space-savvy designs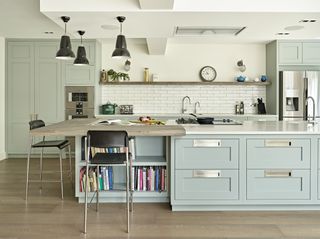 (Image credit: Brayer Kitchens)
Great kitchen storage ideas are essential for homeowners to keep a tidy space. Big or small, a cluttered kitchen is as frustrating as it is impractical, but can easily happen when overrun with containers, pots and baskets.
Planning a kitchen can be one of the most enjoyable aspects of a building project but considering a variety if storage ideas – including layout, innovative units and creative cupboards – at an early stage is key.
We've compiled our favourite kitchen storage ideas which eek out the most of every space with smart kitchen design, from freestanding larders in large space to built-in solutions for smaller kitchens.
1. Think Vertically with Pull-out Cupboards
Gone are the days when base and wall units were the only options for kitchen storage ideas. Floor-to-ceiling units max out storage opportunities and look very sleek, too.
2. Divide Drawers for Better Use of Space
A cheap kitchen storage idea that can be done DIY to an existing kitchen. Investing in drawers dividers can solve issues with cluttered worktops and a disorganised system.
3. Store Dried Goods and Appliances Behind Closed Doors
Kitchen Storage Ideas: The Larder
Traditionally a larder is a small pantry in line with the kitchen run or a freestanding dresser unit. They are great places to store crockery, glassware, kitchen aids, small appliances and other bits and bobs that can clutter up a kitchen.
Modern larder cupboards don't just hide cereals and toasters, but can also feature built-in bars, top-of-the-line coffee appliances or everything needed for baking in one place.
Larger than a cupboard, they can be designed with baskets, pull-out drawers (as shown here) and bifolding/sliding doors.
(MORE: House Design Ideas)
4. Use Every Forgotten Corner When Looking for the Best Kitchen Storage Ideas
Kitchen Storage Ideas: The Island
A freestanding unit which can house extra storage and appliances (including sinks and ovens), as well as functioning as a breakfast bar.
Having a well-organised kitchen can depend on how well every inch of space is considered. If installing an island, could open units be better utilised with stow-away baskets, or could the end be transformed into a spice rack or book shelf?
This Town & Country island (in Bridgwater Prosecco and Dark Sage) was designed by Mereway Kitchens (opens in new tab).
5. Keep Bins Out of Sight
Hide away the functional aspects of a kitchen that are a little less pleasing to the eye, like bins, with integrated storage, and opt for integrated appliances for a seamless look. The integrated VelaBin by Masterclass Kitchens (opens in new tab) features a carbon bio filter lid that blocks unwanted smells from escaping.
6. Plan in a Pantry
Kitchen Storage Ideas: The Pantry
The pantry is experiencing a renaissance. In modern homes we ask so much of our kitchen that some functions such as storage are being outsourced to out-of-sight spaces.
One of the latest pantry trends is to conceal conceal the space as if a normal tall kitchen cupboard, when when the door is opened a long walk-in pantry runs the length of the units run, as displayed in this example by The Main Company (opens in new tab).
The pantry enables kitchens to serve as more social or serene areas, with food, kitchen accessories, utensils and appliances tucked away behind closed doors.
(MORE: How to Renovate a Kitchen)
7. A Stylish and Cheap Kitchen Storage Idea: Open Shelves
Not just a great solution for showcasing beautiful kitchenware, but installing savvy shelving rather than wall units can save on the overall kitchen cost.
(MORE: How to Get a Kitchen for Under £5k)
8. Organising a Small Kitchen Without a Pantry
While larders and pantries are undoubtedly great solution for storage, in a small kitchen they can be impractical. Instead, opt for the latest innovations in under-counter appliances for a great alternative.
For instance, this Fisher & Paykel (opens in new tab) CoolDrawer™ can be placed anywhere in a kitchen and at the touch of a button can act as a refrigerator, pantry or freezer.
9. Cheap Kitchen Storage Ideas for Small Kitchens
Pegboards are a great solution for smaller kitchens, providing a spot to hang utensils or to add small shelves to display wares. What's more, they provide the flexibility to swap and change your storage as and when needed.
10. Get Creative with Everyday Units and Cupboards
Kitchen Storage Ideas: The Pan Drawer
Deep pan drawers are in almost every new kitchen due to their versatility and simplicity. They allow easy access to pots and pans, as well as a top-side view of the contents.
Designing in built-in storage for essentials and luxuries alike is a clever way of creating a clutter-free kitchen. Spice racks integrated into island units or cupboards are a great help, as are pullout veg boxes and, of course, a safe spot to store bottles.
(MORE: Built in storage ideas for other areas of your home)
11. Turn Essentials into Features with Smart Wall Storage
This Garden Trading (opens in new tab) Hambledon Wine Rack (available in sizes for 6, 12 and 24 bottles) is a fantastic example of creative kitchen wall solutions. Not only does it look great, it removes the need for a built-in wine rack or cluttered freestanding floor unit.
12. Be Smart With Small Kitchen Storage Ideas
Where every corner or alcove matters, get to grips with the latest designs when planning a new kitchen. From corner carousels and under-appliance drawers to bespoke built-in solutions, innovative ideas mean no space goes untouched.
13. Small Kitchen? Outsource Lesser-used Items to Other Rooms
While this might sound counter-productive, filling a freestanding larder unit or large cupboard in a dining room or living area with seldom-used crockery or appliances will take the strain off a small kitchen.
Here, beautiful crockery is displayed when not in use and glassware is placed conveniently for dinner parties.
14. Subtle yet Strategic Storage
Built-in chopping boards, slotted between cupboards, provide subtle yet useful storage that adds to the overall design.
15. Use Kitchen Island Storage Wisely
Open shelves or small bookcases in kitchen islands are ideal places to store cookbooks and display our best kitchen wares. This integrated bookcase not only give this island unit character, but compensates for a lack of wall units.
Assistant Editor Amy began working for Homebuilding & Renovating in 2018. She has an interest in sustainable building methods and always has her eye on the latest design ideas. Amy has interviewed countless self builders, renovators and extenders about their experiences for Homebuilding & Renovating magazine. She is currently renovating a mid-century home, together with her partner, on a DIY basis, and has recently fitted her own kitchen.
Homebuilding & Renovating Newsletter
Get the latest news, reviews and product advice straight to your inbox.
Thank you for signing up to Homebuilding. You will receive a verification email shortly.
There was a problem. Please refresh the page and try again.