Kitchen Lighting Ideas: 20 Real Spaces With Creative Lighting Designs
By Amy Reeves published
Getting the right mix of kitchen lighting ideas is an important part of ensuring your space not only looks good, but is practical too. Take inspiration from these real kitchens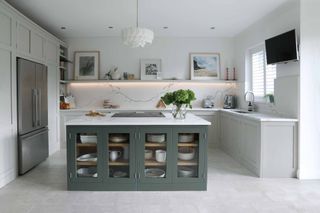 (Image credit: Higham Furniture)
Choosing the right kitchen lighting ideas is as much about creating a practical lighting design as it is about finding good-looking fixtures and fittings.
The right kitchen lighting will not only ensure that your kitchen has the right ambience to make sure it's a pleasure to spend time in it, but will also take a layered approach to ensure that there's bright task lighting for when you need it.
In this guide, we've found 20 real kitchen spaces with great lessons to teach about lighting, from the types of lighting you can choose, to some ingenious lighting ideas for kitchens that you might never have considered for your space.
1. Where to Begin with Kitchen Lighting Ideas
With most rooms, it's recommended to include the three key lighting types (see box out), so when planning your kitchen design, consider how they will play a part in how users will interact with the spaces.
If the kitchen doubles as a home office, consider how to add task lighting on the breakfast bar or island, or if you love to entertain dinner guests in an open-plan area setting different lights on dimmers can be a great way of changing the ambiance.
Set a budget at the start and try to stick to it as best you can — lighting prices can escalate dramatically and take a chunk out of your project finances. If you have storage space, try to take advantage of seasonal sales and offers to get the best bang for your buck.
2. Plan for Flexibility and Versatility
Designing a lighting plan around when you utilise the kitchen will also make a huge impact on functionality.
For instance, if you tend spend a lot of time with family in the morning, windows and other sources of natural light will do the hard work, while if you cook later in the evening and use the space to catch up on the day while relying on artificial lighting extensively, baring this in mind in the planning stages will make not just the project, but the way you live in the house simpler.
(MORE: What is Daylighting?)
3. Highlight an Island with Statement Lighting
A kitchen island is a workhorse which don't just provide extra work surface but can also feature hobs, sinks and various units underneath so highlighting with dramatic, yet functional lighting, will give it them attention it deserves.
4. Choosing the Right Colour for Your Kitchen Lighting
Choosing the right light fittings isn't the only decision you need to make — light temperature is also important, and deciding between cool light vs warm light will make all the difference in how your kitchen feels.
While you can choose the best LED bulbs to meet your requirements, modern lights with integrated LEDs, especially those which aren't dimmable, won't give you the option of choosing light colour, so bear this in mind when shopping for fixtures.
5. Choosing Between Spotlights and Downlights for a Kitchen
Should your kitchen use spotlights or downlights? Potentially both! Spotlights are useful for highlighting areas in your kitchen, and have been used in this design where there's little room for recessed downlights thanks to an overhead rooflight. Downlights offer a good spread of functional light for your kitchen space.
6. Light Up Runs of Worktops with Plenty of Task Lighting
Is there anything more annoying than standing in front of your own lighting while at a worksurface, casting a shadow over your task? Ensure that recessed downlights and other types of task lighting are positioned so worktops will be well lit, even when you're working.
However, remember that task lighting, while important to get right, can also be an eye-catching modern kitchen idea. Wall-hung adjustable spotlights like this can be angled for the perfect illumination while chopping, washing up or cooking.
7. Concealed LED Strips are a Great Lighting Idea for Small Kitchens
If pendants or dangling chandeliers will get in the way of the practicality of a small kitchen and spotlights feel too cluttered, opting for LED strips in recesses and under units is a smart choice.
This windowless kitchen ingeniously uses high-strung glass pendants above the island and LED strips in the ceiling to compensate for the lack of natural light.
8. Add Depth by Illuminating Open Shelving Units
People often talk about layered lighting, meaning that several types of different light sources can be used along or in conjunction to create different effects. This is just as important in the kitchen, if not more so, as in other spaces in a house.
Highlighting open shelving units isn't just practical to see the bottle at the back, but it also create a warm and considered environment when on its own circuit— the cherry on top of a functional design.
9. Get Smart With Kitchen Lighting Ideas for Low Ceilings
Low ceilings can be a pain when designing a good lighting plan as they can limit choices on pendants and often reduce options to simply recessed spotlights — which won't sufficiently do the job by themselves and too many up close can be overwhelming.
This schoolhouse conversion with mezzanine level cleverly includes a light-up extractor fan over the island hob carefully positioned spotlights and a pair of dazzling brass balanced arm lights.
10. Pendant Lights Can Look Great Over Worktops, Too
Pendants aren't exclusive for islands and breakfast bars, if you're working with a galley kitchen or similar they can look great in a corner to create a focal feature.
11. Using Kitchen Lighting Ideas to Zone Open Plan Spaces
Visually divide open-plan living, kitchen and dining spaces with low-hanging pendants over an island or worktop. Not only will this create a stunning effect, but means larger spaces feel cosier and less vacuous.
12. Keep Lighting Ideas Tidy in Smaller Kitchens
Spotlights are useful tools for background lighting, but can often look cluttered when too many are used in one space. Unfortunately, this can't be helped in smaller kitchens or those with no option of including pendants and the like.
Here, the homeowners chose to recess their spotlights into the ceiling during their side return extension project. The result is a fuss-free and well-considered space.
13. Use Kitchen Lighting Ideas to Unify a Large Space
Creating themes in open-plan rooms means a lighting design doesn't look slap-dash and hastily put together. That doesn't have to mean the fixtures all have to look the same, but working towards a similar colour palette will end in a smart, curated effect.
This open-plan kitchen extension combines finishes of matt black and pale wood throughout the space.
14. Highlight Special Features with Kitchen Lighting Ideas
Whether you're working on an extension, self-build or renovation project, if you're redesigning the lighting in a kitchen always try to pick out a favourite feature in the space to highlight with accent lighting.
This could be an oak beam, old fireplace recess or, as shown here, a new window seat.
15. Go Bold by Choosing a Modern Chandelier
Designing a new kitchen lighting design is exciting, so don't forget to treat yourself with something that really makes the space pop.
Including a glamorous contemporary chandelier above an island, kitchen table or breakfast bar will ensure you smile every time you enter the room.
16. Get Creative with Mix and Match Kitchen Lighting Ideas
Add some drama to your kitchen by playing around with different styles of lighting. These mix and match pendant lights from Curiousa & Curiousa share a common design language which allows them to create a contrasting, yet cohesive design for over this kitchen island.
17. Go Dramatic When Lighting a Vaulted Kitchen
Playing with different lighting ideas for vaulted ceilings will give you the chance to make some real impact with your design. This amazing kitchen makes the most of the vaulted ceiling by including large rooflights, long-corded pendants over the worktop, and stylish movable spotlights to an incredible effect.
18. Line Up Kitchen Lighting Ideas for a Sleek Finish
Take a leaf out of this stunning kitchen extension's book and organise the various types of lighting in strips.
Starting on the right, under unit LEDs and spotlights ensure a bright working area, then pendant lights sit proudly over the island-cum-breakfast bar. Smart LED strip lights line the RSJ beam which divides the original house from the extension, zoning the space, and finally, elegant wall lights wash up and down for the perfect dinner mood lighting.
19. Emphasise Kitchen Lighting With Reflective Surfaces
It's important to consider how shadows and reflections play into your lighting design. A dramatic lightshade, for example, can create dynamic shadows across your space that add to the lighting design. Using reflective surfaces can also amplify the effect of your lighting in a creative way.
20. Using Textiles for Lighting in the Kitchen
Kitchen lighting tends to be functional than the likes of living room lighting ideas, but in the right design, textiles can be used for characterful lighting designs. Bear in mind that any textiles should be away from your stove, to save them getting splashed with oil or damaged by smoke. Try over a kitchen island instead.
Assistant Editor Amy began working for Homebuilding & Renovating in 2018. She has an interest in sustainable building methods and always has her eye on the latest design ideas. Amy has interviewed countless self builders, renovators and extenders about their experiences for Homebuilding & Renovating magazine. She is currently renovating a mid-century home, together with her partner, on a DIY basis, and has recently fitted her own kitchen.
Homebuilding & Renovating Newsletter
Get the latest news, reviews and product advice straight to your inbox.
Thank you for signing up to Homebuilding. You will receive a verification email shortly.
There was a problem. Please refresh the page and try again.