11 Small Kitchen Extension Ideas That Make a Big Impact
By Hugh Metcalf published
These small kitchen extension ideas prove that it's not the size that counts, but how hard you make your extra space work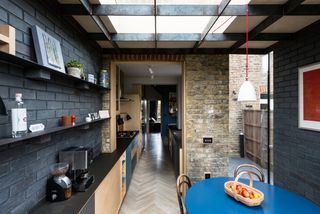 (Image credit: French + Tye for MW Architects)
With these small kitchen extension ideas, you'll quickly discover that when it comes to extending your kitchen, it's the quality of the space added, not the quantity.
Once a small, but functional room in the house, the desire for larger kitchens in which the family can gather has become the norm in recent years, giving way to a huge growth in kitchen extensions of all shapes and sizes. However, just because you don't have a huge amount of room (or budget) to extend, doesn't mean it's not a worthwhile consideration, if you add it in the right places.
Small kitchen extension ideas that prioritise adding light, height, a connection to the garden and creating a multi-functional space will transform your relationship with the kitchen, even if you're only adding a few square metres.
Explore 11 small kitchen extension ideas (and the real homes that have put them into practice) below and take inspiration for a small but perfectly formed project of your own.
1. Make Use of a Side Return for a Small but Effective Kitchen Extension
Side returns tend to be underutilised spaces in terraced or semi-detached properties, so extending out into one is a good way to add extra room into your kitchen without losing valuable garden space. While a side return extension may only add as little as 3 or 4 square metres to your kitchen, the effect will be transformative, providing a better layout and the possibility to add a dining area and glazing to bring in more natural light.
2. Or Create a Small Kitchen Extension to the Rear of Your Home
Where a side return extension isn't viable, a small kitchen extension to the rear can still create the extra space required to increase your kitchen's practicality significantly, or alternatively add a living or dining space.
In some properties, a rear extension is the smart choice, and you have your choice of style, from flat roofed extensions to orangeries, depending on the needs and layout of the proposed new kitchen.
(MORE: Kitchen Layout Ideas)
In terraced properties with galley kitchens, by extending to the rear and not the side, you may be lengthening the already long and narrow proportions of the room, but a good design will help your galley become more usable and allow space for dining.
3. Design a Simple and Sympathetic Small Kitchen Extension
One approach when designing a small kitchen extension is to match materials to mitigate its visual impact on the existing house. Finding reclaimed bricks that match perfectly is difficult but can be done, while there are also options such as brick tinting that can help unify a new extension with this existing house.
This is an option that is more likely to work with a small extension than a larger kitchen extension, as the amount of materials used will be minimal, especially if the design incorporates large expanses of glazing, so any small variations in finish will be less noticeable.
4. Or Create a Bold New Look for Your Kitchen Extension
On the other end of the spectrum, even a small extension can be used to add impact to the design of your property. Bold small kitchen extension ideas could be limited to just the new volume of the extension, adding a contrasting material or colour to the existing house, or alternatively, the whole rear of the property could be altered to engage with the new extension.
(MORE: Radical Extension Ideas)
5. Add Rooflights to a Small Kitchen Extension
Extending a kitchen out from under the second storey, even a small amount, offers the opportunity to install rooflights or a roof lantern, bringing valuable light into your kitchen.
North-facing kitchens are great candidates for using a serious amount of glazing, whether for a side return or rear extension, as they don't run the risk of overheating when the sun does come out and suffer from lower amounts of natural light than other facings.
6. Design a Pitched Roof into Your Small Kitchen Extension
When adding a small kitchen extension, consider the idea of a pitched roof in your design. While flat roof extensions will unify the space more when looking at it from the inside, a pitched roof is a great opportunity to increase the ceiling height and sense of space your kitchen extension has.
7. Consider Orangeries and Conservatories to Extend a Small Kitchen
When extending a small kitchen to add a dining or living space, an orangery or conservatory is an idea to explore that will bring plenty of natural light into your home.
However, a conservatory should be carefully specified and positioned to ensure your space doesn't overheat in summer or leak too much heat during the winter months.
8. Create Room for a Kitchen Island in a Small Extension
If a sociable kitchen is top of your wish list, but size is holding you back, prioritise a design that allows for a kitchen island, even a small one, to be added into the space and incorporate bar stool seating. This will create a space for casual dining, homework and entertaining while cooking.
In a larger kitchen, you may include a dining table too, but for a smaller space, consider freestanding storage or a sofa to round out your small kitchen extension.
9. Open Up To Create a 'View Through' to Your Garden
While undertaking the work for a small kitchen extension, incorporate ideas such as large glazed patio doors and picture windows into your design to create a better connection with the garden.
While you're at it, consider if your small extension will allow you to create a 'view through' from other rooms in your home, such as the living room or even the hallway, so views to the garden can be enjoyed from here too. This may require additional work, such as knocking down internal walls.
10. Banquette Seating is a Clever Idea for Small Kitchen Extensions
Built-in or banquette seating is an effective space-saver in a tight kitchen, where chairs would feel like a squeeze and look cramped. When only extending your kitchen by a few metres, banquette seating can make the difference between having a dining table in your space or not.
11. Add a Glass Box to Extend Your Kitchen Space
Small glazed extensions are a great way to add interest but also space to a kitchen, while flooding the area with natural light. Box windows are often used to create window seats to add a casual seating, but a tiny glass box extension like this one from IQ Glass adds valuable space to the kitchen, while adding some architectural interest too.
Hugh is Digital Editor of homebuilding.co.uk and has worked on a range of home, design and property magazines, including Grand Designs, Essential Kitchens, Bathrooms, Bedrooms and Good Homes. Hugh has developed a passion for modern architecture and green homes, and moonlights as an interior designer, having designed and managed projects ranging from single rooms to whole house renovations and large extensions. He's currently renovating a Victorian terrace in Essex, DIYing as much of the work as possible. His current project is a kitchen renovation which involves knocking through walls and landscaping a courtyard garden.
Homebuilding & Renovating Newsletter
Get the latest news, reviews and product advice straight to your inbox.
Thank you for signing up to Homebuilding. You will receive a verification email shortly.
There was a problem. Please refresh the page and try again.