How to Renovate a Kitchen: Expert Guide
Moved into a 'doer upper' and wondering how to renovate a kitchen? Our guide takes you through everything you need to know when installing a new kitchen in an old property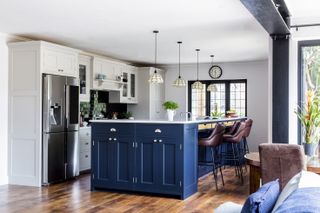 (Image credit: Higham Furniture)
Renovators are often left wondering how to renovate a kitchen. The reason for this is that while modern-day homeowners tend to view the kitchen as the beating heart of the home, it hasn't always been this way. 
So, if you are renovating a house and have inherited an unloved kitchen, that was clearly designed with only functionality in mind, this is the guide for you. We take you through every detail of how to renovate a kitchen, from designing the new space to dealing with new plumbing and electrics. 
How to Design a New Kitchen
The most common way people wondering how to renovate a kitchen get a design is through a kitchen supplier. By approaching a specialist kitchen company with your ideas, they will usually come up with several designs for you to look at, based on the dimensions of your space and your individual needs. There should be no obligation for you to buy your kitchen from them and there is rarely a charge for these designs. 
Alternatively, you could ask your architect or an interior designer to come up with a plan for you. Otherwise, it is a case of coming up with your own design and taking this to a supplier who will then provide you with a quote.
(MORE: Get a quote for your new kitchen)
Making a Kitchen Design Brief
In order to get the kitchen of your dreams, you will need to come up with a concise brief, listing all your requirements. Start with the basics:
Every kitchen needs a cooker, fridge freezer and sink. Start with these items, and add other features around them.
Look at what you already have — are there any interesting architectural details that could be incorporated into your new design, such as old beams or alcoves?
Adequate kitchen storage space is a must. Base your storage needs on the size of your household, how much kitchen equipment you own, and how and where to store your food
You will also need to take into account what activities will take place here other than cooking:
Will you be using your kitchen only as a room in which to store, prepare and cook food, or would you like it to double up as a room in which you can sit and eat too?
Will this also be an entertaining space?
Would you be satisfied with a breakfast bar or island unit with stools, or would a full-size table for family gatherings be better?
Assess the dimensions of the room and then make a wish-list — in order of priority.
How to Remove an Old Kitchen
Remember
The more careful you are with the removal of the old kitchen, the easier it will be to install the new one.
Before you begin ripping out an old kitchen, bear in mind that there may well be some items worth salvaging.
If you are remodelling your kitchen on a budget then it will be worth taking a look at what kind of condition your unit carcasses are in — whilst the unit doors may be in a bad state of repair or not to your taste, you might find that the carcasses can be reused.
Order of Works to Renovate a Kitchen
Remove wall units
Remove worktop and base units
Remove flooring
First fix electrics
Reroute plumbing
Lay new flooring
Install wall units
Install base units
Second fix electrics
Fit worktop
Fit sink and complete plumbing to taps, drains and appliances
Install appliances
Fit extractor fan
Tile and decorate
(MORE: Want to fit the kitchen yourself?)
Start by removing the wall units. If you take out the base units and worktop first, you will have nothing to rest heavy wall units on while you work.
When removing wall units, first remove all internal shelves. Each unit will probably be attached to the one next to it either by wood screws, interconnectors or bolts. Older units tend to be attached to the wall by long screws, whereas more modern ones are usually connected by an adjustable hook and wall bracket system.
Before removing the sink, make sure you can turn the water off. The main stopcock, usually located under the sink, controls the cold water, whilst the hot water should be switched off using the hot water valve, often found in the airing cupboard with a big red handle.
Turn on the taps and wait for the water to stop — the hot tap can take up to 10 minutes to drain. It is a good idea to keep a couple of push-fit stop-ends close by in order to cap the pipes and stop the water flowing out. You will then need to undo the waste pipe. This is easily done by turning the upper plastic collar anti-clockwise and placing a bucket underneath to catch any dirty water.
Next, remove worktops, being careful not to damage any pipes that run under, behind or through them in the process.
Removing base units is a similar process to taking out wall units. Remove doors first, then unscrew the plinth. Remove all fixings, then simply pull the base units out. Take extra care when removing the sink unit as there will be many pipes that you won't want to damage.
Chipping off tiles should be easy using a club hammer and bolster. Turn the power off as you may be working close to sockets, and always wear safety goggles and gloves.
Old vinyl can be taken up easily using a stripping knife. If it resists, try using heat gun to soften the glue. Floor tiles can be tricky to get up, but using an SDS drill should do the trick.
Installing New Heating in an Old Kitchen
Choosing a new heating system takes careful consideration and planning. Whilst some people choose to have no heating at all in their kitchen, feeling it unnecessary in a room that often becomes hot whilst cooking, those that use their kitchens for more than just cooking, have several options:
The cheapest and simplest is to fit a radiator with a thermostatic radiator valve (TRV) so that it can be easily adjusted, but you will need sufficient wall space
Plinth heaters fit neatly into the space between the bottom of the base units and the floor. Plinth heaters can be electrical fan convector heaters operated by a switch, or can be linked to the rest of the central heating system
You could use heated towel rails, complete with pegs for tea towels — there is a range of radiator companies providing designs that can make the most of the tightest of spaces
Underfloor heating (UFH) is another popular choice for even and comfortable heat. Opting for an electric system as opposed to a water heated system means you can tackle the installation on a DIY basis.
Good ventilation will ensure your kitchen is a pleasant place to be, removing smells and steam and keeping the temperature even.
The size and strength of your extractor hood or fan will largely depend on the floor area and how much cooking you do.
(MORE: Get a quote for your new kitchen)
Installing New Electrics in an Old Kitchen
Before your new kitchen is fitted, first fix electrical work needs to be carried out. Your electrician will need to check the existing system, as in many renovation projects a complete rewire is called for anyway.
Give your electrician a plan showing the quantity and the position of all electrical switches and sockets. You will need sockets for all your appliances and even then it is best to have some extra.
Although a qualified electrician will carry out the majority of work, you can save money by doing some jobs yourself. Chasing out the walls for the new metal boxes and casing for sockets and wiring will cut down the amount of time an electrician will spend on the job.
The electrician should return to carry out second fix electrics, such as connections to plug sockets, before the worktops are fitted. When purchasing your sockets, bear in mind that some appliances, such as your cooker, will require a breaker switch which allows you to turn it off without having to pull it out and reach a socket.
Fitting Kitchen Plumbing
The plumbing in your kitchen needs to perform two functions — providing a water supply and taking away waste.
You will need a hot and cold water supply and there needs to be a waste pump from the sink to outside and a hot and cold water supply feeding the kitchen tap.
If you have a washing machine in the kitchen, this will need to be either connected to the hot and cold water, or just to the cold water, whilst most dishwashers only require a cold water connection.
Ask a plumber to take a look at your pipework and decide whether it is worth saving it or starting again.
Your main consideration will need to be whether the existing arrangement of the pipes is going to get in the way of your planned layout for the new kitchen — unless you are putting everything back in the same place, you are likely to find that pipework will need to be rerouted.
Check old pipes for kinks and dents and inspect the joints, looking out for green marks, which indicate leaks.
The Best Kitchen Lighting
Good kitchen lighting is essential — this is a space where a multitude of tasks are carried out.
Look at how much natural light there is in the room. If there is very little, consider ways of getting more, such as a rooflight or with a set of bi-fold doors
Avoid central pendants. The light they produce is not targeted enough and they tend to cast shadows around the sides of the room. Several pendants set a lower level over island units and breakfast bars work better
Downlights and track lights that can be adjusted are the best option, but think through their position and talk it over with your electrician, as these can be affected by shadow unless located correctly. Recessed fittings are practical as they will not get covered in dust or grease as with some other forms of lights
Use under-cabinet lighting to highlight worktops and, if your extractor hood does not incorporate lights, ensure there is sufficient lighting over your hob
Dimmable lights are best for kitchen diners, allowing you to vary the mood to suit cooking and entertaining alike
Which Flooring is Best for Kitchens?
Base your flooring choices on practicality and durability. You new kitchen floor needs to be able to withstand moisture and stains.
Smart choices include:
natural stone, such as slate or limestone (both of which will require sealing)
linoleum
vinyl
ceramic or porcelain tiles
engineered timber can be used, but it will need to be properly acclimatised before being laid and can be more prone to moisture damage that other hard flooring
It might be that you already have an existing floor that simply needs restoring. Quarry tiles were popular in Victorian and some Edwardian houses. They may well need insulating and cleaning.
Designing a Small Kitchen
If you only have a small space, consider whether certain functions, such as the laundry, could be carried out elsewhere, and think about whether it may be worth knocking through into another room to create an open plan kitchen diner or living area to create a greater sense of space.
(MORE: Great tips for creating your perfect kitchen diner)
Get a Quote for Your New Kitchen
Homebuilding.co.uk partners with the UK's best kitchen specialists to match your requirements with their services. 
Simply answer a few questions on what you need from your kitchen and we'll put you in touch with a suitable partner.
How It Works
1. Enter your details below. Tell us a bit about your project and what you are looking for, and leave some contact details.
2. We search our database. We'll match your requirements with the products and services that our partners offer.
3. Partners will contact you. Don't worry about being bombarded - only the suppliers that match your requirements will contact you.
Natasha is Homebuilding & Renovating's Associate Editor. She is at the end of the DIY renovation and extension of an Edwardian cottage.
Homebuilding & Renovating Newsletter
Get the latest news, reviews and product advice straight to your inbox.
Thank you for signing up to Homebuilding. You will receive a verification email shortly.
There was a problem. Please refresh the page and try again.