Kitchen Shelving Ideas — 11 Practical Open Storage Styles
By Amy Reeves published
These kitchen shelving ideas will inspire a relaxed, yet functional space in any sized room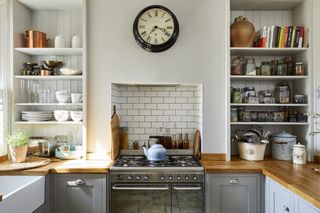 (Image credit: Chris Snook)
Great kitchen shelving ideas offer a cost-effective and striking alternative to fitted top units and it is a style that has steadily been growing in popularity over the last few years. The key to incorporating this style into an existing home or new kitchen design is to balance showing off your favourite plants, plates and spices with the functionality that a busy cooking space demands.
Careful consideration doesn't just need to be made for the material of your shelves, but also their position, spacing and bracketing. Having everything on display definitely creates a welcoming and characterful kitchen, but also be aware that belongings next to hobs or sinks may get greasy or splashed so choose your wares wisely!
We've collected a range of kitchen shelving options below to inspire your own designs and provide advice on how to plan, style and decorate.
1. Have Fun with Kitchen Shelving Ideas
This unique kitchen includes a pegboard and open wall units for additional storage. Pegboards within or underneath open shelves are a great solution for smaller kitchens, providing a spot to hand utensils or to add small shelves to display wares.
However, what makes this kitchen really show-stopping is the brightly coloured sections behind each section of shelving, bringing a vibrancy to an otherwise simple kitchen.
2. Work with Every Inch in Small Kitchens
In large or small kitchens alike, getting creative with wasted space on the walls is a great way of creating a bespoke kitchen design, as well as making the most of extra storage options.
Going around a corner with wall-mounted shelving ekes out every bit of extra space, and looks great when tiled behind, as this Main Company (opens in new tab) kitchen shows.
(MORE: Kitchen Storage Ideas)
3. Box in Kitchen Shelving
This sleek white kitchen has been paired with wall-mounted storage that takes its cue from the kitchen doors and worktop. Installing open shelf kitchen units like this helps to create the illusion of depth while still making the most of the wall space available.
4. Mix and Match Built-in Units and Shelving
Gone are the days when base and wall units were the only options — the beauty of modern kitchen ideas is the flexibility around shapes and sizes to suit any space.
This design beautifully exemplifies that a little of everything can create a functional space in a small kitchen. The floor-to-ceiling unit maxes out storage opportunities while mugs and plates are within easy reach on the shelves.
5. Define the Kitchen with Dark Shelving
An integrated shelf within the dark wood-effect splashback has created the perfect opportunity to contrast with the stark white walls of this kitchen, making the room feel bigger and more bespoke.
Shelving around the sink can be a great way to declutter function spaces, so there's no knocking utensil holders over while washing up.
(MORE: Kitchen Splashback Ideas)
6. Close it Away with Larder and Pantry Shelving
Utilising long and deep shelves within a pantry area is without a doubt one of the most useful additions to any kitchen, but where space is limited, a half-size larder unit is just as handy.
A fantastic place to store crockery, glassware, kitchen aids, small appliances and other bits and bobs, designs like this LochAnna (opens in new tab) cupboard feature bifold doors that can showcase or conceal as required.
(MORE: Pantry Ideas)
7. Integrate Shelving Within a Fitted Kitchen
Use shelving to create visual interest where lots of built-in cupboards have been installed, as in this Rational (opens in new tab) kitchen.
Note the recessed bar/worktop space above the oven has been lit with LED strip lighting to add a extra layers of depth to the contemporary style.
8. Go Long With Half-Height Shelving Units
For a bang on trend yet helpful kitchen storage solution, opt for a half-height shelving unit with built-in extractor as in this stylish space. Although the kitchen is small, the long, narrow design of the shelf creates a practical storage and extraction system, without getting in the way or making the workspace feel cramped.
(MORE: Small Kitchen Ideas)
9. Create a Functional Place for Frequently Used Items
Add shelving to the end of a run of units in a vertical pattern for practical, yet cost-effective storage. From here you can hang tea towels, hook cooking utensils and place often-used crockery.
10. Use Freestanding Shelving for a Relaxed Kitchen
Using mis-matched pieces of freestanding furniture is an amazing way to achieve a stylish kitchen without breaking the bank. Consider buying antique bookcases to display your favourite cookbooks, glassware or plates and pair with glass-fronted units to keep the kitchen feeling functional.
The Haberdasher's kitchen range from deVOL (opens in new tab) above is a great example of a series of freestanding units carefully orchestrated to create a practical kitchen filled with plenty of nooks and crannies to display and store your wares.
11. Use Kitchen Shelving to Add Greenery
Building a healthy home is all about thinking about wellbeing in the spaces you use the most so introducing biophilic design ideas into kitchen designs can be transformative. Be it your favourite house plant, cooking herbs or even artificial foliage, adding greenery to a kitchen shelf will instantly make it feel more welcoming.
Assistant Editor Amy began working for Homebuilding & Renovating in 2018. She has an interest in sustainable building methods and always has her eye on the latest design ideas. Amy has interviewed countless self builders, renovators and extenders about their experiences for Homebuilding & Renovating magazine. She is currently renovating a mid-century home, together with her partner, on a DIY basis, and has recently fitted her own kitchen.
Homebuilding & Renovating Newsletter
Get the latest news, reviews and product advice straight to your inbox.
Thank you for signing up to Homebuilding. You will receive a verification email shortly.
There was a problem. Please refresh the page and try again.