Oak Frame Homes: 27 Inspiring Designs
By Amy Reeves published
Oak frame homes are a favourite among self builders with their timeless designs and inherent character. Take a look at these stunning examples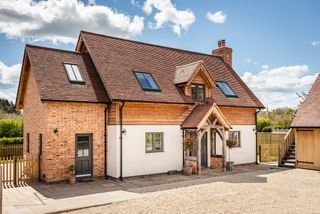 (Image credit: Mark Watts)
Oak frame homes, with their unparalleled charm and unique characteristics, are without a doubt one of the most popular self-build in the country.
Building an oak frame home is the dream for many self builders. It offers instant personality and is suited to both traditional and contemporary designs, and the frame can be exposed both internally and externally depending on the aesthetic you are aiming for.
Here are some of the best oak frame homes in the UK of all shapes, sizes and budgets — including the UK's first oak frame Passivhaus and an oak frame home which cost £200k.
(MORE:Get a tailored quote for your oak frame project)
1. A Compact and Affordable Oak Home
Small, delicate and endlessly charming, this oak frame home by Border Oak was designed to be an affordable solution for the homeowner (the build cost for the project was around £250,000).
Designed for open-plan living throughout, the interiors are deceptively large, with a generous kitchen, living and dining space leading round to a light-filled vaulted sunroom at the rear.
2. An Oak Frame Home Built into a Hillside
Built on a sloping site, the design of Old Quarry House masterfully turns plot challenges into self build design ideas.
The upside down layout doesn't just take advantage of the incredible views across the countryside, but enables the homeowners to move from the driveway and into the main living areas without having to lug shopping and baggage up or down stairs.
Exposed oak trusses (the frame was created by Westwind Oak) create drama in the double-height interiors but it's the show-stopping balcony which makes this house shine.
3. A Traditional Oak and Timber Frame Self Build
After years of looking for a home with history and charm, Helen and Dan Brown were determined to recapture the character of a period property or barn conversion in their countryside self-build.
Their new Border Oak home expertly combines a traditional manor house exterior with bright interiors and flexible living spaces bespoke to their young family's life.
(MORE: Get inspired With our Gallery of Traditional-Style Homes)
4. A Turnkey New Home Built in Oak
With a long-held ambition of creating their dream home using oak frame, but with busy lives and a young family, the homeowners chose Complete Oak Home to provide a full turn-key self build package service for their project.
After a rigorous value-engineering process, they were able to design a bespoke home within their budget. The show-stopping kitchen diner features a vaulted ceiling which blends the character of a period building with modern efficiency.
5. The UK's First Oak Frame Passivhaus BnB
Andrew and Linda Burnett had always dreamt of running a Bed and Breakfast, but after visiting a few uninspiring properties, they approached Oakwrights to build one from scratch in Malvern, Worcestershire.
The first certified oak frame Passivhaus BnB in the UK, the Burnett's new home features two south-facing gable ends, fitted with triple glazing, which means the upside-down layout takes advantage of the stunning countryside views.
The couple approached the build costs associated with Passivhaus design as an investment for their retirement, as their energy bills are now dramatically lower thanks to a ground source heat pump, MVHR system and highly insulated frame (Oakwrights' own WrightWall and WrightRoof Natural encapsulation system).
6. Small Oak Frame Kit Home
This Baarn Loft House oak frame home was designed by Roderick James Architects to be an affordable, yet beautiful self-build solution (with a completely managed build option from £200,000).
The open-plan kit homes can be easily adapted, so this 108m2 home features a large, country-style kitchen below the mezzanine level which houses one of the three bedrooms. The result is indisputably welcoming and practical, and enabled the homeowners to achieve an oak frame home without breaking the bank.
7. A Lifetime, Accessible Home for Retirement
Judy Bishop wanted a light-filled oak-framed home for her retirement so built her stunning new home in the grounds of her old family house.
The accessible design includes extra-wide doors, raised sockets and level thresholds throughout. There is also space for a lift, should the need arise in the future.
(MORE: Read our Complete Guide to Oak Frame Conservatories)
8. An Oak Frame Starter Home
By taking on big DIY tasks, first-time self-builders Charlie and Helen Mills worked with Oakwrights to create a stunning home to a reasonable budget of £220,000.
Externally the cottage is clad in three coats of render, including the final colour 'chalk', and larch cladding which complements the weathered bricks (laid in a decorative Finish bond).
9. A Two-faced Oak Frame Design
When Richard and Julie Attridge first approached Welsh Oak Frame, they already had planning permission in place to extend their cottage, but after careful consideration they ultimately decided to knock down and replace with a completely bespoke oak frame home.
The oak frame interiors beautifully blends the charming detailing of oak frame with modern lifestyles and tastes. While traditional from the street-facing front elevation, the rear of the house features full-height glazing, enabling the open-plan kitchen and living spaces to benefit from views across the garden.
10. A Contemporary Oak Frame Home
Oak frames are built off-site and delivered to site where they are assembled relatively quickly. Combined with structural insulated panels (SIPs) or infill panels, oak frame homes can also offer impressive airtightness.
Homeowners Michael and Penny Young chose oak frame to build their forever home in Coventry after falling in love with Oakwrights' designs. The company's own encapsulation systems offers a sustainable and efficient home.
11. An Oak Framed House Built in a Small Cottage Style
While modern oak frame constructions can look like anything from grand manor houses to contemporary mansions, there is definitely something to be said of a more modest, cottage-style build that can fit to a smaller budget.
Border Oak's predesigned Pearmain Cottage was chosen by Ian and Mary Cartwright was adapted to their desire for a modern and open-plan interior, while still offering a quintessentially classic oak look to the outside.
They also chose to add a matching oak framed garage alongside their property.
12. A Timeless Home Built with Oak Frame
Anthony and Liz Lewis beautifully married the elegance of oak with modern indoor-outdoor living and styles in their self-build.
The front of the house provides a traditional brick farm-house appearance, while the rear includes large expanses of bifold doors leading to a contemporary kitchen.
(MORE: If you're considering building an oak frame home, read our advice on things to know before building)
13. An Oak Family Home Built For £265K
Wendy and Steve Hunter bought a plot which already had planning permission for a Border Oak-designed dwelling from the company themselves, working with specialists to amend the design slightly to suit them as a family.
Costs were kept to a minimum by the couple taking on much of the second fix work themselves and mixing high-quality materials with off-the-shelf fixtures.
(MORE: Planning your own self-build? Read our essential guide on Ways to Make Sure You Stay on Budget)
14. Single Storey Oak Frame Home
Homeowners Sheila and Geoff McGaughey never expected to build a bungalow, but working closely with Border Oak, came up with a great oak frame design that they can enjoy in their retirement.
(MORE: Want to learn more? Take a look at out expert advice on how to design lifetime homes)
15. UK's First Oak Frame Passivhaus
This high-spec eco home is also the first oak frame Passivhaus-certified property in the UK. Located in Yorkshire, this 200m² home was built for £450,000.
16. Oak Frame Home on Greenbelt Plot
This one-and-a-half storey home with two bedrooms has been built in oak frame and SIPs and is clad in cedar.
(MORE: How Much Does it Cost to Build an Oak Frame Home? Find out With Our Guide)
17. A Contemporary Oak Frame Design Clad in Timber
The exposed frame of this self build, designed by Oakwrights, sits alongside playful contemporary touches such as zoned open-plan living, an open tread staircase and a glass floor.
18. A Contemporary Coastal Home Built with an Oak Frame
Following a visit to Oakwrights' Herefordshire factory, one couple worked with their architect to create a design for a holiday home on the coast which blends characterful touches with modern appeal.
19. Oak Frame Cottage Built for £200k
Built for only £200,000 with a frame from Border Oak, this cottage-style oak frame property was designed to fit in with the surrounding traditional village.
20. An Oak Frame Self Build on a Sloping Site
Modern methods of construction and energy efficiency have been combined with traditional green oak framing (from Welsh Oak Frame) and materials to create this new rural home.
21. An Oak Frame Home by the Lake
On a historic walled garden plot, this design is set into a slope to minimise external volume. Frame by Oakwrights, externally clad in Siberian Larch.
22. A Traditional Oak Replacement Dwelling
Replacing a fire-damaged cottage, this sympathetic new build is clad in a blend of reclaimed stone (with the front elevation, overleaf, clad entirely in stone), recovered from the demolished cottage, and render.
23. A Barn-Style Oak Frame Home
Designed to be sensitive to the rural locality, a barn-style home was constructed using a post and beam green oak frame, including a projecting glazed gable end.
24. A Woodland Retreat Constructed with Oak Frame
An oak framed future-proof house, on a wooded semi-rural plot, has been meticulously designed and crafted so as to become a home for life.
25. An Open Plan Barn-Style Oak Home
A barn-style home bridges the gap between contemporary and traditional design, while a limited palette of materials blends with the rural landscape.
26. A Curved Oak Frame Home
This modern property was designed by George Batterham of Batterham Matthews Design, combining a timber frame with glazing and dry stone-effect walls.
27. An Oak Frame Country House
Spanning 790m2, this large country house, designed by Jeremy Rawlings with frame by Oakwrights, creates architectural 'wow' with double-height ceilings.
Assistant Editor Amy began working for Homebuilding & Renovating in 2018. She has an interest in sustainable building methods and always has her eye on the latest design ideas. Amy has interviewed countless self builders, renovators and extenders about their experiences for Homebuilding & Renovating magazine. She is currently renovating a mid-century home, together with her partner, on a DIY basis, and has recently fitted her own kitchen.
Homebuilding & Renovating Newsletter
Get the latest news, reviews and product advice straight to your inbox.
Thank you for signing up to Homebuilding. You will receive a verification email shortly.
There was a problem. Please refresh the page and try again.