Oak Frame Homes — 30 Ideas for Charming Designs
By Amy Reeves published
Oak frame homes are a favourite among self builders thanks to their inherent character. Take a look at these stunning examples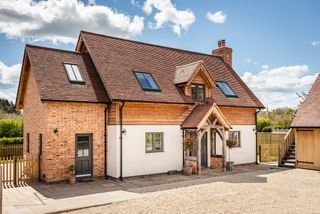 (Image credit: Mark Watts)
Oak frame homes, with their unparalleled charm and unique characteristics, are without a doubt one of the most popular self-build in the country.
Building an oak frame home is the dream for many self builders. It offers instant personality and is suited to both traditional and contemporary designs, and the frame can be exposed both internally and externally depending on the aesthetic you are aiming for.
Here are some of the best oak frame homes in the UK of all shapes, sizes and budgets — including the UK's first oak frame Passivhaus and an oak frame home which cost £200k.
(MORE:Get a tailored quote for your oak frame project (opens in new tab))
Why Build Oak Frame Homes?
"Though oak has been used to build houses for centuries, modern construction techniques have given this traditional system a 21st-century overhaul," begins homes journalist Rebecca Foster.
"High quality precision engineering means the design possibilities are endless, from barn and country-style homes that sit harmoniously within rural settings, to more contemporary designs that incorporate statement focal features."
"Oak framing is wonderful for texture, character, craftsmanship and longevity — but it's also strong, adaptable and incredibly sustainable," continues Merry Albright, creative director at Border Oak (opens in new tab).
"Oak is a very tactile building material and self-builders love it for the unique feel and character that it adds to the home," says Charlie Mills, MD at Oakwrights (opens in new tab). "For such a traditional home building method, oak frames are very flexible in terms of style and can suit a very contemporary home as much as a traditional home."
1. Start off with the Right Supplier
Choosing the right company to help build an oak frame home is an important aspect to get right. The decision should depend on the products and services a supplier offers, as well as if their previous designs align with your own desires.
"Check with what's included in the design package," advises Rebecca Foster. "You'll need a full set of planning drawings, including elevations, floorplans and sit plans. Many companies offer additional services too, such as project management."
"I'd always wanted a green oak barn," says Dawn Truscott, who self built this stunning modern oak home. "Welsh Oak Frame (opens in new tab) gave us the option of a completely bespoke design, but we chose an off-the-shelf barn (WOF 20) and reconfigured the internal layout to suit us and the plot."
2. Go Contemporary with an Oak Frame Home
To establish a contemporary oak frame home appearance, carefully consider the finishing materials. "Clients preferring a more modern finish tend to go for a more minimalist design with lots of glazing," says David Handley from Prime Oak (opens in new tab).
When designing their forever home in oak (designed and supplied by Oakwrights), Micheal and Penny Young chose a through-coloured, flexible, silicone render and aluminium rainwater goods to create a modern finish.
All of the finishes require as little maintenance as possible (the oak frame has been left to weather untouched). The balcony leads off the master bedroom while the glazed, double-height gable allows views out over their new garden from within.
3. Build a Small and Affordable Oak Home
The cost to build an oak frame home on average is more expensive per square metre than say brick and block (sitting at around £2,000/m2). However, there are ways to reduce build costs to ensure the material is a more affordable option, including taking on DIY tasks and swapping oak for softwood is particular areas.
"It's also possible that you can save a few pennies by choosing a pre-set design rather than going down a bespoke route, but that isn't always necessarily the case," explains Rebecca Foster.
Small, delicate and endlessly charming, this oak frame home by Border Oak was designed to be an affordable solution for the homeowner (the build cost for the project was around £250,000).
4. An Oak Frame Home Built into a Hillside
Built on a sloping site, the design of Old Quarry House masterfully turns plot challenges into self build design ideas.
The upside down layout doesn't just take advantage of the incredible views across the countryside, but enables the homeowners to move from the driveway and into the main living areas without having to lug shopping and baggage up or down stairs.
Exposed oak trusses (the frame was created by Westwind Oak (opens in new tab)) create drama in the double-height interiors but it's the show-stopping balcony which makes this house shine.
5. Design a Two-faced Oak Home
When Richard and Julie Attridge first approached Welsh Oak Frame (opens in new tab), they already had planning permission in place to extend their cottage, but after careful consideration they ultimately decided to knock down and replace with a completely bespoke oak frame home.
The oak frame interiors beautifully blends the charming detailing of oak frame with modern lifestyles and tastes.
While traditional from the street-facing front elevation, the rear of the house features full-height glazing, enabling the open-plan kitchen and living spaces to benefit from views across the garden.
6. Choose a Turnkey Package for a Simple Route to an Oak Home
With a long-held ambition of creating their dream home using oak frame, but with busy lives and a young family, the homeowners chose a full turn-key self build package service for their project.
Complete Oak Home (opens in new tab) helped them through a rigorous value-engineering process, so the homeowners were able to design a bespoke home within their budget.
The show-stopping kitchen diner features a vaulted ceiling which blends the character of a period building with modern efficiency.
7. Add an Oak Extension for Instant Character
Adding two oak frame extensions transformed Sarah and Guy Bowden's once uninspiring cottage into a charming home with tonnes of personality.
"Extending in oak is really no different to extending in any other way," say Emyr David, design director at Welsh Oak Frame and designer of the project. "It works well with any type of property when the design is carefully considered to work with the aesthetic of the existing property.
"Replacing the roof with exposed oak and adding an oak frame porch has added character to the house and ties everything in beautifully."
8. Create a Traditional but Energy-efficient Self Build
Oak frames are built off-site and delivered to site where they are assembled relatively quickly. Combined with structural insulated panels (SIPs) or infill panels, oak frame homes can also offer impressive airtightness.
After years of looking for a home with history and charm, Helen and Dan Brown were determined to recapture the character of a period property in their countryside self-build, while creating an efficient home for their family.
Their new Border Oak home expertly combines a traditional-style home exterior with bright interiors and flexible living spaces bespoke to their young family's life.
Inside, an open plan dining, kitchen and play area leas into the oak frame conservatory/sunroom at the rear of the house. The solar coating of the glass (to prevent overheating) makes the light-filled room functional all year round.
9. Go for a Fixed-budget Oak Frame Kit Home
This Baarn Loft House oak frame home was designed by Roderick James Architects (opens in new tab) to be an affordable, yet beautiful self-build solution (with a completely managed build option from £200,000).
The open-plan kit homes can be easily adapted, so this 108m2 home features a large, country-style kitchen below the mezzanine level which houses one of the three bedrooms.
The result is indisputably welcoming and practical, and enabled the homeowners to achieve an oak frame home without breaking the bank.
10. Use Oak Frame for a Kitchen Extension
Keen to ensure their barn conversion mixed old and new styles, Kath and Marco Walker finished their oak frame kitchen extension ideas with a contemporary grey design and open-plan layout.
"The very nature of oak frame lends itself extremely well to open-plan homes, with the frame itself acting as both a visual and, where required, physical divide," explains Associate Editor Natasha Brinsmead.
"Right at the design stage, have a conversation with your architect about how the frame could be used to ensure each space can have its own separate feel even when open to another."
11. Use Oak Frame to Build a Passivhaus
Andrew and Linda Burnett had always dreamt of running a Bed and Breakfast, but after visiting a few uninspiring properties, they approached Oakwrights to build one from scratch in Malvern, Worcestershire.
The first certified oak frame Passivhaus BnB in the UK, the Burnett's new home features two south-facing gable ends, fitted with triple glazing, which means the upside-down layout takes advantage of the stunning countryside views.
The couple approached the build costs associated with Passivhaus design as an investment for their retirement, as their energy bills are now dramatically lower thanks to a ground source heat pump, MVHR system and highly insulated frame (Oakwrights' own WrightWall and WrightRoof Natural encapsulation system).
12. Get Inspired by Other Oak Homes
Whether it's a period building full of inglenook inspiration and old-world charm, or a charming new build, try to visit other oak homes to spark house design ideas and decisions.
"If you are considering building an oak frame home, we would suggest visiting one, such as the Oakwrights show house called the Woodhouse, or visit us on an open day for the opportunity to experience an oak frame home," advises Charlie Mills.
Sue and Dick Maaz, the self-builders of this stunning contemporary home visited the Woodhouse before they started. "We're quite traditional and were originally of the mind to have a layout with separate rooms but after spending time in the Woodhouse's broken plan layout( a type of open plan living) we thought 'why would you not want to live like this," says Sue.
13. Build a Lifetime, Accessible Home for Retirement
Judy Bishop wanted a light-filled oak-framed home for her retirement so built her stunning new home in the grounds of her old family house.
The accessible design includes extra-wide doors, raised sockets and level thresholds throughout. There is also space for a lift, should the need arise in the future.
An air source heat pump, rainwater harvesting tank and a three-phase electrical systems are (useful for meeting future demands such as high-speed charging points for electric vehicles) ensure the home will remain sustainable well into the future.
14. Go DIY for an Affordable Starter Home
By taking on big DIY tasks, first-time homeowners Charlie and Helen Mills worked with Oakwrights to self build a stunning home to a reasonable budget of £220,000.
Budget-savvy ideas, such as taking on as much of the "donkey work" in Charlie's words, themselves, makes their build story one to emulate if building with tight finances.
Simple tasks like cleaning the oak frame on a DIY basis saved the couple around £2,000.
15. Recreate a Charming Small Cottage
While modern oak frame constructions can look like anything from grand manor houses to contemporary mansions, there is definitely something to be said of a more modest, cottage-style build that can fit to a smaller budget.
Border Oak's predesigned Pearmain Cottage was chosen by Ian and Mary Cartwright was adapted to their desire for a modern and open-plan interior, while still offering a quintessentially classic oak look to the outside.
They also chose to add a matching oak framed garage alongside their property (left of shot).
16. Design a Timeless Self Build
There are various things to know before building an oak frame home, one of which is that decisions on the exterior aesthetics might be dictated by the local planning preferences.
When building their oak self build, Anthony and Liz Lewis were guided by planning permission towards certain materials for the exterior design, leading to a graceful solution.
The front of the house provides a traditional brick farm-house appearance, while the rear includes large expanses of bifold doors leading to a contemporary kitchen.
17. Create a Family Home Built For £265K
Wendy and Steve Hunter bought a plot which already had planning permission for a Border Oak-designed dwelling from the company themselves.
The couple made a couple of alternations to the original plans. These included moving the pitched-roofed dining space, seen here with French Doors leading out into the garden, in order that it could become part of the open plan kitchen.
Ways to save on build costs included Wendy and Steve taking on much of the second fix work themselves and mixing high-quality materials with off-the-shelf fixtures.
18. Opt for Single Storey Oak Frame Home
Homeowners Sheila and Geoff McGaughey never expected to build a single storey home, but working closely with Border Oak, came up with a great oak frame bungalow design that they can enjoy in their retirement.
A layout was devised where a central living room serves to connect the distinct living and bedroom wings, with vaulted ceilings making the space seem far larger than 150m2.
The H-shaped cottage is clad externally in painted weatherboarding, with some feature oak framing and a traditional entrance porch.
19. Keep it Green with an Highly Insulated Oak Frame
This high-spec eco home was the first oak frame Passivhaus-certified property in the UK. Located in Yorkshire, this 200m² home was built for £450,000.
20. Construct an Oak Frame Home on Greenbelt Plot
This one-and-a-half storey home with two bedrooms has been built in oak frame and SIPs and is clad in cedar.
21. Timber Clad a Contemporary Oak Frame Design
The exposed frame of this self build, designed by Oakwrights, sits alongside playful contemporary touches such as zoned open-plan living, an open tread staircase and a glass floor.
22. Build an Oak Home on the Coast
Following a visit to Oakwrights' Herefordshire factory, one couple worked with their architect to create a design for a holiday home on the coast which blends characterful touches with modern appeal.
23. Keep Costs Down with a Fixed Design
Built for only £200,000 with a frame from Border Oak, this cottage-style oak frame property was designed to fit in with the surrounding traditional village.
24. Create an Oak Frame Self Build on a Sloping Site
Modern methods of construction and energy efficiency have been combined with traditional green oak framing (from Welsh Oak Frame) and materials to create this new rural home.
25. Design Oak Frame Home by the Lake
On a historic walled garden plot, this design is set into a slope to minimise external volume. Frame by Oakwrights, externally clad in Siberian Larch.
26. Replace a Dwelling with a New Oak Home
Replacing a fire-damaged cottage, this sympathetic new build is clad in a blend of reclaimed stone (with the front elevation, overleaf, clad entirely in stone), recovered from the demolished cottage, and render.
27. Build Barn-Style Oak Frame Home
Designed to be sensitive to the rural locality, a barn-style home was constructed using a post and beam green oak frame, including a projecting glazed gable end.
28. Construct a Woodland Retreat with Oak Frame
An oak framed future-proof house, on a wooded semi-rural plot, has been meticulously designed and crafted so as to become a home for life.
29. Plan a Barn-Style Oak Home
A barn-style home bridges the gap between contemporary and traditional design, while a limited palette of materials blends with the rural landscape.
30. Go Daring with a Curved Oak Frame Home
This modern property was designed by George Batterham of Batterham Matthews Design, combining a timber frame with glazing and dry stone-effect walls.
How Long Do Oak Frame Houses Last?
"We would expect any house that we build to stand for at least three or four hundred years with good foundations and a sound roof," says Charlie Mills MD at Oakwrights. "Part of the attraction and personality of an oak frame home is the added character that comes with its age."
How Do Your Build an Oak Framed House?
"Oak frame homes follow a similar build process to a standard home," Charlie Mills advises. "The main difference is that the oak frame structure goes up first and it is encased with insulated wall panels which allow for high level of airtightness, and that is how Oakwrights have built certified two Passivhaus. The insulated roof panels are added to give you a dry shell in a relatively short time scale."
Are Oak Frame Extensions Expensive?
"The cost of your extension will depend on the route you choose to take," comments Alex Cole, Oakwrights' Design Consultant. "In many cases it is more cost effective to use a company that provides all the services under one roof such as architecture, frame design, production and build.
"Knowing your budget when briefing your supplier will give you an extension designed to fit your needs and your budget. Choosing certain materials above others will have cost implications. The amount of oak, such as in the rafters as well as features such as face glazing will affect the cost of your extension."
Assistant Editor Amy began working for Homebuilding & Renovating in 2018. She has an interest in sustainable building methods and always has her eye on the latest design ideas. Amy has interviewed countless self builders, renovators and extenders about their experiences for Homebuilding & Renovating magazine. She is currently renovating a mid-century home, together with her partner, on a DIY basis, and has recently fitted her own kitchen.
Homebuilding & Renovating Newsletter
Get the latest news, reviews and product advice straight to your inbox.
Thank you for signing up to Homebuilding. You will receive a verification email shortly.
There was a problem. Please refresh the page and try again.