14 of the Best Oak Frame Homes
Oak frame homes are popular with the self build crowd looking too add timeless character to their home. Here are 14 of the best for some inspiration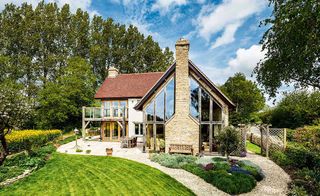 (Image credit: Simon Maxwell)
Building an oak frame home is the dream for many self builders. It offers instant character and is suited to both traditional and contemporary designs, and the frame can be exposed both internally and externally depending on the aesthetic you are aiming for. 
Oak frames are built off-site and delivered to site where they are assembled relatively quickly. Combined with SIPs, oak frame homes can also offer impressive airtightness.
Here are some of the best oak frame homes in the UK, ranging from the UK's first oak frame Passivhaus to the oak frame home built on an impressive budget of £200k.
Get a tailored quote for your oak frame project.
1. Stunning Oak Frame Bungalow in Surrey
Homeowners Sheila and Geoff McGaughey never expected to build a bungalow, but working closely with Border Oak, came up with a great oak frame design that they can enjoy in their retirement.
2. UK's First Oak Frame Passivhaus
This high-spec eco home is also the first oak frame Passivhaus-certified property in the UK. Located in Yorkshire, this 200m² home was built for £450,000.
Get a tailored quote for your oak frame project.
3. Oak Frame Home on Greenbelt Plot
This one-and-a-half storey home with two bedrooms has been built in oak frame and SIPs and is clad in cedar.
4. A Contemporary Oak Frame Design Clad in Timber
The exposed frame of this self build, designed by Oakwrights, sits alongside playful contemporary touches such as zoned open-plan living, an open tread staircase and a glass floor.
5. A Contemporary Coastal Home Built with an Oak Frame
Following a visit to Oakwrights' Herefordshire factory, one couple worked with their architect to create a design for a holiday home on the coast which blends characterful touches with modern appeal.
Get a tailored quote for your oak frame project.
6. Oak Frame Cottage Built for £200k
Built for only £200,000 with a frame from Border Oak, this cottage-style oak frame property was designed to fit in with the surrounding traditional village.
7. An Oak Frame Self Build on a Sloping Site
Modern methods of construction and energy efficiency have been combined with traditional green oak framing (from Welsh Oak Frame) and materials to create this new rural home.
8. An Oak Frame Lakehouse
On a historic walled garden plot, this design is set into a slope to minimise external volume. Frame by Oakwrights, externally clad in Siberian Larch.
9. A Traditional Replacement Dwelling
Replacing a fire-damaged cottage, this sympathetic new build is clad in a blend of reclaimed stone (with the front elevation, overleaf, clad entirely in stone), recovered from the demolished cottage, and render.
Get a tailored quote for your oak frame project.
10. A Barn-Style Oak Frame Home
Designed to be sensitive to the rural locality, a barn-style home was constructed using a post and beam green oak frame, including a projecting glazed gable end.
11. A Woodland Retreat
An oak framed future-proof house, on a wooded semi-rural plot, has been meticulously designed and crafted so as to become a home for life.
12. An Open Plan Barn-Style Home
A barn-style home bridges the gap between contemporary and traditional design, while a limited palette of materials blends with the rural landscape.
13. A Curved Oak Frame Home
This modern property was designed by George Batterham of Batterham Matthews Design, combining a timber frame with glazing and dry stone-effect walls.
14. An Oak Frame Country House
Spanning 790m2, this large country house, designed by Jeremy Rawlings with frame by Oakwrights, creates architectural 'wow' with double-height ceilings.
Want to Build Your Own Oak Frame Home?
Homebuilding.co.uk partners with the UK's best oak frame suppliers to match your requirements with their products and services. 
Simply answer a few questions about your project and we'll put you in touch with the most relevant partner.
Homebuilding & Renovating Newsletter
Get the latest news, expert advice and product inspiration straight to your inbox.
Thank you for signing up to Homebuilding. You will receive a verification email shortly.
There was a problem. Please refresh the page and try again.