Passivhaus: A Beginner's Guide to Low Energy Builds
Passivhaus standard builds are high on the agenda for many of the UK's self builders, but what is Passivhaus and is it worth the added expense? Our experts explain all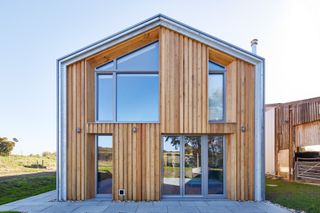 (Image credit: Andy Stagg for HMY Architects)
Choosing a Passivhaus build is no small commitment for your self build journey. Not only are Passivhaus projects considered to have higher upfront costs in order to meet standards, but it requires a shift in thinking about how you will live in your new home.  
The Passivhaus concept started out life as a research project to find out why previous attempts at building low-energy houses had failed to deliver on what they set out to achieve. The lessons learnt from this research have been distilled into a set of guidelines about how to get it right. 
Though it is a very thorough and exacting way to build, the good news is that numerous studies and tens of thousands of houses worldwide provide you with the evidence that they work. We look in depth at how to achieve the Passivhaus standard and, more importantly, whether it's worthwhile for self builders here in the UK. 
What does Passivhaus Mean? 
Passivhaus is an entirely voluntary building performance standard that anyone setting out to build a low-energy home might be interested in. It has gained lots of attention in the UK and is based around the principle of reducing heating demand to a very low level rather than relying on renewables.
The standards far exceed those of the current Building Regulations, and it is popular because there are many different ways to meet the criteria.  Designers use a software package to predict the home's future energy demand.
Passivhaus only applies to new buildings. The Passivhaus Institute has a separate certification called EnerPHit which can be applied to retrofitting similar standards. 
How is Passivhaus Standard Achieved?
The house must be designed from the ground up as a Passivhaus. There is a complex spreadsheet known as the Passivhaus Planning Package (PHPP) into which you feed all the relevant construction details, including:
the insulation depths
the window sizes and orientations
the junction details.
This gives you a predicted space heating demand (expressed in kWh/m²/yr).
You keep adjusting the design until your outcome meets the standard. Passivhaus can be built using almost any construction method. However, there are some universal features, including:
Low heating demand: Space heating demand of less than 15kWh/m²/yr. Uses 90% less energy to heat than an average home, and 75% less than the average new build.
Super insulation: Exterior walls to achieve a U-value of less than 0.15, and insulation is designed to minimise thermal bridging. 
Windows: U-values less than 0.8
Airtightness: Less than 0.6 air changes/hour at 50Pa (Pascal). 20 times more airtight than a standard build.
Ventilation: Over 80% heat recovery from ventilation exhaust air. Mechanical Ventilation with Heat Recovery (MVHR) provides constant fresh air and retain heat inside the house. 
Optimised solar gain: The house retains heat from sun and occupants' activities
How Many Passivhaus are there in the UK?
As of November 2020, there were over 1,300 dwellings across the UK which had achieved Passivhaus accreditation according to the Passivhaus Trust; however, not all homes built to Passivhaus standards undergo the accreditation process. 
How Much Does a Passivhaus Cost to Build? 
The cost of Passivhaus is tricky to work out. Estimates for the extra cost vary from 10% to 25% of the build cost, which is affected to a large extent by whether certification is wanted.
Passipedia conducted a detailed analysis of the build of a 149m2 Passivhaus built in Germany in 2015. It concluded that the extra cost was €14,000 and the net saving in running cost €585 per year, which includes the extra mortgage cost from the higher build cost.
Passivhaus Cost Breakdown
35%: triple-glazed windows and doors.
30%: achieving the required airtightness.
35%: spread across insulation, mechanical ventilation, shading and design costs. 
The Passivhaus Institute acts as a training and a certification centre. It charges around £1,500 to certify a house, though this is not compulsory.
Other studies give quite different figures, from a 'profit' of upwards of £100,000 over the life of the house to an extra investment of over 30% of the build cost.
Bear in mind that the extra cost is a factor of the size of the development (an estate of Passivhaus houses will cost less per house than a single home) and the quality of the house being built. A high quality house with a build cost of over £2,000/m2 will have a lower proportional extra cost than a lower quality house.
How Much Will a Passivhaus Cost to Heat?
The Passivhaus standard seeks to reduce the space heating requirements to such a low level that you no longer require a conventional heating system.
The level is set at 15kWh/m2/yr, and it's the key Passivhaus target. This means that if you build a 160m² house to Passivhaus standards, you would need just 2,400kWh of energy throughout the year. That's about a tenth of what a typical British home would use, and about a third of what many so-called eco-homes would consume.
But it's not no heating at all — that would be expressed as 0kWh/m2/yr.
There isn't a set method for providing space heating for a Passivhaus. The most popular seems to be adding a small heating element to the ventilation system, turning it into a warm-air heating system. These units are generally rated at no more than 3kW, and they only kick in when the outside temperatures are close to zero. You also have to provide for domestic hot water, so some form of boiler is useful.
As another example, a 200m2 house built to Building Regulations standard will need 11,000kWh of energy for space heating. Assuming the house has a gas boiler, that will cost around £600 per year. Building Regulations require consideration also be given to overheating, so the cooling demand could be the same as for a Passivhaus. It could also use the same LED lights and high-efficiency appliances.
The 200m2 Passivhaus, with a demand of only 15kWh/m2/yr, will only need 3,000kWh for space heating and it is safe to assume that at least half of that will be provided by activity in the house and passive solar gain. This means that the heating bills will be around £90 (assuming this heat is provided by a heat pump).
Why Build to Passivhaus Standard?
The advantages of opting for a certified Passivhaus are to do with getting a measure of quality control. The design is checked over to see if it really meets Passivhaus standards, and the house is tested to make sure it follows the design. 
However, it's not compulsory if building to Passivhaus standards to complete these tests. Most of the world's Passivhauses are not certified by the Institute.
The advantages of opting for a certified Passivhaus are to do with getting a measure of quality control. The design is checked over to see if it really meets Passivhaus standards, and the house is tested to make sure it follows the design.
What are the Drawbacks of Passivhaus? 
Passivhaus is an idea that works better for some than others. You need to learn how to 'drive' a Passivhaus, for example, knowing:
when to open windows
when to boost the ventilation system
when to change filters.
It is no more difficult than getting your head around a car's climate control system. But you do  have to start thinking of your home as a machine for living in. You can't just start knocking it about, adding new bits here and there.
This may in fact be one of the major criticisms of Passivhaus — it's not readily adaptable. Even things like running a cable through for a satellite dish is frowned upon.
Of course, you can do what you want to your Passivhaus but it will cease to be a Passivhaus if you mess with it or sleep with the windows open. So building a Passivhaus is a lot of trouble to go to if you don't respect its integrity.
However, the big plus for Passiv­haus is that it works, and has been shown to work over a large number of buildings.
Is Building to Passivhaus Standards Worth it in the UK? 
The idea of thermally efficient, fabric-first construction is gaining in popularity, due in no small part to the influence of the Passivhaus standard.
It can be argued that the rarity of weather extremes in the UK does not warrant all that investment; and the 'Passivhaus standard' items like windows and doors are priced at a level attractive only to the manufacturer. Plus, there are savings to be made in tweaking the standard to suit the UK climate. This is where fabric first starts.
The purist may argue that driving the energy demand of the house to the lowest level is good for the homeowner and for the planet. But this rather steps over the tight focus Passivhaus has on space heating.
The pragmatist might argue that ours is a warm, wet maritime climate, that renewable energy is now cheap, and that not troubling the power station more than we have to is also good for both.
You'll need to decide whether to build a certified Passivhaus home, or perhaps save on the build cost and build close to Passivhaus level.
Backing off on glazing and airtightness can make a big difference, with the potential to save up to 50% of the investment. With thought and care, it is possible to achieve a space heating demand of 25kWh/m2/yr for an extra cost of 8% to 10%.
Zero Carbon Homes Vs Passivhaus
A zero-carbon house has much less exacting standards than the Passivhaus standard, typically 46kWh/m²/yr for detached houses. That's still a demanding target, but not nearly as difficult to meet as the Passivhaus standard of 15kWh/m²/yr. The 'zero carbon' bit is then made up of a mixture of on-site renewables and carbon offsetting.
In contrast, the Passivhaus standard doesn't require any on-site renewables: it's all about saving energy, not generating it.
Homebuilding & Renovating Newsletter
Get the latest news, reviews and product advice straight to your inbox.
Thank you for signing up to Homebuilding. You will receive a verification email shortly.
There was a problem. Please refresh the page and try again.