Custom Build: A Hands-Off Approach to Building Your Own Home
By Lindsey Davis , Hugh Metcalf published
Custom build offers a more guided process to building your own home than a traditional self build. Find out more about it in this quick guide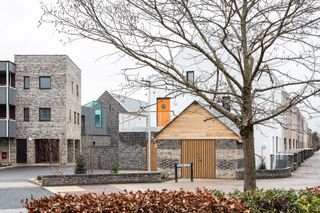 (Image credit: David Butler)
'Custom build' is sometimes used interchangeably with 'self build' in conversation, but that's not necessarily correct.
While custom build is one route to building your own home, it's a process that operates around a different structure than a traditional self build, so understanding the distinction between the two will help you identify the best option for your own self build journey.
Custom build has been identified as one way to help solve the housing shortage, and there are a number of projects and sites promoting the custom build concept at present.
(MORE: Self Build Project Management)
We take a look at what custom build is, the pros and cons, and how you can find a custom build plot of your own.
What is Custom Build?
Custom build homes are self build homes facilitated in some way by a developer. This still offers the chance to have a unique home that suits your needs, lifestyle and design preferences, but through a more hands off approach than a traditional self build.
This method can mean a single one-off home commissioned by an individual and built by a developer, through to a group of homes, built by a developer, but with the offer of bespoke design for the individual. This removes some of the usual frustrations of self build, such as having to find a plot with planning permission, and also offers more support than building your home on your own.
It's likely that a custom build site will have some limitations on what can be built on a plot of land, and what can't. These parameters have both benefits and drawbacks.
In one sense, they restrict the nature of your build, meaning that it cannot be truly customised in the way a traditional self build can, yet these will help to bring a cohesiveness and fairness to the resulting custom build neighbourhood, especially in a cohousing scheme, and it's a requirement for a plot to come with pre-existing planning permission.
One well-known example of a custom build site is Graven Hill, which is a good way to see how these parameters may play out. While the site is full of unique self builds, these all fit within a set of specific parameters outlined by each plot's Plot Passport.
Graven Hill also offers custom homes in a more traditional sense, offering a range of architect-designed homes to choose from that can be then customised for the internal layout and finishes.
Benefits of Custom Build
Ability to customise your home, floorplan and finishes
Developer provides build team and project manages
Plot supplied with planning permission
Services such as gas, electricity, water and sewage already supplied to site
Overall, a customised home with less hands-on work required
"Custom build is much more straightforward than self build," says Michael Holmes, chair of the National and Custom Self Build Association (NaCSBA). "You have perhaps fewer choices but you also have a great deal more assistance from a developer helping you to build the house on a serviced plot."
These advantages mean that the Government believes that the custom build route will become more popular in the UK. It already accounts for 25 to 85 per cent of new homes in most developed countries.
What's the Difference Between Custom Build and Self Build?
The parameters of a custom build plot are likely to be much more restrictive than for a self build, however, self builders will have to meet planning permission requirements for the land they intend to purchase. These parameters will likely include the footprint of the home and some design regulations for the exterior of the property.
Custom builds tend to be a more expensive route than traditional self build, as you pay a premium for the benefits listed above. While the average self build offers the potential of a 25% profit on the build to the final value of the home, custom builds are less likely to offer that financial incentive. In fact, you may risk over-specifying your home, meaning the potential of a poor return on investment.
(MORE: Finding a Plot)
Also be mindful that cohousing plots are likely to have a denser arrangement of plots, meaning they won't necessarily offer the space and privacy from neighbours.
How to Custom Build
It may be that a development in your area offers the custom build route.
Alternatively, look for a package company who also help source plots — more and more of them are finding ways to make the self build journey easier by providing serviced plots for potential self builders. How you custom build will depend on this starting point.
Typically, a custom build developer will:
Provide a serviced plot. This means that all the utility connections (water, gas, electricity, mains sewerage, high-speed broadband, telephone), as well as access to the highway, are all in place before you buy the plot.
Organise outline or full planning permission.
Deliver as much of the build as you wish, up to watertight shell or full 'turnkey' completion.
Manage the project — working within your set budget and taking responsibility for building works including health and safety.
In the UK, there is now a healthy range of specialist custom build suppliers, offering a wide range to choose from. Some schemes offer relatively limited choice, such as the choice of layout, kitchen and bathroom, internal fixtures and finishes, and maybe cladding. Other schemes offer almost complete freedom.
Cohousing Custom Build Schemes
Cohousing is another way to build which is becoming increasingly popular. It is similar to a group self build where a group of people work together to build a set of homes, and once again, this is often with the help of a developer.
Joining a new cohousing group may offer the chance to custom build, and a cohousing scheme benefits from shared benefits for residents, including use of communal spaces.
What is a Shell Home?
Once the shell of a home is created, a lot of the hard work, including planning permission and connecting services is done. At this point, a lot of a home's interior character is created, so buying a home at this stage is a great way to be able to customise the final design.
While you can commission a custom build to shell stage before taking over the project, some developers will offer builds at shell stage for discerning buyers.
For example, at Unboxed Homes site located in Blenheim Grove, there is a series of five custom build homes which are available in a choice of finish level. Raw is a weathertight shell, not ready to move in, while Basic is at a ready to move in level and Finished is a high end finish with all the bells and whistles.
Homebuilding & Renovating Newsletter
Get the latest news, reviews and product advice straight to your inbox.
Thank you for signing up to Homebuilding. You will receive a verification email shortly.
There was a problem. Please refresh the page and try again.