What is Custom Build?
What is custom build and how does it differs from other self build routes?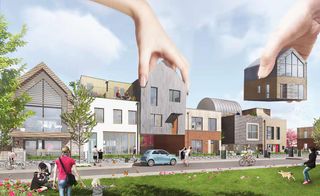 (Image credit: HTA Design LLP)
Custom build is one of the ways that the Government is using to solve the housing shortage. But what is custom build and how does it differ from traditional self build?
Custom build homes are self build homes facilitated in some way by a developer. This still offers the chance to have a unique home that suits your needs, lifestyle and design preferences, but through a more hands off approach than a traditional self build.
This method can mean a single one-off home commissioned by an individual and built by a developer, through to a group of homes, built by a developer, but with the offer of bespoke design for the individual. This removes some of the usual frustrations of self build, such as having to find a plot with planning permission, and also offers more support than building your home on your own.
Popularity of Custom Build
These advantages mean that the Government believes that the custom build route will become more popular in the UK. It already accounts for 25 to 85 per cent of new homes in most developed countries.
"Custom build is much more straightforward than self build," says Michael Holmes, chair of the National and Custom Self Build Association (NaCSBA). "You have perhaps fewer choices but you also have a great deal more assistance from a developer helping you to build the house on a serviced plot."
How to Custom Build
It may be that a development in your area offers the custom build route. Alternatively, look for a package company who also help source plots — more and more of them are finding ways to make the self build journey easier by providing serviced plots for potential self builders. How you custom build will depend on this starting point.
Custom Build Routes
Typically, a custom build developer will:
Provide a serviced plot. This means that all the utility connections (water, gas, electricity, mains sewerage, high-speed broadband, telephone), as well as access to the highway, are all in place before you buy the plot.
Organise outline or full planning permission.
Deliver as much of the build as you wish, up to watertight shell or full 'turnkey' completion.
Manage the project — working within your set budget and taking responsibility for building works including health and safety.
In the UK there are now more than 30 specialist custom build suppliers, offering a wide range of options. Some schemes offer relatively limited choice, such as the choice of layout, kitchen and bathroom, internal fixtures and finishes, and maybe cladding. Other schemes offer almost complete freedom.
Find out more about custom build routes
Cohousing or Group Self Build
Cohousing is another way to build which is becoming increasingly popular. It is similar to a group self build where a group of people work together to build a set of homes, and once again, this is often with the help of a developer.
Homebuilding & Renovating Newsletter
Get the latest news, reviews and product advice straight to your inbox.
Thank you for signing up to Homebuilding. You will receive a verification email shortly.
There was a problem. Please refresh the page and try again.