DIY: What to Leave to the Professionals
Master builder Andy Stevens explains what tasks to leave to the professionals — and when DIY could be a budget-smart option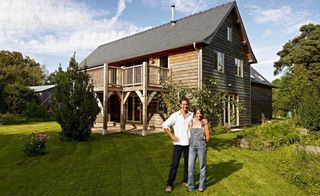 (Image credit: Simon Denison)
Some self builders and renovators often try to do work on a DIY basis as a way of keeping costs down on a building project (like Rob and Alithea Dawson, pictured, who built their low cost oak frame home on a DIY basis). Sometimes this is successful, and other times can lead to disaster.
Bear in mind is that tradespeople are professionals who have either been to college and learnt their trade and/or have learned on the job over a long period of time and and while taking on some tasks will save money, there are others which done yourself could cost you more to put right.
It's not just a case of picking up a trowel or paint brush, either — professionals consider health and safety as well as the prep work and the schedule of works which an inexperienced self builder or renovator could be unaware of or forget.
If You Are Keen to DIY
I would strongly advise looking into some health and safety training, as construction work can lead to serious accidents, injuries and illnesses. Even if you're cutting MDF you'll need the right personal protection equipment (PPE) because of the fine particles it gives off.
It is worth speaking to your contractor to check insurances. If you have an accident, who is responsible for this? If the back of your house falls down because you took out the wrong wall, whose responsibility is this?
Groundworks
Most of this is done by machinery these days, but on a few self builds digging out by hand is required due to budget constraints, lack of access and so on. This is something anyone can try. If you are keen to do this yourself, make sure you have marked out the site properly as you don't want to dig out and then find you aren't exactly in the right place.
Weather conditions need to be taken into account, as well as where the soil/clay and so on is going to get taken away. If it is raining a lot, you have to consider boarding out the sides of footings, as heavy rain can cause the walls of the footings to collapse and fill back up.
If you are digging out an old over-site, you will definitely need to hire a pneumatic drill or heavy duty breaker, as this can't be done by hand. This is seriously hard work but can be done by most people, even without much experience.
Should You DIY? Give it a go!
Brick/Block Laying
This trade requires a lot of training and experience. Laying bricks isn't the hardest thing in the world, but setting out, getting your levels, toothing in and so on is far from easy.
Like any trade, it's all about prep work. I would strongly advise not trying this unless you are experienced in this field. The 'face work' (brickwork) is there for everyone to see, so it needs to be right.
Should You DIY? Leave it to the professionals.
Structural Work
Any structural work (such as installing steels, lintels and beams) definitely needs to be left to the professionals. Even after many years of building work, you always find something you haven't come across before. This is where experience is vital. No matter how tight the budget, my advice is to leave this work to the professionals.
Should You DIY? Leave it to the professionals.
Electrics and Plumbing
These two trades should be left to qualified tradespeople. Even running a bit of pipework or cable should be left to the experts, as this could leak or cause electrical faults if installed incorrectly. I have been doing this for many years and still don't really touch electrics or plumbing.
Each electrician and plumber also has their own ways of setting out and installing so it's best to leave it to them. The worst-case scenario could be a gas leak, mains pressure water pouring out or an electrical shock. These trades spend years at college training for very good reason.
Should You DIY? Leave it to the professionals.
Carpentry
This trade covers many areas of work, from pitching a roof to installing a kitchen, building stud walls and hanging doors. It is very varied and thus there are areas that DIYers can try their hand at.
Building a roof and installing a kitchen may be a step too far for someone who is inexperienced, but putting up a stud wall is something which can be tried — in the worst case, it has to come down.
Just remember to use the right PPE, and using the right tools will make the task a lot easier as well — a first fix nail gun makes this job so much quicker than using a hammer and nails or even screws with a drill or impact driver.
Fixing skirting boards and architraves is something that can be tried as well. Again, it is vital you have the right tools — a mitre saw, nail gun, a suitable adhesive, coping saw and so on. This is a lot easier on new work as the angles and cuts are generally a lot more uniform and straightforward.
Should You DIY? Give it a go, but choose your tasks wisely.
Plastering
There are many different types of plaster work, which all require different drying times and prep work. Other materials such as PVA, scrim tape, angle beads and so on may need to be used.
Again, it's all about setting out and the prep work. You can't just plaster onto a wall — what is the surface and does it need 'scratching' to prep it? Is it just one surface or are there different surfaces that have different drying times? Do you know how to set beading round a window and do you need render beads or skim coat beads?
If you don't mind getting covered in plaster, you can give it a go. Getting the plaster off the hawk without it going all over the floor is the starting point! Again, the worst case is that if you get it wrong, it needs to come off and be done again. But while you might aid in getting the walls ready for plaster, remember that achieving a good finish takes years to master.
Should You DIY? Give it a go, but call a professional if you want a perfect finish.
Painting & Decorating
Without a doubt, this is a trade that a lot of people like to try. However, this is not as easy as people think. Again, it's all down to the prep work — filling, rubbing down, caulking, masking off and so on. That said, there isn't much to go wrong compared to other trades.
When you start, it doesn't take long to see how professional decorators can achieve such a high standard; their cutting in and rollering off takes years of practice. By all means, try your hand at it. Just remember, it's all in the prep.
Should You DIY? Give it a go, but, again, call a professional if you want a perfect finish.
Roofing
You can save money here by bumping the tiles/felt/batten and other materials up for the roofer. Depending on whether it is a flat or pitched roof, there are usually a fair number of materials to go up.
Large pitched roofs need a lot of tiles and it can take considerable manpower to get them up the scaffolding. Don't try and take too many, as this can affect your balance, but this is definitely an area you can help with. Ask the roofer where they want the tiles and how many in each pile.
Should You DIY? Help with the prep, but leave the task to the professionals.
Landscaping
This is another area you can help with, as there is a lot of hard work here, including digging out, and bringing patio slabs, bricks, sand, cement, timber and other materials round from the front of the house to the rear. This takes many hours so you can save money if you're not afraid of hard work.
Should You DIY? Only if you are physically able.
Tiling
This is a skill that most people feel they can do. Not much can go wrong usually, apart from taking a few misplaced tiles off the wall/floor. Whether you are tiling a new room or an old one will make a massive difference to how you tackle the task. New rooms should be level, square with little prep work required. Older rooms can take a lot of levelling and putting right.
A good place to start is a small area like a splashback in a bathroom or kitchen. Grout lines are key as these need to remain the same (use spacers for this task). You need to decide what size grout lines you want with the tiles you have chosen. There are many different types of tile adhesive these days, depending on your tile and surface. The right tools always make a difference, too. Start somewhere small and see how you get on.
Should You DIY? Give it a go!
Other DIY-Friendly Tasks
There are other tasks which you can do yourself, which aren't necessarily down to a specific trade:
Ripping out old kitchens and bathrooms can be done as long as you are careful with the plumbing and electrics. Ensure that they are free of asbestos before you start.
Taking old ceilings down can be done easily enough
Another area is cutting insulation (PIR boards, for instance) to fit into the gaps between timbers in studwork (walls, roofs and so on)
All areas of insulating can be tried if you are using PIR boards, quilts or rolls. PPE is essential here
You could cut and fit plasterboard. Once you have got the hang of this, you could also try tacking the ceiling
Scraping off tile adhesive, old paint, removing skirting boards and architraves all can be done with little fuss
Taking deliveries and off-loading on site can help
Keeping the site tidy doesn't sound like much but is essential. Everyone knows where everything is, there are no trip hazards, and there are nice clear areas for trades to work
Communication is Key
If you do hope to take on some work, be open with your builder from the start and ask where you can help. He will need to schedule this into the works. No builder likes someone looking over their shoulder all the time but explain that you are keen to learn and ask if you can watch for a while.
Be realistic about what you can do and can't do. Nevertheless, there are many areas you can try yourself. This isn't just rewarding but also will save you money on your build.
Get the Homebuilding & Renovating Newsletter
Bring your dream home to life with expert advice, how-to guides and design inspiration, direct to your inbox.
Andy Stevens is a multiple award-winning builder who manages Surrey-based building company Eclipse Property Solutions; he specialises in new builds, extensions and loft conversions.
While he is still on the tools, he is also widely involved in the construction industry. He presents a show on Fix Radio and hosts his own building podcast Build:It, as well as being a speaker at the Homebuilding & Renovating Shows.
Andy has sat on the Board of the Federation of Master Builders (London region) and was previously Vice President. He also works with construction charities and is an advocate for mental health in the industry.