A Future-Proofed Oak Frame Kit Home Bursting With Character
By Alison Wall Contributions from Amy Reeves published
Dawn and Kevin Truscott were looking to build a home with more space when a chance conversation with the neighbours led to a novel solution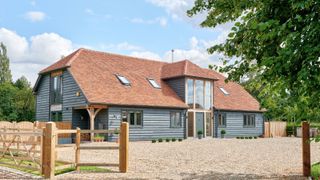 (Image credit: Nick Yarsley c/o Welsh Oak Frame)
Dawn and Kevin Truscott were looking for a plot in their Essex village but struggled to find somewhere suitable within budget. However, when chatting with her neighbour Sarah Switzer over a glass of wine they discovered they were both hoping to self build.
A 1.8-acre field nearby had lain empty and overgrown since the 1960s but had come across a stumbling block: the owner wouldn't sell in portioned-off sections.
The answer? Buy it between them and divide it up themselves for two self build family homes. Unusual maybe, but it proved to be the best way for Dawn and Kevin, and Sarah and Matt, to self build in an area they knew and loved.
Here, Dawn shares their self build story and explains how they created their dream home.
Choosing to Self Build
"We'd renovated our 400-year-old thatched house previously but it was becoming a little small for all five of us with its narrow corridors and higgedly-piggedly layout," begins Dawn. "We thought, if we could, it would be nice to move somewhere where we had more space but the same character.
"There had been so many planning permission applications for houses refused on this site before so we asked the owner if we could buy it on the condition of planning approval. We'd have been happy to have half each, but our friends wanted a smaller plot, so we split the plot 5/8 and 3/8."
Adapting an Existing Design
"I'd always wanted a green oak frame barn, it suited the site and both houses needed to look traditional to get planning. Matt and Kevin went to a self-build show and found Welsh Oak Frame (opens in new tab). They gave us the option of a completely bespoke design, but we chose an off-the-shelf barn from their brochure and they sent us the plans from that.
"For planning, the external footprint was the most important thing, so we reconfigured the internal layout to suit us and the plot. We knew from the start that we had to build a futureproofed house.
"Our daughter Flo has disabilities and it was really important that she could have her own space later on. We know we can adapt this house; the space is flexible, whether that's for Flo, an adult child still living at home, or a grandparent. It's a question of minor changes rather than masses of building work, as it would have been with our old house."
"We're super pleased. The star of the show is the oak frame. For me it was about capturing the essence of the character without going overboard with the oak. A clean, Scandi feel — square and straight.
"We have big light spaces and everyone has their own bedrooms and bathrooms — and the high ceilings are lovely. It was a very emotional process. I still look at both houses and think how pretty they are."
Homebuilding & Renovating Newsletter
Get the latest news, reviews and product advice straight to your inbox.
Thank you for signing up to Homebuilding. You will receive a verification email shortly.
There was a problem. Please refresh the page and try again.