Eco Houses: What Types of Green Homes are There?
Considering building an eco house? There are several ways you could approach your project. We examine the options and explore what you need to know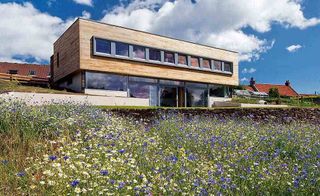 (Image credit: c/o Venner Lucas)
Building an eco house has never been easier — what was once a niche within the homebuilding sector has now become the focus of many new builds, especially for self builders.
But while you might have your eyes on an eco house build, what exactly does that mean?
Of all the terms used, 'eco' is the most generic. It doesn't refer to a particular style of build, or a narrowed focus other than a project that mitigates its effect on the environment. However, many terms have become interchangeable as the green homes industry has grown, from 'sustainable' to 'renewable', 'energy efficient' to 'low carbon'.
An eco house could refer to a construction process that has low emissions, or that the self build itself uses minimal energy to run when its finally inhabited. It could refer to materials that are sustainable, or that the effects on the surrounding environment are mitigated.
Of course, the best eco houses do all this and more, any move towards eco building is a good move. There is no right and wrong approach, only good or better. The budget may dictate that popping a solar thermal panel on the roof is all that can be done, but this can make the house more eco than the one next door.
How to Design an Eco House
When designing an eco house, it's worth deciding what you want to achieve: reduced energy bills, a healthier internal environment or a more sustainable way of living, perhaps?
There are a number of approaches to eco house design including:
Fabric first is an approach to building and renovating which looks to improve the fabric of the building before considering investment in renewables. By ensuring a property is well insulated and airtight, you will reduce the amount of energy required to heat the home overall.
Building to Passivhaus standards will mean a home that meets the most stringent eco levels. While homes built to Passivhaus standards aren't always certified, they feature key characteristics which mean they're incredibly energy efficient.
(MORE: Explore our Gallery of Passivhaus Homes)
A carbon neutral build is one that focuses offsetting any carbon produced in the process of building the home (embodied carbon), as well as the footprint of heating and powering the home. This means using materials with a low carbon footprint, as well as renewable systems that don't rely on fossil fuels.
Cradle-to-cradle is a concept that looks at the lifecycle of materials, ensuring that not only are they sustainably produced, but can also be disposed of in a sustainable manner, whether that's recycling, re-using or being made from biodegradable materials.
When we talk about healthy homes, we're looking at homes which focus on the effect on human health. This includes, but isn't limited to, indoor air quality, protecting sleep cycles and factors that affect the residents' mental health. This is a similar concept to that of holistic design, which looks at the effect a house has on the individual, as well as the wider community.
Biophilic design focuses on the health benefits of creating a connection with nature through the home.
Earthship Biotecture is a very particular form of eco home that is made entirely from natural and recycled materials.
Sometimes these approaches are mixed to create an eco home.
What Does an Eco House Have?
An eco house could include some or all of the following:
High levels of insulation
High levels of airtightness
Good levels of daylight
Superior double or triple-glazed windows
Passive solar orientation — glazing oriented south for light and heat, and minimum north-facing glazing to reduce heat loss
Thermal mass to absorb that solar heat
Brise soleil, deep overhangs, air conditioning and other features to manage overheating
Heating and/or hot water provision from a renewable source (such as solar panels, heat pump or biomass)
A healthy indoor environment, which may include a mechanical ventilation with heat recovery (MVHR) system in a highly airtight home
Specifying electricity from a 'green' supplier
Renewable energy systems, such as solar PV and solar thermal
Natural materials and an avoidance of plastics
Rainwater harvesting and greywater collection
Living off-mains.
Treat this list as a menu rather than a shopping list, picking elements best suited to your project, the site and the occupants.
(MORE: Inspiring Eco Homes in the UK)
Energy efficiency (and the associated low running costs) is often high on the list when we think of eco homes. Often first thoughts turn to space heating. But an eco house needs to address energy consumption wherever it occurs: hot water and electricity consumption (with LED lighting throughout the house, for instance) is also important.
To an extent, this is instead of or in addition to the fabric first approach. The builder either achieves an energy-efficient envelope or provides low-cost, low-carbon energy from renewable sources. The two are not mutually exclusive and an energy-efficient house needs less investment in renewable energy.
Using Sustainable Materials as Part of an Eco House
When it comes to building an eco house, the materials used are key — and this can be quite a complex area to unravel. The materials that go into building an eco home may include one, some, or all of these:
Concrete alternatives
Concrete emits a lot of CO2 during production. Eco-friendly alternatives, which omit the most energy intensive ingredients of concrete, such as hempcrete, timbercrete, limecrete and Ferrock could be used instead in the construction of an eco home.
Sustainably sourced materials: Whether it's Forestry Stewardship Council (FSC) certified timber, which is stocked as standard in most builders' and timber merchants, or recycled plastic products, a knowledge of where materials are sourced is often key.
Materials with a low carbon footprint: The carbon dioxide produced in the manufacture and transportation of a building material or materials can affect how green a home is — this is known as a home's embodied carbon. Strathclyde University published a paper in 2013 showing that the embodied energy in a house can be equivalent to up to a quarter of the total lifetime energy demands of the house.
Natural materials: Such as straw bale, lime, or sheep's wool and cellulose insulation.
Recycled materials: For those seeking to build an eco home, reused and recycled are also important.
(MORE: Explore Your Options for Eco Flooring)
How Much Does it Cost to Build an Eco House?
Eco building materials and systems are often, but not always, premium products, so building a house with a focus on sustainability and low energy consumption will cost more than one that does not.
For an idea of the cost of a self build project, try our Build Calculator.
Of course, there are ways to approach building in an eco-friendly way which limit the amount of expenditure — so how can you build a cheap eco house?
If you're building from scratch, designing a slightly smaller house and/or one with a simple shape (think rectangular) will help reduce build costs to begin with.
Other cheaper and more effective things to do for new and old homes include:
Glazing: Often the starting point in a refurbishment or renovation project is to replace single-glazed windows with double glazed, and this will have a big impact. Secondary double glazing will cost much less and have almost the same impact on energy consumption.
Airtightness or draught-proofing. For energy efficiency, it offers the best £ for £ return, and in older houses is likely to have the biggest impact on reducing energy consumption. This is likely to cost £300 or less.
Solar panels: In eco terms, installing solar panels for hot water is the first and least that can be done.
Insulation: Thermal efficiency is a core element of any eco home and insulation is a key component of that. Focus on getting the insulation as consistent as possible on the whole envelope.
Recycled materials: The local salvage yard is likely to be a repository of useful (and cheap) materials. Try to break the cycle of buying everything new.
Green the plot: Where you can, get rid of hard surfaces such as tarmac, brick drives and concrete. Grass is of little interest to insects, and adds nothing to the ecology. A mixed species, grassed area (with plantain, daisy, chamomile, yellow rattle, maybe some wild flowers) is more interesting to look at and useful to the fauna in the area.
LED lighting: LED light bulbs are now affordable and have a big impact on electricity consumption.
All projects have a budget and that implies compromise. An eco house is no different.
An Eco Conversion Completed for Just £35k!
Clare Williamson and Oscar Baldry converted a former newsagents in Shropshire into a unique home, adding a timber frame first floor extension above to provide further accommodation.
Clare, a Passivhaus-certified designer, used this conversion and extension project to try out some key Passivhaus principles. The property has been thoroughly insulated and made airtight. It also features a mechanical ventilation with heat recovery system.
The couple took on most of the work themselves, achieving an impressive build cost of just £35,000.
Green Roofs and Living Walls
As well as looking good, planted roofs and walls have ecological benefits to offer a new home and a purist eco builder will attempt to replace the ecology that the house stands on.
A green roof will usually not support the same plant and animal life that the ground did and will not usually be maintained in the same way that a garden is. It therefore needs specialist planting, which in turn is likely to attract different insects and other animal life.
A green wall is similar to a green roof, but vertical and with different plants and is, perhaps, an even clearer statement of eco credentials. They are normally not installed to all the walls of the house, maybe just one wall or even a part of a wall. Even so, they will have a dramatic effect on the fauna using the garden.
Get the Homebuilding & Renovating Newsletter
Bring your dream home to life with expert advice, how-to guides and design inspiration, direct to your inbox.
Tim is an expert in sustainable building methods and energy efficiency in residential homes and writes on the subject for magazines and national newspapers. He is the author of The Sustainable Building Bible, Simply Sustainable Homes and Anaerobic Digestion - Making Biogas - Making Energy: The Earthscan Expert Guide.
His interest in renewable energy and sustainability was first inspired by visits to the Royal Festival Hall heat pump and the Edmonton heat-from-waste projects. In 1979
this initial burst of enthusiasm lead to him trying (and failing) to build a biogas digester to convert pig manure into fuel, at a Kent oast-house, his first conversion project.
Moving in 2002 to a small-holding in South Wales, providing as it did access to a wider range of natural resources, fanned his enthusiasm for sustainability. He went on to install renewable technology at the property, including biomass boiler and wind turbine.
He formally ran energy efficiency consultancy WeatherWorks and was a speaker and expert at the Homebuilding & Renovating Shows across the country.