What Makes an Eco House? A Guide to Building a Green Home
By Tim Pullen
From different eco house approaches to what you need to know about sustainable building materials, we set out the key considerations for an environmentally friendly self build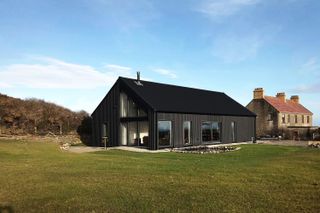 (Image credit: 2020 Architects)
While the term 'eco house' is bandied around a lot when it comes to self build homes, there's no definitive definition of what one entails. In fact, there are several terms used to reference so-called eco homes that have become interchangeable in recent times — from 'eco' and 'green' to 'sustainable' and 'renewable'. 
So what is an eco house really? At a basic level, an eco house could be defined as a home that has a minimal impact on the environment. This could mean that its construction process and materials limit the amount of carbon dioxide emissions produced, for example, or that the resulting house is designed to require minimal energy to run. It may be that the house is built using sustainable materials, or that the build looks to redress any ecological impact made on the site. 
Of course, the best eco houses do all this and more, any move towards eco building is a good move. There is no right and wrong approach, only good or better. The budget may dictate that popping a solar thermal panel on the roof is all that can be done, but this can make the house more eco than the one next door. 
How to Design an Eco House
When designing an eco house, it's worth deciding what you want to achieve: reduced energy bills, a healthier internal environment or a more sustainable way of living, perhaps?
There are a number of approaches to eco house design including:
Sometimes these approaches are mixed to create an eco home.
What Does an Eco House Have?
An eco house could include some or all of the following:
Treat this list as a menu rather than a shopping list, picking elements best suited to your project, the site and the occupants.
(MORE: Inspiring Eco Homes)
Energy efficiency (and the associated low running costs) is often high on the list when we think of eco homes. Often first thoughts turn to space heating. But an eco house needs to address energy consumption wherever it occurs: hot water and electricity consumption (with LED lighting throughout the house, for instance) is also important. 
To an extent, this is instead of or in addition to the fabric first approach. The builder either achieves an energy-efficient envelope or provides low-cost, low-carbon energy from renewable sources. The two are not mutually exclusive and an energy-efficient house needs less investment in renewable energy.
Using Sustainable Materials as Part of an Eco House 
When it comes to building an eco house, the materials used are key — and this can be quite a complex area to unravel. The materials that go into building an eco home may include one, some, or all of these: 
Concrete alternatives
Concrete emits a lot of CO2 during production. Eco-friendly alternatives, which omit the most energy intensive ingredients of concrete, such as hempcrete, timbercrete and Ferrock could be used instead in the construction of an eco home.  
How Much Does it Cost to Build an Eco House?
Eco building materials and systems are often, but not always, premium products, so building a house with a focus on sustainability and low energy consumption will cost more than one that does not. 
For an idea of the cost of a self build project, try our Build Calculator. 
Of course, there are ways to approach building in an eco-friendly way which limit the amount of expenditure — so how can you build a cheap eco house? 
If you're building from scratch, designing a slightly smaller house and/or one with a simple shape (think rectangular) will help reduce build costs to begin with.
Other cheaper and more effective things to do for new and old homes include:
All projects have a budget and that implies compromise. An eco house is no different.
An Eco Conversion Completed for Just £35k!
Clare Williamson and Oscar Baldry converted a former newsagents in Shropshire into a unique home, adding a timber frame first floor extension above to provide further accommodation.
Clare, a Passivhaus-certified designer, used this conversion and extension project to try out some key Passivhaus principles. The property has been thoroughly insulated and made airtight. It also features a mechanical ventilation with heat recovery system.
The couple took on most of the work themselves, achieving an impressive build cost of just £35,000.
Green Roofs and Living Walls
As well as looking good, planted roofs and walls have ecological benefits to offer a new home and a purist eco builder will attempt to replace the ecology that the house stands on. 
A green roof will usually not support the same plant and animal life that the ground did and will not usually be maintained in the same way that a garden is. It therefore needs specialist planting, which in turn is likely to attract different insects and other animal life.
A green wall is similar to a green roof, but vertical and with different plants and is, perhaps, an even clearer statement of eco credentials. They are normally not installed to all the walls of the house, maybe just one wall or even a part of a wall. Even so, they will have a dramatic effect on the fauna using the garden.
To coincide with Earth Day 2021, Homebuilding & Renovating and the wider Future Homes Network have joined forces to launch Green Homes Month, where we will be sharing all the best advice, ideas and products to help you reduce your carbon footprint and make your home greener.View Deal
Tim is an expert in sustainable building methods and energy efficiency in residential homes.
Homebuilding & Renovating Newsletter
Get the latest news, reviews and product advice straight to your inbox.
Thank you for signing up to Homebuilding. You will receive a verification email shortly.
There was a problem. Please refresh the page and try again.