Oak Frame Garages: How to Nail the Perfect Design
By Rebecca Foster published
Oak frame garages are the picture perfect way to create a parking spot for your home. In our ultimate guide, we look at everything from design and cost to building regulations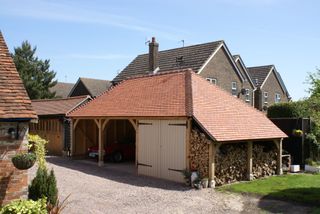 (Image credit: Oak Designs Co)
Considering an oak frame garage for your home? Oak frame garages can be the perfect addition for the right property, providing you with space to park your car and create additional storage, while not compromising its kerb appeal.
The best uses of oak frame garages are to match an existing or new oak frame home, or a property with similar design characteristics. Oak frame garages also offer the opportunity to add extra facilities to your grounds, with the potential to add extra accommodation, depending on local planning rules.
(MORE: Get a quote for your oak frame garage)
If you like the idea of an oak frame garage, but want to learn more, read on for our ultimate guide to these beautiful outbuildings and discover everything you need to know, from planning and building regs to commissioning your build.
What are Oak Frame Garages Made From?
Are oak frame garages outbuildings?
An oak frame garage will typically be a separate building from your main house.
While an oak frame garage will, undoubtedly, include an oak frame, it's likely the entirety of the structure won't be oak. This is because oak is an expensive material, so it's only used where it's needed — both in terms of structure and what's on show.
"Depending on the supplier, you may get a full oak frame or just an oak frontage with the rest in softwood, so it's always worth checking the specification when comparing quotes," says Imogen Cox, director at Made In Oak.
The key structural components of an oak frame garage are:
an oak skeleton with softwood rafters
softwood studwork
and some form of external cladding (usually timber weatherboarding).
Further to this, you can specify your own choice of roof covering. Windows/doors can also be fitted depending on your design, however, many oak frame garages are kept as car ports.
Will I Need Planning Permission for an Oak Frame Garage?
You won't always need planning permission for an oak frame garage as many garages fall within the remit of Permitted Development (PD) rights.
"Check with your local planning office, but generally PD covers structures with a footprint under 30m2, 4m ridge height and 2m away from the site boundary," says James Harringman, director at Trade Oak Building Kits. The full list of PD criteria can be found on the government's planning portal.
It's important to check the conditions carefully. "Some conditions remove PD rights for certain things — including outbuildings — so even if you meet all the criteria, you could still need permission," says Imogen from Made in Oak.
However, you must remember that if your home is in a designated area, including a conservation area, Area of Outstanding Natural Beauty or on Green Belt land, you may need to apply for planning permission.
(MORE: Annexes and Outbuildings: A Planning Permission Guide)
How Much Does an Oak Frame Garage Cost?
"A single bay garage self-assembly kit typically starts from £6,000, with the labour element around the £2,000 mark," says Paul Grubb from Border Oak. For a two-bay structure, you'll probably want to budget between £7,000 and £8,000. Bear in mind, the labour costs will vary depending on the location of the house, the site conditions and the size of the garage.
"A fully assembled structure (including the roof) would cost around £15,000," says Stephanie Larkinson, an outbuildings and GreenRooms regional design consultant at Oakwrights. "This figure includes the structural oak frame, softwood and roof rafters, softwood studwork walls, softwood weatherboarding, tiles, felt and batten roof. Base work could cost anywhere between £180 and £200 per m2, depending on site conditions and the type of foundations."
Most suppliers have a portfolio of off the shelf kit designs to choose from. "This means they can carry stock sizes and lengths of timber and they don't have to pay for someone to re-design the building," says Imogen from Made in Oak. "If you can choose an off the shelf design at planning stage this will help keep costs down."
Some suppliers also offer a bespoke design service for an oak frame garage, tailored to your exact specifications.
Complex or bespoke designs featuring multiple bays and storeys are likely to cost £15,000 and above.
What Types of Oak Frame Garage are Available?
Depending on your budget and design aspirations, there's a multitude of options.
At one end of the spectrum, an oak frame carport that is open across at least one wall of the structure will offer sheltered parking for your car. "Within your garage you could have open/closed bays that can also function as a storage area or workshop," says Zoe Grey, an outbuildings and GreenRooms regional design consultant at Oakwrights.
At the other end of the scale, you might choose to build a two-storey oak frame garage with annexe-style accommodation for guests on the upper level.
With a growing number of people now working from home, another possibility is to have a home office in the room above your garage. "Typically, annexes have a mix of dormer windows and Veluxes. In the room above you can have more fun with the oak frame features, too, using different trusses to naturally break up the space," says Zoe.
When it comes to aesthetics, try to select a design that complements the architecture of the main house. This will provide a cohesive flow across the whole property, rather than creating a setup that appears disjointed.
How Big Should my Oak Frame Garage be?
Dedicate plenty of time to planning how the garage design will complement the main house. Even if you have plenty of space on the plot, you don't want to overwhelm the residential part of the property by constructing something that's too large.
Oak frame garages are typically specified by the number of bays they feature. A typical bay measures 2.9m wide and 6m deep, providing plenty of space to park the car and open the doors with ease.
It often helps to factor in the size of your car, as some modern 4x4s might end up feeling a little cramped.
"For instance, a 5.5m x 3m footprint would be fine for a small car like a BMWi3," says Imogen from Made in Oak. "On the other hand, for a large vehicle like a Tesla, you'd want a space 3.2m wide and 6m deep so you can get around the back to charge it."
(MORE: Charging an Electric Car at Home)
Aside from budget and available space, there's no restriction on the number of bays you can have. "More bays can be added if required and you can also incorporate different shapes — L-shaped and U-shaped, for instance," says Gareth Edmunds, director at Welsh Oak Frame. "The modular structure allows as many as required and some bays could be incorporated as stables, workshops, etc."
There are options when it comes to determining the height of your garage, too — though this is likely to be dictated somewhat by planning restrictions and, of course, budget.
For example, a one and a half storey garage could incorporate storage space in the roof. Gables and dormer windows can be incorporated to boost head height if you plan on using the upper level as a home office or gym. If you have the budget (and planning allows), you might even prefer to build a double storey structure with a guest annexe on the upper storey.
How Much Space Do I Need for an Oak Frame Garage?
While oak frame garages may suit large plots beautifully, you don't need too much room to be able to build one, as most suppliers have design solutions for those looking to fit a garage into a compact space.
"The smaller single bay garages are around 3m by 5m, so as long as you have this sort of space it will be fine," says Paul Grubb, outbuildings sales manager at Border Oak.
How is an Oak Frame Garage Built?
Preparation of the foundations is the first step. The type of footings required depends on the plot's ground conditions and nearby features such as trees or walls. "Typically, we recommend a conventional trench fill setup, but we can also engineer for raft foundations or beam and block," says Paul.
There are various levels of supply and service available, too. Many suppliers offer a suite of options, from supply only to full supply and fit packages, where the manufacturer's specialist team will come and erect the oak frame garage for you.
(MORE: Foundation Systems and Soil Types)
Other companies simply provide an oak frame kit that you or your builder can erect and finish on site. "Smaller frames can be erected by a competent self builder, but they will need to consider the weight of the beams and ensure they have the right lifting equipment," says James from Trade Oak Building Kits. "For larger garages and those with first floors, we advise employing a contractor."
Remember, if you're using with a contractor rather than the manufacturer's specialist team, check they have previous experience working with oak frame structures. Usually, they will be able to finish the walls and roof, too.
Building Regulations for Oak Frame Garages
Providing the garage does not include accommodation facilities, it's generally considered to be exempt from Building Regulations. "The regs are there to ensure a building is made to achieve an adequate minimum standard of health and safety for those using it," says James Underwood, an outbuildings and GreenRooms regional design consultant at Oakwrights. "The main crux is whether the internal footprint of the garage is above 30m2. If it is, Building Regulations are required."
To fall outside the regs, the structure will also need to be single storey, no less than 1m from the boundary of the property and built of non-combustible materials. However, the electric installations will still need to adhere to the guidelines laid out in Part P of the Regulations.
Some suppliers, including Oakwrights, offer off-the-shelf designs at sizes that are exempt from Building Regulations. The company's Kenchester and Highgrove garages, for instance, have been designed so that they don't require Building Regs approval. "Any design with a room over the top, however, will always need Building Regulations — whatever the intended ground footprint," says James.
What's Included in an Oak Frame Garage Kit?
It's important to bear in mind what's included in your oak frame garage quote and what's not, as this may differ from company to company.
Generally, your kit will include:
structural skeleton
fixing for securing the rafters
saddles stones for the base of the posts
Most suppliers do not include windows and doors (including garage doors), tiles or cladding.
(MORE: Best Garage Doors)
How Long Does an Oak Frame Garage Last?
"The oak doesn't need to be treated — it will last for hundreds of years as it is," says Paul from Border Oak. "The weatherboarding on the exterior is typically pressure treated but you can paint it if you don't want it to silver naturally."
However, if you'd prefer to retain the original honey-coloured hue of the wood rather than letting it weather to a natural shade of silver, you can apply UV protection oils. This treatment would need to be re-applied every 12 to 18 months, depending on the garage's exposure to the elements.
Cladding an Oak Frame Garage
Typically, the kit for your garage will not include the roof covering or cladding, so this is something you will likely need to factor into your budget at the start of the project. For a clean aesthetic, you might choose roof tiles to match those used on the main house to establish a cohesive look.
An oak frame garage is generally be clad in timber weatherboarding or shingles. "Larch, cedar and oak are great cladding materials as they are very durable and don't require treatment," says Gareth from Welsh Oak Frame. "If left untreated the cladding will weather consistently with the oak structure (providing this is also left untreated) and match it nicely."
If you're keen to retain the original hue of the timber cladding you'll need to apply a UV protection treatment every 18 months or so.
Do I Need to Insulate an Oak Frame Garage?
If the structure is only being used for car parking and basic storage, it doesn't need to be insulated. If the idea of converting part of your garage building into living space in the future appeals, it's worth making the provisions for insulation during the initial construction. This will make any alterations further down the line a lot more straightforward.
Rigid board type insulation or insulated plasterboard can be installed in the floors, walls and ceilings. As an alternative, you could also use wool insulation in the floor structure.
"Even with a single storey garage you may want to install insulation if some of the space is to be used as a workshop, for example, and you will be spending a lot of time in there," says Gareth Edmunds, director of Welsh Oak Frame. "Some people may also want to consider insulated garage doors."
How to Add Electricity to an Oak Frame Garage
Don't forget to make provisions for your garage's electricity supply. Typically, you can run a cable underground to connect the consumer unit in your garage to the consumer unit in the main house. For expert advice, speak to a local electrician.
Upgrading Your Oak Frame Garage
Building an oak frame garage provides a golden opportunity to develop a tailored setup that caters to your property's unique needs. There's enormous potential for additional elements that can be incorporated, from log stores and plant rooms, to home offices and entertainment suites.
"Our room-over options significantly increase the usable area of the building without increasing the footprint," says Anthony Williams, an outbuildings and GreenRooms regional design consultant at Oakwrights.
"These options offer tremendous scope for home offices, living accommodation and leisure areas. Dormer and roof windows are worthwhile additions to enhance the usable space, too. In addition, glazed gables and balconies can dramatically transform outbuildings." Bear in mind though, extras like this will drive up the overall cost of your project.
How Can I Heat a Room Above an Oak Frame Garage?
If the room above/adjoining the garage is to provide accommodation, keeping the space warm is an essential consideration. "Electric convection heaters or radiators are efficient and good value for money," says Gareth from Welsh Oak Frame. "They come with timers so can be effective if used regularly, such as for an office, and can be set to warm the space before you go in."
If the space is to be used as an annexe or permanent accommodation, you may consider putting in a boiler so the space benefits from its own central heating setup. "Strategically placed windows can also help make the most of natural solar gain, along with good quality insulation, glazing and draft proofing on doors and windows," says Gareth.
Rebecca is an experienced homes and interiors writer with a passion for Victorian architecture. Her dream is to extend an 1800s house
Homebuilding & Renovating Newsletter
Get the latest news, reviews and product advice straight to your inbox.
Thank you for signing up to Homebuilding. You will receive a verification email shortly.
There was a problem. Please refresh the page and try again.