How Much Does it Cost to Build an Oak Frame Home?
By Rebecca Foster published
We look at the cost to build an oak frame home so you can keep within budget and end up with something wonderful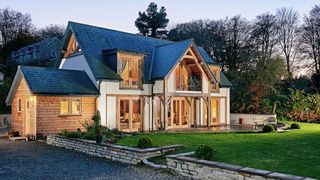 (Image credit: Welsh Oak Frame)
The cost to build an oak frame home isn't as high as you may think, but there are lots of things to consider before embarking on such a project.
Oak frame homes look wonderful and can cleverly mix old and new in a modern stylish way. From beautiful kitchen extensions to oak framed conservatories, oak frame garages and entire oak framed houses, there is something for every budget.
Oak frame homes and interiors are often seen as a luxury but this traditional build method isn't necessarily out of reach if you're working to a tight budget. We look at the costs involved and explore how to minimise your overall spend when building an oak frame home.
(MORE: Get a quote for your oak frame project here (opens in new tab))
How Much Does an Oak Frame Home Cost?
As a minimum, a modest oak frame house will cost in the region of £2,000 per m2 to build. Of course, that doesn't mean you can't complete your project for less than this, particularly if you're taking on elements like project management and material procurement yourself.
How to Keep Costs Down When Building with Oak
If you're working to a tight budget, using a hybrid system that combines oak and softwood framing is one solution. If you go down this route, consider which areas of the house you want to prioritise for standout oak features.
Social areas of the house like the living, dining and kitchen areas are a smart place to show off oak details, whereas in the bedrooms you could go for a pared back aesthetic.
Choosing your project team carefully at the start of the build is another way you might potentially save money in the long term.
"An experienced building team and project manager with knowledge and connections may actually mean the build is quicker, less problematic and easier to resolve, so can be less expensive," says Merry Albright, creative director at Border Oak (opens in new tab).
Is Building with Oak More Expensive than Timber or Masonry?
As oak is a premium building material, it's generally considered to be more expensive than other routes to self-building, such as softwood timber framing or brick and block.
Remember, while the oak frame itself would typically add around £400 per m2 to a build cost compared with a timber frame, structural insulated panels or masonry build, it is acting as the primary structure of the building.
"As such, the structural requirements of the envelope around the oak frame are minimal, reducing the cost in this element of the build compared with non-oak frame construction." says Fergus Stuart, Carpenter Oak (opens in new tab).
(MORE: How to Choose a Construction System)
What Factors Influence the Cost?
Design is one of the main factors to affect overall build costs – the more complex the plans, the higher the costs are likely to be. For example, if you live on a sloping site that calls for a stepped house spread across multiple levels.
The location of your plot - trades in the south are more likely to cost more. Plus, you'll need to factor in the distance your oak frame needs to travel from the supplier and whether you need any specialist delivery equipment.
Difficult ground conditions - this may result in higher costs at the foundations stage.
Opting for a full turnkey package - this is where your supplier handles the planning, design, construction and project management and it comes at a higher price. Taking on extra duties yourself, whether that be labouring on site or project management, could help save pennies.
The level of specification - your overall finish will weigh in on costs. Premium products and finishes, whether internal (bathrooms, kitchens etc) or external (luxury cladding materials and premium roof tiles), will add to the overall spend.
Why is Oak More Expensive?
Remember
The oak frame is both structural and decorative, so this can actually save money as you don't need to pay for fancy interior finishes or additional structure
Compared to brick, block and softwood products, hardwoods like oak are considered premium materials, which is why building with oak is generally more expensive than some other self build routes.
Working with oak requires specialist carpentry skills, too, with many elements of the frame hand-crafted in your chosen supplier's workshop. You're therefore paying for the expertise involved in the labour, as well as the material itself.
However, there is a flip side to using a luxury product like oak. As well as forming the structural skeleton of your home, oak is often left exposed as a design talking point.
It is likely that the honey-coloured shade of the material, plus its distinctive splits and shakes, are two of the main features that attracted you to it in the first place.
(MORE: Oak Frame Conservatories)
What Increases the Cost?
Complexity of design is one of the biggest factors that will drive up the cost of your oak frame home. Before getting carried away with dramatic glazed gables, curved walls and impressive spans of exposed oak, it's worth taking a step back.
By maintaining the 'simple design' mantra throughout your project, a stunning oak frame abode is still achievable.
Building straight walls rather than curved partitions or those with lots of corners, will help minimise costs. "Building corners slows down the construction process, which adds to labour costs," says Gareth.
Expensive extras can soon add up. If you're building with oak, it can be tempting to match the beautifully crafted feel of the frame with other premium items.
For example, the cost of clay roof tiles (rather than concrete alternatives), hardwood cladding (compared to cheaper softwood products), and handmade (rather than machine-made) bricks will all start to stack up.
Easy Ways to Cut Costs
If you have some construction experience, project managing the build prior to the erection of the oak frame could help you claw back some pennies.
Substantial cost savings can be made by managing the trades and quantifying/ordering materials.
Though it's a time-consuming job, getting stuck in and cleaning the oak yourself could help you save money.
"This could save you from £1,500 to £3,000, depending on how much oak has been incorporated into the build," says James Rice, head of sales at Oakmasters (opens in new tab).
Sticking to a simple exterior materials palette will help costs to a minimum, too.
Not only does the 'less is more' approach often work well visually, but it also means less trades are required on site. This is ultimately more efficient and more effective, recommends Helen Needham, architectural development manager at Oakwrights (opens in new tab).
(MORE: How to Measure for Building Materials)
Budget-Friendly Cladding Materials for Oak Homes
House cladding choices such as render and softwood timber can be more economical than premium materials such as stone or bricks.
"Softwood featheredge cladding could be used instead of oak featheredge cladding. You may also choose to use render instead of masonry or stone when infilling exposed oak panels on the outer walls," says James from Oakmasters.
Bear in mind the labour costs associated with the cladding materials you use and the likelihood that experienced specialists could cost more.
Other areas to look at when choosing products for your build include guttering, fenestration and internal fittings.
Watch out for added cost with the following:
Material details such as copper or aluminium rainwater goods
Painted or softwood aluminium windows and doors
Internal fixtures such as laminate, wood or granite worktops
Flooring choices
Where possible, invest in structural features that you will be less likely to change later. Cheaper bathroom and kitchen suites can be updated in the future once your finances have recovered from the project.
(MORE: Cheap Bathroom Suites)
Will Using a Catalogue Design Cost Less?
Opting for a set design from a catalogue of pre-existing plans will help you to keep design costs to a minimum, though it won't reduce the cost of the frame itself.
"With Welsh Oak Frame, adapting a design starts from £1,500 and bespoke designs start from £2,000. It's worth considering paying that by paying a little bit extra, you could have a completely bespoke design," says Gareth.
(MORE: Oak Frame Garage Ideas)
Does Face-Applied Glazing Cost Less?
This type of glazing is designed to allow for the natural movement of the green oak frame as it settles, without putting pressure on the glass unit.
The glass is applied to the exterior face of the oak frame, creating a weathertight seal.
"Typically speaking, this detail does cost more. However, face applied glazing can be kept simple to keep costs down," says Fergus from Carpenter Oak.
Plus, tips such as reducing the amount of corners and opting for fewer larger panels rather than lots of smaller units can help.
Rebecca is an experienced homes and interiors writer with a passion for Victorian architecture. Her dream is to extend an 1800s house
Homebuilding & Renovating Newsletter
Get the latest news, reviews and product advice straight to your inbox.
Thank you for signing up to Homebuilding. You will receive a verification email shortly.
There was a problem. Please refresh the page and try again.