Bungalow Design Guide
From planning the layout to connecting to the garden, we share our design secrets to creating a great single-storey home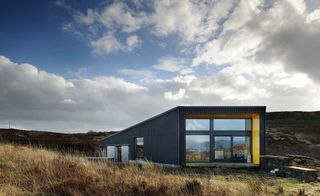 (Image credit: Nigel Rigden)
Single-storey living can offer a number of benefits — accessibility, futureproofing and the opportunity to connect to the garden being among them.
But despite the many plus points, the word 'bungalow' still throws up negative connotations for some, such as the post-war, poorly constructed properties of the past. 
However, building a new single-storey house or renovating an existing bungalow presents an opportunity to create a unique home, tailored around your needs.
Here, we set out the top design considerations and solutions.
What's Great About Bungalows?
Although frequently mocked as homes for the elderly or infirm, living in a bungalow is many people's ideal. The single-storey layout means:
no stairs to negotiate
the potential for garden access from bedrooms
opportunities to have vaulted ceilings and rooflights throughout the main living areas, creating spacious, light-filled interiors
How to Separate Living and Sleeping Spaces
Creating separation between the living and sleeping quarters in bungalows is a priority. Your layout will be dictated by many factors, including the site, but the form will have one of the biggest impacts on where you position the bedrooms.
There are various ways you can tackle this, depending on the shape of the building:
Linear buildings [such as longhouses] will have a corridor running down one length of the building, with all the bedrooms leading off. Have the master bedroom at the end of the corridor for ultimate privacy
L, H and U-shaped floorplans help to separate public and private spaces. When separating the living and sleeping accommodation, you can do it in blocks, with a door between the two to keep the public and private areas separate
You could choose to centre the open plan family space and bookend this with the master bedroom on one side and guest bedrooms on the other
Your architect or designer will be able to work up a floorplan which works for you, while also factoring in privacy and practicality.
Break Up the Façade
Using several cladding materials instead of just one can provide interest and help break up the building. Highlighting gables and projecting elements with contrasting materials also works well.
In terms of elevation it is possible to add interest with elements such as a porch, which could be clad in one material, while the rest of the home is wrapped in another material.
It is important to remember that the choice of your cladding materials will also be affected by the local vernacular, and perhaps your local planning authority.
Consider Ridge Height
A planning restriction imposing a single-storey ridge height – typical on infill plots and other sensitive areas where impact needs to be constrained – is often viewed as an obstacle. But it can also be an opportunity.
If you consider most ground floor storey heights are circa 2.4m from finished floor to ceiling (which optimises wall boards which are themselves 2.4m), you easily have good space above for an attractive roof design and of course, the option for vaulting the spaces within.
You could even consider taller ground floor ceiling heights up to around 3m and still remain in the many planning constrained ridge height scenarios.
Bear in mind that if you are looking to use a plain tile on the roof then you'll be unable to go less than 35° in any case. That said, 35° is too low for some people. To get the proportions right, keep room/span widths below 5m and opting for a steeper roof of between 37.5° and 47.5°.
How to Avoid Deep Floorplans in a Bungalow
One of the key design principles for successful single-storey new builds is avoiding overly deep floorplans and several space-wasting corridors. This will inevitably lead to rooms 'locked' within the footprint which do not have external walls — in turn, the opportunity for windows and/or doors to the garden is lost.
You could bring light in from above by way of roof glazing, but this type of feature often works best as an enhancement rather than a single source of light.
To avoid deep floorplans, look to design more linear arrangements such as T-shape or L-shape plans, or to break the plan up into smaller components, which can be staggered.
Consider a Courtyard Layout
Another approach is a courtyard layout. This will at least double the number of external walls available for glazing. It also provides extremely good visual connectivity between the various rooms, which is great if you love open plan layouts.
However, courtyard designs can sometimes suffer from poor privacy, so this needs thought during the initial concept stage.
Get the Right Proportions
When it comes to proportions, there are general rules to follow in terms of practical living space:
Think about how many people will be using the rooms
Look at standard furniture sizes — you don't want to have a room so large that you need eight sofas to fill it, and likewise you need space to accommodate your furniture with room to move around
Think of focal points; a 5m x 3m room might feel long and narrow, but it's how you dress the space, where you choose to position windows, the TV, a fireplace and so on
If you're also designing your internal spaces in an accessible home to accommodate a wheelchair, ensure that areas such as circulation spaces, door openings and rooms are wide enough to accommodate turning circles. Corridors spanning 6ft wide is also recommended, and level thresholds are a given.
Connect to the Landscape
Glass is a fundamental material for allowing lateral homes to feel connected with the outdoors. Importantly, glazing can help rooms feel larger, too.
To make open plan family spaces feel more generous in single-storey homes, a great tip is to have one side of the space completely of glass. It's a great visual effect as it feels like you're borrowing space from outside and that the outdoor areas are part of the room.
Bungalow Styles
A number of styles are single-storey in nature, or lend themselves to bungalow arrangements.
These will likely favour an open plan arrangement of rooms for living accommodation, while the exterior is likely to be clad in a crisp white render — a combination of contrasting cladding materials including timber, metal or slate might also feature to break up the façade and add interest.
This style particularly suits rural plots and wooded sites. Typically there are rooms in the roof with dormer windows, and a veranda-style porch wrapping around the front and/or rear.
The key to getting this style right is to copy details from traditional barns, typically very utilitarian, using materials such as stone, oak frame or brick under slate or clay tiles.
This style remains the archetype for contemporary single storey design, with an informal open plan layout, filled with light by floor-to-ceiling windows that blur the boundaries between inside and out, and a simple flat roof plane that appears to almost float.
Originally built from stone and sometimes cob or rammed earth, with a turf or thatched roof, Longhouse examples still survive widely across Scotland, Ireland, Wales and the South-West. Many now have slate or tin roofs, or have been extended upwards to add rooms in the roof.
Old schoolhouses typically had steeply pitched gabled roofs with decorative bargeboards and at least one large 'schoolroom' window, lighting a double-height space that is ideal as an open plan living room or kitchen breakfast room, with a vaulted ceiling.
The traditional log cabin is a single storey form that lends itself well to certain locations, particularly more secluded sites close to woodland and/or water. There are several log cabin suppliers in the UK, mostly importing kits from the US, Canada and Scandinavia.
How to Make the Most of Sloping Sites
A sloping site is where the humble bungalow can come into it's own.
There will also be instances where the property needs to appear low profile and low impact from the road. Designing a minimum verticality, which can be further softened with extended roof lines to create greater eaves coverage, is a good solution.
The first floor windows would typically be low-impact inset dormers or flush rooflights to keep that visual bulk under control. As you move into the design, it is typical to place secondary rooms such as the WC, utility, study and perhaps a couple of bedrooms at upper level.
Then main living, kitchen, family, dining zones could then be set into the sloping site at lower level, with access to the garden, resulting in a striking two-storey appearance at the rear.
Be Discreet With Parking
One of the challenges when positioning the home on the site is where to position the parking. You don't want to feel like you're overlooking a car park.
In order to screen the parking from the building, introducing trees, hedges and borders as part of your landscaping scheme can help to provide the interiors with a more pleasant outlook. Positioning a garage or carport to the side or away from the main house will also help.
For driveways, using organic materials found in the local vernacular, such as shingle, gravel or stones, will give a more attractive finish than tarmac.
Be Cost-Effective
Single-storey buildings are more expensive to build per m² than two-storey homes because if you're looking to achieve the same footprint as a two-storey home, you're going to incur the costs of double the foundations and double the roof — not to mention wider wall spans.
A 300m² house will traditionally be 150m² over two floors — a single-storey property will need a plot large enough to accommodate a 300m² property, ideally with outdoor space, and as a result you'd be looking at paying more money for a larger plot. 
Working with the landscape can help save money on groundworks. If there is a change in level, incorporating this into the design with a step down can solve the costly issue of having to level the site, and can also be used to zone spaces too.
The most cost-effective layout will be a simple box, and it's compatible with most sites. It's when you introduce turns and corners with L, U and T-shaped floorplans that the cost increases. 
Michael is HB&R's Head of Content and Product Development. Michael is also, Chair of the National Custom and Self Build Association (NaCSBA), presenter of multiple property TV shows and author of Renovating for Profit (Ebury). Michael is a regular in the seminar theatres and Advice Centre at the Homebuilding & Renovating Show.
Homebuilding & Renovating Newsletter
Get the latest news, reviews and product advice straight to your inbox.
Thank you for signing up to Homebuilding. You will receive a verification email shortly.
There was a problem. Please refresh the page and try again.