30 Best House Design Ideas 2021
By Claire Lloyd published
We've found 30 brilliant house design ideas to inspire your building project in 2021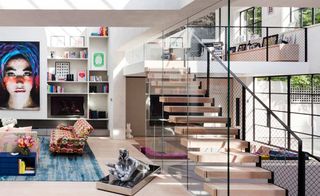 (Image credit: IQ Glass)
If you're going to the expense of a significant home improvement or house building project, then you are going to want to consider incorporating some clever house design ideas to create a sense of wow factor. But which home design ideas offer the biggest reward?
At the design stage, think about whether you are looking for house design ideas to add architectural interest, to transform how you live in and interact with your home, or a combination of the two.
From adopting a broken plan arrangement or adding a mezzanine through to new plaster finishes and all-in-one flooring packages with underfloor heating, here are 30 of the hottest home design ideas to get those creative juices flowing and maximise the results of your building project.
1. Mirrors: A Big House Design Idea for Small Spaces
Latest Subscription Offer
If you're working with a small footprint, ideas to help the space feel bigger are always welcome. One idea that's definitely worth incorporating was showcased in Samantha Parr's beautifully built oak frame home: it's just 100m² but clever use of mirrors makes this space seem bigger.
The first floor of Samantha's home is open plan and has exposed rafters. One gable is glazed with views out, the other gable wall cleverly features mirrors above the kitchen units — giving the impression that the house actually expands beyond this gable end. But in fact the mirrors are reflecting the interior and views out. A convincing technique!
2. Incorporate Statement Fretwork into Your Home Design
To keep materials consistent throughout their energy efficient home, and to herald the nearby Black Country and its local artisans, these homeowners chose to include a touch of industrial style with seven fretwork panels made from mild steel that adorn the staircase from top to bottom, and the striking pergola entrance porch.
The delicate design and painted coating add 'wow' factor to the interior and exterior, turning an entrance and flight of stairs into something far from ordinary.
3. Opt for a Courtyard Layout in Your House Design
A courtyard layout can provide ample scope to connect multiple rooms to the garden and flood the space with light. With single-storey homes in particular, this home design idea avoids the need for deep floorplans, which can often suffer from a lack of natural light.
(MORE: 5 ways to remodel a bungalow)
4. Textured Wall Finishes
"We're finding an increased interest in 'real' materials: walls and surfaces that are self-finished rather than covered over with plasterboard, skim and paint," reports architect Paul Testa.
"Birch-faced plywood is a common choice; it's dense,robust and adds natural texture and warmth to a space. It's been traditionally used as a low cost wall finish, but it's not cheap to buy and it's time expensive to install and finish well. It is a lower carbon choice than a gypsum-based plasterboard, too."
5. Build a Large, Practical Pantry
A design idea growing in popularity, the pantry has also grown in terms of room size too. Homeowners are opting for larger utility-sized spaces as opposed to a cupboard, freeing up the kitchen for living and entertaining.
6. Opt for an All-in-One Flooring Package
It's usual to have to order your underfloor heating (UFH) and levelling system separately from your solid timber flooring, but the timber floor company Junckers is launching Leveldek, a fully integrated package of solid hardwood floor, levelling and underfloor heating system, so you don't need to order the items from separate suppliers — great idea!
7. Incorporate Fitness and Wellbeing in Your House Design
An outdoor swimming pool is part of a wider home design idea to make the house a space where we keep healthy and well, as well as a place to relax and entertain. The popularity of home gyms is another case in point.
8. 2020 is the Year of Tadelakt in Home Design
Tadelakt is a Moroccan plaster finish that has actually been around for centuries, but will make an impact in our homes in 2020. And for good reason: this lime-based plaster is water and mould resistant, making it excellent for bathrooms. What's more, it's low-maintenance – there's not a single grout line in sight – and aesthetically pleasing.
9. Blur the Lines Between Indoor and Outdoor Living
While 'opening the house to the garden' is not a new design idea for your home, there is now an increased focus on a considered use of materials in both the interior and adjacent outdoor environment.
There is now a push to create a 'room outdoors' and reduce perceptible boundaries between indoor and outdoor spaces.
10. The Return of Solar Thermal Panels in House Design
Solar PV (photovoltaic) panels have had their fair share of limelight in recent times, but the end of the Feed-in Tariffs — and the healthy(ish) incentive offered to homeowners and landlords — in April 2019 has perhaps taken the shine off specifying this renewable electricity-generating technology.
However, it's not all bad news, as our attention is slowly turning back to solar thermal. Could 2020 bring a renaissance for this sustainable technology?
11. Bedrooms with Balconies
Recent years have seen self builders and renovators alike incorporating outdoor spaces leading off from their bedrooms. Whether located on the first floor giving far-reaching views or incorporated as part of an 'upside-down' layout, with bedrooms leading off to terraces, adding a sense of the outdoors to sleeping spaces is a great design feature.
12. Consider a Broken Plan House Design
'Broken plan living' has been big news in the design world in recent years — and will continue to influence our floorplans in 2020. So what is it?
Broken plan is all about moving away from cavernous open plan living spaces (which many of us find impractical), and utilises certain devices to create spaces that feel sociable and connected but have a degree of separation and privacy. These devices include:
bookcases
partial walls
sliding doors
internal 'windows'
fireplaces.
13. Use Concrete to Create a Contemporary Look
If you're looking to construct your extension in something a little different, don't dismiss concrete. The material is no longer being covered up but exposed as an architectural finish, known as 'visual concrete', in domestic builds. It's a good material to use externally — it's durable, doesn't require much maintenance and can be left exposed.
(MORE: Building an Extension: All You Need to Know)
14. Bring Metallic Accents into Your Kitchen as Part of Your House Design Ideas
Bright metallic colours will be a key design trend for kitchens this coming year. "2020 will be the year of gold, copper and bronze accents," predicts Paul Jenkinson, founder and managing director of British kitchen brand LochAnna Kitchens.
"However, it's important that you don't overdo it with these colours and remember that a little goes a long way."
15. Recycled Kitchens: Budget and Eco-friendly House Design Solutions
While upcycling is nothing new, the number of people recognising just how much they can save by buying a second-hand or ex-display kitchen is. The emergence of more and more companies specialising in used kitchens is testament to the growing popularity of this way of buying a kitchen. Plus, there are often some bargains to be had.
"We are now all so much more aware of the waste we produce from mass consumerism," says James Saidman of The Used Kitchen Hub (opens in new tab). "Consumers are much more conscious of not adding to their waste footprint and want to find tangible alternatives to landfill."
(MORE: New Kitchen: How to Get one for Under £5,000)
16. Choose Pivot Doors for Added Wow-Factor
Move aside bifold and sliding doors, the latest glazed patio doors do not fold or slide back, but delicately pivot — providing a large expanse of glass coupled with minimal frames as a further benefit.
Natural light and views will be maximised.
(MORE: Pivot doors)
17. Create a Mezzanine to Use Every Inch of Space in Your House Design
Using space in the ceiling to provide extra living accommodation makes sense — it ensures every last inch of space within a house is used, without the need for new foundations or planning permission.
From 'floating' sleeping pods to home offices or informal living spaces, mezzanines provide quiet spaces away from the hustle and bustle of the rest of the home, without being cut off from the action. They need not be an expensive addition either — some of the most innovative mezzanines are created from inexpensive materials and are accessed via simple flights of stairs.
18. Make a Feature of Rainwater Goods
Hidden rainwater goods have become a popular design idea in recent years. However, making a feature of this element of the building, with chunky, aesthetically-pleasing gutters, hoppers and downpipes, is another (cheaper and perhaps less complex to achieve) solution.
Material choice is important — forget PVCu, opt for streamline steel from the likes of Lindab and Alumasc.
19. Incorporate Pocket Doors
While open-plan living spaces are still a firm favourite in self built and renovated houses, we're seeing a shift towards creating spaces that can adapt to cater for both intimate everyday living and occasions when family members and friends descend en masse.
One sleek and discreet way of achieving this is by including pocket doors — these slide back into a cavity in the adjacent walls when not in use (as here) to open up rooms to one another.
20. Install Hidden Lighting
While bringing natural light into the home is a recurring theme, it can be easy to forget how important achieving a well-balanced artificial lighting design scheme can be — many treating this element of the design as an after-thought, placing a few pendants and downlights wherever there's space.
Consideration of your home's lighting should be planned out well in advance.
(MORE: Clever Lighting Design Ideas for Your Home)
21. Design a Throughview
Placing patio doors or glazing in adjacent or opposing walls has obvious benefits when it comes to introducing light to the interiors and creating a greater sense of connection with the garden.
However, this design motif can also help reduce massing, making a building appear transparent and less 'bulky'.
22. Consider Split Level Layouts
When you consider how plots are becoming increasingly hard to track down, as well as the fact that some of the most stunning of these plots are located on sloping sites, the increasing prominence of split-level layouts begins to make sense.
While the split-level layout may often be born out of necessity, it often ends up bringing warmth and character to homes. Level changes act as a way of defining individual areas within open-plan spaces. For example, in large houses they break up vast spaces to avoid them becoming too clinical, while in small spaces they break up rooms without the need for walls.
23. Make Outside Spaces Suitable for British Weather
Covered outdoor spaces allow the British summer to be enjoyed whatever the weather, plus provide opportunity to make a design statement.
However, we're no longer simply looking to create such spaces on the ground floor, but on the first floor too, where covered balconies or loggias, leading off the master bedroom for instance, are a happy indulgence.
24. Modular Bathrooms
It's not just construction systems that are going modular; our fixtures and fittings are too. New from Roman (opens in new tab) for 2020 is this basin and vanity unit linked directly to the shower enclosure. This all-in-one piece fixes together precisely, which means no more butting up basins to glass panels, and no more tricky spots to clean!
25. Opt for a Dramatic Ceiling in Your House Design
We're accustomed to seeing flat ceilings in our homes, but if you are extending or building from scratch then it's a great opportunity to think outside the box when it comes to your ceiling design.
Vaulted ceilings are a great way to add both interest and volume to any space, can fit well in both contemporary and traditional home designs.
26. Make Use of Timber Cladding
Versatile, rustic and lending warmth, timber has become the go-to material for those seeking to bring texture to their projects — both inside and out.
Whether it's dark-stained pine to add contrast and help the home to blend in with its surroundings, rough sawn oak left to weather to a silver grey, birch, western red cedar, larch or plywood lining the walls, ceilings and floors to provide a warm and cosy space, timber cladding is a popular home design idea.
27. Bring Glazing Indoors for Added Architectural Interest
Interior glazing is by no means an architectural innovation — this device has been used for years in commercial spaces and offices. However, self builders are now beginning to see the benefit of interior glazing in new homes: it can allow natural light and views to be 'shared' by adjacent rooms, while still offering a degree of soundproofing.
Allowing light to reach into even the most central sections of the floorplan, incorporating internal glazing can offer glimpses of adjacent rooms and create the illusion of space and volume.
(MORE: Internal Glazing Design Guide)
28. Add a Veranda When Planning Your House Design
A key staple of traditional architecture, the veranda appears to be making a comeback. From New England-style wrap-arounds to sheltered timber frame additions – allowing homeowners to enjoy the outdoors even on wintery days – the veranda has proved the perfect accessory to homes both contemporary and classic.
29. Exposed Ceilings are Popular for 2020
Exposing characterful timber rafters and trusses as a feature is not a new innovation when renovating old homes, but this idea has been adopted by extenders and self-builders in 2019, with the fabric of new roofs exposed to produce some very interesting results.
In the project above, designed by design practice NimTim, the geometric structural plywood used for the extension roof brings architectural interest. The timber designs provide a real warmth to the contemporary interior and increase the perceived head-height in this single-storey extension. We look forward to seeing this trend continue throughout the coming year.
30. Colour Pop Comes to the Structure
Using an accent colour to highlight the structure of a self build or extension is becoming more popular — think pink stairs, bright orange aluminium doors and, as in this project by Selencky///Parsons Architects, vibrant yellow steel beams. Note that exposed structural beams need to be treated with fire-retardant paint to comply with Building Regulations.
Claire became Editor of Homebuilding & Renovating in 2016 and has been a member of the team for 14 years. An experienced homes journalist, her work has also appeared in titles such as Real Homes and Period Living.
She has a particular interest in green homes, and interior design is a passion too; she has undertaken qualifications in this area.
After finishing a major renovation of a period cottage, she is now onto her next project: overhauling a 1930s property in the Shropshire countryside.
Homebuilding & Renovating Newsletter
Get the latest news, reviews and product advice straight to your inbox.
Thank you for signing up to Homebuilding. You will receive a verification email shortly.
There was a problem. Please refresh the page and try again.