What is Face Glazing? Here's What you Need to Know
By Pete Tonks published
Face glazing is an unconventional approach for windows, often used in oak frame homes. We look at how this small detail could make a big difference to your build quality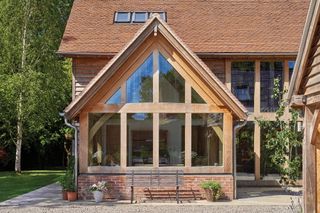 (Image credit: Oakwrights)
Face glazing is a relatively new concept in the world of windows that has become increasingly popular, particularly with the rise of oak frame buildings in the UK over the last two decades.
It's a method of creating a window that is altogether different to the conventional approach and a detail that might appear straightforward, but is in fact one of the most difficult window styles to detail and build.
Our expert delves deeper into what face glazing is, how it works, how it's installed and, most importantly, how much it's going to set your build budget back.
What is Face Glazing?
Face glazing places the glass outside of the aperture rather than within. It is therefore generally used for feature areas such as glazed gables, oak frame porches and entrances, links between buildings, gardens rooms and sunrooms. One key difference is that it is typically only practical for non-opening windows.
Predominantly used on oak frame buildings, face glazing is the only real way to introduce crisp, clean lines into the overall look. Its evolution is traceable through the timeline of framing architecture and it is now increasingly incorporated into design as self builders and renovators are looking for better and more refined solutions when building framed houses.
Face glazing is not totally exclusive to oak frame homes. It can also be used with other timber frame houses such as Douglas fir and Idigbo, the latter of which I used on my own build, which we designed an aluminium face glazing system for.
How Does Face Glazing Work?
Prior to the development of face glazing, installing windows in oak frame buildings typically involved inserting sealed glazed units into the apertures of the structural frame. Secondary glazing beads would then be installed internally and externally around the perimeter of the glass, resulting in an unnecessary 'bulking up' of the openings. This approach not only decreases the amount of light coming into the floorplan, but also detracts from the oak frame's grace and simplicity, which is the reason why so many self builders are drawn to building with oak in the first place.
The secondary glazing beads are typically installed, usually with an application of mastic sealant. This is done in an attempt to future-proof against the movement of the green oak frame, which will always happen.
Unfortunately, it's common for the quality of the sealant or perhaps the experience of the installer to be somewhat less than fit for purpose, often causing the seal to fail, leading to water ingress. Using air-dried rather than green oak can go some way towards dealing with this problem, but it's costly, which tends to be a prohibitive factor.
Modern-day face glazing has moved away from the use of mastic sealant and instead uses state-of-the-art airtight tapes and EPDM gaskets. If done correctly, it should also incorporate hidden drainage channels across the face of the frame. The face of the frame is the most important element, and accordingly it should be planed to within a very minor tolerance across the apertures.
Once all of the planing is done and the tapes, gaskets and seals are installed, the face piece, which will be the same width dimension as the structural timber, is then screwed in and dowelled. This produces a really elegant detail with hidden fixings.
How is Face Glazing Installed?
There can a big difference between a frame's measurements before and after installation, so once the structural frame has been erected it is wise to take measurements on site. It should be the responsibility of the contractor (if you have one) to perform this role prior to ordering the glazing.
Face glazing can be installed as either double-glazed sealed units or triple glazed. We have found double glazing results in the best aesthetics. The work is normally undertaken during the cladding and window installation period.
As with any trade, you should be looking for specialists. Only employ a company that designs and installs face glazing as part of their daily business. Some oak frame companies can undertake the role in house, whereas others sub-contract the work in.
Based on my own experience, I'd say it is vital that you see a number of projects your intended contractor has undertaken and speak to some of their past clients. This should give you a good handle on how they've performed over the years.
How Much Does Face Glazing Cost?
You should budget approximately £1,000 per full-height panel of face glazing, which will generally be in the region of 2.1m-2.4m high and 0.8m-1.2m wide. Smaller apex panels will be slightly less than this, of course, but these numbers are a good rule of thumb for initial budgeting purposes
How Does Face Glazing Affect Ventilation?
More and more of us are installing mechanical ventilation with heat recovery (MVHR) systems into our projects, meaning that they require fewer of the windows to be openable. This presents a whole host of opportunities to design face glazing into the façades of a building in place of traditional opening casements.
If your project does not incorporate MVHR and will instead be reliant on natural ventilation (sometimes referred to as passive ventilation), this will place some constraints on how much face glazing you'll be able to incorporate. There is no practical way to incorporate home ventilation into face-glazing and therefore a combination of opening windows and/or trickle vents will be needed to perform this role.
You should check with your Building Regulations provider or building control and warranty provider to see what experience they have of the advantages and drawbacks of choosing face glazing rather than opening casements.
If they're au fait with the options, they may have guidance or criteria that you and your house designer should be aware of during the design and specification stages of your project.
Pete is a design expert and director of PJT Design Ltd. He has been designing self build homes for over 20 years and is a specialist in designing oak frame homes.
Homebuilding & Renovating Newsletter
Get the latest news, reviews and product advice straight to your inbox.
Thank you for signing up to Homebuilding. You will receive a verification email shortly.
There was a problem. Please refresh the page and try again.