12 Characterful Traditional-Style Homes
For those who favour traditional homes over contemporary, this gallery of beautiful projects is sure to provide plenty of inspiration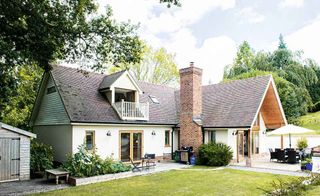 (Image credit: Jody Stewart)
Traditional buildings seem to have lost their time in the spotlight following the popularity of 'Grand Designs'-style TV shows where contemporary architecture reigns supreme. It is these more humble buildings, however, which make up the majority of the UK housing stock, and their simple nature can take many charming forms.
For those who prefer roof pitches to flat roofs, casement windows to structural glazing, and local building materials as opposed to white render and shards of glass, this selection of homes is sure to inspire.
1. A Traditional Coach House
Built to look like it's been stood for centuries, this traditional Cotswolds home has been constructed using the local stone to look like an old coach house which has been added to over the years.
Build cost: £500,000
Location: Gloucestershire
2. A Traditional Cotswolds Self Build
This traditional home has been constructed using timber frame and clad in Cotswold stone to look like a Georgian farmhouse.
Build cost: £316,000
Location: Wiltshire
3. An American-Style Home
This project in the south of England has been built using traditional methods in a Cape Cod style, complete with dormer windows, low eaves and a wrap-around veranda.
Build cost: £273,000
Location: East Sussex
4. An Arts and Crafts-Style Home
Tall chimneys, a steep roof pitch, gables and dormer windows all help to achieve the Arts and Crafts aesthetic in this new traditional-style home built by Snell David Architect.
Build cost: £800,000
Location: Cambridgeshire
5. An Energy-Efficient Cottage
Constructed in a Conservation Area and an Area of Outstanding Natural Beauty, this traditional-style cottage has been built to mirror the form and materials typical of this part of the Dales. Thanks to its ultra energy-efficient insulation materials and building techniques, the home just missed Passivhaus certification.
Build cost: £180,000
Location: County Durham
6. A Period-Style New Build
Built using brick and flint, with nods to both the Georgian and Arts and Crafts movement, this self build oozes character and looks as if it's been standing for years.
Build cost: unknown
Location: Wiltshire
7. A Traditional Timber Frame Home
This beautiful timber frame holiday home just 200 yards from the lake in the Lake District combines traditional building materials with contemporary aesthetics.
Build cost: £565,000 (incl. £35,000 for the garage and £40,000 for landscaping)
Location: Lake District
8. A Georgian-Style Home on a Budget
This Georgian-style timber frame self build with symmetrical façade and sash windows came in on a tight budget thanks to taking on elements of the project on a DIY basis.
Build cost: £145,000
Location: Worcestershire
9. A Charming Thatched Cottage
This cottage in Cambridgeshire has been built to look every bit the period home, complete with a combination of a Norfolk reed thatch roof and dutch herringbone patterned brick.
Build cost: £250,000
Location: Cambridgeshire
10. A Low-Cost Self Build
By learning the basics of a few trades, and taking on the role of project manager, the owner of this home in the Cotswolds was able to build his dream home for around half the price of the average detached home in the area.
Build cost: £135,000
Location: Wiltshire
11. Low Maintenance Home in a Pretty Rural Setting
Anne and Rob Skinner found a prime plot in west Sussex which was occupied by a pre-war bungalow that was ripe for demolition. In its place, they built a traditional-style home where energy efficiency and low maintenance were key criteria of the design.
Build cost: £418,000
Location: West Sussex
12. Flint-Clad Home on Idyllic Woodland Plot
Behind the façade of this traditional, vernacular-style self build is a highly sustainable home, built on a tight budget. Costs were kept low by homeowner Geoffrey and his family undertaking all the decoration, painting the kitchen cabinets, insulating the loft and fitting out the garage.
Build cost: £140,000
Location: Norfolk
Homebuilding & Renovating Newsletter
Get the latest news, expert advice and product inspiration straight to your inbox.
Thank you for signing up to Homebuilding. You will receive a verification email shortly.
There was a problem. Please refresh the page and try again.