20 Characterful Traditional-Style Homes
By Amy Reeves published
For those who favour traditional homes, this gallery of beautiful projects is sure to provide plenty of inspiration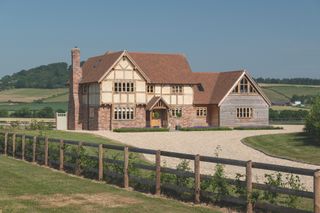 (Image credit: Jeremy Phillips)
Offering a glimpse into the past but with the efficiencies and conveniences of modern homes, traditional-style self-builds pack just as much punch as their more contemporary counterparts.
From graceful roof pitches and sash windows to a beautiful heritage brick, designing a home in a period style can be incredibly tricky to get right, but when it is done well they can stand proud among the most beautiful buildings in the UK.
Take a look below at some inspiration new builds that look like that have stood for centuries.
1. A Brick and Flint Home Built for £150K
This charming home was inspired by the barns of Norfolk, with beautiful flint and brick elevations and generous proportions.
Build cost: £150,000
Location: Hampshire
2. An Oak Home with Modern Interior
This self-build was born from the design for it's homeowners to live in a cottage with character but without the low ceilings and dark rooms. Traditional materials, in particular oak and exterior brick, clad a more contemporary interior layout.
(MORE: Reclaimed Bricks)
Build cost: £300,000
Location: Kent
3. A Self-built Farmhouse
This new farmhouse pays homage to the original property which once stood on the plot. Handmade, red Cheshire bricks are softened by locally-inspired inky-grey timber windows fitted with brick arch lintels, inspired by a design seen throughout the local area.
Build cost: £555,000
Location: Cheshire
4. A New England-style Home
Inspired by homes across the pond, this home features an elegant eyebrow dormer window and interesting roof lines, of which the proportions were essential to get right.
Build cost: £1million
Location: Hampshire
5. A Traditional Cottage Reborn
The charming traditional exterior of this house has been achieved by a combining a dwarf brick wall with timber cladding and a creamy through-coloured render, as well as clay roof tiles. The dormer windows and oak framed porch further add to the character of the new house.
Build cost: £465,000
Location: Undisclosed
6. A Georgian-inspired Beach House
This classic design nods to both Georgian architecture as well as classic beachside homes in the Hamptons through beautiful sash windows that frame the sea beyond.
Build cost: £650,000
Location: Cornwall
7. A Period-inspired Oak Home
This home's exterior features a cream-coloured render as a gentle nod to nearby Tudor houses. Attention to detail, such as the decorative edges on the roof gables' bargeboard, set this characterful home apart from the rest.
(MORE: House Rendering)
8. A New Manor House
This home was adapted from Border Oak (opens in new tab)'s 'off-the-shelf' manor house designs, with a weatherboarded 'annexe' which is used for the house's office and utility spaces. The main house is more traditional in appearance, using a characterful exposed oak frame with lime rendered infill panels and a brick-clad ground floor.
9. A Traditional Coach House
Built to look like it's been stood for centuries, this traditional Cotswolds home has been constructed using the local stone to look like an old coach house which has been added to over the years.
Build cost: £500,000
Location: Gloucestershire
10. A Traditional Cotswolds Self Build
This traditional home has been constructed using timber frame and clad in Cotswold stone to look like a Georgian farmhouse.
Build cost: £316,000
Location: Wiltshire
11. An American-Style Home
This project in the south of England has been built using traditional methods in a Cape Cod style, complete with dormer windows, low eaves and a wrap-around veranda.
Build cost: £273,000
Location: East Sussex
12. An Arts and Crafts-Style Home
Tall chimneys, a steep roof pitch, gables and dormer windows all help to achieve the Arts and Crafts aesthetic in this new traditional-style home built by Snell David Architect.
Build cost: £800,000
Location: Cambridgeshire
13. An Energy-Efficient Cottage
Constructed in a Conservation Area and an Area of Outstanding Natural Beauty, this traditional-style cottage has been built to mirror the form and materials typical of this part of the Dales. Thanks to its ultra energy-efficient insulation materials and building techniques, the home just missed Passivhaus certification.
Build cost: £180,000
Location: County Durham
14. A Period-Style New Build
Built using brick and flint, with nods to both the Georgian and Arts and Crafts movement, this self build oozes character and looks as if it's been standing for years.
Build cost: unknown
Location: Wiltshire
15. A Traditional Timber Frame Home
This beautiful timber frame holiday home just 200 yards from the lake in the Lake District combines traditional building materials with contemporary aesthetics.
Build cost: £565,000 (incl. £35,000 for the garage and £40,000 for landscaping)
Location: Lake District
16. A Georgian-Style Home on a Budget
This Georgian-style timber frame self build with symmetrical façade and sash windows came in on a tight budget thanks to taking on elements of the project on a DIY basis.
Build cost: £145,000
Location: Worcestershire
17. A Charming Thatched Cottage
This cottage in Cambridgeshire has been built to look every bit the period home, complete with a combination of a Norfolk reed thatch roof and dutch herringbone patterned brick.
Build cost: £250,000
Location: Cambridgeshire
18. A Low-Cost Self Build
By learning the basics of a few trades, and taking on the role of project manager, the owner of this home in the Cotswolds was able to build his dream home for around half the price of the average detached home in the area.
(MORE: Could Your Project Manage Your Building Project?)
Build cost: £135,000
Location: Wiltshire
19. Low Maintenance Home in a Pretty Rural Setting
Anne and Rob Skinner found a prime plot in west Sussex which was occupied by a pre-war bungalow that was ripe for demolition. In its place, they built a traditional-style home where energy efficiency and low maintenance were key criteria of the design.
Build cost: £418,000
Location: West Sussex
20. Flint-Clad Home on Idyllic Woodland Plot
Behind the façade of this traditional, vernacular-style self build is a highly sustainable home, built on a tight budget. Costs were kept low by homeowner Geoffrey and his family undertaking all the decoration, painting the kitchen cabinets, insulating the loft and fitting out the garage.
Build cost: £140,000
Location: Norfolk
Assistant Editor Amy began working for Homebuilding & Renovating in 2018. She has an interest in sustainable building methods and always has her eye on the latest design ideas. Amy has interviewed countless self builders, renovators and extenders about their experiences for Homebuilding & Renovating magazine. She is currently renovating a mid-century home, together with her partner, on a DIY basis, and has recently fitted her own kitchen.
Homebuilding & Renovating Newsletter
Get the latest news, reviews and product advice straight to your inbox.
Thank you for signing up to Homebuilding. You will receive a verification email shortly.
There was a problem. Please refresh the page and try again.