Cladding Ideas: Brilliant Designs for a Wow-Factor Finish
By Amy Reeves published
Draw inspiration from these great cladding ideas — suited to all sizes and style of properties. From timber and contemporary brick to metal and stone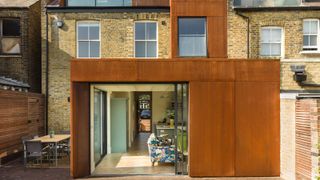 (Image credit: Simon Maxwell)
Choosing the right cladding ideas for your self build, extension or exterior makeover will be a key element in your project, and have a major impact on the overall look of your home.
Essential to get right from the very beginning, the decision of house cladding type will likely be a condition of gaining planning permission for self builds and larger extensions. Researching the different types and how they may be applied and adapted to suit individual tastes will help you achieve the home of your dreams that also fits in with the surrounding areas.
We've selected projects which showcase cladding ideas to give inspiration of what is possible.
What to Look for in Cladding Ideas
No matter what the project may be, most homeowners have an idea of how they would like their home to look from the outside. "However, your choice will also be influenced by materials used in local vernacular, and you'll need to demonstrate to the local planning authority that you've taken this into account," says editor of Homebuilding & Renovating, Claire Lloyd.
Look at surrounding areas to see what new projects have been approved and what style of cladding has been utilised. Also, be diligent to observe any local details that are repeated in older buildings — could these motifs or materials be incorporated into a new design?
"Cladding plays a very important role in how the envelope can really lift the host building, and how it relates to, and is a part of, its local environment — now and over time," explains Daryl Fitzgerald, director at Atelier Ochre. "We believe the best cladding is made from natural materials that exemplifies the architecture and will have a long lived discussion with its neighbours."
1. Create a Natural Look with Wood Cladding
Using timber cladding has been a long tradition in this country, but modern designs are experimenting with the material more than ever before.
"Scandic-style slatted wood cladding, which has been one of the hottest interior trends this year, can also be used on the exterior of a home too to add texture and dimension," advises Lisa Grosse, brand manager at Cedral. "It's great for those who don't want to fully update the exterior of their property as slat walls can work as accents or half walls, breaking up solid colour and changing up the way it looks without straining the budget."
This striking extension to a listed barn conversion, designed by Adam Knibb Architects, was clad in oak slats hung vertically. Horizontal accents to the left of the sliding door and protruding sections around the picture window complement the design.
2. Complement Tradition with Stone Cladding
Stone cladding can bring a real character to a project, as well as warmth. Think about the charming yellows in the Cotswolds and the visually delightful dry stone designs of the Lake District.
This extension to a traditional cottage was clad in cropped Cotswolds stone to embed the building comfortably within its surroundings while presenting a modern aesthetic when accompanied by the large sliding glass doors.
3. Find Alternatives for Cheaper Cladding Options
If the house cladding cost is pushing the limits of your budget, uPVC cladding is generally considered the most cost-effective option.
Untreated softwood weatherboarding is also fairly cost-effective, but does require treating and painting to create a good quality finish and to ensure it's suitable to withstand the elements.
This stunning coastal home was once a red-brick bungalow. One timber frame extension later and the house is unrecognisable — clad in white painted solid timber.
"One of the biggest trends over the past 12 months has been an interest in shiplap sidings, a New England style of wall cladding characterised by long planks, normally in white, that are mounted horizontally to evoke exterior ship walls," says Lisa Grosse.
4. Look at Interesting Modern Metal Materials
Cladding alternatives, such as metal, are being seen more and more in contemporary, and even some traditional-style, projects.
"Metal cladding is often made from and can be recycled into other materials," explains Atelier Ochre's Daryl Fitzgerald. "It is suitable in some of the harshest conditions and perfect for building envelopes, but one of its most appealing traits is its ageing process and the patina that forms over time.
"In Bronze House [pictured], the [copper] cladding's colour deepened and lost its initial shine to complement the brickwork."
5. Opt for Contemporary Tile Hanging
This centuries-old traditional cladding style is a wonderful option with more than meets the eye. Often used to clad the upper storey of a building, modern architects and homeowners are choosing to clad an entire house with the material for texture and visual interest.
in some areas of the UK, tile hanging can also be a requirement of gaining planning permission (traditionally clay in the South East and slate further north).
In this project, the vertically hung slates on the side of the extension are Grade A Spanish (which were an approved substitute for Welsh slate), while the pale render was manipulated on site to give a traditional stone appearance and finished in masonry paint.
6. Mix and Match Cladding Ideas
While brick houses tend to be seen as the traditional option, as they are favoured not just by self builders and extenders but also by developers, when careful detailing is applied or another cladding material accompanies they can produce extraordinarily interesting designs.
In particular, timber cladding ideas, when mixed with brick can evoke the styles of barns and other vernacular buildings. Brick and flint is also a popular combination.
The silvering cladding (Kebony, a modified softwood) helps this new build recede into the surrounding beech and oak trees while the traditional blockwork construction system lent itself to the brick cladding on the ground floor.
7. Experiment with Zinc Cladding on an Extension
"One of the beauties of zinc is the sheer array of colour and finishes it is available in," says homes journalist Rebecca Foster.
"It's worth spending plenty of time discussing the options with your architect and supplier during the design phase of your project. Natural zinc, for instance features a shiny, metallic surface that develops a patina over time. However, pre-patinated products provide a smooth, matt surface."
Red cedar and zinc cladding were paired together to finish this extension to a barn conversion. The homeowner remembers: "I found we really liked the combination of the stone with zinc and warm wood so when we started on the design with Tim (of Tim Offer Architects) we spoke about the materials we waned. It's different, but it blends really well with the old barn."
8. Choose a Modern Fibre Cement Cladding
"One of the trends we are seeing now is towards more natural products with homeowners increasingly thinking about the environmental impact of the products they use," explains Lisa Grosse at Cedral. "Fibre cement uses fewer raw materials and less energy in its manufacture, produces less waste than some traditional building materials and is fully recyclable.
"It's a strong, versatile and sustainable material containing cement and fibres which comes in a variety of textures and colours. Fibre cement doesn't rot, rust, warp or crack under extreme temperature change and has a minimum life expectancy of 50 years.
"Compared to uPVC façade cladding, fibre cement does not expand in heat and is not affected by weather conditions like wood. Fibre cement cladding has an excellent fire performance classification of A2-s1, d0, unlike wood. It is also easy to install and needs minimal maintenance and it is possible to add an insulation layer with the cladding to improve the thermal and acoustic insulation of a building."
9. Choose the Right Render
House rendering is a great option for updating a dated brick exterior or for a period house which needs a breathable exterior covering (choose lime renders in this instance).
Render comes in a variety of colours, not just the stark white you often see paired with anthracite windows. Choose a monocouche or through-coloured render, which does not need re-painting, for a low-maintenance cladding option.
A soft, creamy render was applied to this self build cottage by Border Oak to enhance its quintessentially English charm.
What is the Best Material for Cladding?
"Each material has its own nuances and methods of installation, and deciding on the most suitable material can often be difficult," explains Daryl Fitzgerald, director at Atelier Ochre.
"Different materials require different details and build ups and can cause many other knock on effects, so it's best to narrow down the search early on. Accepting and working with a particular material's limitations can often bring out great results — so best to embrace it!"
Assistant Editor Amy began working for Homebuilding & Renovating in 2018. She has an interest in sustainable building methods and always has her eye on the latest design ideas. Amy has interviewed countless self builders, renovators and extenders about their experiences for Homebuilding & Renovating magazine. She is currently renovating a mid-century home, together with her partner, on a DIY basis, and has recently fitted her own kitchen.
Homebuilding & Renovating Newsletter
Get the latest news, reviews and product advice straight to your inbox.
Thank you for signing up to Homebuilding. You will receive a verification email shortly.
There was a problem. Please refresh the page and try again.