Oak Frame Interiors: 17 Stylish Ideas for Every Room
By Amy Reeves published
From bedrooms to kitchens, making the most of your oak frame interior can be difficult. These wonderfully varied projects can help inspire you to create the perfect home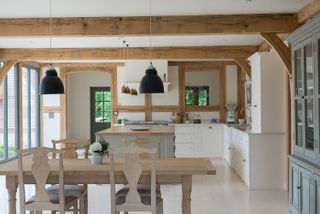 (Image credit: Jeremy Phillips)
There's lots to consider when designing the interiors for your new oak framed space. Unlike typical houses, the structure of the building doesn't just keep your things dry, the oak frame plays a part in the overall character of the interior spaces too.
Early on in the design of an oak framed room it can be advantageous to imagine and plan out the spaces to decide how much of the oak frame to leave exposed. Many of those who prefer a contemporary style choose less wood in open spaces while more traditional tastes might prefer to pay homage to cosy and comfortable rooms.
We've gathered some amazing oak framed projects which illustrate how to create an interesting and charming new home interior.
(MORE: Get a quote for your oak frame project)
1. Going Broken Plan in Oak Frame
A mix between modern open plan living and traditionally separated rooms, broken plan works particularly well in oak frame interiors.
This single-storey home (design by Border Oak) has an easy flow through the house, utilising wide doorways and the same flooring throughout, but the exposed oak serves to demarcate the different spaces.
2. Blending Traditional Charm and Modern Styles
When building an oak frame extension or entirely new home it can be tempting to go over to top on the must-haves in a characterful home. A woodburning stove, varied ceiling heights, stone flooring, the list can go on.
However, take the time to balance contemporary features – such as an expanse of glazing or a view to a contemporary kitchen (as above) – to avoid ending with an overly twee interior.
3. Vaulted Ceilings in Bedrooms
This barn conversion beautifully incorporates a partially-glazed gable in the bedroom to make the most of the vaulted ceiling, without sacrificing privacy while a dressing area (pictured below) was forged using the original structure. The oak frame shines against pared-back decoration and is given the attention it deserves.
4. Recreating Traditional Interiors in a New Home
A grand entryway leading to a statement staircase and bridge landing is a sure-fire way to recapture the essence of traditional oak manor homes we have grown to love.
5. Make the Most of the Frame for an Unique Children's Bedroom
Don't be afraid to personalise the space when designing the interiors of children's rooms; add hooks for coats, lighting, or even, as in this Oakwrights home, a swing.
6. Designating and Designing Useful Spaces
Whether its a utility room, boot room, a mixture of the two, or just a hardy spot with built-in furniture, all homes need a place which can take wet weather transitions from outside to in.
This hallway oozes cosiness with the darker, panelled walls before leading into the open, calmer rooms in the house while a practical bench with coat hooks above keep the space functional as well as characterful.
7. Mixing Contemporary Appliances with Traditional Units for a Modern Country Kitchen
Oak frame kitchens and shaker-style units go hand in hand, but if you aren't looking for a traditional 'country' style interior, keeping mod cons – like wine coolers, fridge-freezers and dishwashers – on show rather than integrating can help to modernise a classic kitchen.
8. Mix and Match Materials for a Cosy Home
The exposed brick stairwell leading to an oak-framed bridge mezzanine works hard to create a cool, yet comfortable environment in this home, inviting a variation in texture and stimulating visual interest.
9. Making the Most of Double-height Spaces in Oak Frame Interiors
Chandeliers – both modern and traditional – work wonderfully in double-height spaces which can otherwise feel a little lost. This period-style new build by Welsh Oak Frame creates added drama by layering lighting throughout the bridge landing.
10. Utilise Contemporary Interior Design for a Pleasant Contrast
This oak home incorporates bold, dark walls to distinguish the sleeping spaces while an internal window into the guest room – with hidden curtains – means the hallway still feels light and open.
The master suite at the back creates a fantastic feature wall by showcasing the oak structure behind the bed.
11. Use the Frame to Zone Interior Spaces
The structural oak posts were incorporated into the interior design of this kitchen/dining/living space.
By visually separating the large area, it give the illusion of feeling more comfortable and homely, rather than creating a vacuum or void that some open plan space struggle with.
12. Getting the Essentials Right in Open-Plan Spaces
This contemporary kitchen is open to the rest of the ground floor but the savvy homeowners designed a utility room using their old cooker through the door to the right so they could cook strong smelling food and the like without permeating the rest of the house.
13. Separating Spaces in Modern Oak Frame Interior Layouts
While open plan living has been somewhat of an essential for the last couple of years, many self-builders are still opting for a separate snug or living room.
Big or small, a place to get away and snuggle up with a good cup of tea and a film, closed off from communal areas, is a must for a successful modern oak interior.
14. Stock Up on Kitchen Favourites with a Pantry or Larder
Designing a space where tins, appliances and bags can be stored (and, importantly, shut away) is a great helper in open-plan kitchens where there is nowhere to hide.
This kitchen integrates the walk-in pantry by using the oak to create a pseudo-entrance to frame the handy space.
15. Getting the Kitchen Design Right for a Modern Home
This kitchen flawless integrates the elegance of modern kitchen design with classic staples of a country kitchen. A internal picture window and pendant lights keeps the spaces contemporary and connected while a freestanding dresser, an AGA and large, farmhouse table all do their part to introduce character. Top marks from us!
16. Achieving Cost-effective Interiors with Wow-factor
The original structure of this barn conversion was left exposed to retain a sense of the building's history while the builders cut star shapes into the MDF balustrade for a low-cost yet unique finish.
17. Make the Most of Views with Oak Frame
Who needs wallpaper when you have glass! This oak extension utilised vast amounts of glazing in their new living area so the interior spaces feel light and bright, as well as capitalising on picture-perfect views.
Assistant Editor Amy began working for Homebuilding & Renovating in 2018. She has an interest in sustainable building methods and always has her eye on the latest design ideas. Amy has interviewed countless self builders, renovators and extenders about their experiences for Homebuilding & Renovating magazine. She is currently renovating a mid-century home, together with her partner, on a DIY basis, and has recently fitted her own kitchen.
Homebuilding & Renovating Newsletter
Get the latest news, reviews and product advice straight to your inbox.
Thank you for signing up to Homebuilding. You will receive a verification email shortly.
There was a problem. Please refresh the page and try again.