Oak Frame Conservatories: A Complete Guide
By Rebecca Foster published
Oak frame conservatories will invite natural light and garden views into your home. Read on to discover everything you need to know from the rules and regulations to designs and costs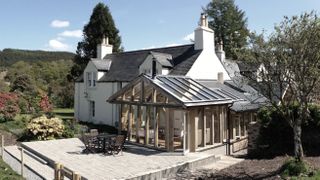 (Image credit: Carpenter Oak)
Oak frame conservatories look modern and stylish and make will a wonderful extension to your home. If you are looking to extend with an oak frame conservatory you will want to consider your different options and find out what works for you.
An oak conservatory, orangery or garden room all make excellent choices.
(MORE: Building an Extension)
What is an Oak Frame Conservatory?
There are several options for oak frame conservatories and glazed extensions that will add a sun-soaked room to your home, but there are some key design differences that make each type distinct. One of the most important factors is the roof.
A Conservatory:
To be considered a conservatory, at least two thirds of the roof must be made from glass or translucent plastic. Plus, at least 50% of the wall area must be made from translucent material too.
An Orangery:
An orangery typically features a flat (or sometimes mansard) roof with a glazed lantern that allows sunshine to stream in. "This type of structure originated in Italy in the 17th century to house tropical plants and fruits. It's designed with luxury in mind," says Gareth Edmunds, director of Welsh Oak Frame. Typically, orangeries have windows rather than fully glazed walls.
A Garden Room:
Garden rooms generally feature a solid roof topped with tiles. "It's like an extension built with materials that complement the architecture of the existing house," says Gareth. Like an orangery, there will be large windows or glazed walls to invite natural light in. Another common feature is a high roofline with a dramatic glazed gable.
(MORE: Get a professional quote for your oak frame project here)
Do I Need Planning Permission to Add an Oak Frame Conservatory?
Whether you're building an oak conservatory, orangery or garden room, the project falls under the same set of planning rules as any other home extension.
Providing you meet the stipulations laid out under Permitted Development (PD) rights, you may not need to apply for formal planning permission – though it's always worth obtaining a lawful development certificate for peace of mind.
Some of the rules are as follows, though the full set can be found at planningportal.co.uk
Single-storey rear extensions cannot extend beyond the rear wall of the original house by more than 4m for a detached house or more than 3m for a semi-detached/terraced house
Single-storey extensions should not be greater than 4m in height
The oak extension/conservatory should cover no more than half the area of land around the original house
How Much Does an Oak Frame Conservatory Cost?
As a minimum, expect to budget between £30,000 and £40,000 for your scheme. As with any project, that figure will vary depending on the size, specification and detailing of your conservatory.
"A realistic cost for a 20m2 oak frame conservatory would be £2,500 per m2 (+VAT)," says James Underwood, a regional design consultant at Oakwrights. "This will deliver an above average build. It's worth bearing in mind, too, that this average cost will fall with larger builds as the computer design and CNC machining costs are spread over a larger footprint."
Oak Frame Conservatory Design Ideas
There's a plethora of designs to choose from, whether you want to harmonise with the style of the original house or build something contrasting.
There are plenty of options for the shape of the extension – so you don't have to go with a square, box-like profile, especially if you're keen to incorporate panoramic garden views.
"Roof options include a pitched tiled roof, mansard roof, glazed pitch roof or a mansard roof with lantern," says Gareth. Depending on the aesthetic you want to create, you may be able to combine more than one roofing style.
(MORE: How to Choose Rooflights)
How Big Should My Oak Frame Conservatory Be?
An oak frame comprises of a structural skeleton that's visible from inside and out. The structure is typically erected in boxlike sections known as bays, each of which will be around 4.5m wide.
There is no limit to the number of bays you can have in an extension, though to be classed as a conservatory (for Building Regulations) the structure needs to adhere to specific guidelines on size.
The oak supports its own weight, so getting this part of the build right requires careful calculation from an experienced framer. Depending on the style of roof chosen, it's possible to create clear spans of 8-9m without incorporating a support post in the centre.
The Pros and Cons of Oak Frame Conservatories
Top Tip
If you live in a traditional home, the use of oak can be more extensive and more structural components can be left bare. Alternatively, modern homeowners can opt for oak beams that are flush to the wall
Pros:
Most sunroom extensions guarantee an abundance of natural light, as well as an improved connection to the outdoors
Thanks to its warm natural tones, plus the distinctive splits and shakes of the timber, oak adds oodles of character.
Oak provides a more sustainable route to adding a conservatory, too, providing the timber is sourced from an FSC-certified forest.
This enhanced durability ensures an oak conservatory will offer an impressive service life (hundreds of years, or more) compared to some other materials like PVCu conservatories which typically last around 30 years
The superior thermal performance of timber (compared to plastic or aluminium) is an extra benefit
Cons:
On oak conservatory costs more than a PVCu one – though this needs to be weighed up against how much longer a sturdy, timber structure is likely to last than something built in plastic
Oak's ability to weather to a natural silvery hue is one of the material's main appeals. However, if you want to retain the original colour of the timber annual maintenance is required, which might be too much for some
If you're building a garden room that connects to an open-plan kitchen-diner, extra care might be required for internal oak surfaces. Water splashing can cause stains so you might need to apply an oil-based sealant to provide some protection
Potential oak frame complications can be avoided if you spend plenty of time finalising the design details at the beginning of the scheme. For example, lighting design needs to be factored in early on, especially if your sunroom features a vaulted ceiling
An oak frame extension might not be suitable if there are any potential access restrictions to your site. However, most oak framers should be able to get round any issues by using a smaller vehicle to transport the frame or specialist smaller lifting equipment
The Build Process
The frame is fabricated off site in your supplier's workshop while preparatory groundworks (including the construction of any plinth walls) are carried out on site.
"More often than not our clients use their own contractors to carry out groundworks, tiling and other parts of a project that require general building work," says Serena Andrews from Oakmasters.
"We manufacture the oak components exactly to the agreed design and specification and deliver them to site just after the groundworks have been completed."
Can I Build an Oak Conservatory Myself?
Constructing an oak conservatory on a DIY basis is not beyond the realms of possibility for an extremely competent DIYer. "If you require an oak conservatory and have your own building capabilities or contractors, we can supply our products in kit form," says Oakmasters' Serena.
In this scenario, the components will be pre-constructed in the supplier's workshop and numbered. When delivered, they will arrive with an assembly plan for how the frame should be erected.
(MORE: DIY jobs that are best left to the professionals)
Oak Frame Conservatory Suppliers
There's a wealth of suppliers to choose from, whether you want to buy your oak frame in kit form or have the structural skeleton designed to your bespoke specifications and erected by the supplier's team.
Most companies have a portfolio of standard designs and finishes to choose from – ideal if you're working with a tighter budget. At the other end of the scale, you might choose to work with a company's in-house designer to create a completely bespoke extension.
Many package companies offer an additional suite of services, too, including the planning, construction and finishing elements of the build. Most will be able to provide a list of contractors they have worked with for other parts of the build, such as groundworks.
How is an Oak Conservatory Glazed?
Most UK suppliers use green oak to fabricate structural components as it's easier to work with than seasoned timber. Movement and splitting are a natural part of the process as the wood loses its moisture content and shrinks over time.
Face glazing offers a solution that allows for the natural movement of the frame. Glass is applied to the exterior face of the oak frame to create a weathertight seal.
"This method ensures that any movement in the frame doesn't disrupt the seal between the glass unit and the oak frame itself," says George Allen, a regional design consultant at Oakwrights.
Building Regulations and Oak Frame Conservatories
Remember...
If you live in a designated zone such as a Conservation Area, Permitted Development rights do not apply and you will need to obtain planning consent from your local authority
In general, conservatories and orangeries are exempt from a lot of the more complex Building Regulations providing they fall into a certain set of criteria:
The structure should be at least 2m from any boundary and have an internal footprint less than 30m2
It should have its own independent heating system
It should be separated from the original house by external walls, windows and/or doors
However, you will need Building Control approval to form a new structural opening between the existing house the new conservatory. Plus, it's worth bearing in mind that most conservatories are built using PVCu, which forms a much lighter structure overall.
"Structural oak frames are much heavier so you need to consider proper footings and therefore, from that point alone, Building Control will be involved," says Imogen from Made In Oak. Garden rooms with solid roofs are likely to require Building Regs, too.
5 Key Considerations When Costing Up Your Project
1. Typically, the more oak you incorporate into the design, the more the project will cost. Therefore, it's important to work with a specialist oak frame designer to keep costs down.
2. Design complexity is one of the main factors likely to drive up costs, so try not to set your heart on wow-factor features like glazed gables and exposed oak rafters before doing your sums.
3. Mixing in softwood elements internally is one clever way to cut down on costs. Try to keep the floorplan simple, too, as a straightforward rectangular shape will cost less to build.
4. Other elements such as ground conditions for the footings and the roof tiles you use will impact costs
5. Think and plan out your heating and glazing systems as they will all impact on the final outlay. "Measure the area you think you have available and contact a few oak framing companies to see if they can give an indication on price." says Imogen from Made in Oak.
Heating an Oak Framed Conservatory
Why we love them...
Advances in insulation and glass technology mean the conservatory can be used all year round - a huge plus point
"In warmer months, solar gain can be used to heat the space – though you'd have to ensure the specification of the glazing is suitable," says Fergus Stuart, a design and project consultant at at Carpenter Oak. "Given the extent of glazing in a conservatory, radiators are not typically viable. Underfloor heating may be a better solution."
Electric panel heaters or portable electric heaters offer another route to warming the space, however, running costs can be higher. To transform your heating solution into a focal feature, log burning stoves offer a potential alternative to heat the space.
Another option would be to extend your central heating system into your conservatory, though this job would need to adhere to Building Regulations and therefore, you'd need to consult your council's Building Control department.
How to Keep a Conservatory Cool in the Summer
Broad expanses of glazing invite an abundance of natural light and warmth. There are numerous ways to ensure your conservatory doesn't overheat during the warmer months.
The first strategy is ventilation: air trapped within a conservatory is a swift route to a sweltering space, so incorporate opening windows and doors. Roof vents or trickle ventilators in windows are also a good idea.
If you know the orientation of your conservatory is likely to contribute to overheating, opting for a design with a solid roof (like a garden room) might be better. Alternatively, you might incorporate windows, blinds, awnings and overhead sails to prevent direct sunlight from streaming in all day long.
What Other Woods are Available?
The UK's preference for building in oak has endured since Tudor times. However, other timbers such as larch, Douglas fir or glulam (glued laminated timber) can be used to create the same framed aesthetic.
"Freshly sawn Douglas fir or larch have a lower moisture content than green oak, and typically dry quicker," says Fergus from Carpenter Oak. "While they provide a more stable material to glaze against initially, the movement in the timber is still an important factor in the glazing system that's adopted. Glulam is a very stable material and opens up scope for a wider range of glazing systems."
Other hardwood options include tropical hardwoods - however, bear in mind that sourcing materials locally is likely to be cheaper and lower on embodied energy, giving home-grown oak the edge in terms of sustainability.
How to Maintain Your Oak Frame Conservatory
"The primary need is to keep gutters and downpipes unblocked to prevent water or dampness from penetrating the building's envelope," says Serena Andrews from Oakmasters.
Oak's natural tannins protect it from moisture and insect damage, making the wood itself virtually maintenance-free. The timber will naturally weather to an attractive silvery hue over time. If you want to retain the original hue of the oak, it needs to be treated and sealed before it's exposed to wind or rain. The finish will need to be re-applied every year or so as it is worn away by the elements.
How Long Will it Last?
Thanks to the robust nature of oak, structures built from this material can stand for hundreds of years. The architectural detailing of the frame is essential to ensure its longevity, as is effective maintenance of the timber. Providing these requirements are met, an oak frame conservatory can last as long as an oak frame house.
Rebecca is an experienced homes and interiors writer with a passion for Victorian architecture. Her dream is to extend an 1800s house
Homebuilding & Renovating Newsletter
Get the latest news, reviews and product advice straight to your inbox.
Thank you for signing up to Homebuilding. You will receive a verification email shortly.
There was a problem. Please refresh the page and try again.