10 Stylish Contemporary Oak Frame Homes
By Amy Reeves published
Contemporary oak frame builds can be endlessly charming but a difficult balancing act — take a look at some amazing projects for inspiration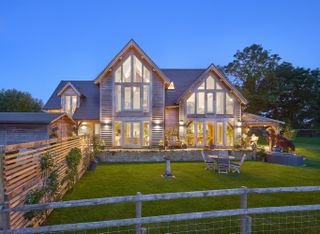 (Image credit: Mark Welsh c/o Oakwrights)
Contemporary oak framed homes offer the best of both worlds when it comes to self build projects — the unparalleled sense of timelessness and elegance that oak provides as well as an opportunity to cater for modern tastes and a busy lifestyle.
The last decade or so has seen a huge spike in interest in combining the latest mod-cons and styles with this inherently comforting structure: modern rustic interiors with lime-washed timbers; a bold, colourful kitchen with country-inspired fixtures; and cosy living rooms with both a warming stove and a place to catch up on a good series.
Oak frame is no longer limited to cramped cottages or draughty farmhouses, and, given the right consideration, become a stunning, contemporary feature in its own right. Scroll down for loads of great design inspiration for your contemporary oak frame project.
Want to build your own oak frame home? Answer a few quick questions about your project and get a tailored quote here (opens in new tab).
1. A Contemporary Curved Oak House
The rear elevation of this striking curved house is virtually all glass which, when paired with the open-plan (opens in new tab) interior layout, draws in plenty of light into the long floorplan.
The oak frame was supplied by Carpenter Oak (opens in new tab) while architects Batterham Matthews Design worked to complement the modern form with a traditional exposed structure and natural stone to the exterior.
2. A Modern Suburban Dream Home
Although fairly modest from the front (as to fit in with the residential setting of 1930s designs), this oak home works hard to deliver modern wow-factor with the glazed gable to the rear.
A reduction of the exposed oak is a characteristic of Oakwrights (opens in new tab)' more contemporary designs, a feature which works wonderfully with a kitchen that breaks the mould of 'country'-style interiors (below).
3. An Oak Home with Futuristic Design
This home was the first of its kind to achieve Passivhaus certification in the UK. As a result of keen awareness of airtightness levels, matched by Oakwrights' own highly insulated encapsulation system, this modern home benefits from modern renewable technologies, as well as a charming oak frame.
4. A Home which Connects to the Outside
Border Oak designed this L-shaped home so the homeowners could walk straight from the kitchen to the patio outside. The three banks of bifolding doors (opens in new tab) also provide the illusion of the outside becoming a part of the house when stacked.
5. Modern Spaces in a Traditional Home
Although fairly traditional from the outside, this Oakwrights (opens in new tab) home ensures that the interiors illustrate the very best in modern technology.
The dining hall is sleek with cutting-edge designs using natural materials – such as the glass balustrade and slate-clad fireplace – while the kitchen is full of high-spec, luxury appliances (below).
6. Reinventing the Cottage: a Modern Take on Traditional Styles
After being told their would-be renovation of an old cottage was undermined by surveys which condemned the structure, the homeowners of this Oakwrights build were asked by their planning department to keep the size of their replacement house fairly small and to retain the individuality of the original black cottage.
The result is a contemporary take on the traditional style, using black timber cladding (opens in new tab) and large sliding glass doors to the back of the house (below) to create a contemporary feel.
7. Going All Out with Glazing
Where planning permission (opens in new tab) restrictions kept the front of this house relatively traditional, the homeowners were keen to maximise their amazing views across the countryside by designing three giant glazed gables at the back of their Oakwrights house.
8. A New Kind of Farmhouse
Playing with traditional forms and materials meant that Border Oak could design an amazing new take on the modern rustic aesthetic for this house. A series of barns (built using a sustainable fabric first route) are connected using large swathes of glazing.
9. An Oak Home with Contemporary Interior Style
The homeowners of this Border Oak barn extension were keen to ensure a demarcation between the old and new spaces was clear.
The exposed oak beams wonderfully warm the pared-back spaces while newer materials (such as the polished concrete (opens in new tab) floor) keep the space firmly rooted in the present day.
10. Contemporary Home Built with Traditional Techniques
Roderick James Architects (opens in new tab) designed this stand-out oak-frame home using a green oak structure. The twin vaulted wings are finished with large panels of glass either side of the glazed link to create an unforgettable finish.
Assistant Editor Amy began working for Homebuilding & Renovating in 2018. She has an interest in sustainable building methods and always has her eye on the latest design ideas. Amy has interviewed countless self builders, renovators and extenders about their experiences for Homebuilding & Renovating magazine. She is currently renovating a mid-century home, together with her partner, on a DIY basis, and has recently fitted her own kitchen.
Homebuilding & Renovating Newsletter
Get the latest news, reviews and product advice straight to your inbox.
Thank you for signing up to Homebuilding. You will receive a verification email shortly.
There was a problem. Please refresh the page and try again.