13 Brilliant Ways to Save on Your Build Costs
Homebuilding & Renovating experts reveal how to cut your build costs when taking on a self build or renovation project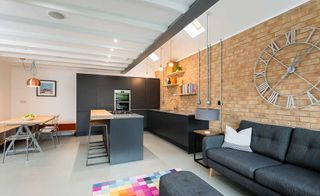 (Image credit: Jeremy Phillips)
Nobody wants to pay more than necessary to build, renovate or extend their own home, and most will be undertaking these projects on a tight budget.
Here are some great expert tips from the world of Homebuilding & Renovating to help you keep your costs under control, and ensure that you are getting the best value for money, throughout your project without compromising on quality.
1. Decide on Your Budget from the Start
Determine your budget as soon as possible and clearly communicate this to your architect or designer. Your designer should have years of experience designing and building projects to a budget. Take advantage of this and make it part of the design process early on.
Robert Bednar, Research + Design
2. Choose a Simple Design
Build simple shapes. The more complex a building is, the more it will cost to build and the more it will cost to run.
Every time you introduce a corner in an external wall you slow down the building process. Each time you introduce a valley or a hip, the costs of the roof timbers rise and the labour timescale is extended.
If you want to save on your build costs, avoid overcomplicated shapes.
David Snell, serial self builder
3. Stick to the Plan
While building is not an absolute, a good design delivered with integrity will save both time and money. What you specify is critical to costing and delivering. If you keep changing your mind along the way then expect additional costs.
Ian Watson, project coordinator, D&M Homes
4. DIY Where You Can
If you can, carry out small tasks. One way of saving money is to ask your trades what chases and other works are required to save them doing these low skilled tasks. They are usually quite appreciative of this and will guide you through what they need undertaking before the next site visit. This way they can get straight into doing what they are trained to do.
Tidying up the site following trades can be another way of saving on build costs.
Jonathan Durndell, chartered building surveyor, Milton Keynes Architectural
5. Be Creative with Inexpensive Materials
Think creatively about cheap materials. Can you use plywoods, OSB (oriented strand board) or rough sawn softwood instead of expensive hardwoods? What materials have you got or can you source for free that you can recycle or upcycle?
This applies to your lighting too — a standard pendant rose with a coloured cable and a globe LED bulb can look as impressive as an expensive light fitting, for example.
Tom Allen, architect
6. Price Work Separately to Save on Build Costs
Consider pricing out elements of your project separately. For example, price to supply your roof tiles yourself and then ask three accredited roofing companies to price to fit. It's a route that could save you 20% or more!
The more packages you procure, the more you could save, but be aware of the work involved and how best to coordinate the separate trades coming in.
Oliver Steele-Perkins, project manager, Steele-Perkins Building Projects
7. Don't Be Afraid to Recruit a Quantity Surveyor
Don't expect that an architect will always know how much it will cost to build! It's for you to investigate the various costs, put them all together and then work out what impact any changes will have on the final build sum.
If this raises concern for you (which it probably will do!) then employ a package company or quantity surveyor to work with you on the project.
Antony Kingston, chief executive, D&M Homes
Calculate your build costs
8. Learn a New Skill
DIY can be a great way of reducing build costs. We have some clients who have really embraced self build and gone to extreme measures to get the home they want.
One client wanted a standing seam metal roof, but couldn't afford one. So he went on an approved installer course (free, if you buy their fitting tools) and then fitted his own metal roof — which, as he was a certified installer, came with a 20-year guarantee.
Allan Corfield, architect, AC Architects
9.Opt for Tried-and-Tested Build Methods
Don't use materials or techniques that your builders aren't already familiar with.
Not only will this drive up the time that the builders will need to be on site, it could also increase wastage, the number of snags that need correcting at the end of the process and could lead to a sub-standard finished product.
Nick Robbins, Homebuilding & Renovating
10. Eliminate Waste
Designing your home to maximise the efficiencies of your chosen build system is the first and easiest way to save money.
Using SIPs (structural insulated panels) as an example, the panels are 1.2m, so if you lay out your house on a 1.2m grid you won't be cutting the ends of a panel. Every process carried out in a factory has a cost, so try and eliminate waste and unnecessary cuts!
Allan Corfield, architect, AC Architects
11. Do Your Research
Making significant changes once the build has started will inevitably add to cost, so it pays to put in the research prior to starting on site.
Attending self build shows, workshops held by self build specialists such as Potton, dedicated open days (oak frame specialist Oakwrights, for instance, host a series of open days across the country) and The National Self Build & Renovation Centre in Swindon, can help build your knowledge.
Subscribing to a self build and renovation magazine, which offers independent, trusted, expert advice, is also a must.
Michael Holmes, self build expert
Check out our latest subscription offer!
For even more advice, information and inspiration delivered straight to your door, subscribe to Homebuilding & Renovating magazine.
12. Choose Off-the-Shelf Over Bespoke
Opting for bespoke details can rapidly increase your build costs at any stage of the build. Try to stick to standard sizes where possible — this will reduce lead-in times and build costs.
Designing your home to include standard door widths, for instance, will allow you to choose off-the-shelf joinery — which will cost a lot less than commissioning bespoke items.
Claire Lloyd, Homebuilding & Renovating
13. Shop Smart
It is far easier to go to just one builders' merchant, but for the cost of a couple of phone calls, it is surprising what savings can be made by shopping around for the best price. Also make sure you are asking for trade prices and know what materials cost before purchasing. Merchants may reduce their price if you pull them up on their prices being more than a competitor.
Don't forget to factor in the delivery costs, too: smaller builders' merchants can often deliver for free and can save you time having to travel around to pick materials up.
Jonathan Durndell, chartered building surveyor, Milton Keynes Architectural
Get the Homebuilding & Renovating Newsletter
Bring your dream home to life with expert advice, how-to guides and design inspiration, direct to your inbox.
Nick was Features Editor and had a particular interest in what homeowners were able to achieve on a tight budget as well as sustainable building methods. He has recently moved on to tackle a Masters degree.