Oak Frame Porches: Your Complete Guide
By Rebecca Foster published
Oak frame porches add a wonderful finish to any entrance. Our guide covers everything from design tips to construction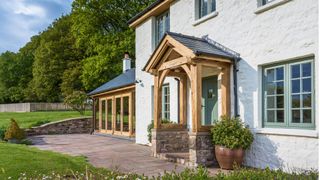 (Image credit: Welsh Oak Frame)
Stylish oak frame porches are a lovely addition to any home and come with practical elements as well as plenty of style. With gorgeous exposed beams and wonderful design features, oak frame porches are a great way to update the front of your house.
Oak frame houses are a growing trend in the self build arena but if you can't stretch to a whole new build, why not try touches of oak in the form of oak frame conservatories, an oak frame garage, or a simple yet striking porch.
Read on to discover everything you need to know before embarking on this type of oak project.
(MORE: Get a Quote for Your Oak Frame Project (opens in new tab))
What is an Oak Frame Porch?
Oak frame porches provide a practical cover to shield your front door from the elements, plus a porch adds a characterful architectural feature to your home.
Your porch can be a whole range of designs from open, canopy-style coverings that provide protection from the weather, to fully enclosed structures that double up as entrance areas and boot rooms.
How Much Does an Oak Frame Porch Cost?
Costs vary a great deal depending on the size and design of the porch.
For a small, simply-designed, canopy-style oak structure supplied on a DIY basis, expect to budget a minimum of £1,000 for the oak elements alone.
If you're not planning to erect the porch yourself, you'll need to factor in labour costs, too, as well as the outlay for additional materials such as tiles and the external floor finish.
"As a guide, a 2m x 1m porch would cost around £5,000. The oak would be £3,500 with £1,500 labour cost," says Gareth from Welsh Oak Frame (opens in new tab). "A larger and more complex structure would cost more."
If you're building a fully enclosed porch with a more complex design, glazing and lots more oak, the costs could rise above £10,000.
"While porches are much smaller in scale than primary oak frames, the carpentry/jointing involved is no less," says Fergus Stuart, design and project consultant at Carpenter Oak (opens in new tab).
For larger structures, perhaps enclosed with glazing, the oak frame could be in the region of £8,000 to £12,000 on a supply-only basis.
To erect such a structure would be in the region of £2,000.
How Much are Oak Frame Porch Kits?
Oak porch kits are designed for speed and ease of construction, either by you or your contractor.
Whether you go for an off-the-shelf product or a bespoke design, typically, only the oak elements are included.
"A simple open porch would also need basic foundations, a plinth wall, an external floor finish and roof tiles," says Fergus from Carpenter Oak. "All of those elements are best procured through local tradespeople rather than nationwide oak frame suppliers."
As a minimum, you'll need to budget between £1,500 and £5,000 for the oak components, depending on how much oak there is and the complexity of the design.
The average cost of labour needed to build a porch ranges between £150 and £300 per day, with construction likely to take between one and two weeks (depending on the complexity of the design).
(MORE: 13 Inspiring Kit Home Ideas)
Do I Need Planning Permission to Add an Oak Frame Porch?
Typically, most new porches don't require planning permission and fall under Permitted Development, providing the structure is no more than 3m tall, with a floor area no greater than 3m2.
The new structure should not be positioned within 2m of any boundary that fronts the highway. If your house is listed or within a designated zone such as a Conservation Area, it's likely that permission will be required.
"It's always worth checking with your local planning authority before getting started, to make sure you are within the required regulations," says James from Oakmasters (opens in new tab).
(MORE: 23 Things You Can Do Without Planning Permission)
Do Oak Frame Porches Need Building Regulations Approval?
Porches are usually exempt from Building Regulations approval, providing the floor area of the structure remains within the relevant size parameters (less than 30m2).
To be considered exempt, the entrance door between the new porch and the existing house should also remain in place.
If your porch incorporates any fixed electrical installations or glazing, the work needed to fit these elements will, however, need to comply with the work standards laid out in the regulations.
Plus, if the house has ramped access for disabled occupants, the new porch should not adversely affect that.
(MORE: Building Inspectors)
Does an Oak Frame Porch Need Foundations?
Generally, the answer to this question is yes. However, the depth of the footings are typically much less than would be required for a house built on normal ground conditions.
(MORE: Foundation Systems and Soil Types)
What Oak Frame Porch Designs are Available?
One of the first choices is whether you want an open, enclosed or canopy porch:
Enclosed - "The enclosed option offers an easy way to extend your home and create extra storage – it's an ideal place to keep shoes and coats," says James Rice, head of sales at Oakmasters. "King post trusses can be used along with glazed panels to add extra height and let the light in, and brick or flint detail can add a modern aspect to the design."
Open - An open porch could be built as a four-posted structure, perhaps built atop a brick plinth, or as a small canopy that extends outwards from the face of the house
Canopy - A canopy is the simplest and most cost-effective option but won't provide much shelter from the wind and rain. Generally, this style is better suited to smaller homes or for entrances at the back or side of the house.
When planning the design of your oak frame porch, it's vital to consider the design of the existing property.
Whether you want your porch to make a traditional or modern design statement, it's important to consider the details.
"Style can vary considerably, from large structures with sunken trusses and hand carved detail, to simple frames with brick roofs to extend the original style of your house," says James from Oakmasters. "Wide beams can be used to complement larger properties, while small intricate structures can add character to smaller houses and cottages."
(MORE: 10 Beautiful Porch Ideas)
What Type of Oak is Used to Build an Oak Frame Porch?
Most UK suppliers use green oak to build their porches. Robust, durable and packed with character, recently-felled oak has a higher moisture content than kiln- or air-dried oak and it is therefore easier for manufacturers to cut and shape with precision.
Always double check that the oak used for your porch kit comes from a sustainable, FSC-certified source.
What is the Lead Time for an Oak Frame Porch?
Whether you choose an off-the-shelf design or something bespoke, you will need to allow time in your schedule for the oak elements to be crafted in your supplier's workshop.
Typically, this period is around eight weeks, though the length of time will vary depending on the supplier and the complexity of your design.
"Everything is made by hand, in the same way we make our houses, using the same high standard of oak so quality is maintained," says Merry Albright, creative director at Border Oak (opens in new tab).
Opting for an off-the-shelf design is likely to shave off a few weeks while the oak elements are fabricated, but if you go down the bespoke route, you'll need to allow extra time to cover design work and engineering time.
During this time, your contractor can get to work preparing the foundations and building any plinth walls so that everything on site is ready to go once the oak frame kit is delivered.
(MORE: Find the Right Builder for Your Project)
What Materials Can be Used for the Roof?
One way to ensure your new porch blends with the existing property is to match the roof tiles on the porch to those already on the roof of the house.
If you're looking to match the exquisite, hand-crafted aesthetic of the oak frame porch, premium products such as handmade clay tiles or slates might create the right aesthetic.
If you're working to a tighter budget, interlocking concrete tiles offer an alternative solution.
(MORE: Roof Covering Ideas)
Bringing Light into Your Oak Frame Porch
A porch with glazed or open sides ensures natural light can be channelled into your home's reception area.
If you're concerned the porch roof might block out the sunlight, another solution could be to replace your front door for a partially-glazed model. Incorporating side lights to the side of the front door is another way to make sure rays of sun filter into the house.
It's wise to incorporate a motion sensor light in your new porch or some outdoor wall lights. That way, you don't have to spend time searching for an outdoor switch as you rummage in your bag for keys.
The light could be fitted within the porch, or matching lamps could be fitted on brackets to the exterior walls of the house.
(MORE: 15 Great Glazing Ideas)
Can I Build an Oak Frame Porch Myself?
Erecting an oak frame kit porch is well within the capability of a competent DIYer.
However, if you don't have much faith in your handywork, assembling the kit should be a straightforward job for a local builder or carpenter.
Bear in mind, some of the components are quite heavy, so at least two people may be required to lift them into place.
"Our porches are designed and made as kits, supplied ready for the local contractor to install," says James from Oakmasters. "The assembly of the porch is a fairly simple procedure, since the components are produced with all the joints pre-cut and marked for easy assembly. We supply the complete oak porch frame, including oak pegs for self-assembly."
How is an Oak Frame Porch Connected?
The method of 'fixing' depends on what material you are tying the porch to.
Tying the porch to the house does tend to be one of the more fiddly parts of the construction process, but as most oak porches support their own weight, the connection tends to be more cosmetic than structural.
"It may only need cosmetic tying in – around the roof area, primarily," says Merry.
Adequate flashing should always be installed where the porch roof meets the exterior face of the building to ensure the join is waterproof.
How to Look After an Oak Frame Porch
Whether or not to treat the oak comes down to personal preference. Left open to the elements, oak will naturally weather to a silvery hue with no maintenance required.
If you want to retain the freshly-sawn honey-colour of the wood, an anti-UV oil is required. The wood would then need to be re-treated every year or so to maintain the same shade.
How do I clean an oak frame porch?
The frame doesn't need to be cleaned, however, if any water stains form on the surface of the wood these can be removed with oxalic acid once the porch is erected.
Can I Use Other Woods to Create a Porch?
While some suppliers offer softwood alternatives (eg air or kiln-dried pine or Douglas fir) to oak frame porches, oak tends to be the preferred material for timber frame porches due to its long-lasting, robust nature.
Plus, the labour required to craft each porch is still the same, so the final cost for a softwood design may not end up being that much cheaper.
How Long will an Oak Frame Porch Last?
As a premium building material, oak is prized for its incredibly robust nature. A well-made oak porch should therefore offer a service life of a couple of hundred years – or more.
Rebecca is an experienced homes and interiors writer with a passion for Victorian architecture. Her dream is to extend an 1800s house
Homebuilding & Renovating Newsletter
Get the latest news, reviews and product advice straight to your inbox.
Thank you for signing up to Homebuilding. You will receive a verification email shortly.
There was a problem. Please refresh the page and try again.