How to Build an Oak Frame Home: A Step-by-step Guide
By Natasha Brinsmead published
Wondering exactly how to build an oak frame home? Our guide takes you through the process — from start to finish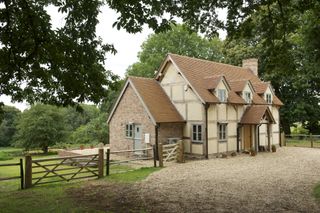 (Image credit: Border Oak)
Many self builders want to know how to build an oak frame home — and for good reason.
Oak frame properties are beautiful and full of character, and as a construction method, oak frame is quick to go up and, providing it is supplied through a reputable company, a reliable way to build a house.
We have teamed with two https://youtu.be/qIIGR4n2b4Qoak frame home specialists, Oakwrights and Border Oak, to bring you the ultimate step by step guide to building your own oak frame home.
(MORE: Get a quote for your oak frame project (opens in new tab))
1. Finding a Plot on Which to Build an Oak Frame Home
It's likely that your timber frame house builders will hear about plots before you will, so they may well be able to help you find the land you need.
Other options are:
Never buy a plot without at least Outline Planning Permission (OPP) or conditional on OPP being granted, unless you are willing to take a huge risk.
When making sure your plot is big enough, remember you'll need space around the site to store materials, tools and for erecting the structure (this could mean hiring land from a neighbour). You'll also need an access road, that is at least 3 metres wide, for an articulated truck and crane to deliver and erect the house frame and encapsulation.
2. Exposed or Encapsulated Oak Frame?
Most self builders choosing oak frame go down the encapsulation route, where all or part of the frame is wrapped in an insulated shell, which can then be clad in the finish of your choice — render, brick, timber boarding, tile hanging and so on.
The oak frame project, built by Border Oak (opens in new tab), below uses a combination of exposed and encapsulated frame.
3. Choosing How to Build an Oak Frame Home
Brilliant oak frame homes
If you need more ideas for your moodboard, check out the best oak frame homes in the UK.
Most people choosing oak frame as a construction system for their self build opt to use an oak frame specialist supplier.
This route means that the design, supply and construction of the frame can all be organised and carried out by the company, who should have good contacts with the local planning department, structural engineers, building contractors and so on.
It is up to the self builder as to the level of involvement they have in the build. Some choose to organise everything but the design and construction of the frame themselves, whilst others leave the whole build process, from applying for planning permission up to completion, in the hands of the oak frame company. Others choose a middle ground, carrying out some of the work themselves but leaving other elements to the oak frame supplier and a team of builders.
The first stage is to select an oak frame company. Visit show homes, speak to others who have used them, and visit completed projects.
Most oak frame suppliers have in-house architects and designers and between you can come up with a design that suits your needs and your budget.
3. Digging the Foundations
Once you have decided on a design, the structural load of the frame will be calculated. This is usually best handled by your oak frame supplier or an engineer with specific oak frame experience. Your foundation system is dependent on ground conditions too.
Some frame companies offer the foundations as part of the service as it can be beneficial to have one set of people responsible for both elements which are interlinked.
Whilst the groundworks are carried out and services brought on to site, if not already in place, the construction of your oak frame will be underway in the factory or workshop.
(MORE: Finding the right groundworkers)
4. Setting Out the Base
Your build team will prepare the base for the oak frame to sit on. The build team you choose is up to you, but often your oak frame supplier will be able to recommend trades they have previously worked with.
5. The Frame is Delivered to Site
Once the base is ready the oak frame can be delivered to site, ready to be erected.
6. The Oak Frame is Constructed on Site
Once the oak frame is on site, it can be put together. At this point the oak frame team will take over from the builders.
7. The Encapsulation System is Added
At this stage, your encapsulation system of choice is added — this might be structural insulated panels (SIPs) or another type of timber-based system that incorporates insulation. The system will 'enclose' the oak frame and provide the walls and roof.
Many oak frame specialists have their own particular encapsulation systems that they tend to use around the oak frame.
8. The Interior Takes Shape
Internal stud walls are put together and joists are secured as the frame takes shape.
9. The Exterior Cladding Materials are Fixed
Once the frame is up, the exterior cladding materials can be fixed to the infill panels or encapsulation system. Here, a combination of brick, render and timber weatherboarding has been used.
The roof covering is also fixed into place — in this case, clay roof tiles.
The glazing can be fitted into the window openings too.
(MORE: Cladding a House)
10. The Interior Fit Out
As soon as the shell of the house is weathertight (and at the same time as the exterior cladding materials are being fitted) the interior fit out can commence. This will involve first and second fix electrics and plumbing.
Plasterboard or drylining board can be fixed into place, underfloor heating installed, flooring finished laid and so on.
11. The End Result
Scaffolding comes down and any final decoration and landscaping can take place.
The house is complete.
Natasha is Homebuilding & Renovating's Associate Editor and has been a member of the team for over two decades. An experienced journalist and renovation expert, she has written for a number of homes titles. She has renovated a terrace and is at the end of the DIY renovation and extension of her Edwardian cottage. She is now looking for her next project.
Homebuilding & Renovating Newsletter
Get the latest news, reviews and product advice straight to your inbox.
Thank you for signing up to Homebuilding. You will receive a verification email shortly.
There was a problem. Please refresh the page and try again.