How to Build on a Sloping Site
Building on a sloping site is a challenge but with some imaginative design and build know-how it can be rewarding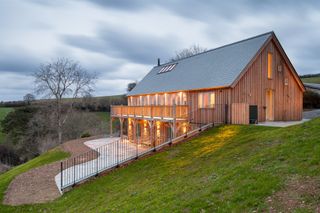 (Image credit: /o Roderick James Architects / The Gitcombe Estate; photographer Matthew Heritage )
A sloping site can be one of the reasons you discount a plot to build your dream home on. But, although it can be challenging, complex and therefore add costs to the project, it can be well worth it. The end result? A stunning and interesting home that uses the sloping site to its advantage.
But what do you need to consider if you choose a sloping site for your self build? From the costs to the construction; from drainage to design — here's a look at what you need to think about before the project begins.
How Will a Sloping Site Affect Costs?
The use of reinforced suspended concrete floors – most commonly precast beam – and hard landscaping, extra drainage, including perhaps the necessity for a pump, and extra work in stepping the foundations will all cost money.
A standard foundation for a home on a flat site may take three to four weeks to complete. In contrast, if you are retaining the banking with sheet piles, then building tanked retaining walls, creating basement rooms, and adding a beam and block floor, all while working on a slope, then this could take six to 10 weeks. That will have a massive impact on the length of your project and its cost, both directly and in terms of indirect costs like insurance, welfare facilities and scaffolding.
Building on a budget can be difficult on a steeply sloping site; I would estimate that the same floor area (GIA or gross internal area) of a house on a flat site may be as much as 20-30% less expensive. This, along with potentially adding six weeks on to your timeline, may not work for some self-builders.
(MORE: Foundation Systems and Soil Types)
Cut and Fill
This describes the process of carving out a level plinth on a sloping site, in order to build a home that is essentially designed for use on a level site. Any spoil that is cut from the bank is reserved in order for it to be brought back to make up the levels on the lower edge.
The foundation costs are always going to increase due to the slope of the land and the requirement that the foundations should find original subsoil bearing.
If the spoil is piled up against the lower or built up section of the new home then provision will have to be made for the oversite level within the building to be brought up to within 600mm of the proposed external soil level, in order to equalise the pressure on the walling.
However, carting spoil away from a site is expensive and time consuming and its retention on site is a cost benefit, just so long as there is space to store it.
Drainage and Sewers on a Sloping Site
Having a sloping site may involve extra costs with drainage and sewers — but not necessarily.
If your site slopes down from a road in which the sewer is fairly shallow then you may have to think of using a pumped sewage system. This can add at least £2,000 to the drainage costs. However, there may be a corresponding saving due to the fact that the 50mm flexible pipe may well be cheaper to lay than a conventional drainage pipe.
If your site slopes down from the road, within which the sewer is quite deep, then the slope may actually represent a saving in cost, as the resulting house drainage will not have to be as deep. Sites which slope up from the road and sewer may seem more attractive so far as drainage is concerned, but if the slope is significant it might be necessary to install tumble bays within the manholes, in order to slow off the fall, so that the effluent can enter the sewer at a reasonable rate.
Surface and rainwater is also a consideration. Sloping up from the road may at first seem the best option, but many local authorities will not allow surface water to go into the public sewers and many require that precautions are taken to ensure that surface water does not flow onto the road. Sloping down from the road means that surface water can collect around the base of the lower floor, or worse still, find its way into the garage. This may mean having to install a drainage channel to divert the water to soakaways.
Employ an Experienced Contractor
Steeper sloping sites can be a challenge, mostly during the construction phase. Most sloping sites don't have a convenient flat area large enough to use as a contractor's compound. Therefore, workers either have to build something or continually work on a slope, which can be dangerous and takes up additional time.
If you have chosen an inexperienced contractor who's only worked on flat, open sites, then this could be a massive mistake.
Where Should I Position a House on a Sloping Site?
Appraising a site at the initial design stage is a balancing act. It might be that choosing the best location for access would involve cutting or filling too much land. If your designer is using topographical survey data (a must-have for any project) they should be able to recreate the site as a 3D computer model, which will help determine the best, most economical location.
Take your time before settling on your preferred floor levels, as the best choices may not be formed yet or accessible. We use drones to give our clients a glimpse of the views they could get from their new home.
Site Safety on a Sloping Site
Most sites have an area that can be used as a site office and for storage. On a lot of sloping sites you want to maximise the width of the plot, and this can compromise your working space.
Once the ground floor walls are on, you may also be faced with the challenge of having to build over your home to get access to other parts of the site. This is not only a logistical problem, but also a less than ideal state of affairs from a health and safety point of view.
Basements
On a costing level a basement is always going to cost at least the same amount per square metre as any other part of the home, if not more. In ground with high water tables or in heavy clay, these costs and the sheer physical difficulties presented may make the choice unviable. However, if the lie of the land is such that there is no alternative to either a full or partial basement, then this can be the cost-effective solution.
Find out more about converting a basement.
Retaining Walls
Basement walls may have to be strong enough to hold back considerable banks of ground, in which case they become retaining walls in their own right. In other situations, such as building on a level plinth beside a natural or carved out bank, it may be necessary to construct separate retaining walls. Above 1,200mm in height these will have to be designed by an engineer.
In certain circumstances it may be cheaper, and visually more attractive, to construct a series of lower retaining walls with the ground stepped between them. An alternative is wire cages – known as Gabions – filled with stone, or interlocking concrete blocks that are subsequently filled with soil and planted.
Building On Stilts
One way of building on steeply sloping land is to build out from it on a series of supporting stilts or columns. This gets away from the need to build extensive foundations on sloping ground and it negates the need for tanking. It also leaves the ground relatively untouched, allowing planting to take place over much more of the site.
In certain situations it can be the cost effective solution and there is no reason why it cannot be employed with multiple level designs.
Get the Homebuilding & Renovating Newsletter
Bring your dream home to life with expert advice, how-to guides and design inspiration, direct to your inbox.
Mark is the author of the ever-popular Housebuilder's Bible and an experienced builder. The Housebuilder's Bible is the go-to hardback for self builders; originally published in 1994, it is updated every two years with up-to-date build costs and information on planning and building regulations, and is currently in its 14th reiteration.
He has written for publications such as Homebuilding & Renovating for over three decades. An experienced self builder, his latest self build, a contemporary eco home built to Passivhaus principles, was created on a tight urban brownfield plot.