The UK's First Oak Frame Passivhaus
By Heather Dixon published
A high-spec eco home on the Yorkshire coast has led to one couple building the first oak frame Passivhaus-certified home in the UK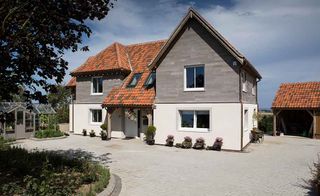 (Image credit: Dave Burton)
Ever since Phil and Yvonne had built a house of their own nearly 30 years ago, they had harboured dreams of building another. They were particularly keen to create a high-spec eco-house — however the 1930s dormer bungalow with sea views they inherited from Yvonne's parents was anything but.
The Garnetts came across architectural practice Eco Arc online and spoke to architect Andrew Yeats, who quickly got on board with the philosophy to build a modern eco home and plans behind the build and agreed to design a Passivhaus — the first in the district. "We didn't realise at the time that this would be the first oak frame Passivhaus in the UK," adds Phil.
Andrew presented such a comprehensive and persuasive proposal that planning permission was approved without question by Scarborough Council. Yvonne and Phil then chose Oakwrights to supply the green oak frame. Not only was it able to supply a beautiful oak frame, but also its own bespoke, highly insulated encapsulation system.
Project Notes
Homeowners: Phil and Yvonne Garnett Project: Passivhaus Self Build Location: Yorkshire Size: 200m2 Build time: Feb 2016 – Mar 2017 Build cost: £450,000 Value: £675,000
With the supplier of the main structure taken care of, work could begin on the demolition of the old bungalow, which saw 30 lorry loads of rubble carried off site.
A geological survey was undertaken before the foundations were created and a raft system of insulated, interlocking slabs overlaid with reinforced concrete was specified, which would take the weight of the oak frame and timber frame walls. "The foundations had to be as flat as a pancake, with just a 5mm tolerance," says Phil, who was on site most days to monitor progress.
(MORE: Foundation Systems and Soil Types)
The frame went up within a week but the roof, with its complex design of pitches and valleys, took almost two months to complete. "We considered having slate tiles but heard that they could come loose in strong winds and we are on a very open site at the back — right on the coast," says Phil.
"We decided to use natural, handmade clay pantiles rather than concrete, and when we couldn't decide on a colour we chose a mix of three. Unfortunately the first roofer who came had very little experience of anything other than a standard roof, so we had to let him go and asked another roofer to take over. He had to strip the roof clear and start again, so that cost more than we had bargained for."
Throughout the build, Yvonne and Phil aimed for the best quality they could afford, and even then only went 10% over budget. The result of their careful research, planning and appreciation of quality is a Passivhaus home that has achieved more than they could have dreamed of — but there was just one last-minute hitch.
"When it came to the day of the final tests to secure the coveted Passivhaus status everyone on site held their breath," recalls Phil.
"A window was removed and replaced with a sealed fan to measure the negative pressure in the building. Any leaks of air are detected with a feather. We were expecting to pass the test and couldn't believe it when the figures were way off the mark. Then we realised that someone had left a window open! We all breathed a collective sigh of relief when the window was closed and the tests confirmed its Passivhaus status."
(MORE: Airtightness)
Homebuilding & Renovating Newsletter
Get the latest news, reviews and product advice straight to your inbox.
Thank you for signing up to Homebuilding. You will receive a verification email shortly.
There was a problem. Please refresh the page and try again.