The Best Petrol Lawn Mowers for All Garden Sizes
By Jack Woodfield published
The best petrol lawn mowers take the chore out of mowing your lawn, helping you to enjoy your outdoor space
Included in this guide:
1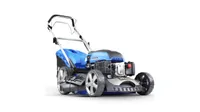 Hyundai
HYM510SP
2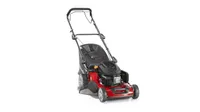 Mountfield
S481 PD ES
3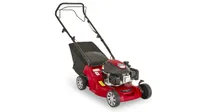 Mountfield
HP41 Petrol Lawn Mower
4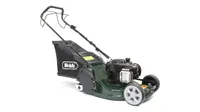 Webb
Supreme WERR17SP
5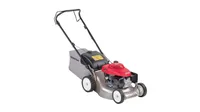 Honda
Izy HRG 416 PK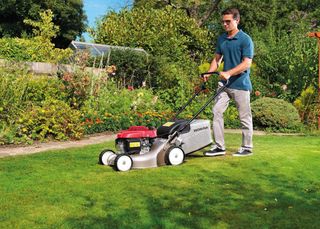 (Image credit: Amazon)
The best petrol lawn mowers are powerful, easy to use and come with a reasonable price tag.
Petrol lawn mowers are great additions for homeowners with medium and larger-sized gardens because they're generally more powerful than cordless (battery-powered) and corded (electric) mowers, which means you'll be spending less time mowing. Furthermore, they're not constrained by power cables. Some petrol mowers are also suitable for some smaller gardens.
An unavoidable condition of buying a petrol mower is that they require some maintenance, not to mention the extra cans of petrol. But the benefits are vast: they generally deliver great cut quality and impressive, neat finishes, and feature designs to improve manoeuvrability and storage ease.
There's several features to consider before you buy, and we've done the hard work for you. These are the five best petrol lawn mowers available now.
(MORE: Garden design guide)
Which is the Best Petrol Lawn Mower?
1. Hyundai HYM510SP
The best self-propelled lawn mower
Specifications
Drive type:
Self propelled
Reasons to buy
+

Low emissions
+

Easy to start and use
+

Quick release grass box
Reasons to avoid
-

Could be slightly sturdier
The low-maintenance, high-performance Hyundai HYM510SP is the best self-propelled petrol mower.
It features six easily adjustable cutting heights, ranging between 25-75mm, and has a huge cutting width of 51cm which makes it well-suited for trimming medium and large gardens and lawns.
We love how easy it is to start, which is achieved through a contactless ignition system, and being able to control the large rear wheels from the rear mounted handle makes it easy to use.
Plus, Hyundai's four-stroke engine not only improves the torque but is designed to reduce noise and air pollution, making it an economic and low-emission mower.
The huge 70L grass collection box has a quick release, allowing you to easily empty your glass without spillage, and for easy storing the handles can fold down over the mower.
Buy the Hyundai HYM510SP 4-Stroke Petrol Lawn Mower now
---
2. Mountfield S481 PD ES
The best mower for very large gardens
Specifications
Drive type:
Self-propelled
Reasons to buy
+

Easy to start and use
+

Effective on larger gardens
+

Mulching capability
The Mountfield S481 PD ES is a superb heavyweight petrol lawn mower to help you tackle large gardens and lawns up to 40m x 40m.
It features an electric key start so the engine fires up in seconds, and its power-driven rear wheels make it easy to use - a key benefit not found on all heavyweight mowers.
It has an impressive 48cm cutting width, a huge 70L grass box capacity, boasts five cutting heights and includes a hose fitting for easy cleaning. Plus, it comes with a mulching plug so you can easily add the cuttings to fertilise your lawn.
Buy the Mountfield S481 PD ES now
---
3. Mountfield HP41 Petrol Lawn Mower
The best budget mower
Specifications
Drive type:
Push & self-propelled
Reasons to buy
+

Affordable
+

Auto choke engine
+

Lightweight
Reasons to avoid
-

Not well-suited to large gardens
If you're after a budget-friendly petrol mower then the Mountfield HP41 is a great option. And while we're reviewing the push drive model, a slightly more expensive self-propelled version is also available.
With a 39cm cutting width, the HP41 is suitable for mowing small-to-medium-sized gardens and lawns, and features five cutting height positions between 25-70mm.
The tough polypropylene chassis is an especially strong benefit. Not only does this material help to prevent the machine from rusting, but it helps to make the mower lightweight, making it easy to manoeuvre.
It starts really quickly too, which is aided through being powered by an auto choke engine. And to store away, simply fold down the handle. Easy.
Buy the Mountfield HP41 Petrol Lawn Mower now
---
4. Webb Supreme WERR17SP
The best for professional-looking stripes
Specifications
Drive type:
Push & self-propelled
Reasons to buy
+

Cuts immaculate stripes
+

Durable chassis
+

Mulches
Reasons to avoid
-

Not as efficient on smaller gardens
This self-propelled version of the Webb Supreme WERR17SP is one of the best petrol lawn mowers if you want to cut professional-looking stripes into your lawn.
It utilises a split rear roller for easy turns so it's effective at creating immaculate stripes, most practically on medium lawn sizes (and even some larger gardens). It also features six cutting heights, which are easily adjustable through a lever.
It can mulch too, and its 3-in-1 versatility means you can either cut & collect, cut & discharge or cut & mulch. And the chassis is made with ABS polymer so it's robust and durable. if that's not enough, it folds into a compact size for easy storage.
Buy the Webb Supreme WERR17SP now
---
5. Honda Izy HRG 416 PK
The best push drive mower
Reasons to buy
+

Quiet
+

Auto choke system
+

Durable steel cutter deck
Honda's reliable engine is a major plus of the HRG 416 PK, and the powerful four-stroke GCVx engine is easy to start. This is aided by an auto choke system to ensure a quick start even in cold weather.
There's no self-propulsion, but at 29kg it's relatively lightweight to push around without too much effort.
A standout feature of the HRG 416 is how quiet it is, courtesy of a patented low noise blade, which your neighbours will appreciate!
Moreover, it's equipped with a sizeable 50L grass collector, six cutting heights ranging between 20-74mm, and a 0.91-litre unleaded fuel tank for lengthy sessions in larger gardens.
What's more, it's been designed with durable steel cutter deck which is resistant to corrosion and UV ray deterioration, helping to ensure a lengthy service life.
---
What Are The Benefits of Petrol Lawn Mowers?
There are three types of power your lawn mower can run on: petrol, corded (electric) and cordless lawnmowers (battery-powered), and all come with their pros and cons.
Petrol lawn mowers are generally much more powerful than their counterparts, which means faster completion times, and because they are mostly self-propelled, they are easy to start and to use.
Because of their power, petrol lawn mowers are also more suited to cutting medium-to-large gardens, whereas cordless and corded mowers are better for smaller lawns. Petrol mowers aren't constrained by power cords either.
How to Choose the Best Petrol Lawn Mower
These are some factors to consider when buying the best petrol mower to ensure you get the best value for your money and the most optimal machine for your garden.
Size of lawn
This should be a primary consideration. Because the cutting widths of mowers will differ, some mowers will be more effective on larger gardens than on smaller gardens, and vice versa.
Before you buy, make a rough estimation of how many square metres (sqm) of your lawn will need to be maintained: if your garden is between 50-150sqm then this is considered to be small to medium, while more than 150sqm is considered large.
Collection
The larger your collection bag, the longer you can mow for. Therefore buying a mower with a larger bag (50L and larger is best) will prove valuable when mowing larger gardens. If you want to use your grass cuttings to fertilise your remaining gras then look out for a mower with mulching capability.
How do Petrol Lawn Mowers Work?
The easier your mower is to start, the better. Keep a look out for machines that come with electric start or electric key starts, which are more time-efficient, but will cost more.
Self-propelled or push drive?
Self-propelled mowers are easier to work, making them suitable for large lawns and inclined areas. Because they propel themselves forward, you don't need to put as much time and effort into mowing - all you have to do is control the direction.
Push drive mowers don't have the control or ease of use, but they are generally much cheaper and well suited to smaller or medium-sized gardens.
How do You Service a Petrol Lawn Mower?
Petrol lawn mowers require a certain level of maintenance, primarily through checking and changing the oil. It's best to do this as soon as you begin mowing in the summertime, and once a month throughout the summer. Always use the fuel and oil recommended by the engine manufacturer, and be sure to store your fuel in a sealed fuel can and keep it in a cool, dry, place.
You'll also need to clean your mower every so often to remove any grass or debris from the blades or underneath the mower. A small brush is handy for cleaning tighter spaces. An important note: make sure to completely switch off your lawn mower before cleaning.
Lastly, it's beneficial to check your spark plugs every so often to ensure they don't become too dirty — every 25 hours is recommended, although an indication they need cleaning is that the lawn mower will be harder to start.
Jack is News Editor for Homebuilding & Renovating, and strives to break the most relevant and beneficial stories for self builders, extenders and renovators, including the latest news on the construction materials shortage and planning reforms. Having bought his first home in 2013, he and his wife have renovated almost every room and recently finished a garden renovation.
Homebuilding & Renovating Newsletter
Get the latest news, reviews and product advice straight to your inbox.
Thank you for signing up to Homebuilding. You will receive a verification email shortly.
There was a problem. Please refresh the page and try again.