Self Build Routes: Package
By Jason Orme published
If you're short on time and self build experience, it would be worth considering the package route for your project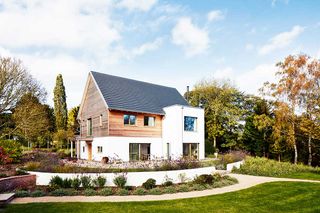 (Image credit: c/o Baufritz)
How it Works
Package companies (also known as turnkey providers) are the all inclusive option of the self-build world. They will offer design, labour/construction and material supply as part of a fixed-price contract — this provides the most hands-off way of self-building.
While the majority of package companies operate in the timber frame (opens in new tab) sector – where they offer manufacture of the frame and erection – a small number of package suppliers do offer masonry construction.
Most package companies now offer an effective bespoke approach that can be individually tailored to a self builder's requirements and circumstances. For instance:
offering bespoke designs from an in-house designer
having a list of approved contractors to choose from rather than a staff team
the ability for you in some cases to opt out of parts of the package and choose your own finishing materials.
You may be able to opt out of parts of the package and choose your own finishing materials, too. And one very popular route is choosing a company to supply and erect the superstructure to watertight stage only (although you may need to handle the foundations), enabling you or a main contractor to project manage the interior fit-out — a hybrid approach of sorts.
The usual route is for the package supplier to:
carry out an initial site assessment
come up with a design and deal with planning issues
either manufacture the frame or arrange for materials to be delivered (or both)
arrange labour or assist in finding it (and liaise directly with the labour)
provide finishing materials.
Some may be willing to carry out project management services.
Your Input
Limited — which is the key reason why people choose this route. In theory the self builder can get as involved as much or as little as they would like to, both on a project management or physical basis.
Cost and Cash-flow Implications
There are significant upfront costs associated with this build method. Most of the timber frame package suppliers will require a major financial commitment before the frame is manufactured and supplied.
Package companies, while often offering a free design service, will ask for regular payments through the process (as a percentage of the total fixed price contract).
The package company route is likely to cost more than supplying materials yourself. You could save, however, the significant early payments that a designer would require. You will also benefit from the knowledge that the package company's designers are well-versed in relating their designs to your build budget. This alone makes the extra cost worthwhile.
Pros
Saves dealing with architects and ensures build costs are realistically tied in with the house design
The most hassle-free way to build
Many package companies have lists of approved contractors, bypassing the difficult issues of finding labour
Package companies provide reassurance and moral support during the process
Their buying power enables them to negotiate discounts with key materials suppliers that individuals might not be able to enjoy
Some package companies provide assistance with initial issues, like finding and assessing land, planning permission and Building Regulations, that would otherwise be left to the self builder
Cons
Limiting your own input invariably means paying for someone else's — this is not a cheap alternative, although it might be cost-effective
The quality of the design depends on the skills of a limited choice of in-house designers — some are great, some are moderate
Some package companies offer a limited choice of finishing materials
Many require significant upfront payments
The package company route is ideally suited to:
Self builders who require a helping hand with their project, because they are busy or inexperienced in the building industry. Package companies provide solutions to the numerous problems that self builders face: from finding and assessing land to finding labour.
Package homes do not come cheap, but remember that you are paying for quality and an easy process
Some package companies offer more chance for your creative input than others, so if this is important to you, choose your company accordingly
Remember that once you have agreed to a design and it is being built in the factory, there is little to no scope to change your mind. You therefore need to be very clear about what you want from the start
Case Studies
A Characterful Kit Home
Ellen and John McCann's opted for what their architect describes as a 'hybrid home' – where bespoke meets timber frame kit – in the form of a kit from Firefly Wood. They chose the 'Borve' house which is specifically suited to south-facing plots like theirs. The layout keeps service zones to the north and living spaces to the south to make the most of the sun and passive solar gain for warmth.
The design is open plan and has double-height living spaces to maximise light. John and Ellen were able to customise aspects of the house to fit their lifestyle. They chose to dispense with the fourth bedroom, including a studio and study space instead.
A German Package Home
Kerrie Daykin and Emile Borgonha turned to a German package supplier for their eco-friendly self-build. After successfully purchasing a plot, Kerrie spotted a magazine advertisement illustrating a chalet-style new house. "It was a stunning A-frame house manufactured by German housebuilder Baufritz (opens in new tab), with overhanging roofs and a first floor balcony at one end," she recalls.
"We had been thinking about building a traditional oak frame property, but this house was so unique: a breathtaking contemporary design with outstanding green credentials. It was also important to us that we built a house in harmony with the woodland setting, with large enough windows to make the outside integrate with the inside in one seamless flow, and this fitted the bill perfectly."
A Self Build in the Valleys
For their first self build Gordon and Annie Campbell placed their faith in oak frame and timber cladding — the result is utterly charming.
"We'd done some initial investigations into oak frame companies when we were considering what to do with the old barn," explains Annie. "We had a local friend who was a carpenter and he pointed us in the direction of Welsh Oak Frame. We contacted them and left it to their in-house designer, John Edmonds. The only brief we gave was that we wanted it to be open, with lots of glass and wood."
The couple left the project management of the frame and the build to weathertight stage to Welsh Oak Frame, then took over themselves once the structure was up.
The former Editor of Homebuilding & Renovating magazine, Jason is an experienced self builder and has recently finished renovating his 1960s home. Jason is now Managing Director of Future PLC's Homes' portfolio, which includes UK-leading titles such as Ideal Homes, Livingetc and Homes & Gardens. He is also the author of The Self Build Dream. You can catch Jason in the seminar theatres and Advice Centre at many of the Homebuilding & Renovating Shows across the UK.
Homebuilding & Renovating Newsletter
Get the latest news, reviews and product advice straight to your inbox.
Thank you for signing up to Homebuilding. You will receive a verification email shortly.
There was a problem. Please refresh the page and try again.